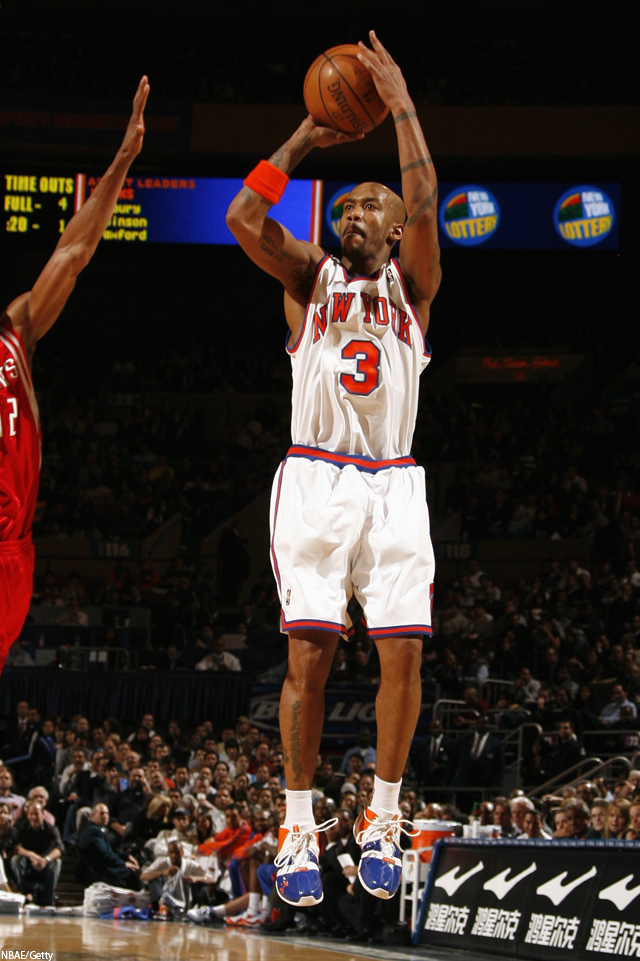 When AND 1 first started out as a company in 1993—founded by three Wharton Business School classmates with a penchant for streetball—it didn't have a spokesperson or an endorser. Instead, the fledgling t-shirt company had "The Player," a bulked-up, racially ambiguous character with a blank face and baggy shorts meant to represent the whole of streetball. This was fine for a while. But in 1995, when they sought to enter the ultracompetitive basketball sneaker market, they needed something more. They needed a real player. They needed Stephon Marbury.
And make no mistake, it wasn't the other way around. The Brooklyn-born Marbury entered the 1996 Draft as a Lottery lock and a possible first-overall pick. And with plenty of companies looking to enter the sneaker market, everyone was getting deals.
Reebok picked up Georgetown guard Allen Iverson, adidas inked high schoolers Kobe Bryant and Jermaine O'Neal as well as Kentucky forward Antoine Walker, and Karl Kani of all brands signed the 18th and 24th overall picks, Syracuse forward John Wallace and Arkansas-Little Rock guard Derek Fisher (yes, that one). Marbury, who wore adidas at Lincoln High and Nikes at Georgia Tech, had no shortage of suitors. He chose AND 1.
So AND 1's first basketball sneaker would be a signature sneaker, the Stephon Marbury Mid. It featured The Player, of course, performing a Stephon-esque low-to-the-ground crossover on the ankle, with Marbury's own logo, an S with arrows at either end and a basketball in the middle, on the heels. Durable leather construction, a high-density rubber outsole and 3M piping allowed for outdoor use. And at just $80, it was affordable. Thanks in large part to Marbury's presence (and some nice advertising campaigns), AND 1's transition from streetball to the NBA was as easy as Marbury's own. And don't be fooled by the controversy that surrounded the end of Marbury's NBA career, the beginning was easy, like 16 and 8 per game while rolling with an equally well-adapting Kevin Garnett.
Steph's second sneaker, the Stephon Marbury II, was sleeker and shinier, with even more 3M trim and his logo transferred to a jewel on the tongue. A silver mesh version echoed the Nike Air Max 97, a futuristic runner that had major off-court appeal from Coney Island to Minneapolis. An extra lace loop way down the side allowed for a crazy lacing option that technically offered more support. Those were the shoes he wore for his second—and final—full season in Minnesota.
Neither of Stephon's first two AND 1s have been retroed, and maybe they never will be. AND 1 has been through multiple owners since then, Marbury has since moved on, and the shoes themselves weren't as iconic as others from the same period.
But their significance goes far beyond their construction. Because without Marbury, maybe AND 1 never becomes a viable sneaker company at all. Without Marbury's success, there's no Latrell Sprewell "American Dream" commercial, no Vince Carter winning the Dunk Contest to end all dunk contests in AND 1's most beloved sneaker, the Tai Chi Mid. The Player wasn't going to take them that far.
As for Marbury himself, he wore AND 1s on and off (taking a notable break as a New Jersey Net when he wore Nikes a lot, including a stint in Nike Air Penny IVs) until his early days with the Knicks, when he founded a whole new venture.
He partnered with discount retailer Steve & Barry's in 2006 to introduce Starbury, an ultra low-budget line of sneakers. His game shoe, the Starbury 1, retailed for an absurdly low $15. While clearly not on the same level as shoes costing 10 times more—despite claims to the contrary—the Starbury 1 was still revolutionary in its own way. The Starbury 2, which he'd debut the following season, retailed for the same price. There was also a line of casual running shoes that looked like New Balance and cost less than $10. Marbury showed his dedication to his new brand by getting the logo, a stylized star and 3, tattooed on his head.
Steve & Barry's wound up going under, but that wasn't the end of Starbury. And, much like the brand that bears his name, Marbury wasn't done either. His career didn't end when no NBA teams picked him up in the summer of 2009. Instead he headed to China, where he finally won a championship and was immortalized with a bronze statue in Beijing. As of right now, the 37-year-old Marbury is still playing, still wearing Starbury sneakers, still spreading his message worldwide via his @StarburyMarbury Twitter handle.
And as AND 1 rises once again with another Brooklyn-bred former Lincoln Railsplitter—new Hornets guard Lance Stephenson—it would only make sense for them to finally revisit the Stephon Marbury line. Let history repeat itself in more ways than one. At the very least, in 2016 recognize the 20th anniversary of the first shoe, the one that made the rest of AND 1's history possible.
331