Steve Francis was one of the most exciting basketball players on the planet during the early 2000s, right up there with names like Allen Iverson, Kobe Bryant and Vince Carter. His Draft night refusal to play for the Vancouver Grizzlies made him polarizing; his vicious crossover and dazzling dunks quickly made him a fan favorite. As a rookie, Francis was the leading scorer on a Rockets team that featured aging stars Charles Barkley and Hakeem Olajuwon. During his prime years in Houston and Orlando, the three-time All-Star's averages hovered around 21 points, 6.5 assists and 6 rebounds per game. Then, after nine seasons, Steve Francis vanished from the NBA.
When I reached out to Steve, he was hesitant to do this interview. Since playing his last NBA game at age 30, the media hasn't been kind to him. Over the last few years, unbecoming videos and photos of Francis began to surface repeatedly on the Internet, accompanied no longer by adoration but by slander. The headlines were predictably harsh, and the attacks on Twitter and in comment sections even more unforgiving. His positive efforts—like the Steve Francis Foundation, which has offered scholarship aid for at-risk youth for years—are rarely mentioned.
But Steve and I both grew up in Maryland's Takoma Park-Silver Spring area, which borders Northeast Washington, DC. Steve spent the bulk of his younger years on Maple Avenue, a block home to Takoma Park Elementary School and a new-ish rec center (behind which sit the recently renovated Steve Francis Basketball Courts), but also to the Maple Avenue Crew, a well-known local gang. It is a uniquely diverse community, an intersection of crunchy granola-types and low-income housing.
So I told him about how as a 10-year-old I fell in love with his '99 University of Maryland team, and about how I had a poster of him from the '00 Dunk Contest on my bedroom wall. About how my little brother still brags to this day about the time Steve randomly sauntered into the local Boys & Girls Club and took a courtside seat at one of his AAU games. About how we'd drive down Maple in the summers and Steve would look up from his wings and mumbo sauce to wave from Peter's Sub Shop as we shouted his name. About how both Steve and I attended Montgomery Blair High School—and though for vastly different reasons, neither of us played more than a handful of games in a Blazers uniform.
Satisfied that we—in Steve's words—"speak the same language," we agreed to meet up the next time he was back in DC (his primary residence is in Houston). A few weeks later, on a cool, drizzly late-April morning, I find Steve behind the Westin Hotel at the National Harbor, sitting on a bench facing the Potomac River. He's wearing all-white high-top Air Force Ones, jeans and a navy blue windbreaker. We talk briefly about Drake's new album, which he's blasting from a portable speaker, then about mutual acquaintances from Takoma Park. He asks me who played quarterback for Blair when I was in high school, and who was coaching the basketball team.
I tell him I'm going to have to ask him some tough questions. Questions that frankly, I wish I didn't have to ask. I feel obligated to ask, for example, about that viral video of him getting his chain snatched on stage at a rap show in Houston ("Ask the people who touched me how they feel," is all he'll say.) But I promise to let his voice ring out, unedited and unfiltered, no matter where our conversation goes.
It starts with me reminding Steve of his three SLAM covers. Of the one from May of '03—which he shares with Yao and a cover line boasts, "The Dynasty and The Franchise," he says, "When that one came out, I thought we'd probably still be playing today." A few minutes later, Wink stares out at the water. "That wave," he says, reflecting on the way coaching changes and injuries swallowed up what might have been of his too-short NBA career. "That's what I'd have been doing, going against the current."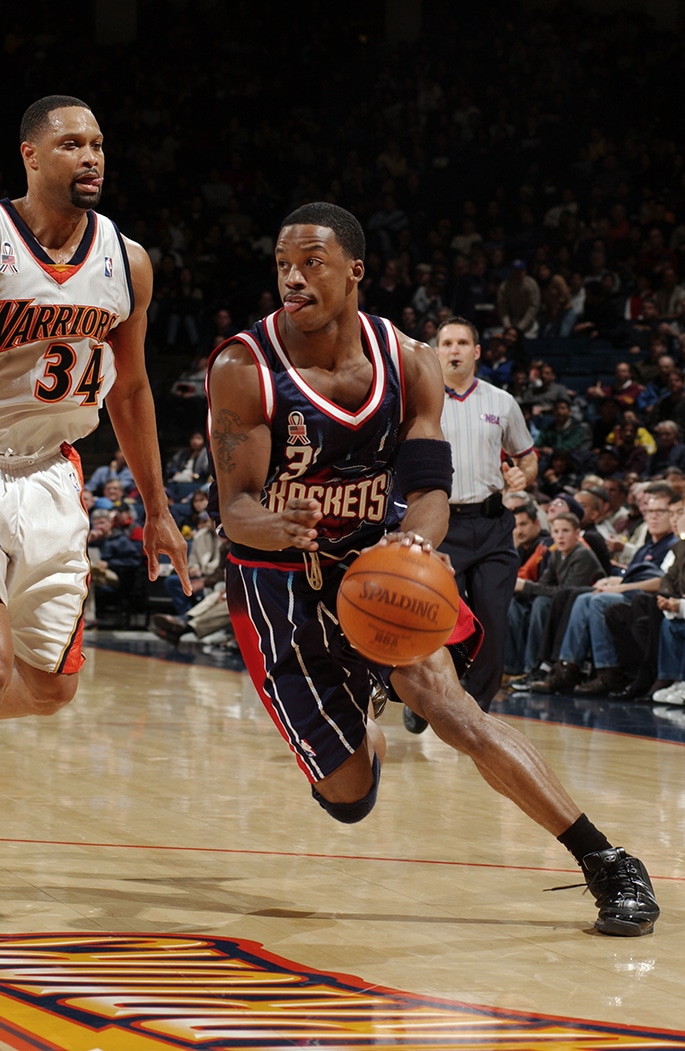 SLAM: Do you regret retiring so young?
Steve Francis: This is the honest truth: the respect level was nowhere. From anybody. So what I do? I gracefully bowed out. If they wasn't going to respect how hard I played, know what? Me and my wife and my kids are great with having a good career. Thank you Mr. Stern, respect. Respect, Mr. Alexander. Respect to Mr. Dolan in New York. Respect to Mr. DeVos, all the owners I ever played for. Not disrespecting the coaches or their staffs, but those are the people I played for. I'm not disrespecting no players, but I'm cool with the people who asked me to play. Was it hard as shit? Hell yeah. 30 years and no respect. I'm like, let me just chill out and figure out what I'm doing after this.
SLAM: When were you having the most fun playing basketball during your NBA career?
SF: Of course in Houston. I'm still there. Coach Rudy T—imagine a coach who won two championships, and is a Hall of Famer, and his jersey's hanging in the gym, he's like I'm going to give you the ball in my city where I played. The first day, I came in and there's Olajuwon and Barkley. Who the hell would think somebody from DC, from Maple, would go from that block to play with them? In six years? I was like God damn, you really playing. After all the other hype, the draft, being able to buy whatever. After that shit settled down, it was real. This is what you signed up for.
SLAM: What happened when Tomjanovich stepped down and Jeff Van Gundy took over as head coach?
SF: The whole momentum shifted to "stop that ball," buddy. Just dump it into Yao every single play. What Steve do? Dump the ball into Yao. Was Steve mad? Hell yeah. Did Steve say something? Hell no. Respect for that owner who gave me that money. He said, Here Steve, $100 million. Alright, I'm not going to disrespect that man's business. That's his business, not the coach who doesn't know that the owner gave me the opportunity to have one stable home and a bag of money. So I'm cool.
SLAM: What do you remember about shooting your last SLAM cover, the summer you got traded to Orlando?
SF: That one right there was like, Man, this is my last run. This is the point where it's going to make or break what happens to you the rest of your career. It was like, now you're really a man. Your fairytale career, from the Vancouver thing to being the Franchise in Houston, it's over. When you're playing, it's hard as shit to go back and try to look at what you really did. After All-Star Weekend, when I went there and just said, Hey guys, I'm really not going to play. That was it, this past one in Toronto—
SLAM: Wait, up until this year you were still thinking about playing again?
SF: Yeah, All-Star Weekend. Looking at the people out there playing, I'm like, Damn if I just really, really focused one year, one time for six months…I can probably still do it, but I won't.
SLAM: What was the thing that made you say, OK I'm officially done?
SF: I love being with my kids [Shailyn, 10 and Steve Jr, 8]. That's it. Seeing my son play baseball. I get dressed like a baseball dad. I've got all my son's baseball stuff, and then my daughter is a gymnast, so we're busy.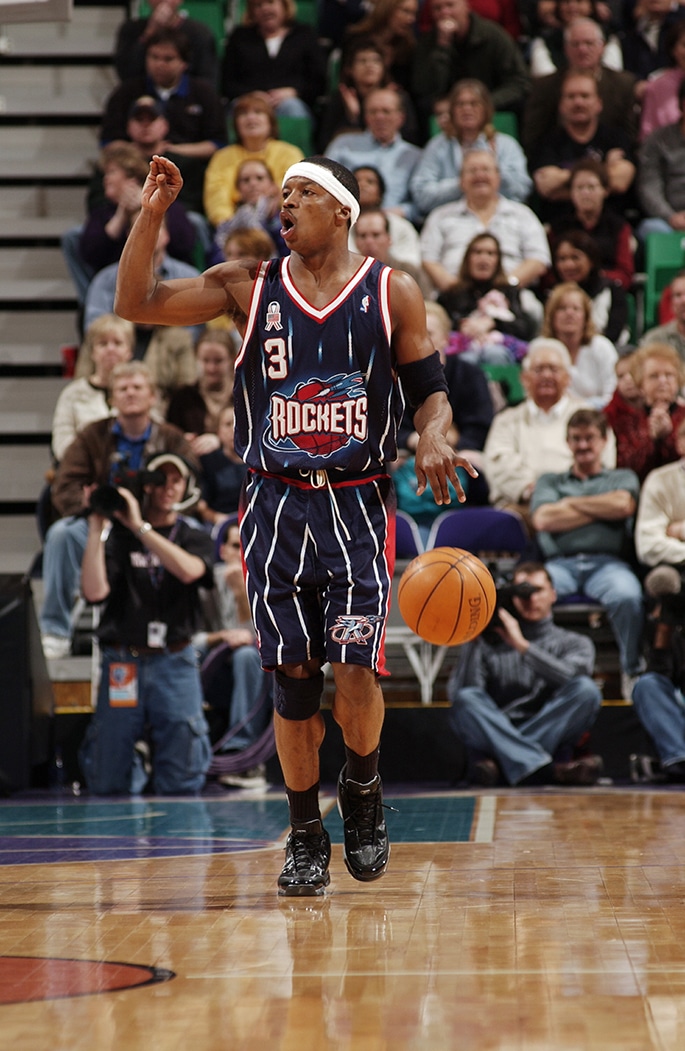 SLAM: Do you feel like you reached your potential in the NBA?
SF: Basketball wise? Nah, man. I was just starting. People are like, You did good. I'm like, That's good to y'all? That's okay. I never had two bad years. The years I didn't have the numbers was that New York shit. There was so much shit in New York, it wasn't even no injuries, it was coaches and players. I never wanted to get involved in none of it. Went back to Houston, and the coach benched me. So alright, maybe its just time for me to be a dad. These people don't fuck with you like that. I was like, I ain't going to argue with that.
SLAM: Was it a hard transition going from basketball being your whole life to not having it at all?
SF: When I finally said I'm not going to play, I was like, It's party time. I traveled everywhere, I relaxed and rewarded myself. People said, He's doing drugs—Hell no, I wasn't doing no drugs. Did I smoke some weed? Hell yeah. Was I drinking? Hell yeah, I was partying, spending whatever I felt. That was my way of releasing like, Damn, this is the thanks I get? So I'm going to party and chill.
SLAM: Just to be clear, you are saying you never used drugs?
SF: Hell fucking no. Have I rolled a blunt or rolled some whiteboys up? Hell yeah. That's it.
SLAM: Did the partying ever take you to a dark place in your life? Was it ever out of control?
SF: Dark as far as just getting tired of drinking? Hell yeah. It wasn't like I was trying to kill myself. But was I getting fucked up? Who didn't? Who don't? When you get drunk, you get drunk. It's the same drunk for anybody. Anybody that drinks, who gets drunk, you know what getting drunk is. It's no different. I'm human. If it was out of control, I wouldn't be right here.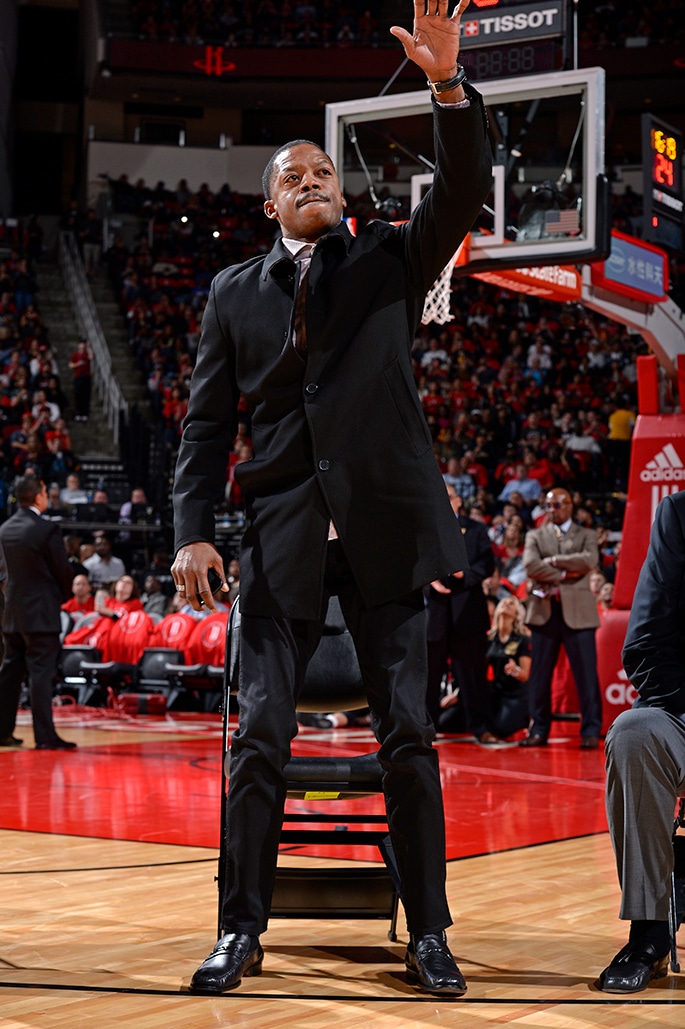 SLAM: So you're done with the partying?
SF: I ain't saying done. Man look, I'm not no Johnny Manziel, that's who the fuck y'all need to talk to. Ain't none of that. So talk to Johnny Manziel about that. I ain't no nigga getting in no fights or beating anyone up. But don't get it twisted. If I want to get ten boats, I'mma get ten boats. I'm going to be Steve. I don't care what nobody say. I told the NBA that, I'll tell the public that way. Whatever I feel like doing, I'mma do. Do you, do your life.
SLAM: What about during your playing career, how much partying did you do?
SF: You come to Houston, every player in the League know they better call me. But I didn't really go out that much on the road, on the days before games. Kelvin Cato, he wouldn't let me go out. He followed me everywhere. Houston, Orlando, New York. I called every team I went to and I said I need him with me. He was the only person that could keep me sane, boy. And he a crazy motherfucker. Every team, every situation, that's who I had to have. Nobody knows that.
SLAM: How does it feel when you see some of the negative things people say about you on social media now?
SF: Man, I don't give a fuck. I don't. Why the fuck do I got to answer to social media? I've got two kids. I can say it with a smile. You really think I look at this shit? I play on social media. This is my makeup for me not playing PlayStation. I don't play Madden. This is my Madden. Social media, whatever. People do things to feel like their chest gets out there a little bit man, to each his own. Certain people get high off of certain shit, if that's their high, stay high. My high is being Steve, just being me.
SLAM: From the end of your playing days to now—
SF: My life's gotten better.
SLAM: Why?
SF: I'm more of a dad, I'm wiser. I've got two kids, I'm in the best place of my life. I lived my first dream. Tell me who can say they lived their first dream at 32? Who's still alive and can come here to DC at 39 and do whatever he want, and his kids can do whatever they want. Who wouldn't take that?
SLAM: In your eyes, what's your legacy as an NBA player?
SF: Shit—he came, he saw, he conquered.
—
Abe Schwadron is the Managing Editor at numberFire and a former Senior Editor at SLAM. Follow him on Twitter @abe_squad.
Photos via Getty Images