Tal Brody's voice is hoarse. He's also just getting over a mild flu—repercussions of flying his 73-year-old body back and forth across the United States to promote a new film.
Still, Brody, who's talking on the phone from his Tel Aviv home, is in good spirits. He usually is, but that's especially the case whenever he's given a chance to talk hoops. Conversations with Brody frequently derail; almost all make their way back to basketball. A question about Israel's political standing in the early 1980s could end with him talking about a chat he once had with "Billy" Walton or the time Bill Russell announced at an annual NBA All-Star Weekend legends banquet—an event Brody never misses—that his salary was greater than Wilt Chamberlain's.
But we'll get to that in a bit. First, let's back up and answer the question you—Young Basketball Fan Unaware of 1970s Geopolitics—are no doubt pondering: Who the hell is Tal Brody?
"He's the Forrest Gump of Israeli basketball," says Dani Menkin, an Israeli filmmaker whose new movie, On The Map, documents the '76-77 Maccabi Tel Aviv basketball team and with it, much of Brody's life. Few know as much about Brody as Menkin, but even that comparison—describing Brody as a Forrest Gump-like character—doesn't do the man's life justice.
Forrest Gump witnessed important events. The difference between Forrest and Brody (aside, of course, from one being fictional) is that Brody didn't just observe history. He altered it.
* * *
Israel in the 1970s wasn't exactly a hot tourist spot. Emerging out of the shadows of the Holocaust and WWII, it was officially formed as a Jewish state in 1948, only to immediately find itself engaged in a virtually neverending war with its Arab neighbors. There was the war after Israel declared independence in 1948; the Suez Crisis (where Israel, France and Britain attacked Egypt) in 1956; the Six Day War in 1967 (Israel, again, against Egypt, Jordan and Syria); and then the Yom Kippur War six years later.
The latter battle drained the soul of the country. On October 6, 1973, Egypt and Syria, with help from Arab allies, launched surprise aerial attacks on territories captured by Israel during the Six Day War. It was Yom Kippur, the holiest day on the Jewish calendar. Sirens rang through the country a bit after 2 p.m., halting the calls of repentance ringing out of the synagogues, where many of Israel's reserve soldiers were spending the day.
The fighting raged on for 19 days, with heavy casualties on all sides and Israel, despite its miniscule size (it's roughly as big as New Jersey), losing just under 3,000 men and women over that three-week span. Every Israeli knew someone in the army, and so everyone knew someone who had been lost in the battle, and just 13 months had passed since 11 Israeli athletes at the Munich Olympics had been captured and later murdered by a Palestinian terrorist group.
Israel was in a state of mourning.
Brody first traveled to Israel about eight years prior, to compete in an international Jewish Olympics, the Maccabiah Games. A native of Trenton, NJ, he was an All-American point guard at the University of Illinois before he was drafted No. 12 overall by the NBA's Baltimore Bullets in 1965.
"Tal had a lot of talent," says HOFer Rick Barry, who was drafted the same year as Brody and later traveled to Israel as his guest. "He was a damn good basketball player. I think he would have had a good NBA career."
Brody was Jewish and attended Hebrew school as a kid, but his connection to Israel—despite both his father and grandfather having emigrated to Israel from Europe before arriving in the US—was loose, at best. Still, that summer he leapt at the opportunity to play in the Maccabiah Games and represent Team USA. He led the Americans to a gold medal and afterward was approached by some of Israel's top basketball decision makers as well as Parliament members about remaining in the country and helping it build a strong basketball program.
The sport was new to Israel, where soccer was still No. 1. Professional hoops games were often held outside, sometimes in sandstorms. Israel was also struggling economically (due to boycotts from its neighboring Arab countries and the Soviet Union) and its underdeveloped culture was vastly different than America's, too.
"There was chicken every day for lunch and dinner," Brody says. "The refrigeration wasn't very good either."
And yet something about the experience, about living in a Jewish state surrounded by Jewish people, ignited a flame inside of him. Brody remained in Israel for the '66-67 season, only returning to the US in 1968 so he could fulfill his mandatory military service for the Vietnam War. During the Passover holiday two years later, while at Fort Pope in North Carolina, he received a postcard from Moshe Dayan, Israel's then-defense minister, asking him to return and "continue his work." After completing his military service Brody made Aliyah—Hebrew for "going up," and the word used in Israel to describe immigrating to the country.
"My dream was always to play in the NBA—I was only supposed to be in Israel for that one year," Brody says. "But I replaced that dream with a challenge. I saw what basketball was doing for the country and that I could help bring pride to Israel."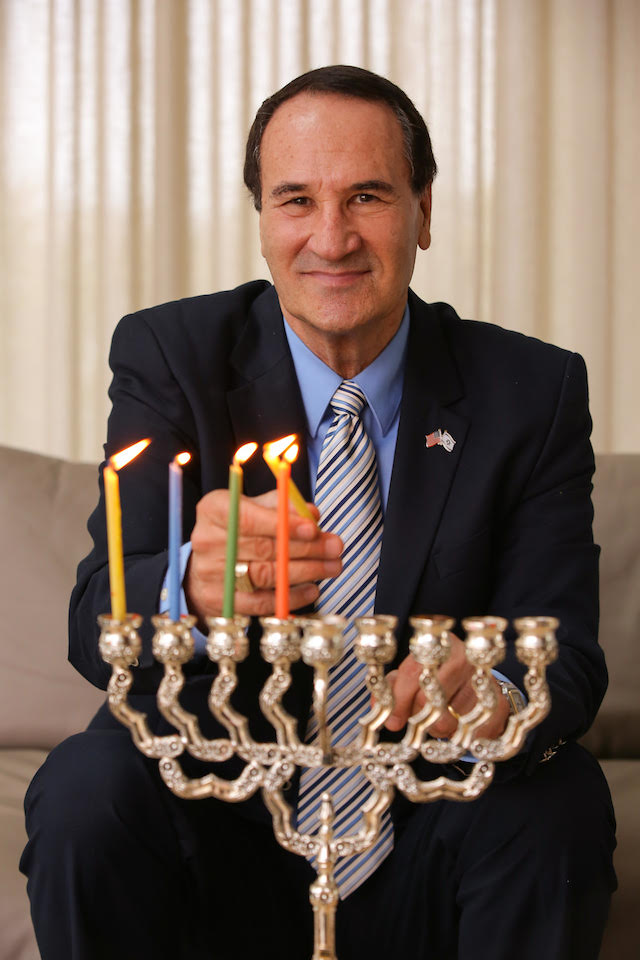 Leon Wandel remembers hearing the sirens on Yom Kippur in 1973. Born nearly 40 years earlier in Belgium, he and his parents survived the Holocaust by hiding in a neighbor's home. Later in life, he became a FIBA official. But he had friends in Israel and that year decided to spend Judaism's holiest day with them. Then war broke out. Wandel asked how he could help.
"They said, 'Make sure we can play this basketball season,'" Wandel recalls. "That's all they wanted."
By then Brody emerged as the best player to step foot on Israeli soil, earning the nickname "Mr. Basketball" and transforming Maccabi. But it took years for the club to rise to the level of its European counterparts.
Then the 1977 FIBA European Championship Cup [known today as EuroLeague] arrived, and Maccabi Tel Aviv won its first two games to advance to the semifinals. No Israeli team had ever made it that far. There, Israel was slated to face CSKA Moscow, one of the league's top franchises, boasting some of the world's best players.
"The odds of Maccabi winning that game were maybe 10 percent," Wandel says.
There was just one problem: the Soviet Union had broken off diplomatic ties with Israel about a decade earlier, and politically supported Israel's Arab enemies, too. CSKA Moscow refused to travel to Israel for the game, and the Soviet Union refused to grant visas to the Israelis and host the game itself. It was up to Wandel to find an alternate location. The game wound up being played in the tiny Belgium town of Virton.
With hundreds of Israelis in attendance and millions more tuning in on TVs back home, Brody and Co. stunned the world with a 91-79 win. After, a euphoric Brody had a message for Israelis and also the world.
"We are on the map!" he proclaimed in Hebrew to an Israeli TV camera as thousands of Israelis flooded the streets. Brody forcibly waved his right arm while yelling, as if wanting to further drive the point. "And we are staying on the map–not only in sports, but in everything."
Three weeks later, they knocked off Mobilgirgi Varèse to capture Israel's first EuroLeague title. Israelis, and Jews, knew whom to thank.
"Tal was the symbol of somebody who made Aliyah, who became Israeli, and who has been vocal about his pride for his home country," says former NBA commissioner David Stern. "This was an event that transcended basketball. That's the magic of the sport, and few people illustrate that more perfectly than Tal."
* * *
Brody retired soon after but has remained a strong presence in Israel. He served as an assistant coach and front office member for Maccabi Tel Aviv. He's worked as a broadcaster and helped cultivate the relationship between Israel and the NBA. He ran for office and in 2010 was named the country's first Goodwill Ambassador by Prime Minister Benjamin Netanyahu. It's a position and title he's embraced.
"He set an example for so many. He was a trailblazer," says former Cleveland Cavaliers and Maccabi Tel Aviv coach David Blatt, who made Aliyah himself in 1981. "He showed how an immigrant could come to Israel, become a citizen, be embraced by society and mold Zionistic and sports dreams together."
"He's dedicated his life to being a real advocate for Israel," says Sacramento Kings forward and Israeli native Omri Casspi. "That's something I've looked to emulate."
Sometimes Brody wonders what his life would have looked like had he remained in the NBA. Then he sees people like Blatt and Casspi, and Maccabi Tel Aviv becoming a premier EuroLeague franchise, and stories from Stern about all the NBA-crazy Israeli fans who stay up until 3 a.m. watching games, and he thinks about all the endangered Jewish people Israel has saved over the past 40 years and any regret he might have momentarily felt suddenly washes away.
"I see how basketball influenced my country," he says, "what winning gracefully and beating teams like Moscow meant to Israelis. The journey has been a beautiful one."
—
Yaron Weitzman is a Senior Writer for SLAM. Follow him @YaronWeitzman.
Photos: Shmuel Rahmani, Tal Manor