"Don't try and skip the struggle! Go through it, that's where character is built."
The above affirmation has been pinned atop Atlanta Hawks' rookie Taurean Prince's twitter timeline since before he became an NBA lottery pick earlier this summer. The statement is more than just a simple tweet for the San Antonio, TX, native; it's a mindset. It's also a testament to Prince's hard work and perseverance of fulfilling his NBA dream after navigating a tough childhood and overcoming difficult odds.
Prior to a four-year collegiate career at Baylor which included a Big 12 Sixth Man of the Year Award, a breakout senior season while also earning his degree, Prince endured bouts of instability as a kid growing up. At one point, he was forced to live at a Salvation Army shelter with his Dad who was homeless at the time.
Made it out the trenches and I'm never going back!

— TP (@taureanprince) October 28, 2016
Those early struggles forced Prince to mature a lot quicker than most kids his age. Prince never once questioned his tough times, or the cards that he was dealt in life—only using it as motivation to strengthen his resolve and focus. He now feels humbled immeasurably by everything that's come his way since being drafted, as his life experiences have helped build his character.
Throughout summer league, training camp and preseason, Prince has already shown a tenacity and nose for the ball on defense. Offensively, he brings constant energy and versatility that should help earn him a spot in the regular rotation this season.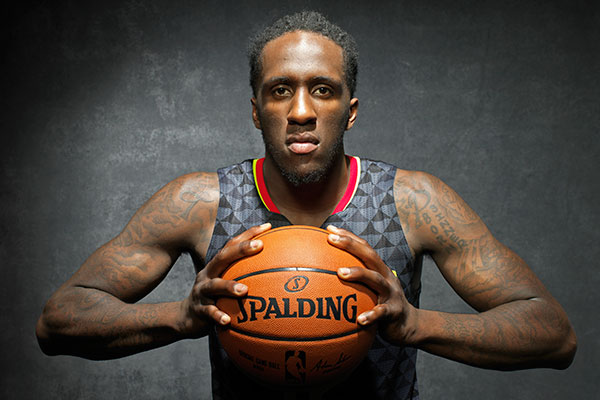 SLAM: Dwight's famous for giving guys nicknames. Have you been given a nickname yet?
Taurean Prince: [Laughs] No, not yet. So far my name has been "rook" for the last three months. Not yet.
SLAM: Have you gotten to fully settle into Atlanta and how are you enjoying the city so far?
TP: Yeah, I'm actually 100 percent settled in now. I have my new place, my cars are here and I'm settled in. As far as the city, everyone is all for the sports teams here. They love their Falcons. They love their Hawks. Any time they see us, it's all love. There's no hating on us, no bashing, no provoking us to do anything that we don't want to do. Atlanta's been all love.
SLAM: You recently signed with adidas basketball. How does it feel joining the adidas brand and how many people have hit you up asking for Yeezys?
TP: A lot of people ask for Yeezys! [Laughs] What they fail to realize is that we don't get them that easy either. Just because we're signed to adidas, we still might have to purchase them in order to get them. As far as the signing goes, I'm excited. Adidas has definitely blessed me with more shoes than I ever thought I would own as a kid. Things like that just humble me even more and I just take it as a blessing. I'm just going to continue to work hard for everything because I don't want to lose it.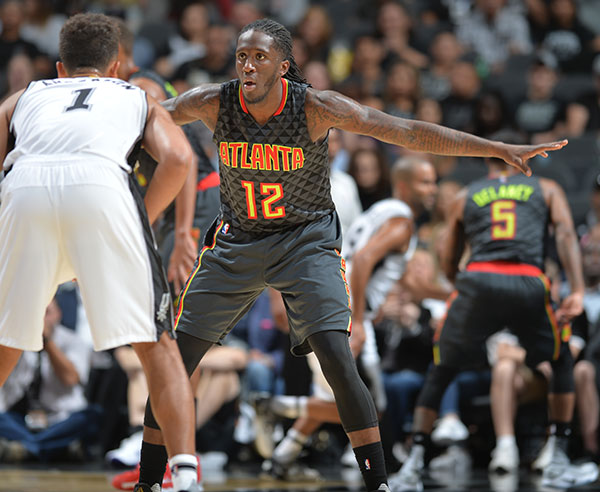 SLAM: What would you say has been the biggest adjustment you've had to make to your individual game since leaving Baylor?
TP: I think the main thing has been slowing myself down. It's not so much that the game is sped up or faster, or that anyone is doing anything that makes me play a certain way. It's really been me slowing myself down and taking what the defense gives me. It's not always about trying to go and get something on offense. It's about being patient and allowing things to develop and not trying to force things.
SLAM: Most players selected as high as you (12th overall), go to young teams that are rebuilding. You joined a playoff team that's mostly veteran. I'm sure Coach Bud has discussed what's expected of you this season, but what are you looking to add and contribute?
TP: I definitely want to be that guy from Day 1 that can play defense and can compete 100 percent every single time I step out on the floor. I just want to let the offense come to me. I have a knack for scoring, but I also know that if you don't play defense, you don't win games. Just being a guy who can hit open shots. We have players here that can score and put the ball in the bucket. If [offense] comes to me, then it comes to me, but I'm more focused on getting steals, getting out in transition and making winning plays to help the team.
SLAM: A lot of people have compared you to DeMarre Carroll because of the "3 & D" role he played for the Hawks. There are some similarities, but is there another player that you have studied or pattered your game after?
TP: Kawhi Leonard is someone I definitely pattern my game after. He's a great player. In time, I feel like I can take a similar path as him. I watch a lot of tape on him and I feel like if I can just fine tune myself and gain that experience. I want to enjoy the process so I won't rush things, but I hope to become the type of player he is for the Hawks some day.
SLAM: You were a four-year college player and now it seems that there's this perception that the best players are the one-and-done guys. In your opinion, how did staying at Baylor help you from a mental and physical standpoint to be ready for the next level?
TP: To be honest, it can be different for anybody. Someone younger can be just as mature as me. Staying those four years at Baylor made me realize what was most important in life. It wasn't about girls, having fun, and going out all the time. As I got older, I stopped worrying about playing time and I started worrying about what I needed to do to help the team win games. Once I started doing that, I got a lot better my last two years and I became a better leader, a better person, and a better son and brother to my family. That has all translated because of basketball.
I feel like if you have a great outlook on life off the court, it just elevates your game that much more. I think that was definitely the case for me in college. Staying helped me become a better leader to the younger guys and I shared my wisdom with them to help them not make the same mistakes I did as a young guy. I didn't take winning serious my first two years in college. I was just worrying about playing time and getting buckets. By staying in school, it prepared me for the position I'm in now.
SLAM: You've overcome a lot just to get to this point in your life. Since being drafted back in June, has there been a moment where everything has sunk in on just how far you've come, or do you have that feeling every day?
TP: It's a daily feeling for sure. Just sitting back and reflecting. Even doing the rookie duties for the veterans; those types of things are something I don't ever mind doing because I know that I'm here for a reason and I have to earn my stripes as a rookie. This has definitely been a humbling experience and a blessing all the way throughout, and I don't ever take anything for granted. Every day I'm reminded about the things I've been through and how far I've come. It just makes me want to be that much better and work even harder for the people around me.
SLAM: What do you think kids can learn from your story because it's easy to get sidetracked in life when facing difficult circumstances?
TP: My advice would be to not let the bad things that happens in life turn you into a bad person. Also don't allow that to become an excuse to not be successful later in life. Some people would say, "I'm this way because I didn't have a father in my life," or "I'm this way because I wasn't given everything in life." I could have said the same things. I could have gotten involved in criminal activities because I didn't have a home at times, or because I didn't have anything to eat at times. But I didn't. I switched it and turned it into a positive.
I just flipped all the negatives into a positive and it helped turn me into a respectful person. No matter what age I am, I'm probably saying 'yes sir,' 'no sir' to people. At times people tell me you don't have to call me that, but it's just in my vocabulary—that's just how I'm built. I turned a tough situation into a positive because there's no losing in that. Just because what you're going through in life is really tough, it doesn't mean you should discredit yourself or lower your standards and expectations in life. It should only help you want to do more.
 SLAM: Who in your life would you say is the most influential in shaping that mindset?
TP: Turning a negative into a positive would be from my father because that's who I went through my situations with. Being able to overcome things and having a positive mindset, would probably be my mother. But I think it all comes from within myself.
SLAM: You've already shown some of what you can do, but what can Atlanta Hawk fans and the League expect from Taurean Prince?
TP: A player that's going to play hard 100 percent of the time. I'm always going to bring energy and be fearless against any opponent. I'm going to work hard and knock down the open shots. Also if you see me, say Hello. I'm not afraid to interact with the fans or take pictures. Fans can follow me on Twitter (@TaureanPrince). I tweet and interact with all my fans and we even play Madden online. I'm extremely humbled and blessed to be able to do what I do.