It's a blazing hot 113-degree July day in Las Vegas, and the 12 individuals who will be representing USA Basketball in the 2016 Olympics saunter into UNLV's Thomas & Mack Center and sit down on a bunch of red folding chairs on the far side of the gym. As a hungry bunch of media members pepper the players with questions, the guys respond softly and slowly, mostly moving at the speed one would the morning after a late night in Vegas. (Same.)
But they all look plenty comfortable and plenty proud. And they should—though some big-name NBAers declined invites, these are still the 12 stars who were selected to rep their country in a global sports competition that most kids and, well, adults, could only dream of participating in.
Let's be real, though: It's not just a country that these guys represent when they take the big stage in Rio de Janeiro. There's also the league they play for, their friends and families, their hometowns, and, most importantly, (we kid, kind of) the sneaker companies they endorse.
For Kevin Durant, Kyrie Irving, Paul George, Draymond Green, DeMarcus Cousins, DeMar DeRozan and DeAndre Jordan, that brand is the mighty Nike. [Only the first five made it onto our newest KICKS cover, but we've still got love for all of 'em.—Ed.] And with its product in the spotlight, Nike isn't simply letting the moment pass; they're stepping up by putting forward some of the most fire material the sneaker game has to offer.
"We totally look forward to [the Olympics] coming around every four years," says Eugene Rogers, Nike Basketball's Color Lead, who worked on the color strategy of all the new releases. "It's an opportunity to approach it differently than anything else that we approach. This is a time to put country first above all else—above each of the athletes, above our own brand."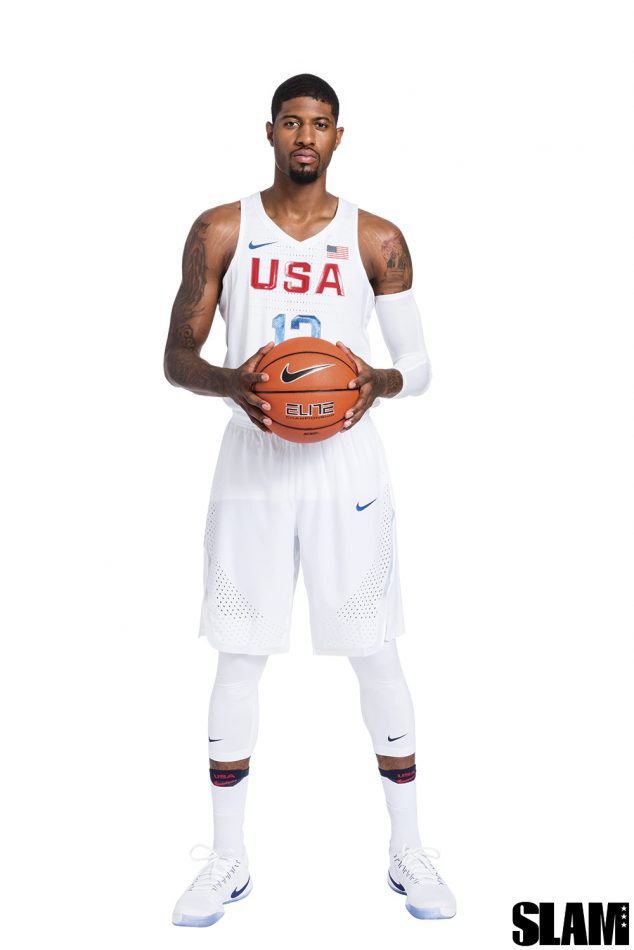 We'll start with the Hyperdunk, referred to as the "Nike Basketball Signature Shoe." The sneaker Paul George is wearing in this year's Olympics, the Hyperdunk 2016 Flyknit leans heavily on Nike's Flyknit technology (duh), applying it all the way up through the sneak's upper, designed to provide that locked-in feeling—the way the Flyknit extends above the ankle, it's essentially both a sneaker and a sock. (It's comfortable as hell, too. We wear-tested these out in Vegas and can confirm.)
The Hyperdunk has some Olympic history. The original version was unveiled on-court in 2008 at the Beijing Olympics—that first iteration was re-released this summer to celebrate that Olympic debut—and PG-13 will be alternating between a pair of sleek USA-inspired colorways in Rio: one white, one navy. "The white version and the navy version represent the two different personalities of the shoe," Rogers says. "The white one, since it's such a revolutionary silhouette or basketball shoe or even just sneaker in general—with the height, with the sock-like form—you see that ultra-lean expression, which plays into the overall Team USA aesthetic. Then in the navy one you really see how we amplify the Team USA pallet and we really brighten the blues and the reds. We use those for technology call-outs, like the Flyknit."
There's no specific player officially attached to the Hyperdunk family, but George is essentially the face of the shoe, an honor he seems to enjoy. "To kind of carry that torch for Nike, it's been unbelievable," he says. "Shoes are history. They tell stories. It's a way for the younger generations to have that connection with how great some of our athletes were. It's more than just a sneaker at this point, you know what I mean? So it's awesome and I look forward down the line to hearing stories that I've been a part of with Kev [Durant], LeBron, Kobe. It's just great that they continue to keep telling the stories."
On the bottom of the Flyknit version of the shoe is a full-length Zoom Air unit for stability, with Flywire cables running through the sneaker for a full lock-down effect. Both the white and navy colorways retail for $200—all the aforementioned technology ain't cheap!—and are out now.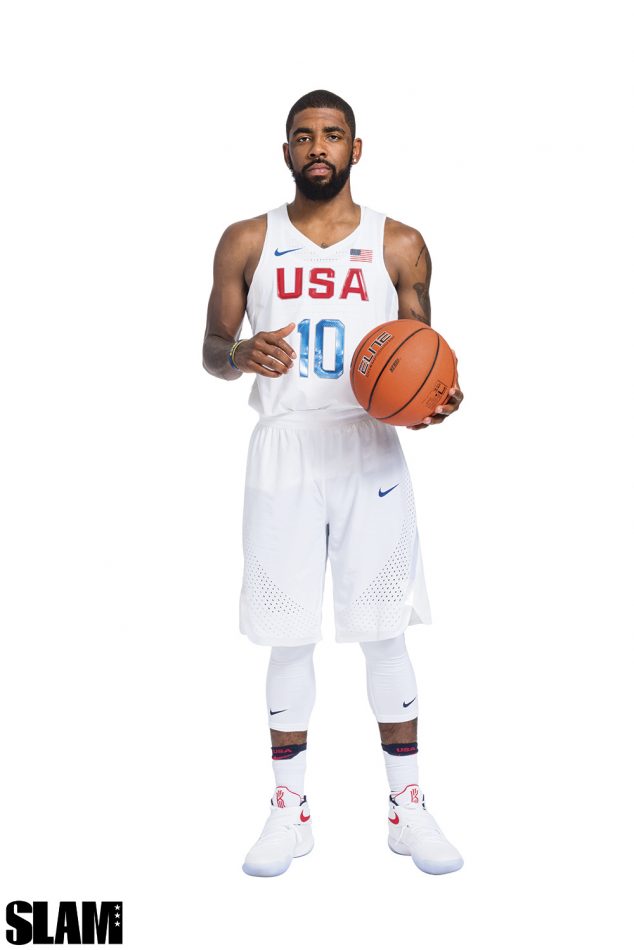 Then you've got starting point guard Kyrie Irving, and more specifically, his buzzing Nike Kyrie 2s. Kyrie's line of kicks may only be on its second run, but it's quickly become a go-to for NBA players and everyday pick-up players alike. They're fit properly for most guards, they're reasonably priced ($120), and they're distinct but clean, with a strap across the top and curved midsole and outsole.
"I think I have the best sneaker here, hands down. Bron's not here so I can say it," Irving says with a laugh, sitting in the corner of the Thomas & Mack Center.
Irving's game is consistently side-to-side, based on tons of quick movements that he uses to slide around opponents en route to the basket. The Kyrie 2, of course, is designed for his style of play. "His game is very much about that lateral movement," Rogers says. "With the personality of the shoe, we really call out that strap for that lateral lockdown amplifying Kyrie's footwork.
"[Kyrie] was great to work with," Rogers adds. "He definitely wants his shoe to have a bold expression and he's not afraid to lead with his footwear. As a designer, it's really exciting to work with that."
The Kyrie 2 "USA" sneaks officially dropped globally in early July and in the States in mid-July.
And then there's Durant, the most talented player on this year's Olympic squad. His KD9 was introduced earlier this year, with a low-cut silhouette designed by Leo Chang. The Zoom Air unit of the KD9 runs all the way from heel to toe, providing the sneaker with a nice bounce, and the midsole was minimized, per Nike, to enhance the sensation caused by the full Zoom Air unit.
"The shoes are perfectly catered to my foot, like I molded these and got a special pair made," Durant said in a Nike press release. "That's what I want everybody to feel who puts these on. It will feel personal."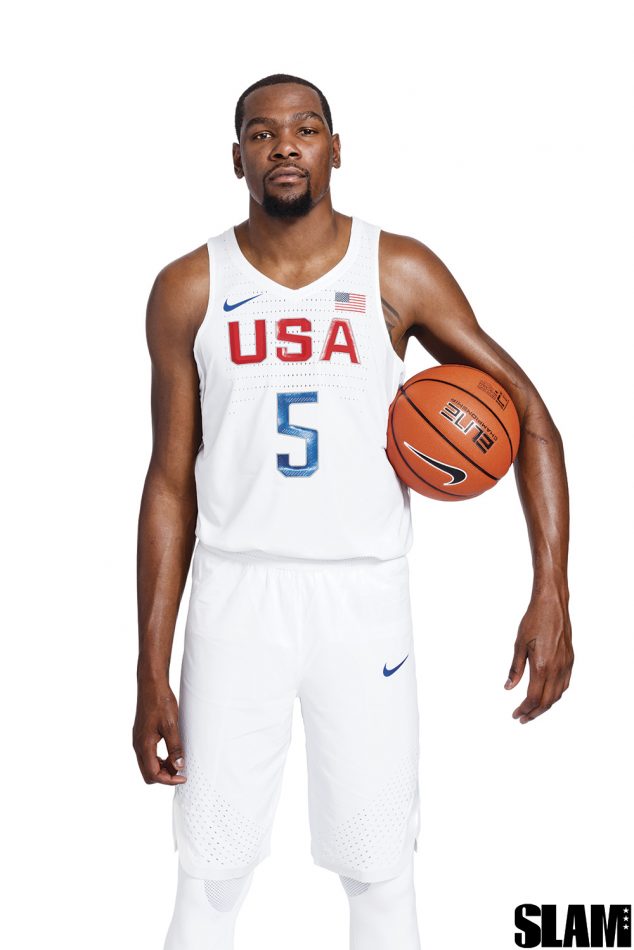 George, Irving and Durant are the three guys Nike is marketing the heaviest, but the Swoosh also has a few others on the Team USA roster who will be lacing up their products.
Warriors forward and first-time Olympian Draymond Green is rocking the Nike Zoom Clear Out, a new basketball sneaker with Zoom cushioning and an all-mesh upper. Meanwhile, Kings big man DeMarcus Cousins has, like George, been spotted in the Hyperdunk Flyknit and Hyperdunk High, and like Green, spotted in the Zoom Clear Outs.
Then you've got Raptors swingman DeMar DeRozan, one of the League's biggest Kobe heads, rocking the Kobe 11s, and DeAndre Jordan in the Hyperdunks. Which is all to say that if Nike walked away with seven players rocking their best stuff in Rio and nothing else, that'd be a massive victory.
But, well, there's more. Team USA-inspired versions of the LeBron 13 and the Soldier Xs have been released this summer. And then there's the nod to the past: To honor the 20th anniversary of the Nike Air More Uptempo—you might remember them as the loud kicks Scottie Pippen wore in 1996 with "AIR" in huge letters along the side—the brash sneaker has been re-released, though all available pairs were mostly gobbled up by ever-hungry sneaker enthusiasts within days of their initial availability.
Pippen is obviously less known for his footwear decisions than his Chicago Bulls' counterpart, and to be real there were at least a few guys from his era with sneaker games that have resonated stronger over time, and yet Pip's Air More Uptempos have slid under the radar just long enough to regain a whole bunch of cool in 2016.
The night before we spoke with a few of the Team USA guys in Vegas, Pippen and Green made an appearance together to pay tribute to the re-release of the Air More Uptempos by speaking in front of a large group of young fans at a nearby shopping mall. At the event, Pippen compared his game to Green's; Green spoke on watching Pippen as a youngster and hoping he could one day reach his level of success. Asked why his sneakers were so noticeable, Pippen said, "Another guy that I played with had pretty popular sneakers, so I guess I needed something bold to stand out."
The next morning, we asked Green if he ever thought about the tradition that he's carrying on as a member of Nike Basketball's roster. The night before, hundreds of people stood and laughed and cheered all under the context of a sneaker that debuted 20 years ago and was being re-released into stores. Who knows where Draymond will be a couple decades from now, but it's not out of the realm of possibility that he could be sitting with one of the best young players in the year 2036, talking about playing in the Olympics and what it was like to wear a certain pair of kicks way back when. Point being: the sneaker decisions of NBA players today could have longstanding effects.
"You know, I've never really thought about it like that," Green said. "But it's true. You're right."
—
Portraits by Tom Medvedich, last pic courtesy of Getty Images.
Adam Figman is the Editor-in-Chief of SLAM. Follow him on Twitter @afigman.