Kevin Love led Lake Oswego High School to the 2006 Oregon state championship by averaging 28 points, 16.1 rebounds and 3.5 assists as a junior. In the title game, against a South Medford team paced by current Detroit Pistons forward Kyle Singler, Love totaled 24 points and 9 rebounds to secure victory. During that same year, another area hoops icon named Terrell Brandon was being inducted into the Oregon Sports Hall of Fame. He had once guided Grant High in Portland to the same game nearly 20 years earlier.
"We're both from Oregon, we both played for the Timberwolves, and now we've both played for the Cavs," Terrell Brandon joked, from his barbershop in Portland, OR. "So I just told Kevin [Love] when I saw him this summer, don't go to Milwaukee now—stay in Cleveland."
After spending six seasons with the Cleveland Cavaliers, from 1991-97, Terrell Brandon was eventually traded in a three-team deal with the Milwaukee Bucks and Seattle SuperSonics. The blockbuster move, executed in September of 1997, famously shipped Shawn Kemp to Cleveland, Vin Baker to Seattle and Brandon to Milwaukee, along with other pieces and parts changing sides. But before he left, Brandon represented the Cavs in two All-Star games while averaging 19.4 points and 6.4 assists over 153 regular-season games from 1995-97.
"Growing up, Terrell Brandon and Damon Stoudamire were the guys that I naturally looked up to being from Oregon," Kevin Love told SLAM. "I heard all the great things said about them when I was a kid. I knew about their track records throughout high school and in college. In their younger years, that all spoke for themselves. And of course, I know what they went on to accomplish as pros and I also know what Terrell meant to the Cavs during his time here."
Prior to being selected 11th overall in the 1991 NBA Draft by Cleveland, Brandon set several school records at the University of Oregon. Those marks included career and single-season scoring records, assists in a game, and others. He was named Honorable Mention All-American during his junior season with the Ducks before declaring for the Association.
He would first establish himself in the NBA as one of the League's premier backups, learning the professional game behind the great Mark Price. He then became the regular starter in 1995 for the Cavs, and was quickly thrust into the conversation of best point guard in the game—a discussion advanced at the time by a 1997 Sports Illustrated cover story featuring Terrell.
"You don't really realize who is looking at you, or the impact you might be making at the time," Brandon said, in response to the recognition from Love. "It just lets you know that somebody is always watching you as an NBA player. You need to keep your mind together, keep your life together, keep your game together, and continue to improve. If you do, you can have a chance to make an impact. But hearing that from a guy like Kevin, I'm really just thankful that he looked up to Damon and I like that. It means so much coming from a guy like him."
What also means a lot to the Portland community is a basketball culture that's helped develop the games of three NBA stars like Brandon, Stoudamire and now Love over the last two decades. Each of the former Oregon State Players of the Year currently combine for 34 NBA seasons, five All-Star games and one NBA Rookie of the Year between them.
"The standard those guys set in Portland meant a lot," Love said. "Growing up in that time, in Portland, OR, that's when basketball was a pretty good hotbed. So was Seattle, Washington. In the Northwest, we had a lot of players that we looked up to. Those were the guys that really paved the way for us as Oregonians, and then also as guys from the Northwest trying to get better and take it to the next level."
Houston Rockets power forward Terrence Jones and Toronto Raptors wing Terrence Ross are two of the other talented NBA players to also emerge from the Northwest repping Portland. But despite the talent around him growing up, it didn't take Love long to stand out.
"He was in eighth grade," Brandon said, of the first time he truly knew that Love was a special player. "Of course, his Dad, being the great Stan Love—who I idolized and followed to the University Oregon—I spent my college career trying to break all his Dad's records [laughs], so I knew exactly who the Love family was. But by the time Kevin was in eighth grade, he really started to take off athletically.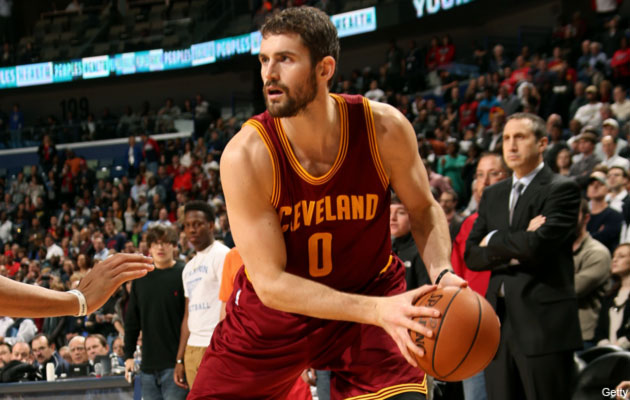 "His Dad had a plan, too, which I think was critical to his development. During his younger years, his Dad played him at guard. And his ball-handling really became truly spectacular for a young man as tall as Kevin was. I always thought that was a good way for young people to do it, developing ball-handling at a young age like that."
While the long-time point guard was quick to notice Love's ball-handling at an early age, the Portland community was filling local gyms to watch him show out on a nightly basis. And they rarely left disappointed.
"When Kevin got to high school, he just elevated and took off," Brandon said. "His confidence was through the roof. He even broke a backboard one night during the game and they had to stop to replace it. He was always a kid you knew would be very special, so long as he never had any major injuries. But to see him today, what he's become, coming from our area, we're just so happy. We really love and appreciate him."
Cavs fans have quickly learned to love and appreciate their new All-Star power forward as well. He's opened the season averaging 17.6 points to go along with a team-leading 10.5 rebounds playing alongside fellow superstars LeBron James and Kyrie Irving. Love has also double-doubled 14 times (fifth in NBA) and ranks ninth in the League overall in rebounding.
"The numbers he had in Minnesota were impacted to an extent by him having to be a one-man crew," Brandon said of Love. "Now he doesn't have to go for 25 and 15 every night because he's playing with LeBron and Kyrie. I think that at the end of the regular season, his body will respond positively down the stretch because he won't have the wear and tear he would have otherwise from carrying that load by himself. That's something the Cavs will benefit from. But he's playing well right now, obviously, and the Cavs are playing well as a team. They'll keep getting better the more time they spend together on the floor."
The dynamics involved in that nightly burden Brandon described is something he knew well as a player. His Mike Fratello-led Cavs teams were primarily designed to grind out wins on defense. Brandon was not only the All-Star point guard, but also essentially tasked with getting the vast majority of his team's buckets.
"When I was in Cleveland, we were scoring 88 points a game," Brandon recalled. "I was only averaging 20 but it felt like 40 on some nights [laughs]. I knew it would be up to me for us to score. But then when I got traded to Milwaukee, my responsibilities went down because we had Ray Allen and Glenn Robinson. I played later in Minnesota when we had Kevin Garnett, Wally Szczerbiak, Joe Smith, and I could feel myself getting stronger as the season went on because the responsibilities were less with those teams, even though I was playing the same amount of minutes. It's that pressure from within, knowing that I had to score, that was gone. I could just be a pure point guard, try to get out the way, and enjoy the game more [laughs]."
Despite spending time with three NBA teams during a 12-year professional career, Brandon feels most connected with the team he served as both a backup and an All-Star. So when King James decided to return to Cleveland, prior to Love's arrival, he was naturally excited.
"I know I made other stops," Brandon says. "But people still look at me as a Cavalier, and I still feel more of a Cavalier than any other franchise I was lucky enough to play for. So when LeBron made his announcement, I was just happy for him that he made that decision.
"In my barbershop, everybody was making push-up bets on what team he was going to. You have to do however many push-ups you bet if you lost on the team you picked. I was pretty clueless, I have to be honest. I didn't know what he was going to do. But of course, I wanted him to come home to Cleveland. And when he made that announcement, I was just happy for him. I'm looking forward to watching him keep doing all the things he's always done ever since coming to my basketball camp in eighth grade."
Kevin Love isn't the only Cleveland Cavalier superstar that Terrell Brandon first met while they were still in grade school. During the summer before LeBron James entered the eighth grade, Brandon arranged for 'Little LeBron' to attend his annual basketball camp in Cleveland.
"I remember that LeBron was on TV just as much as we were," Brandon recalled. "The news would show the Cavs, and then they showed LeBron James. So I'm like, who is this kid that gets just as much publicity as us? When he came to my camp, I had him at first with the eighth graders. He was there for 30 minutes. I moved him up one grade every 30 minutes before he eventually finished as the MVP of the senior division."

Brandon was quickly convinced that the hype surrounding the youngster from Ohio was certainly warranted. His father, Charles, however—who was working the camp that day with Terrell—needed to see for himself.

"As this is going on with LeBron in the morning, my Dad walks up to me and is like, Who is this young man right there? I said, This is the guy I was telling you about, Dad. Little LeBron. He said, OK, well I'm watching him now.

"And you know how they are in the old-school—they cross their arms, and they watch basketball. They're going to check you out. So my Dad had his arms crossed, standing there, really studying LeBron. After a few minutes, he just turned to me and said, "Yeah, that boy's good."

Since retiring from the NBA in 2003, Terrell Brandon has become a successful businessman in the Portland area. He's also become a community role model, avid real estate investor, and continues to mentor local area kids. He also has aspirations of returning to the NBA in an executive capacity at some point in the future.

"I get up and I go to my barbershop everyday," the 44-year-old Brandon said. "That's kind of my life. Make sure my family is taken care of, and then I go in at least four times a week. When I'm at the shop, I'm sweeping the floor, making sure all the supplies are there, normal barbershop type stuff. My other businesses, that's going on at the shop, too. So it's a blessing in disguise for me, I never have to leave."

Terrell Brandon Barbershops are hosting their annual, "Thanksgiving For Christmas" holiday event on December 20-24. The event will benefit various Portland area youth and child day care programs in his hometown community.

For more on TeeBee's retired life, check the feature we did on him a few years ago. To help or contribute to the holiday event, contact Terrell Brandon Barbershops at (503) 460-0348.

Photo gallery courtesy of Justin Tucker for NineEightyFour.com / Sports Media World.

287

[ngg_images gallery_ids='390' display_type='photocrati-nextgen_basic_imagebrowser']