Ben Collins is a brilliant writer, a dogged reporter and a Senior News Editor at The Daily Beast. He's also a SLAM columnist and writes The Outlet, a monthly column in which BC muses on…well, whatever he wants. Follow him on Twitter @oneunderscore_.
***
The Golden State Warriors' offense was designed on a charcuterie board at an airport bar, then weaponized and financed by a dude who helped create AutoTrader.com. That sounds like a very lazy last page of Mad Libs: Silicon Valley Edition, but it is real. It was all documented in an ESPN story in October, and when you write it down like that, it's hard to root for it.
There is no more soothing balm for this sort of Monopoly Man behavior than rooting for a muddy, industrial-sized boot and/or chainsaw to step on then defile that charcuterie board.
And that boot/chainsaw, this year, is the New Orleans Pelicans, the most entertaining headache on the face of the Earth.
"It is either excruciating or incredibly fun," Mason Ginsberg tells me. "A little in between."
Ginsberg writes for Bourbon Street Shots, where he watched a Pelicans team that often featured Tim Frazier as its second-best player last year. He has earned something more than a headache, but sometimes you do not get what you earn.
Sometimes you get a headache plus a candy bar and you learn to love the candy bar. And sometimes your team just signs random NBA afterthoughts.
The Pelicans have assembled a collection of bad prescriptions for a short but very entertaining life. They had just signed a recently discarded Jameer Nelson then began playing him starter minutes a day before I wrote Ginsberg.
Inexplicably, it's working. New Orleans has Boogie Cousins, Anthony Davis, bad contracts and any veteran that was available for the minimum after August 15. (Like all good movies about this exact scenario, ownership is doing everything it can to not pay the tax.)
Here's the most cringeworthy lineup I've seen this team deploy: Two point guards (Nelson, Jrue Holiday), two combo guards (E'Twaun Moore, Ian Clark) and Cousins.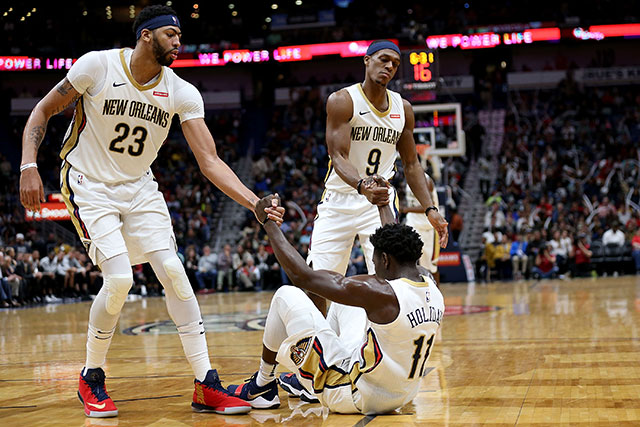 It's also the most immediately successful lineup they've pushed out there. This was the one deployed during crunchtime of Cousins' revenge game against Sacramento, where he dropped 41 and 23 while everyone stood by the three-point line and glared in awe. They might as well have brought folding chairs and a couple of sandwiches.
Also, they won.
"Three guard lineups just work against most teams in the League because there aren't that many big, imposing scoring threat wings," Ginsberg tells me.
New Orleans has two big, imposing, scoring threats, non-wings, then a bunch of pests like Rajon Rondo and Tony Allen, cast-offs like Nelson, and underpaid dudes like Ian Clark. They also took a chance on Josh Smith, who was previously last seen in China.
There is no statistical model telling you this team will wallop the Cavs for four quarters, but that's what happened the day before I wrote these questions to Ginsberg.
After I write this, I'm sure the Pelicans will lose to the Suns by 40, but that is the fun of it.
The Pelicans are a weird, hodgepodge wrecking ball. From a birds-eye view, their strategy was to sign any available NBA talent that cleared waivers to try to find something that works next to Boogie and AD.
As the world burns up, all of the very good things are happening by accident. And this is a very fun thing, also happening largely by accident.
Is it more complicated than that?
"I don't agree 100 percent," says Ginsberg. "But I'd say that's directionally accurate."
Hop on the bandwagon. It sucks. And it's great.
—
Photos via Getty Images