Sometimes it's obvious.
You can watch or listen to a player speak and instantly pick up on just how strong, and authentic, their passion is for basketball.
This week, we celebrate one of those true hoopers.
Baron Davis' intense passion shined through the wide smile he wore during competition, the post-highlight reactions and celebrations, his frequent participation in All-Star Weekend — twice in the main event, once in the dunk contest, once in the skills challenge, and, upon retiring, once in the celebrity game. But most of all, it was evident in the carefree, innovative way he played. Davis was an artist out on the court, constantly experimenting with new styles and bringing a flair that captivated his viewers. There was the absurd dribble packages, the flashy assists, the out-of-nowhere posters. When things were clicking — or, better put, when Baron could not be stopped –, he always looked a kid at the park, simply enjoying himself.
And really, that's what makes a SLAM Legend: An authentic love for basketball at its core.
Because that's what we — meaning the staff here and all of our readers, shout out to y'all — share.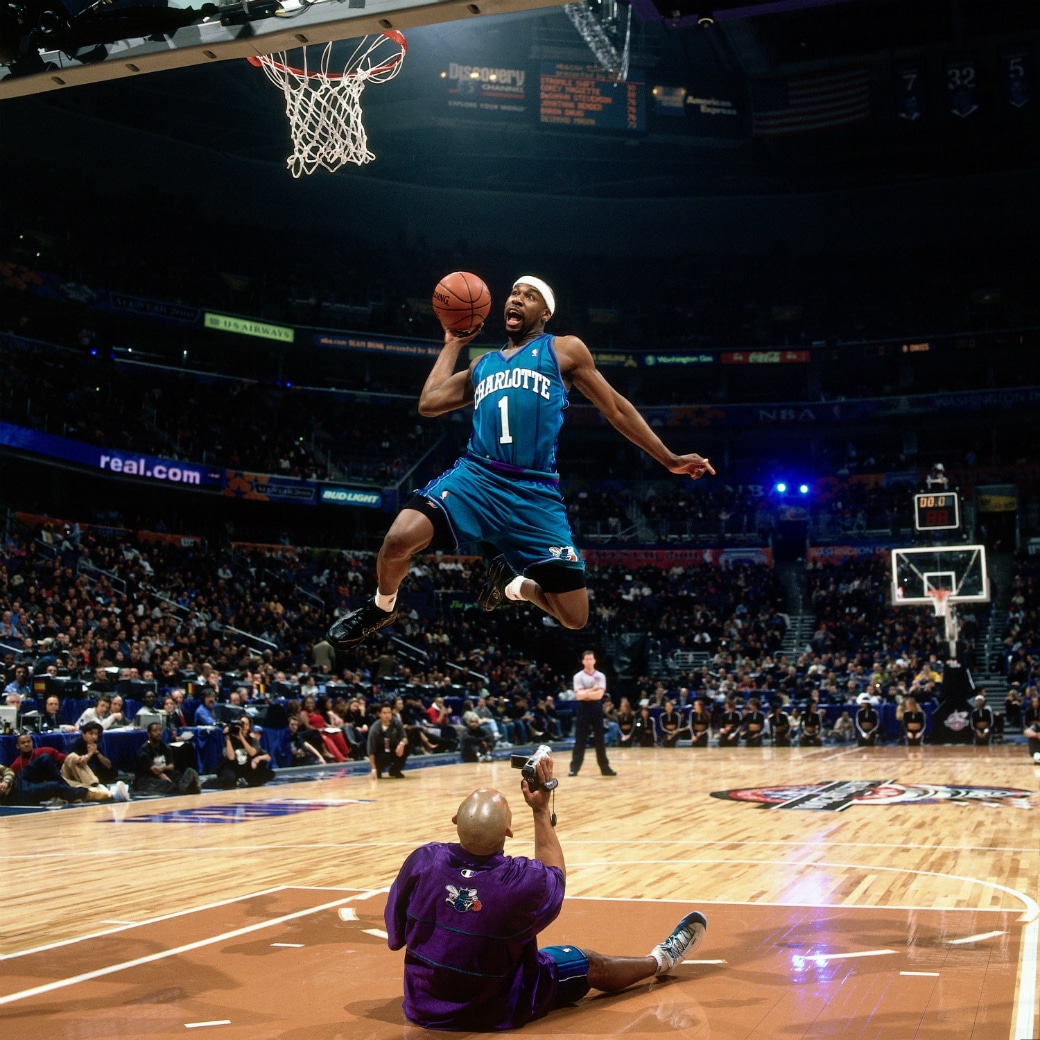 When Davis was just three, his grandfather built him a basketball court in the backyard of their home in South Central, L.A. It was a Christmas present – almost certainly one of the most significant gifts Baron ever received, as it marked the beginning of his long, unforeseen journey to the NBA.
An athletic, versatile PG, Davis earned a scholarship to UCLA and was eventually selected with the No. 3 pick in the 1999 draft by the Charlotte Hornets. After taking over as the starter in his second season, Baron put his vast array of skills on display. He was stronger than most other guards, so he could take it to the post and score inside. He had the quickness, agility, and handles to shake defenders who dared to apply pressure up top. On the other end, he could easily pick someone's pocket if they weren't paying close attention, twice leading the entire L in steals per game. His 1,530 career pilfers ranks 43rd in NBA history.
Davis helped the Hornets reach the postseason four times in five years and was twice named an All-Star before being traded to Golden State in 2004. As one of the major components of the "We Believe" squad that also featured last week's SLAM Legend (Jason Richardson), Davis led the No. 8 seeded Dubs to an epic upset over the No. 1 seeded Mavericks in the 2007 playoffs, averaging 25 points, 5.7 assists, and 1.8 steals in the series. He went on to also suit up for the Clippers, Cavaliers, and Knicks during his 13 years in the League, but several injuries burdened him along the way.
We were robbed of some prime B-Diddy, no question; but when the dude was at his best, that was some of the most entertaining ball to watch.
It was that passion that kept him going. Davis apparently played with loose cartilage in his knee and with a herniated disk during his stint with the Hornets. At 32, he gave his heart and soul to the NYK for 20 minutes a game prior to suffering a gruesome torn ACL and MCL in the 2012 playoffs that ended his pro career.

As an L.A. native embedded in the Hollywood community, Baron pursued another profession in the filmmaking industry, finding success as a producer and director. But basketball continued to beckon, leading Baron to ditch his new life for his old one in 2016, attempting an NBA comeback by first joining the Delaware 87ers of the G League.
"Basketball, for me, is a real creative [outlet], and an opportunity to have some freedom, have some piece of mind," Davis told The Washington Post back then.
While Davis, who is now 39, has not returned to the NBA, it should come as no surprise that he still laces 'em up whenever he can. Sometimes he'll pop up in the Drew League, a Pro-Am in Los Angeles, and showcase a little of what made him so dominant. In December, he joined 3's Company, one of the squads in the Big 3, as a co-captain. "At the end of the day, I just wanna hoop," he said.
Yeah, that sounds like Baron.
—
Alex Squadron is an Associate News Editor at SLAM. Follow him on Twitter @asquad510.
Photos via Getty Images.