As defined by physicists, "black" and "white" are not technically colors, as they do not appear on the visible spectrum. By that definition, any object—like, say, a basketball jersey—with an exclusively black-and-white "color" scheme would in fact be entirely without color. No matter how great that thing might be, it still would be the least colorful thing you could imagine.
A concept that brings us, inevitably, to Tim Duncan.
Yes, it's a tired and predictable thing to joke about TD being the least colorful superstar in NBA history. It also remains undeniably true: Quiet, business-like, and media-averse, Duncan was a perfect fit for one of the NBA's least-fashionable media markets, and for a franchise that was (and remains) content to thrive outside of the day-to-day spotlight. It's all the more fitting that one of the League's most consistent and least flashy legends exercised his dominance in a uniform that was—as the physicists would tell you—essentially devoid of color.
And that iconic No. 21 never looked better than it did during the 2002-03 season.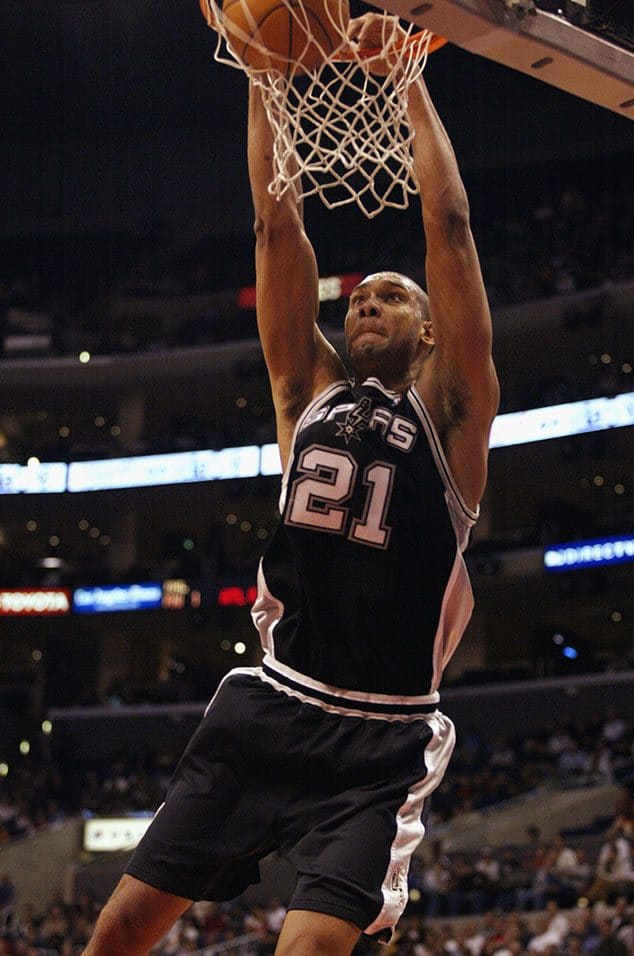 Duncan began the year in peak form: five seasons under his belt, the most recent ending with a career-high 25.5 ppg and his first MVP award. But, Duncan being Duncan, that '01-02 campaign would never go down as a truly great one, ending as it did with a lopsided loss to the rival Lakers in the Western Conference semis. Going into '02-03, he was not only at the top of his game, but motivated by the sting of disappointment, a job unfinished.
The '02-03 season kicked off with a showcase game in Los Angeles, in which Duncan scored just 14 points on 3-14 shooting. And yet the Spurs pulled out the win, and in one sense, it was a peek at how the dynamic (and yes, even flashy) young talent that San Antonio had added around Duncan meant he wouldn't always have to carry the load. With third-year wing Stephen Jackson, second-year point man Tony Parker and rookie guard Manu Ginobili supplementing vets like David Robinson, Malik Rose, Steve Smith and Bruce Bowen, the Spurs had a supporting cast built for a deep run.
But still, and most important, they had Duncan.
With almost robotic efficiency that complemented his monochromatic on-court attire, TD was nearly as dominant as he'd been while earning MVP honors a season earlier: 23.3 points, 12.9 boards, 3.9 assists and 2.9 blocks per game. Then came the playoffs, when it mattered most, and when he was somehow even better: 24.7 ppg (on 53 percent shooting), 15.4 rpg, 5.3 apg, 3.3 bpg. They paid back the Lakers with a 4-2 series win in the conference semis en route to beating the Nets in the Finals.
Season MVP, Finals MVP, NBA champ—at season's end, Duncan had more trophies than hands to hold them. And just as the silver trim meant those Spurs jerseys weren't entirely without color, Duncan, the flash-free superstar, didn't mind hoarding all that gold.
—
Photos via Getty Images
1,408