"I see why everyone in [NYC] got handles now," Tim Hardaway Jr says. "All the concrete is messed up! Cracks everywhere and shit!"
It's the day before the NBA season is scheduled to kick off and Hardaway Jr is dribbling and shooting around on a beat-up court in Harlem's Morningside Park. Following an unseasonably warm early fall, there's a chill to the air that reminds us that along with the grueling winter months ahead, NBA basketball is back after a fun offseason that saw superstars changing teams at a pace that had everyone's heads spinning and Twitter feeds on fire.
While Hardaway Jr works on his dribble and gets a few shots up on an uneven, net-less rim that is at least 12-feet high, I ask him what he thinks about all the moves that went down—in particular the heavy roster turnover that took place in Cleveland.
"Oh, they're gonna be tough," he says. "Especially once IT gets back from injury."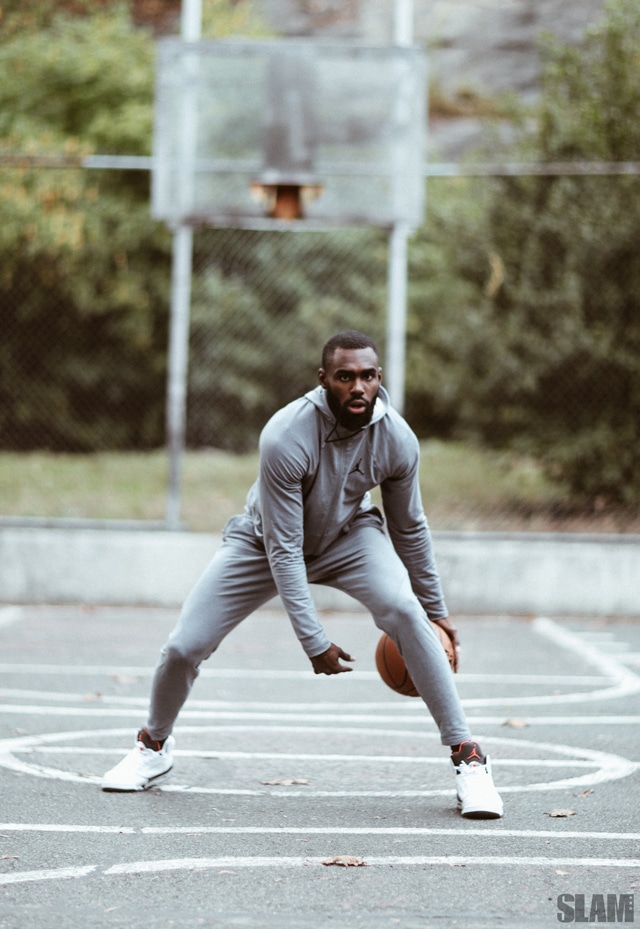 As he rises for another picturesque jump shot, I remind him that Dwyane Wade recently signed with the team, too. Instead of letting go of the rock at the apex of his jumper, he holds on to the ball and shoots me a bewildered look as his Jordan Vs hit the ground.
"Yo!" he exclaims. "I forgot about that. Crazy."
It was that kind of offseason.
Slightly lost in the shuffle was the big deal that brought Hardaway Jr back to New York. In July, the shooting guard inked a four-year, $71 million contract with the Knicks, the organization that drafted him in 2013. While some pundits scratched their heads at the deal, the 25-year-old readied himself to begin his second stint as a Knick.
"It feels great to be back in New York," he says at his apartment as his French bulldog Otto keeps an eye on things. "You feel more like a Knick, you know? You always feel good when you're living in the city for the team you play for. My previous years, I didn't live here. I lived up north in White Plains by the practice facility in Westchester. [Living in the city] is new for me—it's great. New team, new front office, new system and new goals. I'm happy right now and I'm ready for the journey."
Though he's only been in the League since 2013, Hardaway Jr's journey thus far has already taken him from New York to Atlanta to a stint in the G-League to the Hawks' starting lineup, and now back to New York. He's been a first-round pick, been part of the worst team in Knicks franchise history, traded, demoted, seen his minutes cut, made the playoffs and, most importantly, carved out a role for himself as a legit scorer who can get hot and give a team 30.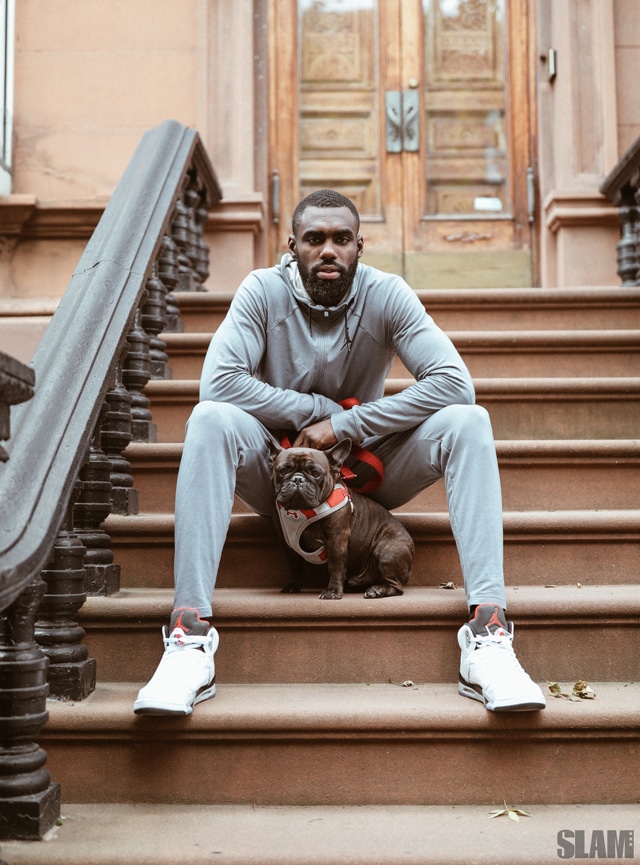 "I've been through it all," he says. "I've been to the playoffs, been on the worst team in Knicks history, down to the [D-] League, to a point where I wasn't seeing the court at all. I've been through it all in the last five years. It was hard."
As a rookie in 2013-14, Hardaway Jr was a regular rotation player and appeared in 81 games with New York. A scorer off the bench, the late first-round pick averaged 10.2 points per game, good enough to earn First Team All-Rookie honors.
The following season, Derek Fisher took over head coaching duties from Mike Woodson and the Knicks were a train wreck. The team won 17 games and Hardaway Jr saw his minutes and role fluctuate. After a promising rookie season, he averaged 11.5 points per game and his field goal percentage dipped below 40 percent.
On the night of the 2015 Draft, Hardaway Jr was attending a party at Clyde Frazier's Wine and Dine restaurant with teammates Cleanthony Early and Langston Galloway. Shortly after the Knicks drafted Kristaps Porzingis, Hardaway Jr got a call from his agent and learned that he'd been traded to Atlanta for the draft rights to point guard Jerian Grant.
"I was just devastated," Hardaway Jr says. "I really had big plans going into that summer to rebuild and play like I did my rookie season and it sucked that I couldn't get the job done."
In Atlanta, Hardaway Jr found himself on a crowded roster that included vets like Kyle Korver, Kent Bazemore and Thabo Sefolosha. He didn't play a single minute until a win over Boston on November 24. In December of 2015, he was sent to the D-League, where he played first for the Canton Charge and then the Austin Spurs. He ended up playing five games total between the two teams, but credits the experience as a pivotal point in his career.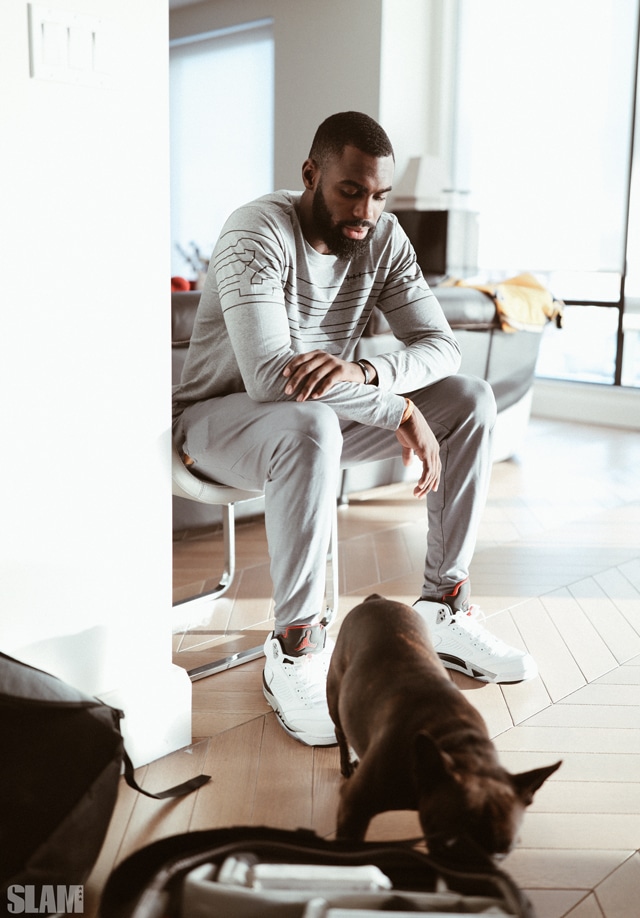 "I could have went down to the [D-] League and had an attitude where I said, You know what? I'm not even gonna play basketball, or, I'm just going to stay in the [D-]League and cry about it and not play with heart and passion," he says. "I had my best friends, my parents, my sisters and my agent constantly being on top of me telling me to do the right things and play with a smile on my face. Everyone may see the [D-] League as a negative, but I see it as a way to improve. It was great for me, but it's not for everyone. You have to go out there and earn it. If you're not playing hard, they'll find somebody else."
Once he was called back up to the Hawks in January 2016, he became a fixture in the rotation and played in 25 straight games, earning minutes during the Hawks' playoff run. While he only averaged 6.4 points, 1.7 boards and 1.0 assists on the season, the former Michigan Wolverine had regained his footing as a player.
During the 2016-17 season, an improved Hardaway Jr put up career-highs of 14.5 points, 2.8 boards and 2.3 assists per game. With his restricted free agency looming, the shooting guard played the best ball of his career down the stretch, averaging 18 points a night over the final three months of the regular season. In Atlanta's first-round series against the Wizards, Hardaway Jr averaged 12.8 points over 33.5 minutes per game.
Back up in New York, the franchise was undergoing a change. Team president Phil Jackson was fired and general manager Steve Mills took over. Without a new GM in place, Mills offered Hardaway Jr a four-year, $71 million contract, which the Hawks did not match.
Just like that, Hardaway Jr was on his way back to the team that drafted him.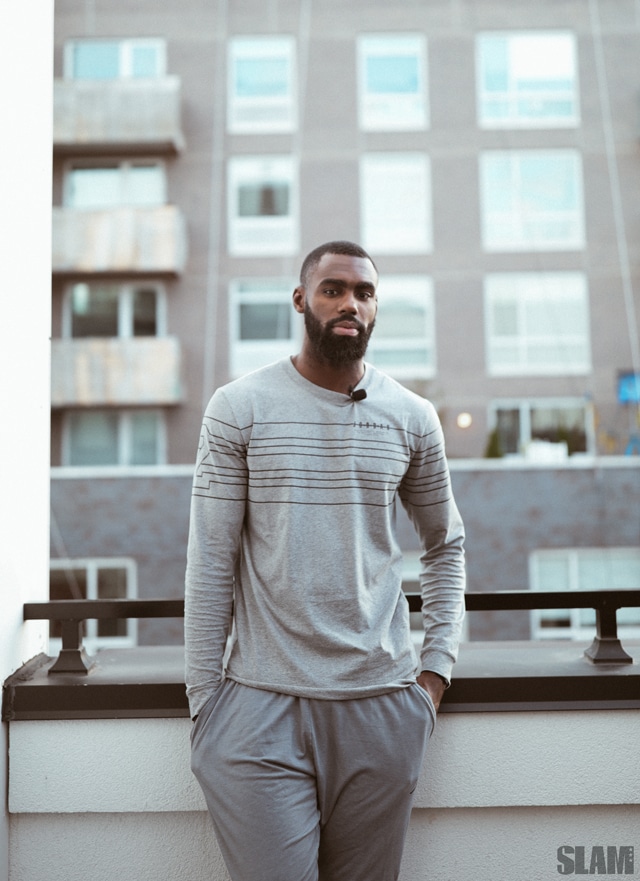 "It was a surprising feeling," Hardaway Jr says of getting the call from the Knicks. "I feel like they sent me away to camp and they said, Well, we'll see where you are down the road. Once I got a call from my agent that the Knicks were interested and they were willing to invest in my abilities, I was happy. I felt like I was on my way home. I felt like there was some unfinished business to take care of."
"I was excited when I heard that we were signing him," adds teammate Kristaps Porzingis. "That's another young guy who works hard and is willing to do the right things to grow as a team. In the preseason, to me, he looked great. He was making shots and getting to the basket. He's an explosive player. He's only going to get more comfortable with the team, and me and him are going to find that connection on the court and that's going to help us. I like his mentality—he's a hard worker and I enjoy playing with him."
While Hardaway Jr was thrilled to be coming back, not all Knicks fans and analysts shared the same sentiment. With Jackson gone, and Carmelo Anthony traded to the Thunder, the franchise appeared to be on the way to a true rebuild with Porzingis and rookie point guard Frank Ntilikina as the centerpieces. Many scoffed at the big money given to Hardaway Jr (What was he supposed to do? Say no?), but based on other recent deals that have been given out to shooting guards—like the four-year, $84 million extension given to Nuggets guard Gary Harris—Hardaway Jr could have the same people who originally blasted the big offer singing his praises by the end of the season.
"I have to use [criticism] as motivation," he says. "I take it as those are your fans and they're coming at you with that. It hurts. But at the same time, you can't harp on that. You have to go out there and show that you deserve what the Knicks offered. At the end of the day, it's not my fault. They came to me. I knew that if it was something big, I would have to deliver. I've been delivering since last season in Atlanta. I feel like I'm confident and capable of getting what I got money-wise and going out there and playing for the team and playing for the franchise and playing for the city."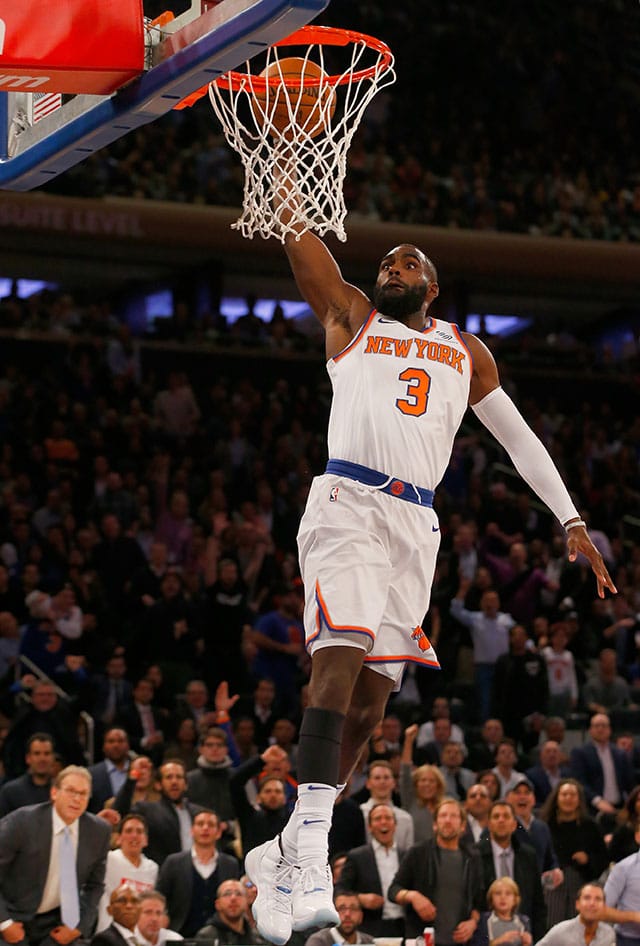 Hardaway Jr's season didn't get off to an ideal start. Through the first three games of the season the Knicks were 0-3 and the team's new shooting guard was averaging 9.3 points and shooting under 30 percent. But THJ then turned things around quickly—the Knicks won three straight and he broke out of his slump with a 34-point game against the Cavs. Hardaway Jr is now averaging 17.5 points, 4.4 boards and 2.9 assists on the season, and the Knicks, who weren't projected to win a whole lot of games this season, sit at a surprising 8-7.
Hardaway Jr is optimistic about the team's chances.
"Behind closed doors, no one else sees it, but I see it—everybody is bustin' their tail and wants to prove everybody wrong out there. We believe in ourselves and people can take it how they want it, [but] I feel like we can sneak into the playoffs. Everybody can laugh at that statement but I feel like it can happen. If we come out there and play hard every night, knock down shots and get stops when we need to, we can make it."
—
Peter Walsh is a Senior Editor at SLAM. Follow him on Twitter @peter_m_walsh.
Portraits by Joseph L. Sherman, action shot via Getty Images.
Video by Veronica Studios.