It's Valentine's Day, the second day of the NBA All-Star Weekend in New York City, and Nate Archibald can't stand still. Pacing back and forth amidst a gym full of local high school basketball players at the Riverbank State Park in Harlem, NY, the NBA Hall-of-Famer known as "Tiny" is a bundle of perpetual energy; all handshakes and back-pats aimed towards the onlookers and wide-eyed youngsters that have gathered in the gym. Dressed in well-fitting red and black athletic gear, he is incredibly fit for his age (66), and the slight limp he walks with from a torn Achilles tendon in 1977 is the only detail to his being that stops him for passing as someone 15 years his junior.
"I love running," Archibald laughs, when complimented on his physique. "I used to be able to run on the concrete around my neighborhood, but ever since the Achilles injury I have to run on the track at my local high school."
The fact that Tiny is a running enthusiast isn't exactly surprising when considering his schedule. An extremely active member of the NBA Retired Players Association, he splits his time between mentoring youths, running a business, and generally acting as a goodwill ambassador for the NBA. Just this morning, he helped repaint his old high school, Dewitt Clinton in the South Bronx, at an event co-sponsored by the NBARPA and Benjamin Moore Paints, before coming over to Riverbank.
Now, alongside the NBARPA, he has teamed up with Sixers big man Nerlens Noel and the athletic coaching startup company CoachUp to gather the girls and boys teams from four local high schools (Kennedy, Manhattan Center, Spring Valley, Rucker) in Harlem to play each other while preaching the value of commitment to academics in a safe environment. At present, however, there's a growing sense of restlessness among the crowd. The teens present were promised a chance to hear from an unannounced NBA star at the event (Noel), and Nerlens is running late. Their young eyes stare idly at smart phones as they listen to retired players like Tiny and Tom Hoover lecture them on the perseverance it takes to build a successful life beyond the basketball court. The dull lighting of the gym they're sitting in seems worlds away from the glitz and glamour of All-Star weekend taking place fifteen miles away in Brooklyn, and they're understandably growing antsy waiting to see what NBA star has come to watch them play at Riverbank. Tiny sighs.
"I prefer to be in the background at most of these events, heck most of these kids don't know who I am, and I'm fine with that," says the only man to ever win NBA scoring and assists titles in the same season. "People always try to attach the label of legend to me at events, and I don't consider myself a legend. I'm just a messenger. These events aren't about an individual; they aren't even about the game. It's about a message. And the message is simple: Stay in school and get your education."
Still, despite his reluctance, Tiny ambles across the maroon and khaki tinted rubber floor to where Tom Hoover stands, midcourt, microphone in hand. He grabs the mic from Hoover, and his voice pours through a static-filled PA system.
"You've heard the importance of schoolwork," Tiny begins, "But I'm not here to preach to you. I'm here to say I was a terrible student. I was kicked off my high school team for my grades, but my motivation to get back on the court helped me turn around. So go to school and education, because if you give up, then what?"
He pauses, measuring the energy in the room and looking partly annoyed.
"Well it's getting pretty late, and I don't know where our guest speaker is, so maybe we should just have you start playing—"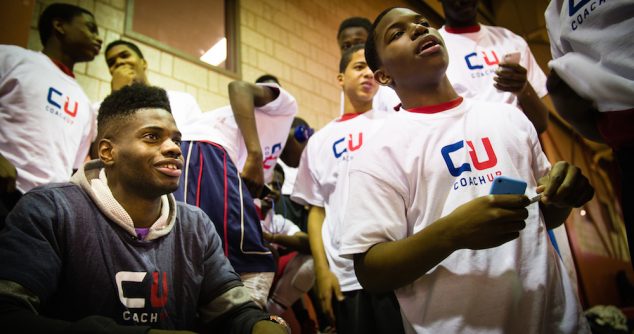 Nerlens walks in and flashes a 1000-watt smile at the microphone that comes naturally to him. He doesn't seem completely at ease in front of the hundreds of on looking eyes and keeps his pep talk short.
"So who here plays basketball?" Noel asks, perhaps jokingly, to a crowd of almost exclusively basketball players. "Well, I just want to tell you guys to stay focused. My path to the League was kind of odd, and I hurt my knee, so getting to where I am today hasn't been easy."
With that, he gets off the mic, and the basketball games begin. Nerlens stands to the side, explaining his involvement with CoachUp, the company's mission of making individual athletic training available for everyone, and how important that same type of training was in his development as a college and NBA prospect. He talks about how happy it makes him to see Kentucky's current success and to see how far Willie Caulie-Stein has progressed. He rebukes any notion of a tanking mentality setting in Philly, and professes his love for the city.
"We're out there every night playing as hard as anyone in the NBA, so you can't listen to any of that," Noel says, taking time to mull over his answers. "Plus the fans of Philly are passionate, they don't take it easy on us, and they'll know if we're giving up on them. They have faith in us, but trust me, they will boo."
As for the age-old debate of who makes the best cheesesteak in the City of Brotherly Love, Noel sings the praises of Ishkabibbles on South Street. He is disarmingly friendly to everyone he encounters, and by the time he ducks out of the event shortly after, he's posed for pictures with dozens of the young fans.
Tiny however stays planted firmly in a back corner of the gymnasium with his eyes affixed to the action on the courts. He continues to advocate the wide-ranging gospel of Tiny to all who will listen. He laments the decay of community centers in New York City, which he believes provided him with bastion from the less savory aspects of city life. He talks about growing up on welfare in the projects, and how he feels the social stigma currently attached to welfare is hurting kids chances to use it to their advantage. He confesses a disdain for AAU programs and the street agents and hustlers it's been known to attract, saying AAU has detracted from strong high school programs that provide a better environment for the youth. In fact the only time he stops talking is when the Kennedy girls team comes over to talk to him, each girl stopping to individually shake his hand and thank him for inviting them to the event. He looks up to one girl, and asks if he'll be seeing her at the event next year.
"No, I'm a senior this year," she says between a toothy smile.
"You going to school?" asks Tiny.
"Yeah, I'm going to Seton Hall next year" the girl says shyly.
This causes Tiny, for the first time all day, to pause. The wheels in his head stop whirring, and he's beaming, a smile stretching ear to ear across his face, looking as proud as a new father.
"Well how 'bout that," he mutters to himself.
He sits there for a moment in silence, enjoying the moment that just occurred, before heading over to bestow some more wisdom on one of the local coaches. The sun has already set, but there's more basketball to play, so Tiny will stick around a bit longer, until he hops into a car to head over to the Barclay Center where he'll be a judge in tonight's slam dunk contest.
Once again, Nate Archibald can't stand still.