Honesty, true look-in-the-mirror, keep-it-a-buck sincerity, is all too uncommon. The admitting-a-loss-when-you-don't-want-to-hurt-your-pride level is a difficult, difficult plateau to reach. It's that type of talk that has kept Trey Burke going, though. Because, as he recently detailed to SLAM, there have been moments where the 28 year old has had to keep it all the way real with himself. He's learned, he says, that he's comfortable within the uncomfortable.
"I don't think it's been easy," he says at the beginning of what will unfold into a moment of candor that active NBA players seldom offer. "I think it's something that I've adapted to over time. Certain situations you get put in, or certain roles you get put in, might not necessarily be best fit for you. But you've still gotta figure it out."
And that's what he's done multiple times over multiple years.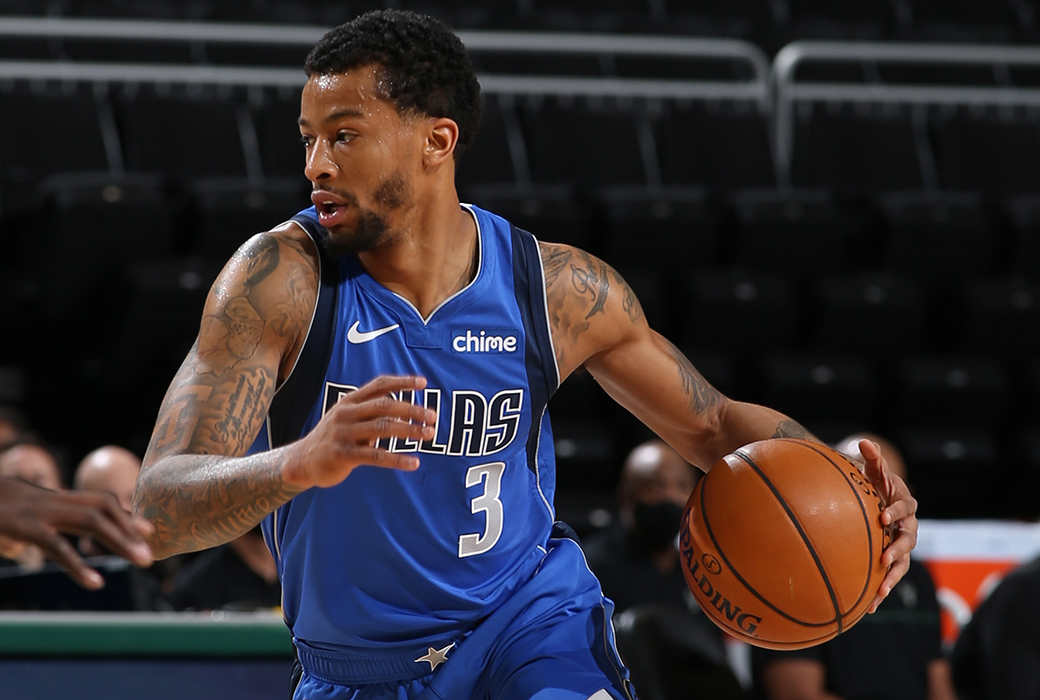 Quick refresher on Burke's career in basketball.
He and Jared Sullinger eventually dominated high school ball in Ohio together. A family relocation to Atlanta as an eighth grader came back to haunt him as a ninth grader when he moved back to Ohio. His name had fallen out of the OH state rankings so he had to sit and watch his friends play as a freshman. But things got active after that. The point guard reportedly had a 97-5 record during his time at Northland High School in Columbus. His two seasons as a Michigan Wolverine would prove to be legendary. Drafted by the Timberwolves with the ninth pick in 2013, traded that same day to the Jazz. Three years in Utah until a trade to the Wizards in 2016. One campaign in DC and then an agreement with the Knicks came.
Then he got waived.
Didn't matter.
Burke ended up playing 26 games with the Westchester Knicks because his desire to be in the NBA was that strong. That strong.
The NY Knicks came calling shortly after the calendar turned to 2018. Buckets were scored and crossovers were distributed and dimes were dropped. A little over a year went by and he was traded again to the Mavericks. Then he linked up with the Sixers to start the 2019-20 season. They let him go in February.
Pandemic.
Season postponed.
Months of uncertainty. Months of testing that desire Burke's shown again and again. Months of working out without any promises. With just hunger.
Bubble in Orlando. Call from the Mavericks. Burke has various impressive performances, sometimes with big numbers and sometimes with big cojones. 
And finally, finally, finally, in December of 2020, his patience is rewarded with a three-year contract from the Mavericks.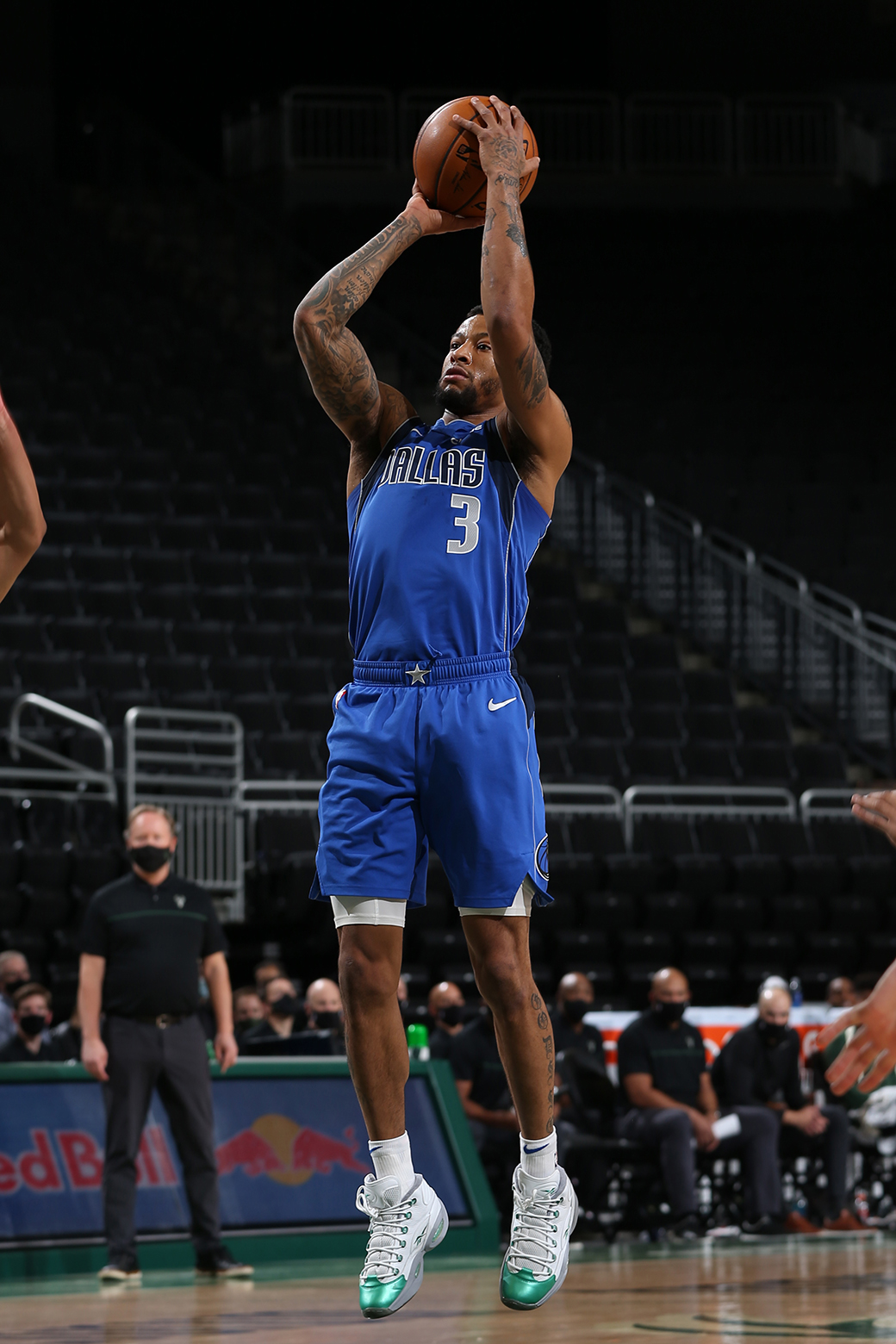 That's a bird's eye view. Zoom in and check it out year by year and it's obvious that Burke's NBA career has been mentally and emotionally trying. But the man has no quit in him.
Things got tough, Burke says, after his rookie year in Utah. Empty promises about the future and inconsistent playing time cast a shadow over what he thought was a successful rookie campaign.
"I was going through a phase that second year when they drafted [Dante] Exum," Burke says. "I had basically came off a first team All-Rookie campaign. And I thought that they wanted to grow and develop with me. They drafted Exum that next year, my second year, and then the head coach, who was [Ty] Corbin at the time, had ended up getting fired. It was a whole new staff. Things went how they went. I started not playing. And I had to figure out, 'Ok, is it me?' I had to take an approach as to being the victim or take the approach as to, 'I don't care what they do. I don't care what my environment is presenting me. I'm going to stay the same TB. I'm going to stay the same Trey. That same Trey is going to be getting up every morning, getting his extra work in, going to practice and then getting his late work in after. And still being myself and sticking to my script, my routine regardless of how it's looking with my minutes.'"
But that clarity he's speaking with right now didn't come then. It actually didn't come until a little bit later. So the rocky ending in Utah was followed by his uneven time as a Wizard.
"When I got with Washington, those same habits that I was dealing with were coming back," he says. "And I found myself back in that same situation in Washington. And I kept hearing people say, 'It ain't about your talent, it ain't got nothing to do with your game, Trey.' And that was what was always confusing to me because now I realize they was basically saying my skill wasn't the problem. It's certain things that organizations—it's a role that they put you in and they want to see if you can do your job in that role."
Burke was searching for a way to feel like himself again. He began to study his mind and understand why patterns were emerging between Utah and DC. He thought it was just about basketball. But he found out that he had to "re-learn who [he] was as a person." Then, he believed, he could return to being himself on the 94×50 and being himself off of it. He got some help from Denzel Washington's performance in The Hurricane. He saw Denzel's character be put in "unfavorable situations." But, and this is the part that Burke has taken with him, Denzel's character didn't let those situations define him.
The old Trey, or maybe the new one, was starting to take shape.
Because Burke would soon be met by a valley. The Knicks waived him just three days after they signed him in October of 2017 and he very unexpectedly landed in the G League. Nobody would have thought that the former ninth overall pick would be down there. But just the fact that he was willing to play in the G League is a window into his devotion.
Burke brings up the G League on his own and says that he will "always emphasize that time."
"I kind of re-found myself throughout that G League journey," he says. "I kind of got away from everybody and I was able to come back to being TB, being myself. Sometimes you've gotta go through those rebirth situations. I think the G League was a rebirth type of situation. New York ended up calling me back up and I had some huge games that year."
But after he was included in the trade for Kristaps Porzingis to Dallas, he bounced around again, finding himself in Philly for just 25 games at the beginning of 2019-20. So when he got waived in February, he didn't get caught up in a mental spiral.
"Sometimes you don't necessarily know, for real, what's going to be threw your way," Burke says. "It was times where I thought it was going to be sweet coming into shootaround that game. I thought I was going to play 30 minutes. Coach might come up to me like, 'Yo, I'm going to give him a shot tonight. Boom, boom, let him play this, this and that.'
"Like, you don't know what hand you might get dealt that day," he continues. "I've been learned, through my experience, as long as you don't let your circumstances define you and you stick to a structure that you done put together for yourself that's helping you get better everyday, you'll always be in control of the situation. I feel like we are creators of our reality. We create the reality we experience through our thoughts and our actions. I truly am a believer of that. So I believe I might go through some bullshit. A coach might sit me one game after I done had 21 and 8 and I might sit the next three, four games, which is kind of mind boggling to me but this is a real situation. Over those experiences, I done learned allow that anger to go to that chip. Don't show it, don't wear it on your sleeve. Allow that anger to motivate you more to get to the gym before that first bus. I learned how to use the unfavorable situations that I was experiencing as fuel."
Then the time came, the time where all of his own truths and his battle-earned knowledge came rushing back in to real life.
Game 4 against the Clippers in the playoffs. Porzingis was a very late scratch and Burke found out he was starting in the playoffs for the first time in his career just moments before the tipoff.
Let him share the story.
"Game 4, we was down 2-1 in the playoffs to the Clippers," he begins. "It wasn't, like, nervous butterflies but it was butterflies. Sometimes it's butterflies and it ain't good and you really are nervous. It was, like, excited butterflies, like, 'Oh shit.' Like, I was starting in a matter of seconds. I knew I was going to play a lot of minutes in Game 4 because I was producing at a high level but you're telling me seconds before tipoff I'm about to be starting on national TV. My first playoff experience, my first real playoff experience.
"I stood on everything that I just talked about," he says with the utmost confidence. "I didn't let my thoughts waver. Those thoughts came though. I want young athletes to know that. They came, those thoughts of doubt, those thoughts of failure, it all came but I always stood on I'm prepared, I'm ready, I done seen this already, I done studied this, I know what I gotta do, I know their weaknesses. I'm ready to play. So every time I would have a thought, I'd deflect it. And that takes time. That really takes time with working on your mind. And not just letting your thoughts run wild. Come game time, it's easy to let them run wild. Especially when you're not in a certain role. So I think once Carlisle, Mark and Donnie, once the whole staff saw me perform under that pressure the way I did, I think that's when I relaxed, not in a sense of I made but relaxed in a sense of, 'Ok, this is starting to feel like home. This can be a place for me in the future. I can see it now.'
"I learned a lot about myself," he says of that game. "In some of the most unsure-est situations, stand on who you are, stand on what you know within. You're going to be fine. I ended up with 25, Luka hit the game-winning shot and that's going to be one of those playoff games they're going to always be playing back. I think that's my favorite game when it comes to the NBA."