Mike Taylor was flabbergasted. His JV squad at Marian (IL) Catholic had just lost by 20—a 56-36 onslaught on the road. Right after, a ninth grader named Tyler Ulis followed up the JV game by guiding the varsity team to a win, dropping exactly 36 points all by himself against some poor, unsuspecting opponent.
"[Coach Taylor] was like, 'How do you guys all score 36 [combined], if this freshman on varsity scored 36?'" says Ki-Jana Crawford, holding back a laugh. Now Crawford and Ulis are best friends, but it was on that random winter night about a half-dozen years ago that Crawford learned what the rest of the country soon would: No matter his height, Tyler Ulis is a hell of a basketball player.
Ulis' journey didn't begin in Chicago, but in Lima, OH, where he cut his teeth hooping at the local Salvation Army and idolizing Allen Iverson. He'd often play one-on-one to 100 in his family's backyard with his neighbor, an older girl named Kobe (true story), who taught him the basics of the game. "She would always beat me, so I'd wanna keep playing and keep playing," he says with a smile. By the time he reached middle school, it was clear he was never going to be one of the taller kids, standing barely above 5-feet as a grade schooler with no signs of a growth spurt in sight. And even still, he could control the point and he could score—enough so that it was obvious he needed to leave Ohio to prove himself against bigger-name (and literally bigger) prospects.
In ninth grade, Ulis moved away from his mother and his friends, taking up residence in Chicago with his dad. He immediately earned a spot on varsity at Marian, though it took some getting used to.
"My first high school game, we lost by 50," he says, speaking from the Kentucky practice facility while soaking up his last days as a college student. "The competition was completely different. A point guard named Tracy Abrams [now at the University of Illinois—Ed.], he was killing us. He was 6-1, I was maybe 5-3. He was looking at the crowd, like, 'He's too little!' That was a terrible game for me, a terrible experience."
Ulis would eventually settle in, of course. And the summer before his junior year he showed out on Nike's EYBL circuit, gaining recognition as a legit prospect, regardless of height.
"I knew I could play," he says. "When I got on the court, it worked out for itself. I never had low stats. I never had a spurt where I didn't play well. I just stayed confident in myself and hoped one day people noticed."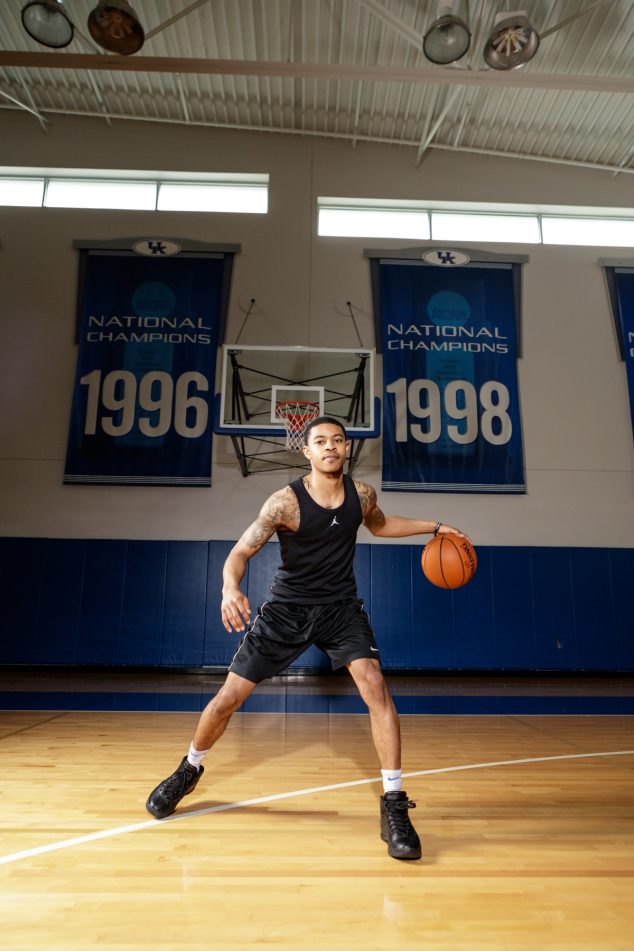 Well, yeah, people noticed—or more specifically, one person noticed: John Calipari, head coach at the University of Kentucky. Cal delivered to Ulis the same message he tells all prospects he speaks with: That if they join his basketball program, they shouldn't expect to stay long enough to graduate. In and out, the plan goes.
Ulis led the Cats in assists his freshman year ('14-15), but his across-the-board numbers were unexceptional, so he returned for another season. Sticking around Lexington can be a risk—each year new prospects come in ready to bypass anyone who dares to stay around for a second (or third, or fourth) season.
But it proved the right move for Ulis. His second year was ideal, averaging 17.3 ppg and 7.0 apg, establishing himself as one of the best players in the country and a clear-cut future pro. He was first-team All-American, SEC POY, SEC Defensive POY and the guiding force of a UK team stocked with future pros including backcourt mate Jamal Murray and big man Skal Labissiere. "Tyler Ulis is the Player of the Year in the country," Cal told ESPN in March. "Everyone knows it but they're afraid to say it because he's 5-9."
Now with college officially over following his decision to sign with CAA Sports and declare for the Draft, Ulis is looking forward. He's projected as a mid-to-late first-round pick, a potential asset for a team that could use some assistance at the 1.
"There's not that many guys my size in the League, but there's a couple," he says with confidence. "Isaiah Thomas is doing great, which is good for me. I've just gotta work out every day—try to work twice as hard as everybody else.
"I always knew I was gonna be short," he continues. "I just live with it and try to use it to my advantage. I feel like it's to my advantage, because if I was taller, things would've been given to me—rankings, scholarships, stuff like that. But I feel like I had to earn everything I got. It made me who I am."
—
Adam Figman is a former Senior Editor of SLAM. Follow him on Twitter @afigman.
Portrait by Ryan Nicholson.