Vince Carter caught the rock on the left wing, between the college and NBA three-point lines in the Georgia Dome, where the Hawks played half their home games during the lockout-shortened 1998-99 season.
With two lefty dribbles, the 6-6 swingman burst past Atlanta's Chris Crawford and took flight from the baseline. Dikembe Mutombo, at the peak of his finger-wagging powers, rose up and stretched his arm about six inches above the cup. But Carter kept climbing, and climbing, and climbing.
BOOM. The rookie from Daytona Beach, FL, by way of North Carolina, reached the summit of Mt. Mutombo with an emphatic flush, and when he landed, Carter mean-mugged the eyes of the conquered.
VC's dunk on Dikembe was a snippet of an 18.3 ppg, 5.7 rpg, 3 apg season, during which he started 49 of 50 games, earned the Rookie of the Year Award and garnered nicknames including Vinsanity, Half Man/Half Amazing and Air Canada. Carter was arguably the most explosive rookie the L has ever seen, adjusting and contorting his body mid-air for reverse dunks, 360 tomahawks and other acrobatic finishes.
The Raptors went 23-27 and missed the Playoffs in '99, but Carter was must-watch television. He catapulted out of his size 16 Pumas, using his 43-inch vertical to posterize opponents. Before the legendary 2000 Dunk Contest, before the Dunk of Death on Frédéric Weis and before the eight All-Star appearances, Carter came into the League banging on defenders with the ferocity of the velociraptor across his chest.
I caught up with VC before a late December matchup between the Grizzlies and Wizards. He said it's nothin' but love for fans who wear his rookie year, Jurassic Park-inspired dinosaur jersey—or any of his past jerseys—to games in 2015-16.
"It's always cool—the fact that I'm still around, and people still appreciate the past and what was done back then, because it was a special time in my career," Carter said. "It really jumpstarted me and the path that got me started and got me to this day."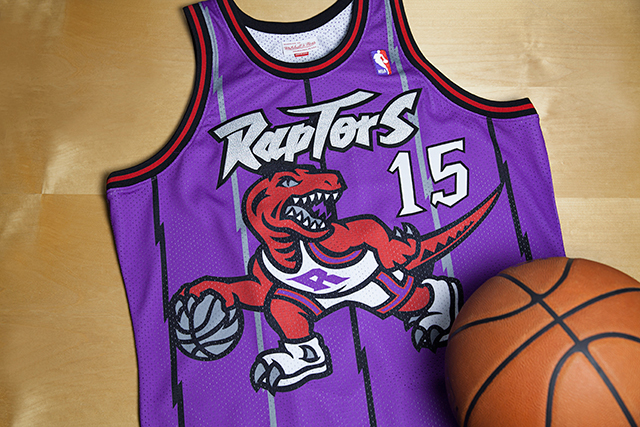 The 17-year vet now plays the elder statesman role with Memphis, but at every game this season, there's a faction of spectators who pay homage by rocking his old gear. Carter said he's thankful when he sees it, and he makes a point to acknowledge the diehards in some form or fashion—especially during away games.
"That might sound crazy, but when you go on the road, and people come in there and wear your jersey, I mean, I'm very appreciative to it," Carter said. "So I try to give them a head nod to show my appreciation."
The 38-year-old has a career average of 19.2 ppg, but VC's influence on Canadian basketball would probably land at the top of his résumé. Carter was Michael Jordan to many kids growing up around T. Dot and across the nation in the late '90s and early '00s.
There's a line in Lil' Wayne's 2008 track "Mr. Carter" that goes, "Next time you mention Pac, Biggie or Jay Z/Don't forget Weezy baby." With Kobe on his farewell tour, AI in the news for Hall of Fame eligibility and KG/Duncan in the twilight of their careers, it kinda feels like appreciation for Vince's prime years is getting lost in the nostalgia shuffle. If, for some strange reason, you forgot what Vince was capable of, all it takes is one "Carter Mutombo Dunk" search on YouTube…
—
Photo via Getty Images/NBAE