The question was always the same. Every time Willie Watkins saw you, he wanted to know how you were doing. Of course, he cared about everybody's health and well being. But since Watkins ran one of the most successful funeral homes in Atlanta, he had another, ahem, more professional reason for his concern.
On November 1, 2013, Walt Bellamy joined Jim Washington and Dewey McClain for the Atlanta Hawks game against Toronto at Philips Arena. The three men often gathered to watch the team, which made sense, since Bellamy played for Atlanta from 1970-74, and Washington was on the team from '71-74. McClain was a former linebacker for the Falcons and just four days away from winning a special election to the Georgia House of Representatives. As the Hawks went about the business of bumping off the Raptors, 102-95, Watkins—a season ticket holder—approached the three men with a smile and asked about them.
"We're good, Willie," Washington said. "We're not ready for you yet."
Everybody laughed, as usual, and the game went on. Nobody could have known that Washington had been wrong. The next day, they would indeed need Watkins. Well, at least Bellamy would. While working out in a gym at a hotel near his house, Bellamy died at the age of 74. His wife of 53 years, Helen, called Washington at about 11 a.m. to deliver the news.
"It was a shock," Washington says. "I was sitting there watching the game with him, and the next day, [Helen] called and said he had passed.
"Wow."
It's likely Bellamy's heart gave out, even though he had seemed to Washington as if everything was going well for him. "I found out later that he had a pacemaker," Washington says. "I didn't know that." It can't be blamed for retiring from the job. During his life, Bellamy had played 13 seasons (and one game of a 14th) with five different franchises during a Hall of Fame career that produced more than 20,000 points and 14,000 rebounds. From the moment he rampaged into the League as a rookie with the dreadful Chicago Packers—who later became the Baltimore Bullets and eventually today's Washington Wizards—and fashioned a Rookie of the Year performance that included 31.6 ppg and 19.0 rpg, Bellamy was one of the most talented big men in the NBA. A 6-11 specimen who could run with guards and still play inside well enough to make Bill Russell take notice, Bellamy was an enigmatic talent who could dazzle one night and infuriate the next.
"If he had [Hall of Fame center] Willis Reed's tenacity, he would have been the greatest player ever," legendary Knicks guard Walt Frazier says.
Motivation was indeed somewhat elusive for Bellamy, whose personality quirks included speaking of himself in the third person—"Walt Bellamy is open under the basket," he would announce in the huddle during timeouts—sending back just about every meal he ordered in restaurants and heading for the phone booth to make calls as soon as his team hit a new city.
"We called him the 'Phone Ranger,'" Frazier says, laughing. But Bellamy was more than just a puzzle. His post-basketball life included work with the NAACP, the Urban League and the Atlanta YMCA. Bellamy was also the Keeper of the Door for the Georgia State Senate, an appointed position. He was a good friend and a fun companion who enjoyed making others think he was mad at them.
"I told people that Walt was the biggest put-on artist I knew," Washington says. "If you didn't know him, you would think he was upset at you. I would tell people, 'He putting you on.' He was a very interesting character. He never ceased to amaze me."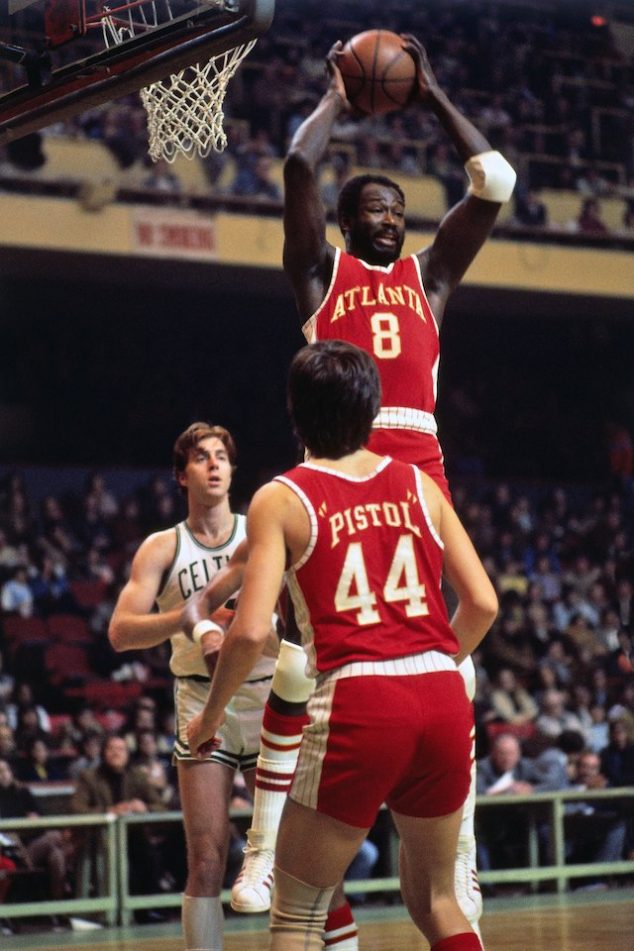 The 1961-62 Chicago Packers were not the worst basketball team in NBA history. With 18 wins—double the all-time League low—they don't even enter the discussion, particularly with what the Sixers have been doing the past several years. But that doesn't mean they weren't terrible.
Mostly terrible.
Bellamy was certainly the exception. The rookie from Indiana averaged the aforementioned 31.6 ppg and 19.0 rpg with the Packers, a remarkable season for anyone, especially a first-year player. In many years, Bellamy's scoring average might have led the League, but in '61-62, a guy named Wilt happened to do the unthinkable and average 50.4 ppg for the whole damn season. Sure, he scored 100 against the poor Knicks, but he also hit for 60 or more on 14 other occasions. Sorry, Bells.
There's a popular story concerning Bellamy's first meeting with Chamberlain. The rook extended his hand before the opening tip and said, "H'lo, Mister Chamberlain. I'm Walter Bellamy." Unimpressed, Wilt replied, "Hello, Walter. You won't get a shot off in the first half." Chamberlain proceeded to block the first 9 shots Bellamy took in the lane. Before the second half began, Chamberlain backed down. "OK, Walter, now you can play." Bellamy finished with 14 points. Wilt had 51 in a 122-114 Philadelphia win.
Bellamy played in four straight All-Star Games at the beginning of his career, during which time he played for three iterations of the same franchise: the Packers, the Chicago Zephyrs and the Baltimore Bullets. Slick Leonard, who gained renown for coaching the Pacers in both the ABA and NBA, played with and coached Bellamy during the big man's first four seasons. He remembers one particular game during the '63-64 campaign when Bellamy put up 45 against the Celtics and Bill Russell, who often said Bellamy was one of his toughest opponents.
"Walt could score," Leonard says. "He could run the floor and was fast. He could shoot and had a post game. He was able to put the ball on the floor, too."
Bellamy was the modern power forward three decades before the species debuted in the NBA. There really wasn't anything he couldn't do on the floor. Frazier says Bellamy was "the fastest guy" on the Knicks. But there was that nagging sense that Bellamy could have always been a little more. Leonard remembers one time in St. Louis when he exploded at Bellamy because of his lack of effort.
"We really went at it," Leonard says. "He felt like he could get away with playing when he felt like it. When he wanted to, he could go with the best of them."
Eight games into Bellamy's fifth year with what would become the Baltimore franchise, he was shipped to the Knicks for Jim Barnes, Johnny Green and Johnny Egan—none of whom had Bellamy's talent. Bellamy arrived in New York in late 1965, a little over a year after the Knicks had drafted Willis Reed. He was his usual productive self in his first season (actually, 72 games) with New York, averaging 23.2 ppg and 16.0 rpg. He continued to produce over the next two-and-a-half seasons in Gotham, but he and Reed were a toxic blend. They competed against the opposition but were also personal rivals. Reed's dogged approach to the game didn't blend with Bellamy's casual style, and Bellamy's status as the team's starting pivot angered Reed, who disliked playing the power forward spot.
"Willis and Bells hated each other," Frazier says. "Willis wanted to play center, and Bells would fight him for rebounds. It was terrible."
Frazier marvels at Bellamy's talent, praising his shooting ability, his great screens and his quickness. He says the best NBA big men had trouble guarding Bellamy when he would drive to the hoop. But a cavalier work ethic prevented him from becoming one of the League's elite players. You want to talk pure talent? Bellamy was in the discussion for the NBA's best. But putting it into practice was a different story.
"He used to kill Chamberlain and Russell, and then [lumbering big man Tom] Boerwinkle would get 30 on him," Frazier says.
The stylish Clyde appreciated Bellamy's "exquisite tastes" and said that going out with him was always fun, but as the Knicks began to rise in the Eastern Conference in the late 1960s, the franchise had to make a decision. New York management knew Bellamy and Reed couldn't coexist, at least not in a winning fashion. So the team dished Bellamy and Howard Komives to Detroit for forward Dave DeBusschere, a move that allowed Reed to move into the middle and solidified the team's starting lineup—guards Frazier and Dick Barnett, forwards DeBusschere and Bill Bradley and Reed in the middle. The next season, New York won the world title.
"Willis was a tremendous leader," Frazier says. "He worked hard in practice and was the antithesis of Bells in terms of galvanizing the team. DeBusschere was the final piece of the puzzle and made us a Championship team."
Bellamy spent parts of two seasons in Detroit before the Pistons dealt him to Atlanta on February 1, 1970, a move that began the final chapter in Bellamy's career. Those were interesting times for the Hawks, who drafted legendary gunner Pete Maravich that spring, adding him to a power-packed offense that included Bellamy, "Sweet" Lou Hudson and Walt Hazzard. The '70-71 Hawks averaged 114.0 ppg but gave up 115.8, fourth-worst in the League. Bellamy could still pull down the rebounds (12.8 rpg) but was no longer a huge point producer (14.9 ppg).
"We had a backcourt of Lou Hudson and Pete Maravich, each of whom was going to put up 20 shots," says Washington, who joined the Hawks early in the '71-72 season. "There weren't a lot of shots for other people."
Bellamy spent four-plus seasons with Atlanta, his longest tenure with any one franchise. He could still score from all over the court, and he was perhaps the most mobile big man in the NBA. But he developed some intangibles that made him even more valuable. For instance, he could really set a screen. "He would open some holes for you when he set a pick," says Joe Caldwell, a guard on the '69-70 team. "He would stand still and take you out."
As always, a strong dose of Bellamy charm came with the high-level basketball. Washington recalls the 6-11 center's refusing to get on airplanes with the rest of the team, because "he didn't want people to think he was a basketball player." Well, no one was going to mistake him for a jockey, that's for sure. Bellamy had odd habits when he went out to eat, too. Once, Washington and Maravich were sitting in a restaurant when Bellamy came in and sat down—at another table. "Pete said, 'Watch. No matter what he orders, he'll send it back,'" Washington says. "Sure enough, he did."
But nothing Bellamy did was malicious or harmful. Sure, he could have played harder, but he was not wired that way. He played the game he loved the way he wanted to play it. And he was a true original—and one of the first athletes to speak about himself in the third person.
Once, Bellamy was upset that the referees weren't calling fouls against the players who were guarding him. As he ran down the court, he said, loud enough for a ref to hear, "Walt Bellamy never gets calls." According to Washington, the official responded in classic fashion: "The next time you talk to Walt Bellamy, tell him he's going to get a technical foul if he doesn't keep quiet."
Bellamy probably didn't relent. But he didn't get the T, either. He just kept on playing, the way he wanted to, when he wanted to.
It was good enough for him, even if the rest of us might have wanted more.