With the NBA Finals between the Warriors and Celtics tipping off tonight, the current average secondary market list price is $3,241, making the 2022 NBA Finals the second most expensive Finals series TicketIQ has ever tracked. The only series that was more expensive was the 2019 series between the Warriors and Raptors, which had an average price of $3,899. Last year's Bucks vs Suns series is 3rd on our list, and the 2016 and 2017 Warriors vs Cavs matchups take the 4th and 5th spots. Only the 2019 and 2022 Finals had overall average prices north of $3,000.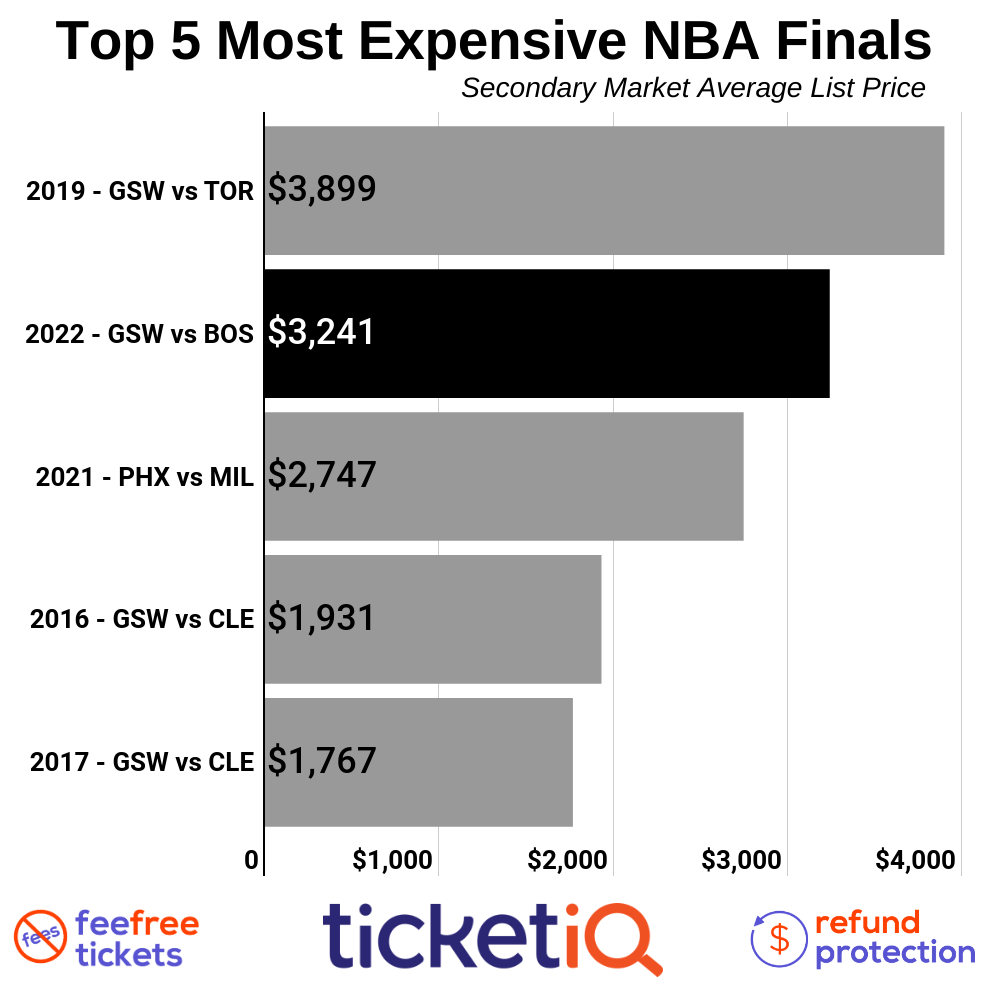 The Warriors home average for the series is $3,526, which is the highest of any of their six trips to the Finals since 2015, and the second-highest we've ever tracked. The Boston Celtics home average for the series is $2,860, the second most expensive for any Eastern Conference team that we've tracked, and the 5th highest overall.
When it comes to the least expensive tickets for these NBA Finals, prices in Golden State range from $740 for game one to $1,479 for a possible game 7, while prices in Boston range from $866 for game 3 to $1,190 for a possible game 6. Below is a look at the get-in prices for each game of the series: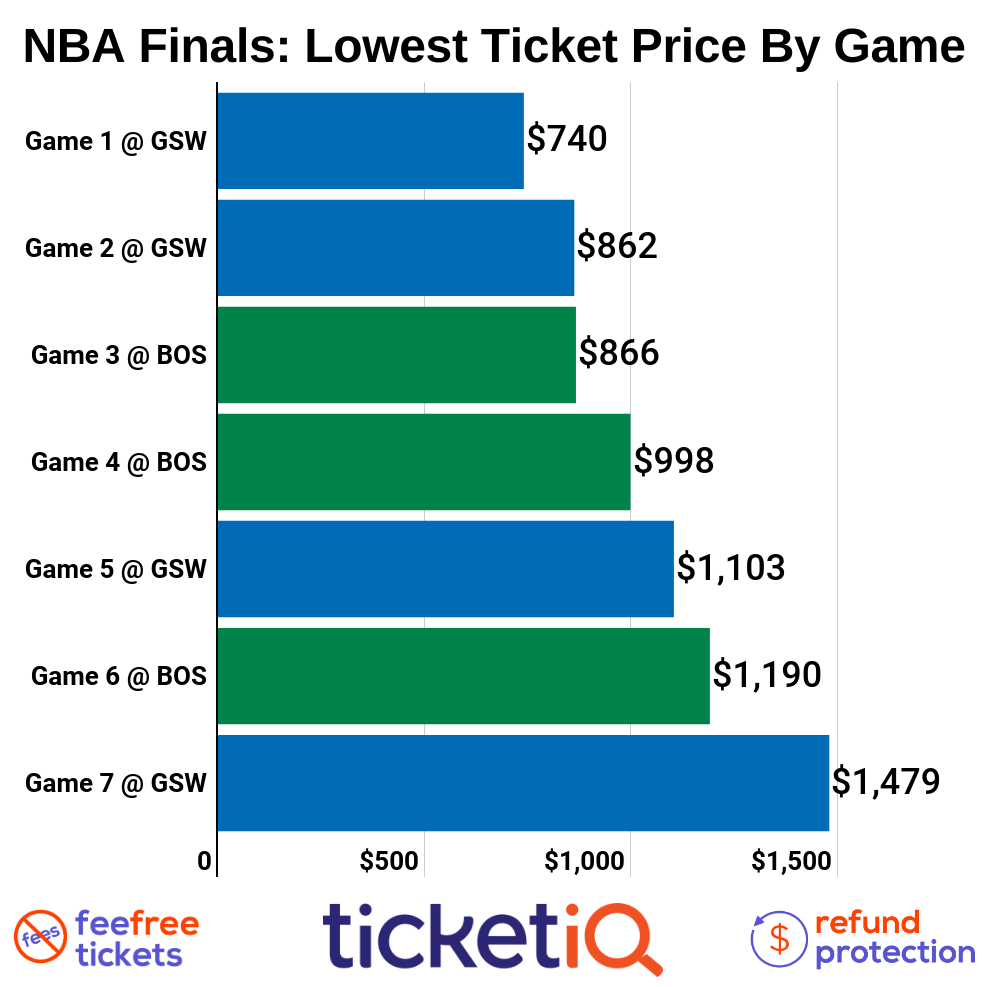 On the high end of the spectrum, ticket prices in Golden State go as high as $80,000+ for a courtside seat to game 7, and $65,000+ in Boston for a courtside seat in game 3. Below is a look at the most expensive tickets for each game of the series: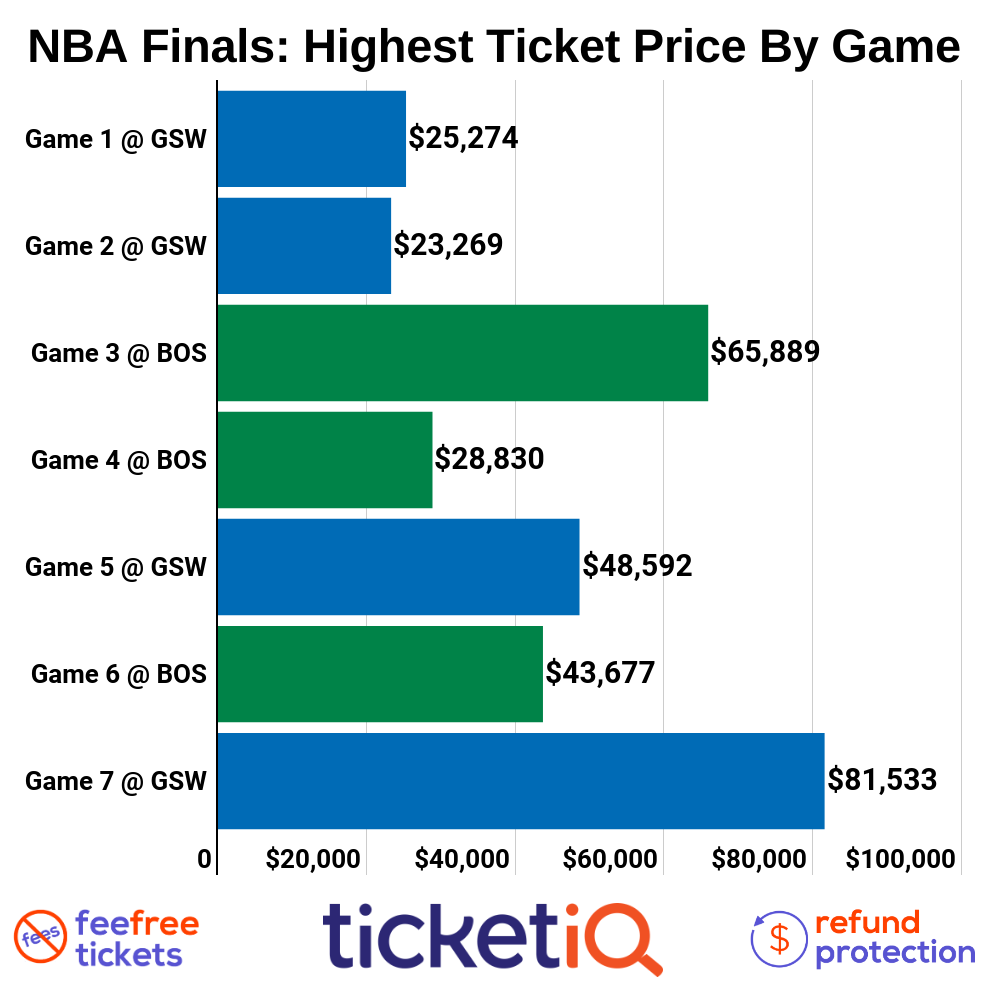 If you're in the market for 2022 NBA Finals tickets, TicketIQ offers Fee Free tickets for all events, as well as a Refund Guarantee. Their Refund Guarantee states that if an event is canceled or deemed unfit for fans to attend, TicketIQ will refund ticket buyers in within 15 days. That means that you can buy from TicketIQ worry-free. Customers on TicketIQ save between 15%-25% compared to other secondary market ticketing sites.
They're also offering Slam readers a special promo code for $75 off any NBA Finals purchase. Just use promo code SLAM75 at checkout.
---
Photo via Getty Image.