As the playoffs—aka the second season, aka 40 Games in 40 Nights, aka "where legends are born"—get set to begin, it's worth looking back on the most unique NBA season in recent memory, if not ever. I'm not talking about the deluge of monster statlines, upstart teams and emerging superstars. I'm not talking about how Russell Westbrook and James Harden are closer to true forces of nature than NBA players. I'm not talking about the fact that the greatest player on earth, LeBron Raymond James, almost averaged a triple double, led the League in minutes and was somehow still an MVP afterthought.
None of that. I'm talking about how the League became, for so many of us, our source of mental wellness in a deeply disturbing time. As a president came into Washington with 2.9 million fewer votes than his opponent and saw it as a mandate to build walls, ban refugees and turn this country into a dystopian reflection of his own ego, the NBA became more than entertainment and more than escape. It was solace. Here in the nation's capital that I call home, the atmosphere is dark and forbidding as people seethe with rage over who occupies the White House in this pluralistic, multicultural city. Like coach Gregg Popovich said, that feeling of the country being "invaded by another power," except living in DC, it's shoved in your face 24 hours a day—like being stuffed by Rudy Gobert on a never-ending loop.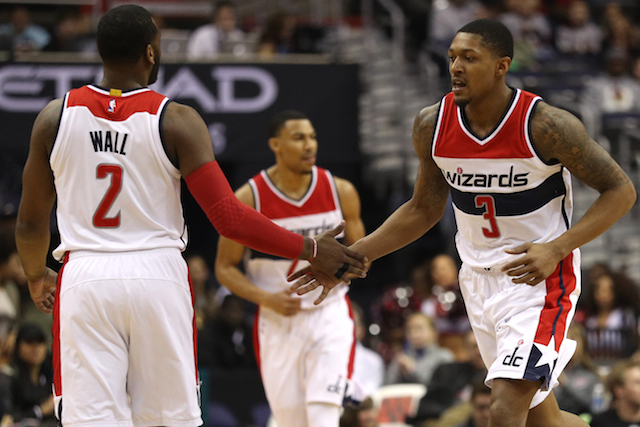 And yet, a 10-minute walk from the White House, we have the minor miracle that is the Washington Wizards. Their off-season acquisitions were universally panned. Their hiring of Scott Brooks, ostensibly to lure Kevin Durant, was a bust. Their horrific start led to calls to break up the entire team. Now they are the first squad in NBA history to start a season 2-8 and make it to 15 games over .500. Against the Portland Trail Blazers, in Rip City, they were the first team this season to go into halftime down at least 21 points (70-49!) and emerge victorious. You go to games in DC and, not surprisingly, the most ubiquitous signs read some variation of "John Wall for President." This is a team that has come together in a time of division. Actually, they love Scott Brooks. And players up and down the roster represent Croatia, France, Poland and Raleigh. They are Team Anti-Trump.
The Wizards are my mental wellness. But there is a dark side to this. Unless you had the good fortune to be on the Warriors' bandwagon last season, winning every game is not a reality. I'm a grown man and I haven't had regular-season losses hurt this much since John Starks was an NBA All-Star. This is dribbling down, like some kind of awful family heirloom, to my kid. He's becoming inconsolable if the Wiz fall to Karl-Anthony Towns and company on the fifth game of a road trip. I've come to the conclusion that the Wizards are like gauze on a gaping wound. More than a Band-Aid and even able to stop the bleeding, but no substitute for confronting the wound, getting to the emergency room for stitches and actually taking the time to heal. No matter what happens in these playoffs, I want to sincerely thank the Wizards for making these last six months more bearable than they had any right to be. But it's time to stop the games—to look beyond the Verizon Center and over toward Pennsylvania Avenue, to confront what's causing the pain.
—
Photos via Getty Images