It's a romantic idea: a bunch of misfits—we're talking faded stars with checkered pasts and bum knees, tweeners drafted in the second round or not at all, players once discarded for expiring contracts—could come together to form a nasty unit, coached by a grizzled innovator out to satisfy a final vendetta. Frankly, it's all too sweet for my taste, and probably yours, too.
Unless, of course, you believe.
That's what the Golden State Warriors did 10 years ago; it is who they were. It's true. Just ask their leader, Jason Richardson.
"We had a lot of talent and a lot of guys with chips on their shoulders," he says of the '06-07 Warriors. "I thought I was underrated. People thought Baron Davis' career was over. Monta Ellis felt underappreciated because he was a second-round pick. Stephen Jackson—the whole [Malice at the Palace] gave him a bad rep. Al Harrington was a player with the best days behind him. Matt Barnes was a journeyman. Coach Don Nelson—we just fed off his energy. Nobody else gave us a chance. We needed a coach like him to believe in us."
Says Nelson, "Maybe it was that naivety that helped us."
Golden State caught fire late that season to reach the playoffs. There, as a No. 8 seed, they eliminated the No. 1 Mavericks in six games. It was the first such upset in a best-of-seven NBA series. Inseparable from the triumph itself are the two quirks that powered the team.
The first was its mantra. As the Warriors surged, chants of "We Believe" grew increasingly prominent inside Oracle Arena; screaming fans wore We Believe T-shirts while holding We Believe signs. What else could one do, watching that mesmerizing jumble of players, but believe?
The slogan went hand-in-hand with the team's style of play, best known as "Nellie Ball." Everybody helped on defense, everybody rebounded, everybody ran, everybody shot with confidence. Size and traditional lineups were irrelevant—Don Nelson just played his best. This was a novel idea that is now widely embraced across the League, though it's only executed perfectly in one place: Golden State.
Belief in the Warriors began on January 18, 2007, when Stephen Jackson and Al Harrington arrived from Indiana via trade.
"They came in with the notion that we could do this," says center Adonal Foyle. The Warriors were just 19-20 at the time. "They brought a little bit of an edge to a team that was already forming. Stephen thought that he was a guard and a big man—that he could do anything—and he brought people along for the ride."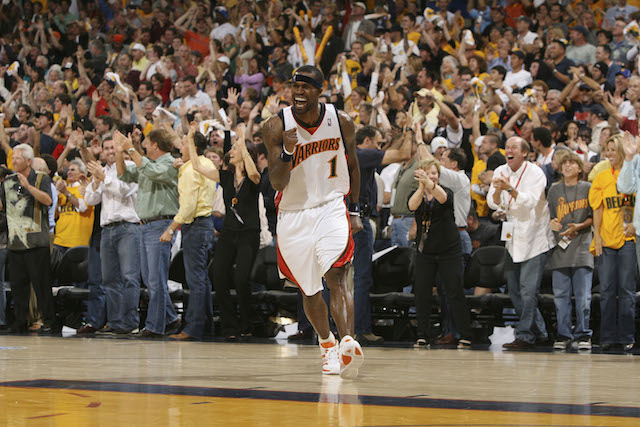 Jackson was athletic enough to defend power forwards who couldn't keep pace with him on the offensive end, a matchup problem that Nelson long dreamed of. "That's what made our club go," Nelson says. "We were all roughly the same size—6-6, 6-8—so we could switch everything on defense. Usually, you have to exclude the center from your rotations, but when you have a bunch of midgets the same size, you can rotate all five."
Still, that season, no NBA team allowed more points than the Warriors. But it was not a plainly bad unit. Foyle and Andris Biedrins offered some muscle in the paint, and Barnes and Mickael Pietrus were solid wing defenders. The team forced the most turnovers in the NBA, sparking the League's fastest, most trigger-happy offense. To some degree, awful defensive metrics were part of the plan.
"We stayed alive on defense," Richardson says. "There was always help coming. The whole system needed the personnel we had, but it also needed the chemistry we had."
Bingo.
What this team lacked in conventional defensive talent it made up for with rapport. In the NBA, where everybody gets very paid, it's tough to field a dozen players—plus a coach—who have something to prove. But many Warriors stood at a crossroads in '07, some still needing to validate large contracts, others hanging in the League by a thread. Meanwhile, the franchise itself had stalled since Nelson's first stint there in the early '90s. Trust can erode in such an environment, but something still-mystical triggered the opposite effect.
"It was the best locker room I've ever been in," Harrington says. "Baron was a glue guy that a lot of people followed. When you add in me and Jack—Jack is crazy, I'm the rational one, yin and yang—it was a great group across the spectrum."
Not every manager likes that variety. "Only Don Nelson could have coached that team," Richardson says. "We were up in the clubs sometimes, but he didn't care about a lot of things. He was a guy who could blend those personalities—Baron, Matt and Stephen had big personalities."
Jackson had developed a negative image with the Pacers. "Indiana was all bad for Jack," Harrington says. "When he got to Golden State, it was a breath of fresh air. The people loved him for being himself. He was like, 'Shit, I can be Stephen Jackson!' They allowed him to go out and go hard."
Just as Jackson's skills advanced Nelson's scheme, his character strengthened team camaraderie. "On the road we'd hear obscene things about us being black or being thugs, because of Stephen or whoever else," says Kelenna Azubuike, an undrafted rookie that season. "It fueled us. It made us mad. We took on a mentality, like, We're all we got. They don't wanna see us out there. By the time we reached the postseason to face the Mavs, we knew we'd beat them. There wasn't a doubt in our minds."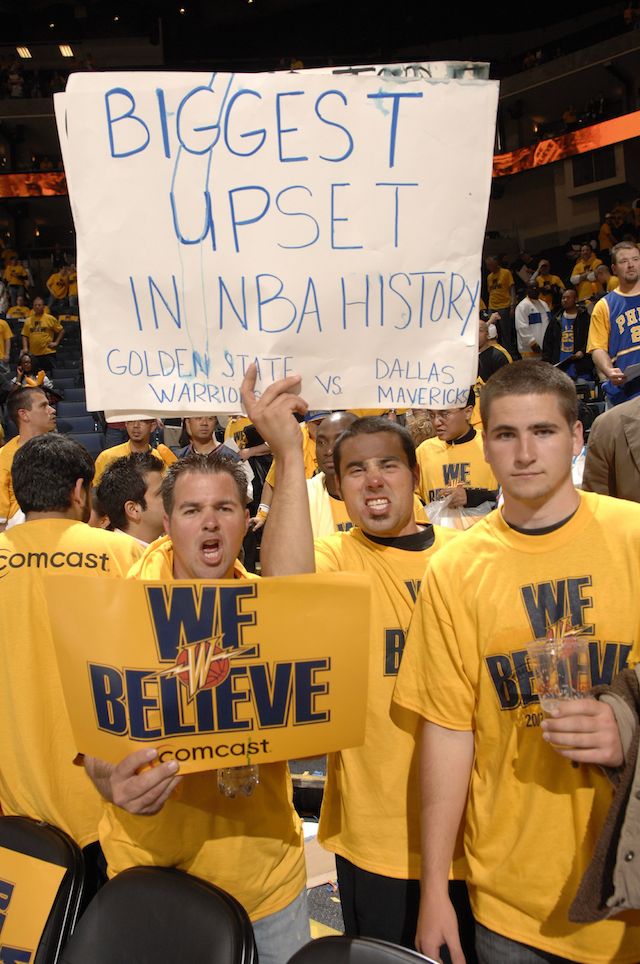 The Mavs were the reigning Western champs, and Dirk Nowitzki was the NBA MVP. He was surrounded by Jason Terry (still just 29), Devin Harris (an impressive third-year man) and Josh Howard (a breakout star). In the regular season, Dallas won a West-best 67 games. Then it drew a team ready to overachieve, led by a vengeful coach.
Nelson had spent six-plus seasons in Dallas before Avery Johnson replaced him in 2005. "Don had a money disagreement with Dallas," J-Rich says. "This was payback. We all wanted to stick it to them."
On top of that advantage, as Foyle explains, "The Mavericks were still using all of Don's plays. So he wasn't just saying, They're gonna run this or that. He's saying, This is the fifth play they're going to run for Dirk, the sixth, the play call, the play set—how to defend and disrupt."
Nelson can still recite the game plan: Stay small, stick Jackson on Dirk, make him drive, and be ready with a double-team.
It worked—the Warriors smoked Dallas in Game 1. Nowitzki shot just 4-16, while Davis poured in 33.
The Mavericks evened the score in Game 2. In Game 3, the Warriors unleashed a weapon far more powerful than anything Nelson could sketch on a sideline whiteboard.
"That game, going home and seeing the crowd—like, Wow," Foyle says. He was drafted by Golden State in 1997 and had never before sniffed the postseason. "It was like being in the desert for 10 years and you finally saw water. It was just that guttural—people in the arena hours early, screaming of pure pleasure and desperation. They'd been waiting for one moment and they finally got it."
Says Richardson, then the team's longest-tenured star, "It was an adrenaline rush I couldn't contain. I thought I was gonna be so nervous that we'd go lay an egg."
The Warriors won Game 3 by 18. In Game 4, Jackson and Richardson helped erase a late deficit to go up 3-1. Dirk answered with 30 in a Game 5 win.
The series went back to Oakland, with the home team leading, 3-2.
"I kept waiting for Dallas to wake up," Nelson says. "Game 6 was their chance. I told the team, Tonight is the night, we have to beat 'em. And we did. We destroyed them. I think we beat them by 20."
The Warriors won Game 6 by 25. Jackson led the way with 33. Every shot fell and the crowd went ballistic, nervous energy giving way to mass delight.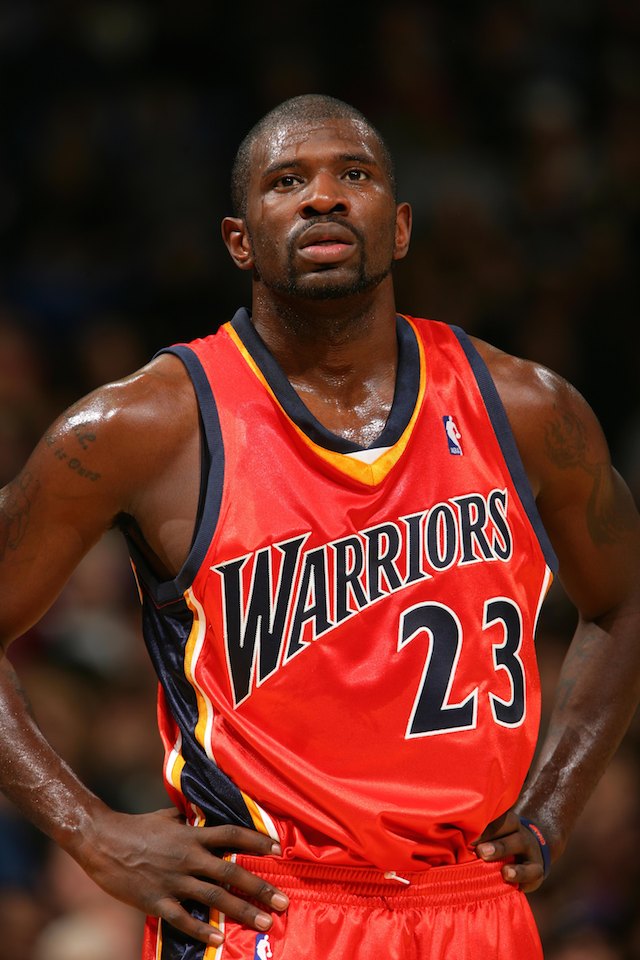 Richardson's last game as a Warrior came a couple weeks later, in Game 5 of the second round against Utah. The Jazz went big against Golden State that series, and though the Warriors competed—one loss in OT, another by 4 points—Utah beat 'em up pretty good.
In June, Richardson was traded to Charlotte. The move shook the Warriors' core. "They shoulda kept J-Rich," Harrington says. "What was the reason? Why not give him another year?"
The following summer, Golden State let Davis walk as a free agent. Nelson blames the front office for that departure; Harrington protests, "I never heard that Nellie fought for BD, I'll say that."
Whatever the case, Stephen Curry arrived a year later, in 2009. Somewhere along the line, these Warriors surpassed those Warriors, a sort of systems update.
"When Golden State goes small, they're very similar to my teams," says Nelson, who is now retired and resides in Maui. "But they're better than any team I ever coached. I love watching them—I'm their biggest fan."
Richardson remains in touch, too, though he now lives with his wife in her hometown of Boulder, CO. "I just turned 36," he says. "I saw on Twitter the Warriors wished me Happy Birthday, the fans wished me Happy Birthday, saying, We Believe, all that stuff. It's incredible."
Foyle, who still lives in the Bay Area, hears the old mantra daily. "True Warriors fans define their authenticity by recognizing We Believe," he says. "It was part of the team—seeing what happened over the years and believing that we could change it. We'd say it in the locker room and in the huddle: Believe."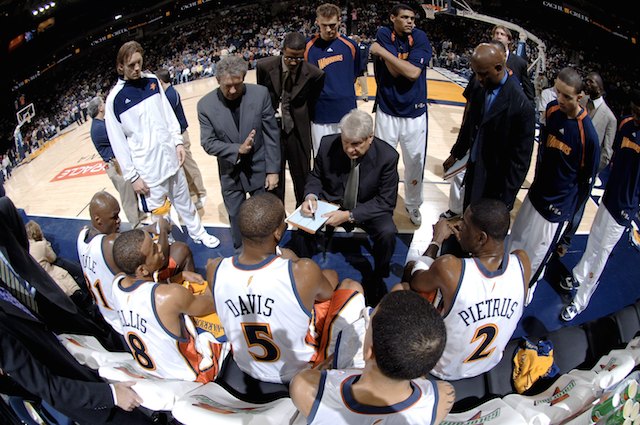 Leo Sepkowitz is a Senior Writer at SLAM. Follow him on Twitter @LeoSepkowitz.
Photos via Getty Images