Yao Ming faced tremendous pressure during his rookie year of 2002-03. Everything the 7-6 center did and didn't do took on added meaning; his success or failure would carry repercussions far beyond him or the Houston Rockets.
Yao was the first Chinese player with a legit chance to be an NBA star and the first international player drafted No. 1 overall without ever playing in the US. Billions of eyes were watching his every move from all over the world. He had to be a model citizen, pay fealty to the Chinese sports hierarchy, pledge to always return for the national team, and prove that he had the athleticism and endurance to continue his Chinese success playing with and against the world's best players. And he had to do it all with what seemed like a chorus of people rooting for him to fall on his face.
"A lot of people wanted to see Yao fail, quite frankly," Jeff Van Gundy, who coached the center for four years starting in his second season, told Newsday. "They did not want to see him succeed."
After the draft, Bill Simmons, Dick Vitale and Charles Barkley led the parade of commentators predicting Yao's imminent humiliation. Barkley promised to kiss Kenny Smith's ass on TV if Yao ever scored 19 in a game. In his first seven games, Yao averaged only 14 minutes and 4 ppg, and the haters rubbed their hands in glee. Then he made his first real statement on November 17, scoring 20 points against the Lakers on 9-9 shooting. Barkley kissed the hindquarter of a donkey purchased by Smith.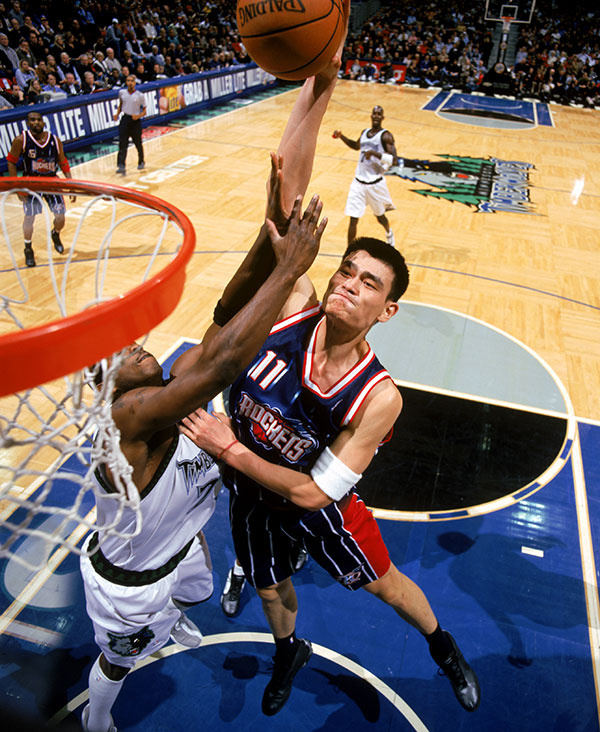 The game was the beginning of Yao's rise—which also came in the face of persistent Asian stereotyping and outright racism. At Yao's first game in Miami, the Heat gave out 8,000 fortune cookies, which don't exist in China. He seemed more befuddled than angry. He also maintained his composure when Shaq descended into the racist muck before their first meeting, saying, "Tell Yao Ming, Ching chong-yang-wah-ah-soh." Yao blocked Shaq twice in the opening minute and sealed the win with an OT dunk. No one questioned whether or not he belonged again.
Yao's growing success was greeted with euphoria in China, where all Rockets games were broadcast and Houston merchandise both real and bootleg appeared all over the country. Yao Rockets gear remains immensely popular in both countries to this day. The NBA began offering All-Star ballots in Chinese as well as English and Spanish and the support of his countrymen led to giant vote totals for Yao in '03 and '04, when he was voted to start over Shaq, who had won three straight NBA Finals MVPs.
Yao publicly maintained that nothing he did was a big deal. "I'm not a hero," he wrote in his memoir A Life In Two Worlds. "I'm just doing my job."
It was much more than punching a clock. For the season, Yao averaged 13.5 ppg, 8.2 rpg and 1.8 bpg, and finished second to Amar'e Stoudemire for ROY. He had an inside/out game and ran the floor far better than anticipated. His grace under pressure and groundbreaking presence helped him be elected to the HOF this year, but so too did his excellent play.
"People forget how good he was," said Van Gundy. "I respectfully disagree with anyone who says he's not a Hall of Famer, 'cause I guarantee you they're looking at the stats and didn't watch him play like his coaches did. If Yao's name was Joe Smith, he belongs in the NBA. But the added component of what he brought to opening up basketball to China and handling himself with grace and dignity each and every day…He's a special person in the history of the NBA."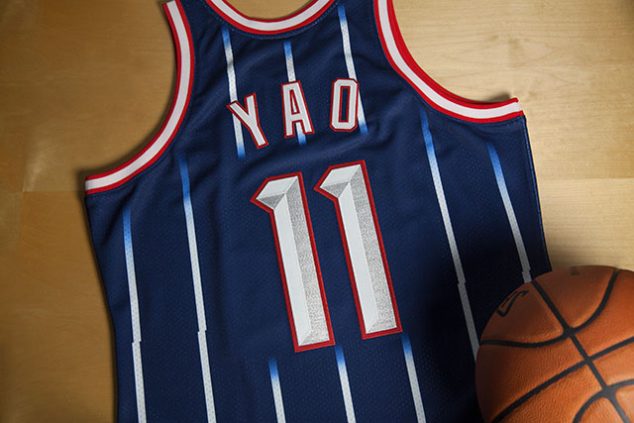 Video by Meir21. Follow him on YouTube, Facebook and Twitter.