With the NBA off-season in full swing, Wizards' Bradley Beal has been busy this summer giving back and paying it forward for the DC community, having teamed up with Hoop For All on the latest revamping of Banneker court.
Founded by Ayo Amoo and KB Thomas, Hoop For All and Beal's collaboration began in 2021 as Beal was not only preparing to run with the eventual gold-medal-winning Team USA (Beal was unable to play after contracting COVID-19 shortly before they left for Tokyo) but was thinking of how he could also leave a lasting impact in D.C. Hoop For All eventually made a business proposal that Beal was a fan of and after they came together for a meeting and agreed to collaborate on refurbishing and transforming Banneker into a cause-related and "Health Inspired" Court.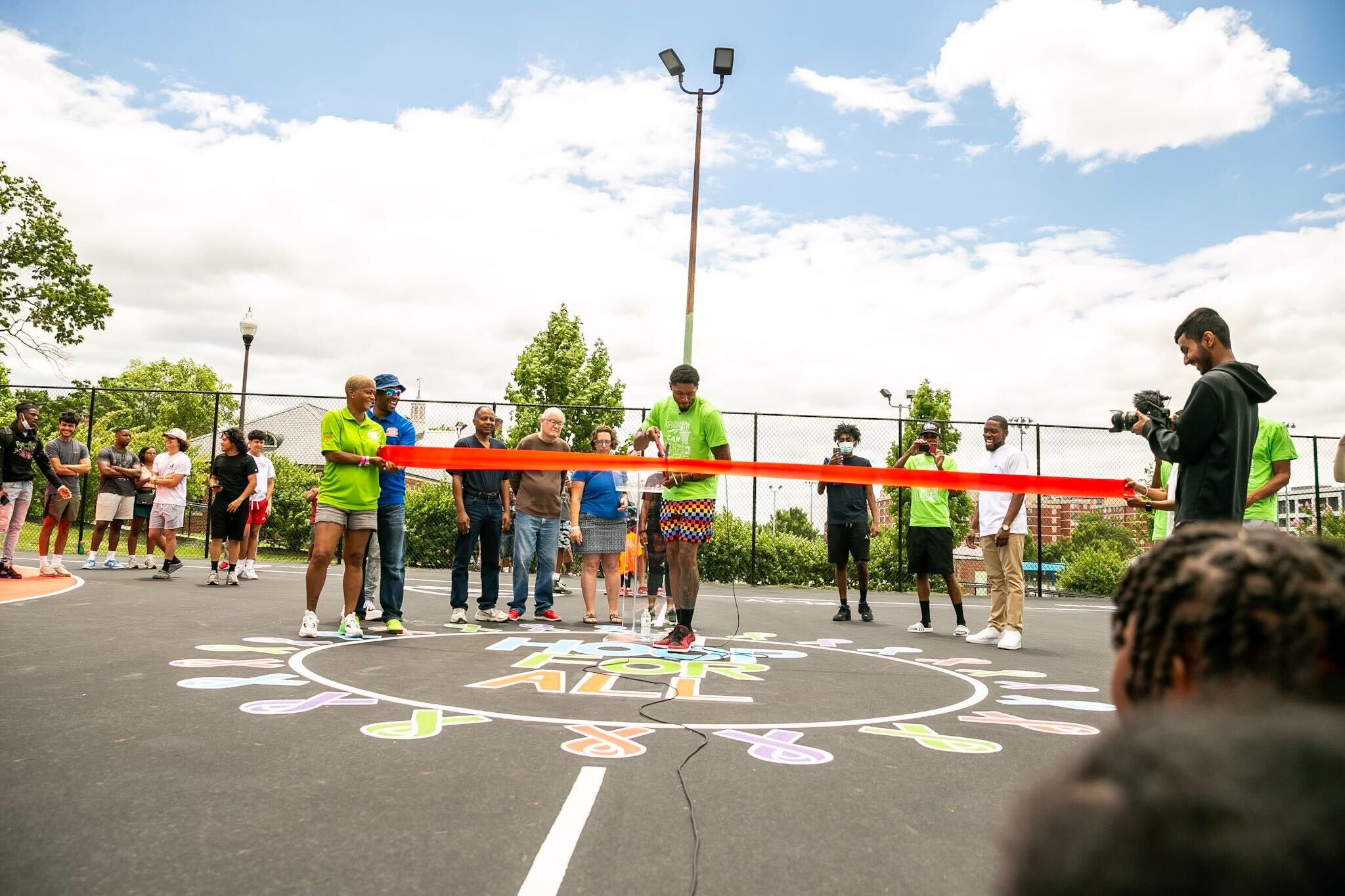 The foundation began in 2012 during Amoo and Thomas' sophomore year at Howard. Amoo noticed that Banneker Court, the basketball court situated right across the street from The Mecca, wasn't being used to host any organized basketball events.
The absence of anything going on at the historic basketball court led to Amoo proposing that he and Thomas get together and decide to host something at Banneker. The only requirement Thomas had was that they do something that would "leave a lasting impact in the community."
That summer, Thomas and Amoo brainstormed and plotted out how they wanted their event to go. Those summer planning sessions eventually birthed the inaugural Hoop for Hope 3v3 tournament dedicated to breast cancer. In 2014, Amoo said he used his senior spring break to officially make Hoop For All, a non-profit organization dedicated to using sports to help provide access to health care resources in Washington D.C.
"Us being in those different groups allowed us to know how to organize and put things together. I felt like it was best for us that we put down on paper because we both had mind in mind different things that we wanted for the tournament," Thomas says. "But when we took that summer and really started writing everything in those composition notebooks, that's when it started becoming more real. You notice how little the details were about then to where we are now, all of the things we've been able to learn, the different programs we been able to put on, (and) different money we've been able to give away.
The best thing about (him) and I is we work together seamlessly. We're always on one accord, like 10 times outta 10. He and I just having that understanding with each other and having our vision and knowing what we wanted to produce out of it is what allowed us to really get over the road bumps. Most of the road bumps we experienced had to do with the time of something going on, but it's good for us to know so [that] the next time we know how we can avoid things in the future."
Since then, Hoop For All has continued to thrive in the sports and health space. This summer marks a decade since Thomas and Amoo first hosted the Hoop For Hoop tournament. When it comes to the level of play at that event, Amoo says that after the fifth annual tournament, they went from having a majority of Howard hoopers coming out to hoopers from all over the city pulling up.
Legendary DMV hoopers like foundation ambassador Randy "White Chocolate" Gill came out and won MVP last summer, And-1 Streetball legend Baby Shaq played last year, too, as well as Goodman League legend Christian "Boo" Jackson. Steve Francis has sponsored the event and coached against another D.C. legend, Greg "G-Wiz Jones. Howard alum James "J-Bird" Daniel, who once led the NCAA in scoring, also showed up and showed out at the tournament.
After setting out to "leave a lasting impact" on the city, Amoo and Thomas made another step in paying it forward by teaming up with Wizards guard Bradley Beal to refurbish the historic Banneker courts.
Two years prior to, Amoo and Thomas were granted a contract by the city to refurbish Banneker Courts, but the foundation had to find funding. So the co-founders came up with a plan to work with an NBA player who had a tie with health or a connection to one of the causes Hoop for All is connected to and collaborate with them to refurbish and transform Banneker Courts into a cause-related court where anybody can hoop in the D.C. community.
"So a cause-related court can be anything that spreads awareness to a specific cause," Thomas explains. "It can be a court that has some sort of significance around diabetes, police brutality, cancer, abuses, anything that you're passionate about or has affected you or someone else around you. So we started off with Bradley Beal doing our local court here in D.C. — and mental health, and we're already in conversations with other professional athletes to do more courts across the world. Not just across the country, we wanna make this thing global. I come from a Nigerian background, and hoops is going crazy in Africa. So we wanna take this international as well."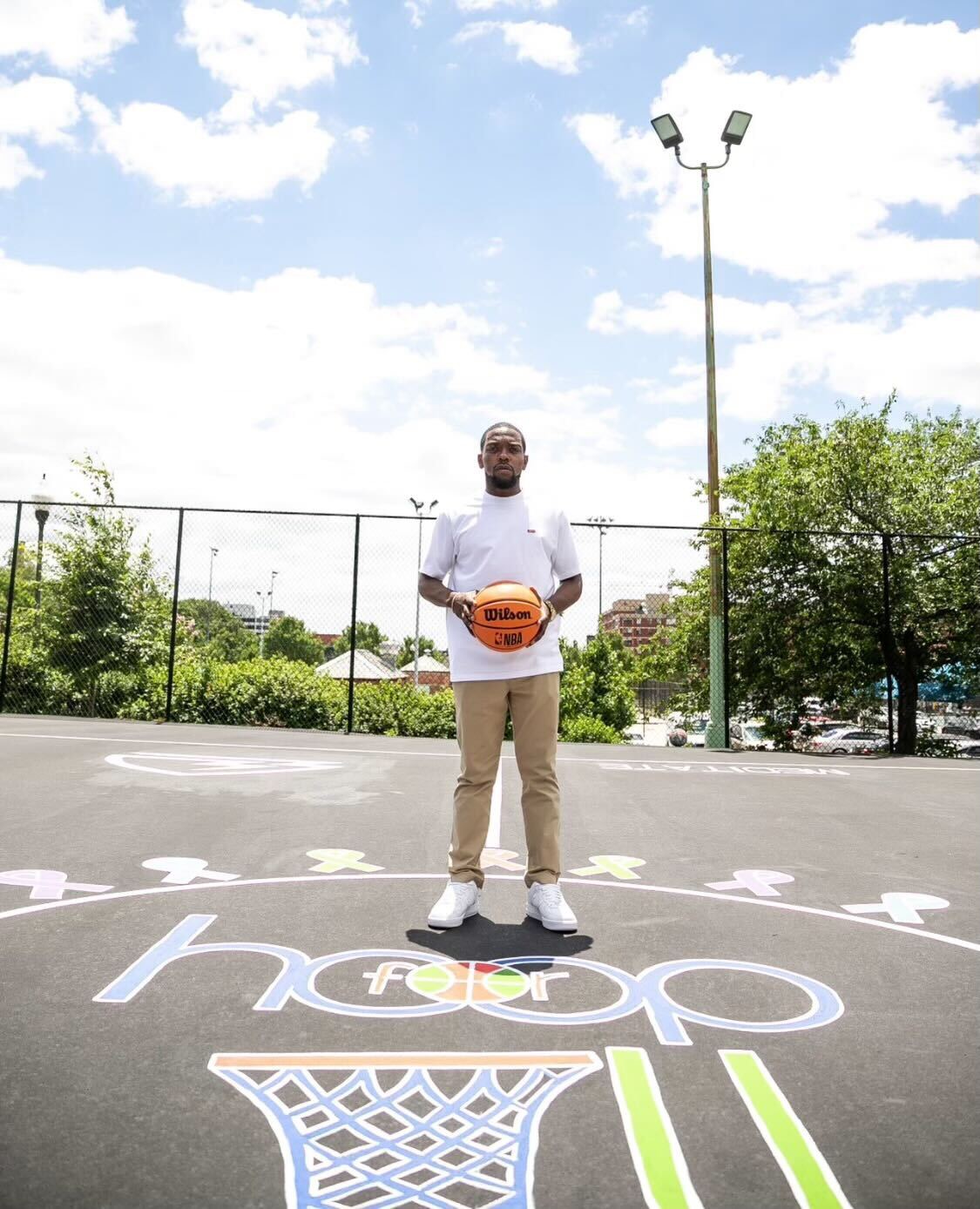 Beal, the Wizards, and the players union became a part of the refurbishment after Amoo and Thomas learned he was planning to study biology at Florida before leaving the school as a one-and-done prospect. The Washington Wizard guard can also relate to the foundations' health-related cause to fight diabetes. The 28-year-old guard's father suffered from kidney failure before he was given a new kidney last summer.
Beal funding the court makeover wasn't his only contribution to the project, though. Amoo and Thomas came up with the concept, and Beal provided some other notes before S.P. the Plug took over the hard part and painted the final design of the court. The final product featured the foundation's logo at the center of the courts, surrounded by the ribbons of the health disadvantages they're dedicated to bringing awareness to cancer (purple), mental health (green), heart disease (red), and diabetes (blue).
The court also features quotes from Hoop For All and Beal, Chuck Brown, the D.C. legend who created go-go music, and Benjamin Banneker, the namesake of the court and the surrounding community center built around the blacktop. Beal's brand logo is also displayed on the court.
"Me and K.B. we're talking, and we said let's allow these courts to target our top health causes that we focus on through our foundation," Amoo says. "Which are heart disease, diabetes, mental health, and cancer. We were like, 'how can we do that? How can we put that together?' We knew that we were gonna use the awareness colors for each of those causes, but K.B. said, 'let me just get in my design bag, let me just start putting some sketches together.
So she started putting the sketch together while we were on the phone of the ribbons in the middle of the free-throw line, everything; she put the whole sketch together, I jumped in, and it was my idea to put the ribbons around center court. When we talked to Beal, Brad was like, 'man; I actually love this. I wouldn't change a thing, but I wanna add some quotes; let's throw in some more D.C. significance,' and he just added to the artwork. He has a love for art, so it's really cool for him to appreciate our initial sketch and then also add to it."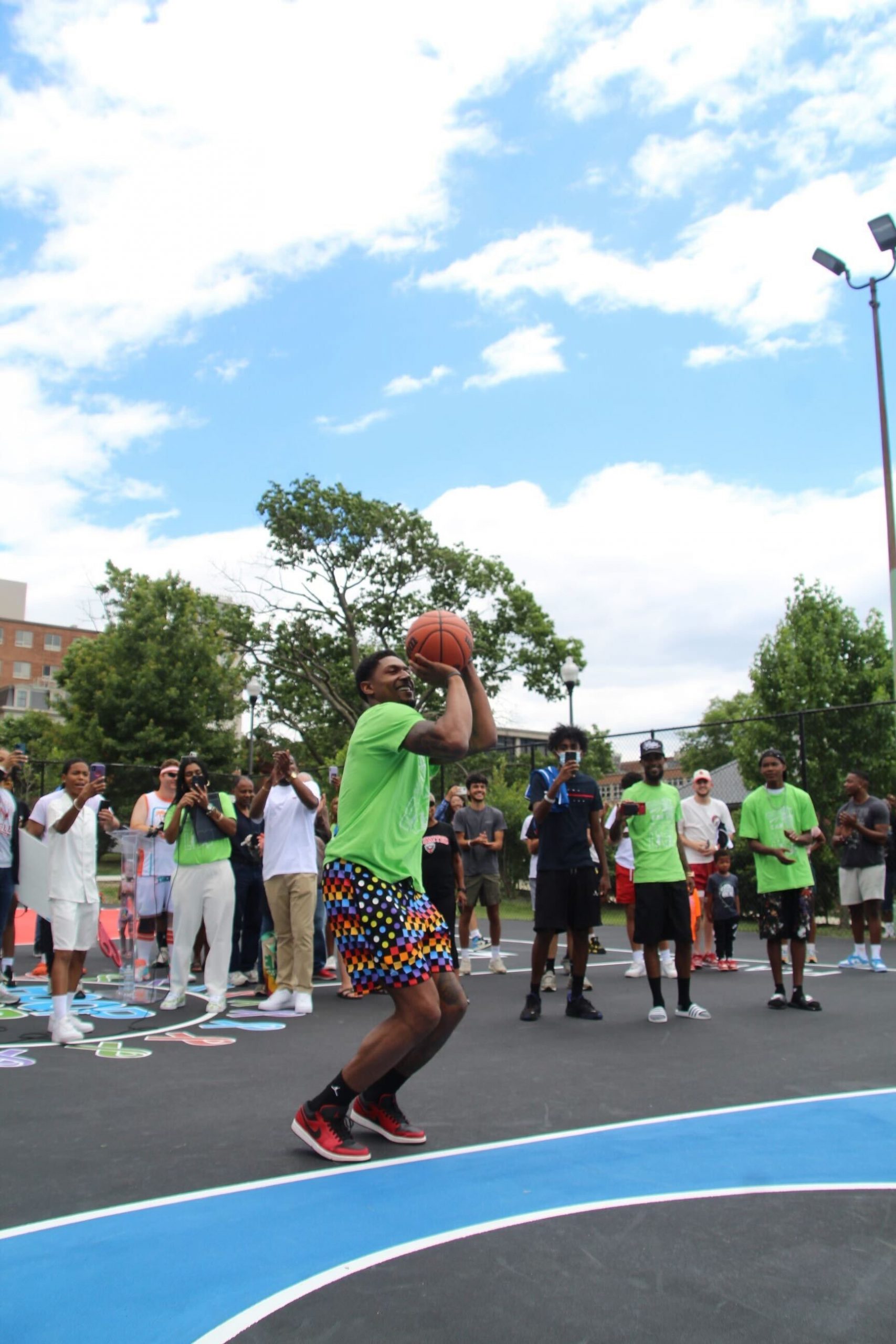 When the "Health Inspired" courts were finally revealed on July 18, those in attendance weren't just the kids and fans excited to be close to an NBA All-Star but residents of the city who used to hoop at Banneker back in the day.
"It's so humbling; it really hit me all at once at the tournament," Thomas says. "I think that was the best part about it. It going to a composite sketch, a render we had, to seeing it there in person and seeing how excited the community was, it became a full-circle moment. It's very, very humbling."
After completing this project with Beal, the Hoop For All foundation has set the goal of partnering with more players to refurbish 100 courts and dedicating them to health-related causes. They also aim to expand beyond just the D.C. area and go global with their fight against health disadvantages.
The 10th annual Hoop For All event will be held at Banneker Court, with the Hoop For Hoop organization dedicating the tournament to targeting rare forms of cancer.
You can donate to the event here.