The trend of NBA teams drafting international players and leaving them overseas for further development reached its apex at the 2016 NBA Draft. That meant more US college players than ever before didn't hear their names called on draft night.
But this development doesn't mean college players must let go of their NBA dreams. In fact, there is a growing contingent of players carving out long and distinguished NBA careers despite not being drafted.
Since the Portsmouth Invitational Tournament in Virginia has long featured the best senior players in the country, and many seniors are the same players being passed over in the Draft, it's not surprising that several 2016 PIT alumni were top performers in the just-concluded NBA summer leagues in Orlando, Salt Lake City and Las Vegas.
Established NBA players like Wes Matthews, Jose Barea, Jeremy Lin, Anthony Morrow, Anthony Toliver, CJ Watson and more recent success stories like Kent Bazemore and Robert Covington all played at the PIT. Not one was chosen in the NBA Draft.
Alums from this year's PIT were on nearly every team roster in the summer leagues. Bryn Forbes, who shot over 48 percent from three-point range during his senior season at Michigan State, did not get drafted, but the San Antonio Spurs were (not surprisingly) smart enough to snap him up for their summer league units in Salt Lake and Vegas and he delivered what was expected: pinpoint three-point shooting.
Here is a brief look at 10 PIT alums from this season and how they fared this summer:
Bryn Forbes (6-3, 190), Michigan State (San Antonio Spurs)
Unlike many of his PIT brethren, Forbes was given ample opportunity to show his team what he had. In eight games, he shot 40.6 percent from three-point range and 94.4 percent from the line, averaging 11.6 ppg in about 25 minutes per game of playing time. Forbes tallied 23 points vs Philadelphia, hitting 8-10 from the field and 4-5 from three-point range. Forbes has textbook catch-and-shoot mechanics but also understands when not to shoot, which could get him on the court with veteran players sooner. The Spurs signed Forbes to a partially guaranteed contract, and he has an excellent chance to secure a roster spot in the fall.
Abdul Nader (6-6, 230), Iowa State (Boston Celtics)
Nader was the last of six Celtics picks on draft night, chosen 58th overall after a solid if unspectacular two-year career at Iowa State. He didn't see many minutes in Salt Lake City, but when the Celtics switched venues to Vegas, Nader caught fire. He scored in double figures in all five games in Vegas, hitting 10-21 from three-point range and averaging 12.8 ppg. Nader loves to use his quickness on the baseline to attack the basket, but he was a reliable three-point threat from the corners in Vegas. Boston's roster is nowhere near locked in, and Nader still might spend next season in Europe or the D-League, but he made the Celtics take note of him.
Mike Tobey (7-0, 253), Virginia (Charlotte, Utah)
Tobey played five games for Charlotte in the Orlando Summer League, then jumped on a plane to Vegas and joined Utah's contingent for six more games, playing on consecutive days for two different teams across four time zones. The 7-footer got a lot more run from the Hornets, delivering 10 points and 6.8 rebounds per game, shooting 66.7 percent from the field while also adding 1.6 blocks per game. In Vegas playing for the Jazz, Tobey played less, but was still very effective, shooting 52 percent from the field and contributing 5 points and 4.3 rebounds in just 15 minutes per game. Tobey also made an impact defensively, showing the ability to both defend in the post and also provide rim protection against drivers. Tobey looked like a future NBA player.
Maodo Lo (6-3, 194), Columbia (Philadelphia 76ers)
The native of Germany is a rare coveted rookie among European league teams, but he joined the 76ers for both the Salt Lake and Vegas events in a bid to drum up more interest among NBA teams. Lo has high-level experience playing with Dirk Nowitzki and Dennis Schroeder on the German National Team, and it showed during his clever play in summer league. Lo shot 39.6 percent from three-point range in seven summer league games, hitting at least one three in six of his seven games. Playing at both guard spots, Lo showed an aggressive mindset he didn't bring with him to Portsmouth, and it served him well. Lo still needs to improve his handle and his overall strength, but he did enough to intrigue NBA teams that he won't be forgotten if he does elect to play in Europe.
Patricio Garino (6-6, 211), George Washington (Orlando Magic)
Since Garino did not play in Las Vegas, it might be easy to forget how good he looked with Orlando Summer League champion Orlando White. Garino, who helped GW to the NIT championship as a senior, did a little bit of everything, delivering as complete a performance as any player in Orlando. He averaged 12 points, 3.3 assists, 3.3 rebounds and 2.0 steals per game, shooting 38.5 percent from three-point range. Garino reached double figures in every game, played physical defense and got wherever he wanted to on the floor with the ball despite not possessing great foot speed. San Antonio's Kyle Anderson has found a niche in the NBA and Garino, albeit shorter than Anderson, demonstrated many of the same assets.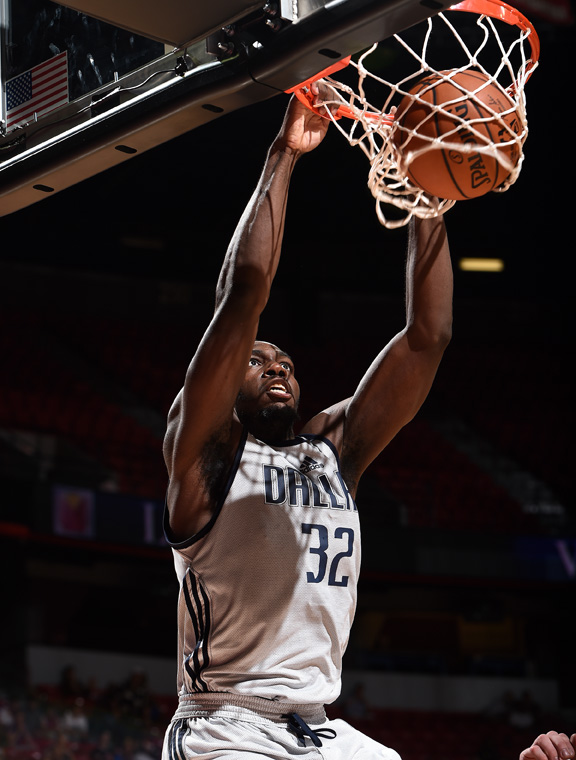 Jameel Warney (6-8, 260), Stony Brook (Dallas Mavericks)
Warney isn't a stretch-4, but rather a throwback to the type of power forward the NBA used to value: a physically strong rebounder and defender who can finish around the basket. Warney didn't receive big minutes from Dallas, but he did a lot when he got into the games. In just over 16 minutes per game, he averaged 6.5 points and 6.5 rebounds per game, shooting 59.3 percent from the field and adding one blocked shot per game. Warney averaged 10.8 rebounds per game at Stony Brook, with several double-figure rebound performances against major conference teams. It's true that rebounding is one skill that seems to translate well from college to the NBA game, and Warney is a proven rebounder.
Egidijus Mockevicius (6-10, 237), Evansville (Brooklyn Nets)
Mockevicius was not a big name in college basketball circles, unless the conversation turned to rebounding. The native of Lithuania led the country with 14.0 rebounds per game and was also ninth in the country in field-goal percentage (63.7 percent). He was originally scheduled to play for Dallas in the Summer League, but Brooklyn aced out the Mavericks with a partially guaranteed contract and invitation to training camp. Mockevicius got into two games for Brooklyn, with 8 points and 5 rebounds in 16 minutes vs Cleveland, and 9 points, 5 rebounds and 2 blocks in 16 minutes vs Washington. Mockevicius is a very smart player, knows how to play around the basket and isn't opposed to getting physical. He has a legitimate chance to make Brooklyn's roster.
David Walker (6-6, 200), Northeastern (Miami Heat)
Walker's summer league stint was unusual in terms of its duration. He played in 11 games for Miami, five in Orlando and six in Las Vegas. Walker often played point guard during his career at Northeastern, but his position in the NBA, given his height and relative lack of foot speed, must be shooting guard. After a slow start in Orlando, Walker started playing more minutes and shooting the three-pointer with accuracy. In 11 games, he shot 17-40 (42.5 percent) from three-point range, averaging 6.0 points in 21 minutes per game. He hit at least two three-pointers in seven of 11 games, with a personal best of four three-pointers vs OKC. Walker shot 41.3 percent from three as a senior in college, so his marksmanship shouldn't be a surprise. His shooting ability makes him a viable candidate to wear an NBA uniform in the near future.
Andrew Andrews (6-2, 200), Washington (Los Angeles Clippers)
Andrews knows how to put the ball in the basket, as evidenced by his 20.9 ppg average as a senior at Washington. Playing for the Clippers in Orlando, Andrews put together several solid performances, averaging 11.0 points, 4.4 rebounds, 3.2 assists and 2.2 steals in 28.6 minutes per game. Andrews got to the line more than five times per game in Orlando, shooting 77 percent from there, and NBA veterans broadcasting his games (Greg Anthony, Vince Carter) noted his ability to get into the lane and create plays both for himself and teammates. Andrews must be a combo guard to earn a look from the NBA, and he took a big first step in that direction in Orlando.
Devin Thomas (6-9, 248), Wake Forest (Minnesota Timberwolves)
Thomas collected more than 1,000 rebounds in his four-year career at Wake Forest, finishing fourth in school history in that category. He's never been a polished offensive player, relying on a lefty hook for most of his points, but he's always rebounded, and he did that for the Wolves. In 22.2 minutes per game, Thomas averaged 5.2 points and 7.5 rebounds per game. Thomas averaged more than three offensive rebounds per game in Vegas, showing ability in an area most NBA teams seek. Thomas could be a double-double machine in a top European league, but his work in Vegas might get him a shot at an NBA training camp.
Others of Note: Isaiah Cousins, Oklahoma (Sacramento); Kyle Collinsworth, BYU (Dallas); Matt Costello, Michigan State (Atlanta); Gabe York, Arizona (Charlotte); Retin Obasohan, Alabama (Sacramento).
Chris Ekstrand has written about the NBA Draft for more than 30 years. He has written about college and professional basketball for Sports Illustrated, The Associated Press and the Newark Star-Ledger. He is the former Editor of the NBA Draft Guide, and worked in the NBA league office during the golden years of Michael Jordan's Chicago Bulls. Today, he is a consultant to NBA Basketball Operations and spends the college basketball season scouting the ACC, SEC, Atlantic 10 and other major conferences.