SPRINGFIELD, MA – Last Friday, the Naismith Basketball Hall of Fame here swelled to 335 members. More and more, these players, coaches, contributors, referees and teams represent a diverse background. In the last few years, we've seen inducted African-American pioneers from the sport's first decades, a Lithuanian (Sarunas Marciulionis) who helped usher in the Dream Team era, two women's basketball teams and even the first Hall of Famer [Alonzo Mourning] who's undergone an organ transplant.
But, despite the commitment to variety, there's still one barrier that should be broken. There are 10 teams in the Hall of Fame, but all are American. The first such non-American entry should be the Argentinian national team from the 2004 Olympics. For one, they soundly beat an American group of superstars en route to the Gold medal, a monumental deed on its own. But the Argentinians did so much more, as ESPN's Zach Lowe pointed out on a B.S. Report podcast. They represented a style of play, and system of development, forming the foundation on which the resurgent American dominance of the last six years has been based.
"I think they certainly are a team worthy of consideration," says Jerry Colangelo, chairman of USA Basketball. "When I was asked to take over USA Basketball in '05, I was asked to change the culture. One of things that I saw that others were doing was the national team concept—which isn't picking 12 players when you had the World Championships or the Olympics coming up like an All-Star team—but you develop a national team [program], a deep roster."
The '04 Argentines rose together through junior national team ranks and in the end imparted a lesson no number of Larry Brown soliloquies could have seared in with the same effect: "You can't just show up at a basketball game and feel that because you have USA across your chest you're going to win," Allen Iverson said after his team was ousted from the '04 Olympics. A wholesale system reboot ensued. Players would no longer just show up at camp a month or two before tip-off. They were expected to put in commitments of at least two years. And the door would be wide open for smart, non All-Star role players like Tayshaun Prince and Kyle Korver.
Now, three Gold medals later, that change has fostered a continuity and depth that gives hope to a US team heading into its most perilous storm in eight years. The US team streak of three major international competition titles in a row is in jeopardy as it begins practice this week in advance of the 2014 FIBA World Cup. The tournament host Spaniards have 15/8 odds to win the tournament starting August 30.
The Americans' defections—which include Kevin Love, Blake Griffin and Kevin Durant—have been well chronicled. But they are nothing compared to the problems faced by the Argentinians, who will head to Spain without leader Manu Ginobili, the 37-year-old NBA star who is recovering from a stress fracture in his right leg. Other cornerstone Argentinian players of the last 15 years will also not play, and 34-year-old Luis Scola said he may sit to protest problems within Argentinian basketball's governing body.
If this how Argentina's greatest basketball generation bows out, perhaps it's fitting they so quietly exit. Because they didn't exactly burst onto the scene back in 2002, during their first major senior team tournament at what's now called the FIBA World Cup. Internationally experienced superstars like Jason Kidd, Ray Allen, Kevin Garnett didn't suit up for the Americans in that Indianapolis tourney and it showed.
Argentina handed the US its first loss in the post-Dream Team era, "sending a ragged and motley Team USA tumbling toward sixth place and a well-deserved moment of global reckoning," Yahoo Sports' Adrian Wojnarowski wrote. "USA Basketball had no system, no soul, no vision. The program had collapsed under the weight of its own neglect and hubris, a sense of entitlement that ultimately met its international match with a relentless band of brothers out of Argentina."
RC Buford, the San Antonio Spurs' general manager, told Wojnarowski: "The way the Argentines played, the passion they had had for their national program, the way that they cared about each other, was something that was clearly missing with the US program." Buford said losing didn't appear to sting the US players as much as it did the Argentinians, who lamented their second-place finish and resolved to do better in the 2004 Olympics. He recalled "the American guys had limousines lined up at the team hotel to get out of Indy as soon as they could."
While the sixth-place finish and relative apathy shown by Americans disturbed some basketball insiders, it didn't register with the American public at large. That's partly because the losing players—guys like Brad Miller, Elton Brand and Andre Miller—weren't exactly household names. Another big reason: Approximately 200 million Americans care way more about the Olympics than the FIBA World Cup.
In 2004, the US brought bigger guns to Athens, but to no avail. Tim Duncan, Allen Iverson and a young LeBron James, Carmelo Anthony and Dwyane Wade didn't have enough experience playing with each other, or under FIBA rules, to avoid losing to Puerto Rico and Lithuania in pool play. Still the US appeared to be coming together in the quarterfinals when it beat a previously undefeated Spanish team 102-94. It might have surged on to Gold had it not again met the Argentinians in the semifinals.
The Americans never had a shot. Or rather, they had plenty, but missed too many of them, stumbling to a 42 percent finish on field goals. Argentina meanwhile took full advantage of the Americans' poor perimeter defense, back picking them to dust while sinking 11-22 from three-point range. The US lost 89-81.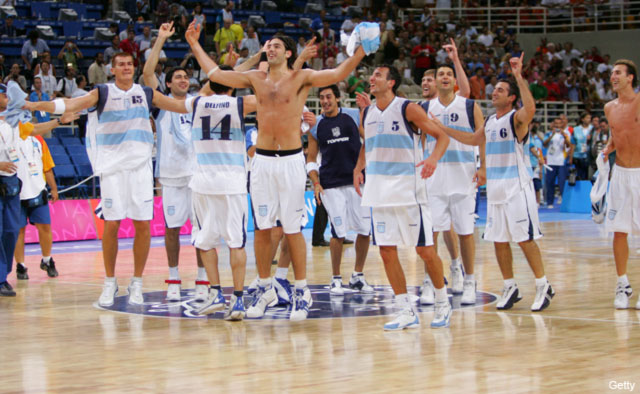 Manu Ginobili, who led the offensive charge with 29 points, is destined to enter the Naismith Basketball Hall of Fame on his own. His bonafides—four NBA titles, a Euroleague title and that Olympic Gold—make him a no-brainer. But it wasn't individual brilliance that made the ultimate difference. It was Ginobili's chemistry with the rest of the team—guys like Alejandro Montecchia, Pepe Sanchez, Walter Herrmann and Andres Nocioni. "That was a team," Jerry Colangelo says, "because they had played together for so many years, they kind of grew up together in amateur basketball. That epitomizes what basketball's all about."
It's only right to enshrine Ginobili and his teammates and coaches. That process could begin as soon as a nomination letter is written on their behalf, as there is "there really is no true guideline for teams," according to Matt Zeysing, historian for the Naismith Basketball Hall of Fame. The Hall has honored plenty individuals as well as the squads on which they played at separate times. Many examples can be found on the rosters of enshrined teams like the Harlem Globetrotters and American 1960 Olympic team and 1992 teams.
"I think as we go forward here (at the Hall of Fame) there probably should be more focus on teams," Colangelo says. "The basic reason is I believe basketball is the ultimate team game. When it's played appropriately the team concept, it's poetry in motion."
***
Americans owe gratitude to the Argentinean 2004 team. More than any other international team, they humbled the US and incentivized Americans to open their minds to how the rest of the basketball world operates. That loss created a situation "where we're going to learn something from them," Colangelo recalled. "I looked at Argentina, Brazil, Spain and other countries who had the national team concept, developing players through the system."
Non-American influence is becoming more visible within USA Basketball and the NBA on a tactical level. The champion San Antonio Spurs are at the forefront of this assimilation, while the Toronto Raptors had built one of the East's most promising young teams under the guidance of an Italian vice president. Meanwhile, look for the ascendant Cleveland Cavaliers to head deep into the 2015 Playoffs with new head coach David Blatt, an Israeli-American who'd been playing and coaching abroad since 1981.
Historically, the United States has been the most dominant nation in men's basketball. That has given Americans the cachet to export the game—and the material culture around it—to the rest of the world. But if the US wants to remain on top, it must learn from other nations as enthusiastically as those nations learned from it.
Enshrining Argentina's '04 Olympic team would help ensure this isn't forgotten.
Evin Demirel writes for SLAM, the Daily Beast and Sporting Life Arkansas among others. Read his blog here.