Ask Caris LeVert about being snubbed from the 2018 Rising Stars Game at All-Star Weekend, and you'll get a peek at a different side of him.
The "on-court" side. The "competitive" side. The "killer" side.
"Yeah, absolutely I feel like I was snubbed from that game," he tells SLAM. "Last year as well with the All-Rookie Teams, I felt like I should've been on that too. That's really nothing new for me. I feel like I get snubbed from a lot of things, but that's just motivation."
It's not a cocky side – those who know Caris well rave about his humble attitude – but the Nets wing brings an edge when it comes to basketball. That's just how he was taught.
"A lot of people who have never seen me play really don't know that [side]," he adds.
They know the "off-court" Caris. A soft-spoken, polite kid from a small suburb just outside Columbus, Ohio.
"He's the sweetest, most docile person," Brooklyn's head coach Kenny Atkinson described to the New York Post. "When you see his personality, it's not a big bravado."
Chill, laid-back. Sometimes this Caris will manifest mid-game, and Atkinson hastily implores the 23-year-old to adopt his alter ego. Because that Caris can straight up ball.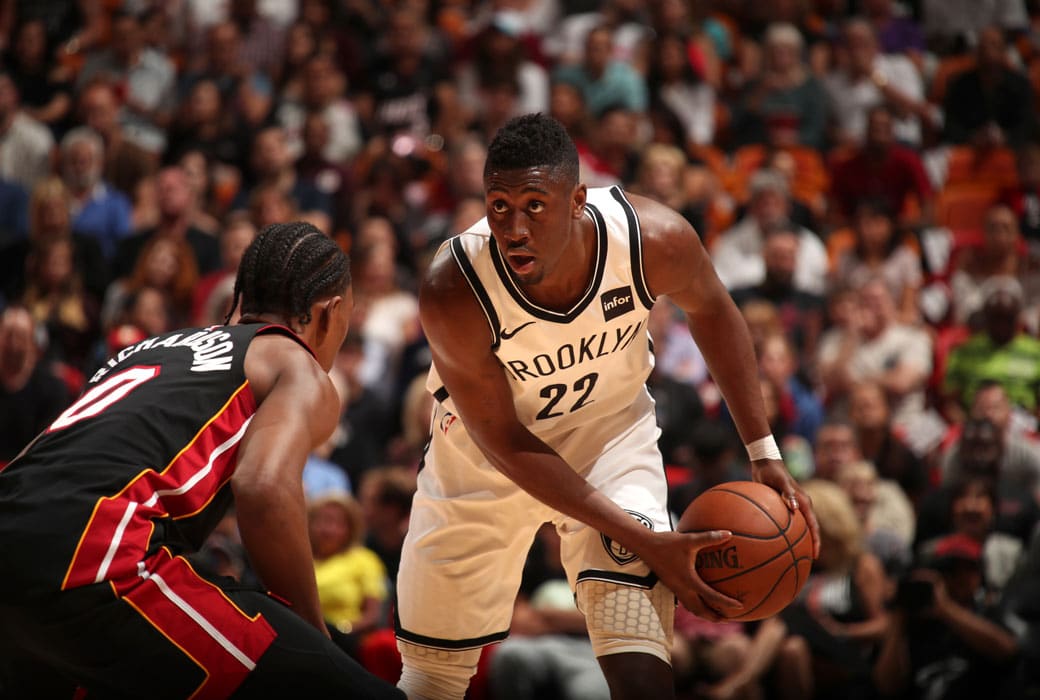 LeVert was born and raised in Pickerington, OH, where he dreamed of playing in both the NFL and NBA. Football was actually his favorite sport until around the eighth grade. As he transitioned to high school, LeVert was taller than most of his peers but, due to his rapid growth, had fallen behind in terms of strength. His position on the gridiron was going to change from running back to wide receiver, which Caris wasn't as enthused about, so the skinny, promising athlete zeroed in on basketball.
By his senior year, LeVert had earned a scholarship to Ohio University. His recruitment opened up when the OU coach, John Groce, left to take a job at Illinois, and Caris chose to go to Michigan instead. There, he helped the Wolverines make back-to-back Elite Eight appearances during an impressive four-year stint with the program. It left little doubt that he could contribute on the next level, but just how much was a question mark.
Caris had undergone three foot surgeries on the same place over the course of his college career. Entering the draft still banged up, with an unclear timetable to return, he was projected as a second rounder.
Yet members of the Nets front office were intrigued by his versatility. If you could look past the injuries, the tools were all there. At 6-7, with a 6-10 wingspan, he could consistently hit from the perimeter, handle the ball well for his size, find the open man on drive and kicks, and guard multiple positions on defense. For a struggling Brooklyn franchise trying to climb its way out of a deep hole, it was a worthwhile risk. They traded away one of their best players, veteran Thaddeus Young, to secure the 20th overall pick and used it on LeVert.
It wasn't until December that Caris was ready to take the floor, but the rookie got right to work. Through 57 games, logging just under 22 minutes per, he finished with averages of 8.2 points and 3.3 rebounds. There were enough eye-opening glimpses during that span – like a 17-point, 6-assist, 5-rebound night in which Caris shot 6-6 from the field and 3-3 from deep in a victory – to reassure fans of the gamble. LeVert was the real deal.
The team as a whole, however, still stumbled its way to a League-worst 20-62 record. Nonetheless, there remained this strong sense of confidence in their rebuild, from general manager Sean Marks, to the coaches, to the players. Caris offered hope that the process would move quicker than anticipated. He went into the 2017 offseason determined to improve in all facets and help the squad get back to winning ways as soon as possible.
On opening night of this past season, Brooklyn's starting point guard Jeremy Lin ruptured the patella tendon in his right knee. His backcourt mate, D'Angelo Russell, suffered a left knee contusion not a month later. With two playmakers down, LeVert suddenly found himself stepping into a bigger, less familiar role.
While he played the 1 occasionally in high school and college, it was never his primary position. Now he was being asked to orchestrate the offense and be the leader off the bench – a challenging transition for any player, let alone a second-year guy still getting accustomed to the NBA.
But that "killer" side emerged.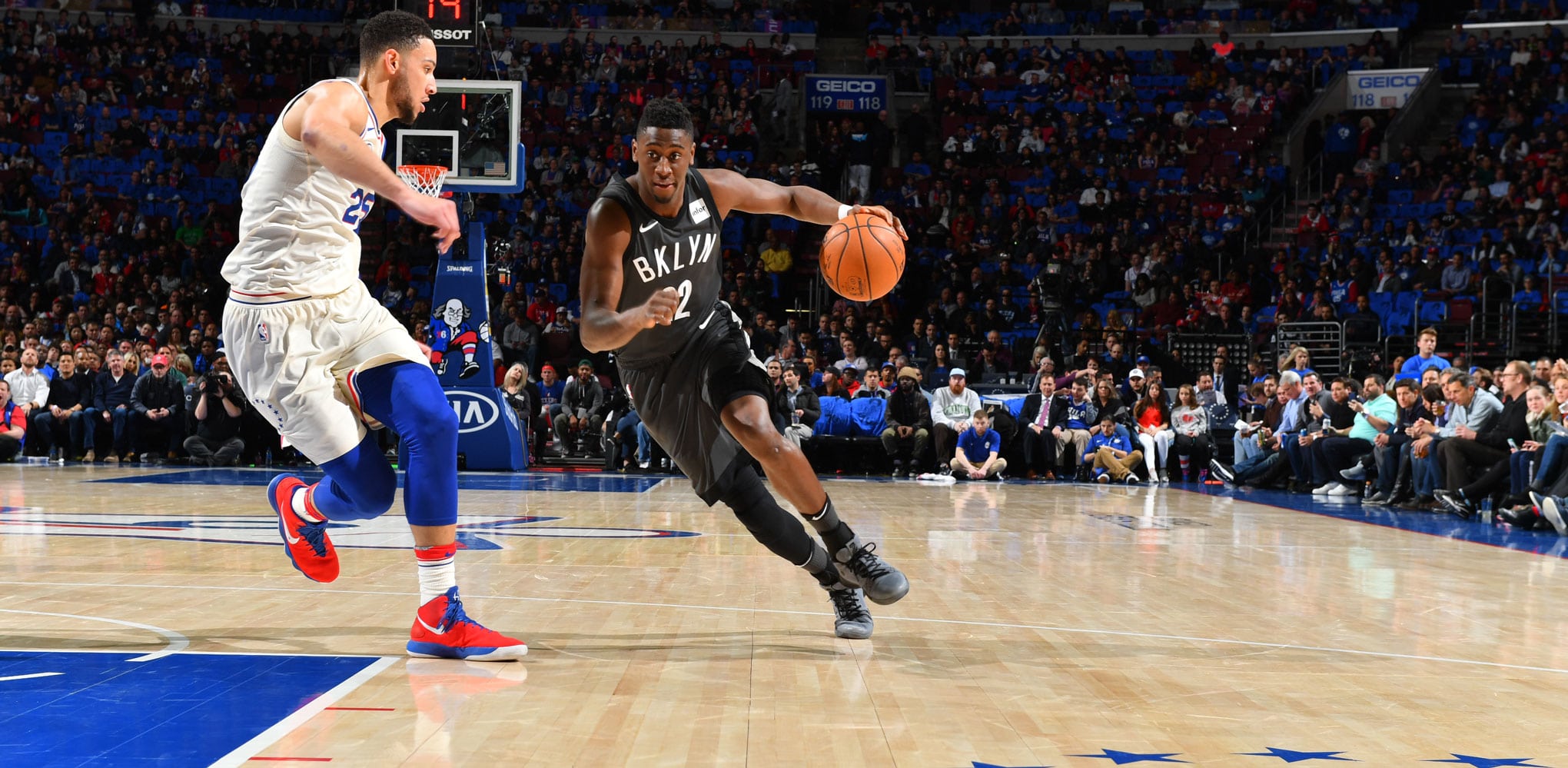 Caris averaged 14.3 points, 5.3 assists, 3.5 rebounds and 1.3 steals per game in the month of December, shooting 49 percent from the field and 45 percent from three.
"That was good for me to be able to experience because I've played point guard sparingly, but probably never for that long of a span," Caris says. "I was the second unit's point guard for probably 25-30 games straight and I got into a rhythm and started to get very comfortable with that.
"So I think going forward that's definitely something that I proved I can do."
There's little doubt about that. LeVert hung 21 points and 10 assists on the Thunder in a 100-95 win on Dec. 7. He had 22 points, 7 rebounds, and 6 assists against the Pelicans a few weeks after. On the road against the Clippers, he sparked an impressive comeback that fell just short, scoring a career-high 27 points and hitting five three-pointers. Amid the difficult role change, some may have been taken aback by this production. Not Caris, though.
"It's always good to see your hard work paying off, playing good against top competition," he says. "But I wouldn't say I surprised myself with any game because I feel like I'm that talented and capable of doing that."
As a group, the Nets played far more exciting, competitive basketball in 2017-18. The roster is loaded with young talent – including LeVert, Russell, Spencer Dinwiddie, Rondae Hollis-Jefferson, Allen Crabbe, Jarrett Allen and more – and the trend should only continue upward.
According to Caris, the vibe in the locker room is loose. Guys like to have fun, make jokes, play video games, watch film, etc. And they are unified by this palpable excitement about their potential to develop together.
"You know, our core of guys is pretty young," he describes. "We're all around the same age. We're all trying to figure out things in the League and for us to be close on and off the court as a unit is going to be huge for us moving forward."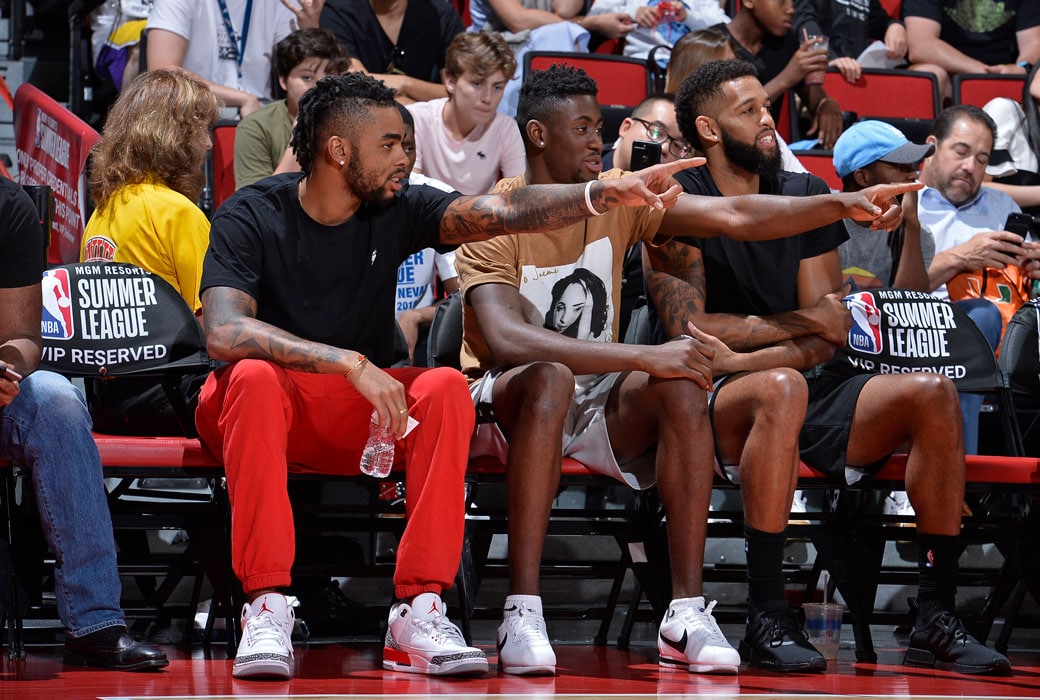 Although Lin was traded to Atlanta, the Brooklyn backcourt is still crowded. They signed former Trail Blazers guard and UConn standout Shabazz Napier. Russell is back healthy and Dinwiddie thrived in his absence, seemingly solidifying an important spot in the rotation. When we spoke with LeVert earlier this summer, he wasn't entirely sure what his role will be this year.
"I'm just preparing myself mentally and physically obviously to play whatever position need be, to do whatever is needed on the court," he explains. "Whether that's the point guard, shooting guard, small forward, whatever it may be. I'm trying to prepare myself mentally for whatever is being thrown at me."
Whatever it may be, the adaptable LeVert should be able to handle it as long as he can avoid the injury bug; and it's obvious to everyone that time has to be made for him. The Nets have expressed their utmost trust in Caris, opting to hold on to him at the 2018 trade deadline and ahead of the 2018 draft despite getting significant interest from other teams.
His future, it seems, is in the BK. And that future should only get brighter from here.
Ask Caris about what's in store, and you'll once again get a peek at that competitive side.
"We're super confident that we can take that step," he says. "It's just a matter of time before we knock that door down. We got the right guys, we play the right way.
"Like I said, it's just a matter of time."
—
Alex Squadron is an Associate Editor at SLAM. Follow him on Twitter @asquad510.
Photos via Getty.