To benefit March of Dimes, a nonprofit organization that works to improve the health of women and newborn babies, the Delaware 87ers are hosting a Nickelodean-themed night on March 17 when they play the Salt Lake City Stars at 7 EST. The 87ers will wear uniforms inspired by the Pink Power Ranger. They threw it all the way back, too, going with the original design.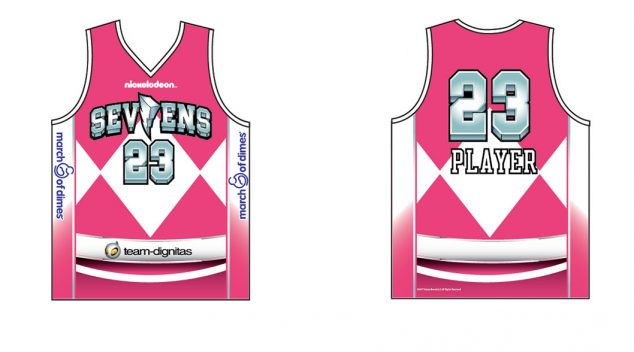 The game-worn, autographed jerseys will later be available to fans in an auction, which will benefit March of Dimes. The first 2,000 fans will receive a Nickelodeon Night commemorative poster featuring the Power Rangers, will enjoy thematic in-arena music and trivia throughout the evening and have a chance to kick it with the Pink Power Ranger, who'll be at the game in full costume.
Tickets for the game start at $14 and are currently on sale.
Images courtesy of Darren Rovell and 87ers