Atlanta's Maynard Jackson High School was open for business on Saturday afternoon. 75 of the school's students, who have been excelling in the classroom, came to the sprawling campus in Grant Park to get hooked up with different Nike Air Max silhouettes by Champs Sports to celebrate the 30th anniversary of the Air Max.
After they got their pairs, they walked up to the school's rooftop space to take in the breezy 70-degree weather, enjoy Chick Fil-A and music provided by Jay Envy, the Falcons' official DJ. The good vibes and weather eventually led to a dance party. Then the afternoon's special guest arrived and the party really got started.
DJ Khaled showed up to show love to the youngins.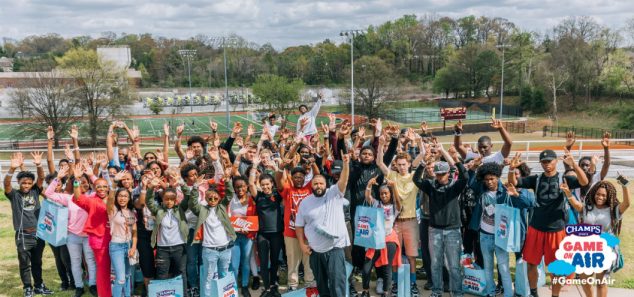 "It's so important to give back so they can learn to also give back," Khaled said before signing autographs for every kid and taking countless pictures. "Me coming here today without them knowing, that's a vibe. That's good energy. At the same time, it's also gifting them with something they didn't expect. Letting them know, man, there's way more. God is great. Let's stay blessed, let's stay focused, let's keep grinding. These moments, they go a long way. I wanna put a smile on people's faces. That's what it's about it. I love it, man. This is beautiful. These kids are the future."
Anticipation started to build among the kids as Jay Envy started to ask them if they recognized a familiar voice. Then all of a sudden, Khaled appeared and started leading them through an a cappella version of "All I Do is Win." The kids were hype. 
In typical Khaled fashion, he was done up with the latest gear, rocking the "Motorsport" Air Jordan IVs and the brand new Nike Air VaporMax around his neck.
"Obviously I like [the VaporMax] because it's super light, but I also like the Jordan with the Air Max pack," he said. "I love that collaboration."
Chilling with @djkhaled and @champssports in Atlanta. pic.twitter.com/qk6uMw2iBg

— SLAM (@SLAMonline) March 25, 2017
Khaled ended the afternoon by putting all of the kids on his Snapchat and having them chant "We The Best." Facts.
Images courtesy of Champs