Brandon Jennings' high school career at Dominguez (CA) and Oak Hill (VA) proved that he was one of the best players in the nation. He was flashy as hell, embarrassing dudes with a slick handle and serious bounce. He was one of the co-MVPs of the first-ever Elite 24 game, too. Doo Be Doo took the road less traveled to the NBA. Instead of suiting up for one year in college, Jennings played professionally in Italy and secured a sponsorship from Under Armour.
When he was drafted by the Bucks with the 10th pick in 2009, he famously sauntered onto the stage before the 14th pick was announced.
The hype around Jennings was real and he hadn't even suited up for the Bucks yet. Playing into the hype even more was that he had signed on to become the face of Under Armour's basketball division.
But there were two other rookie guards getting attention. Tyreke Evans went from learning under Coach Cal for a season to Sac Town with the No. 4 pick. Following an incredible college career at Davidson, Stephen Curry of the Warriors had major buzz as the seventh pick. Plus his pops played in the League for 16 seasons.
By November 14, 2009, Jennings was six games into his career and his squad was 4-2. Curry and the Warriors came into Milwaukee that night, sitting at 3-5. Curry didn't start that night. Probably wouldn't have mattered.
After not scoring in the opening period, Jennings scored a light 10 in the second and then blitzed the Dubs for an astounding 29 points in the third quarter. All the while, leading his squad back from a 57-49 halftime deficit. He and the Bucks earned a 129-125 win. It was an incredible breakout performance, with a total 55 points on 21-34 shooting, including 7-8 from distance, along with 5 assists and 5 rebounds.
He scored mainly by himself, off-the-dribble. He was sprinting around the Dubs' defenders and yanking them with his yo-yo handle. They must've been seeing a blur of red coming off his Under Armour Prototype II. The Prototype II had patent leather around the toebox and suede on the midfoot. It was built with an internal foot-sleeve and UA's HeatGear tech, helping to keep BJ cool by wicking away sweat.
The white and red joints that Jennings wore that night featured a big "M" on the lateral side, a nod to the University of Maryland (UA's headquarters are in Baltimore and they've been partners with the Terps since '08).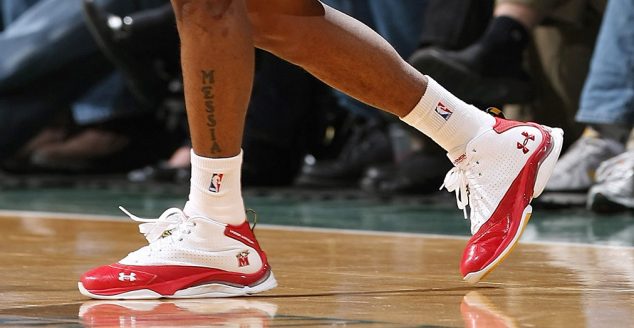 Scroll through the gallery above to see the UA PII in action and watch BJ's epic performance in the video below.
—
Max Resetar is an Associate Editor at SLAM. Follow him on Twitter @maxresetar. Photos courtesy of Getty Images.