Most kids who are being courted with scholarship offers by high major Division I college programs began playing basketball shortly after they learned to walk and run.
Mac McClung is not like most kids.
The 6-2, Class of 2018 guard from Gate City, Virginia tried playing with some friends on the playground or in driveways growing up, but it wasn't until seventh grade that he decided he wanted to try his hand at the sport.
As an athlete, McClung considered himself a football player up to that point. But the allure of being a hooper pulled him away from the gridiron.
"Just the whole swag about basketball," McClung said. "With the kicks, the players and just all the swag that comes with being able to separate yourself with your game is what drew me to it. In seventh grade I told my dad I wanted to be the best I could be, so we've been working out two, three times a day ever since. I want to get in the NBA and be a big factor."
Having NBA dreams isn't out of the ordinary for a kid who falls in love with the sport. However, work ethic and focus to the point of dedicating just about every second of their leisure time to practice is typically what separates good players from great ones.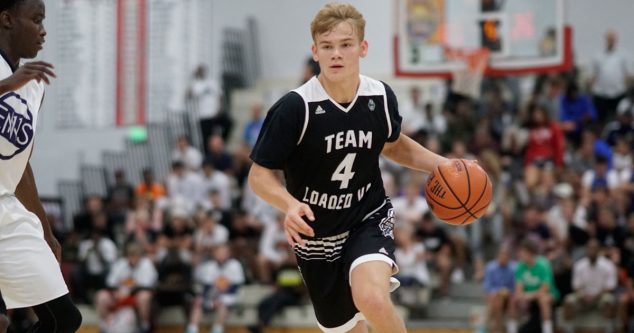 Because Gate City High is a relatively small school (enrollment wise) in Virginia, McClung knew he had to prove himself as a total unknown on the club circuit a couple years ago.
As he recalls, while he was warming up before a pickup game the summer after his sophomore year of high school he noticed something totally different: His view of the rim as he was dunking for the first time. Since then, his literal rise hasn't ceased.
McClung burst onto the radar of high school basketball enthusiasts within the last year as Youtube videos and mixtapes of some jaw-dropping dunks made the rounds on social media. Last summer, mid-major programs began to offer and following another aerial assault on the rims this spring he picked up his first two high-major offers – Rutgers and Georgetown.
Having just wrapped up a successful three-game run with Team Loaded VA at the NY2LA Sports Summer Jam, one of the premier events in July and attended by almost every collegiate program in the country, McClung said he's now got programs like Marquette, Utah, Gonzaga, Arizona State and Virginia tracking his progress on the court.
Obviously those programs are intrigued by his elite athleticism, but they are more concerned with his overall skill as a guard.
"I don't want people to think, 'Oh, he's just a dunker,'" McClung said. "I want people to know I can play. Legit, I'm doing my best to keep working so I can see how far I can get."
"I believe I need to keep working on my shooting, and really get that down," McClung adds. "I drive to the hoop well, and I think I got good moves, but I need to work on my pull-up and three-point shot."
In Milwaukee, McClung has been showing off his ability to handle, strong drives to the cup as well as his ability to finish in multiple ways at the rim. But he's also drained some perimeter shots – the part of his game he is still developing. He will have no shortage of eyes on him in the college coaches section as the live evaluation period wraps up.
"It's so different," says McClung of playing with such talented teammates, such as high major prospects David McCormack, Armando Bacot, Rasir Bolton and Jairus Hamilton. "I'm just getting used to it. They have to get their shots too because they're 5-star guys. Back at my place, I have the ball the whole time. It's making me better because it's getting me ready for the college experience."
The rise from a newbie of the sport to a local standout and then national recruit has been rapid. The viral videos of his dunks have helped accelerate his notoriety among hoop fans, but the fact that his mother's sister has a famous son who is a rapper has also helped some people take notice. Just look at the title of the highlight video above.
Given McClung's track record of rapid improvement, it is tough to accurately project his ceiling as a player. But it is safe to say he is more than just a dunk phenom. If he gets to where he wants to go, he hopes the other label he's recently gotten from those who have seen his most recent mixtape will be flipped as well.
"I want Riff Raff to be known as Mac McClung's cousin," he said with a laugh.
(Photo Credit: Leon Threat/www.ThreatHoops.com)