No more than five minutes after entering the Bronx's historic Gauchos Gym, Dave East already looks back at home. He's pulled off a full black sweatsuit to reveal a No. 45 Michael Jordan jersey—the one MJ wore, fittingly, for this situation, when he returned to the game from an absence. East rises from the bleachers and grabs a ball—palming, rubbing and pounding it. Reacquainting himself.
He steps up to the line and pulls up for a pair of free throws. Swish. Swish. He steps a few feet back, behind the arc, because it's clear he walked in warm. Swish.
A few more fluid jumpers, a couple dunks, and you're left marveling at how some people are simply very good. At things. Multiple things.
That's surely the case for Dave East. These few minutes give a glimpse at the skills that led him to become AAU teammates with the likes of Kevin Durant and Michael Beasley, and later earned him a Division I scholarship. But throw on his most recent mixtape, September's Kairi Chanel, and you'll realize the same thing Nas and Def Jam have: That his second career is, somehow, even more promising than his first. And yet, there was a time—most of his life, in fact–where rap wasn't even on the radar.
* * *
Born David Brewster in East Harlem—that's where the moniker Dave "East" comes from—the now 28-year-old had the game in his soul through both nature and nurture.
"He was the introduction to basketball for me," East says of his pops, who played an exhibition season with the ABA's New York Nets. "He told me he brought a basketball to the hospital when I was born. And my love for it just came as his own."
While his love for hoops was being incubated inside the house, Dave was honing his game outside of it. He balled on the NYC pavements, idolizing guards like Allen Iverson and Penny Hardaway.
"I'd be playing ball all summer, and by the time the season started, I'd get in some trouble or something would happen," he recalls. That was the case freshman year, when he split time between Manhattan Center for Science and Mathematics and Long Island City High School, where off-court antics undercut any potential on-court advancement.
So Dave, on the suggestion of his father, moved to Maryland for his sophomore year to live with his half-sister. The impact—from living in a new location as well as the fact that he was finally able to step on the court—was felt immediately.
During his sophomore year at Springbrook HS in Silver Spring, MD, East contributed to a team that lost the Class 4A state championship game on a last-second jumper to current NBAer Jeff Green's Northwestern High.
"It was so much slower down there," he says of the transition from the Big Apple to his new home. "There was nothing to do. So I was like, I'm gonna go to the gym. I really had the time to get my game right."
That focus started to pay particular dividends during his junior year, after he shot up from 6-1 to 6-5 the summer before 11th grade. He scored 50 in one game. He started getting recruiting letters from big name programs like Georgetown and St. John's. He was named to the first of two consecutive All-Met honorable mentions by the Washington Post. He started playing on a slew of AAU squads—the DC Assault, DC Blue Devils and NOVA United—where his teammates, at various points, included future NBAers Durant, Beasley, Ty Lawson, Greivis Vasquez, Nolan Smith and San Francisco 49ers linebacker NaVorro Bowman. By then, his eyes were set on the League.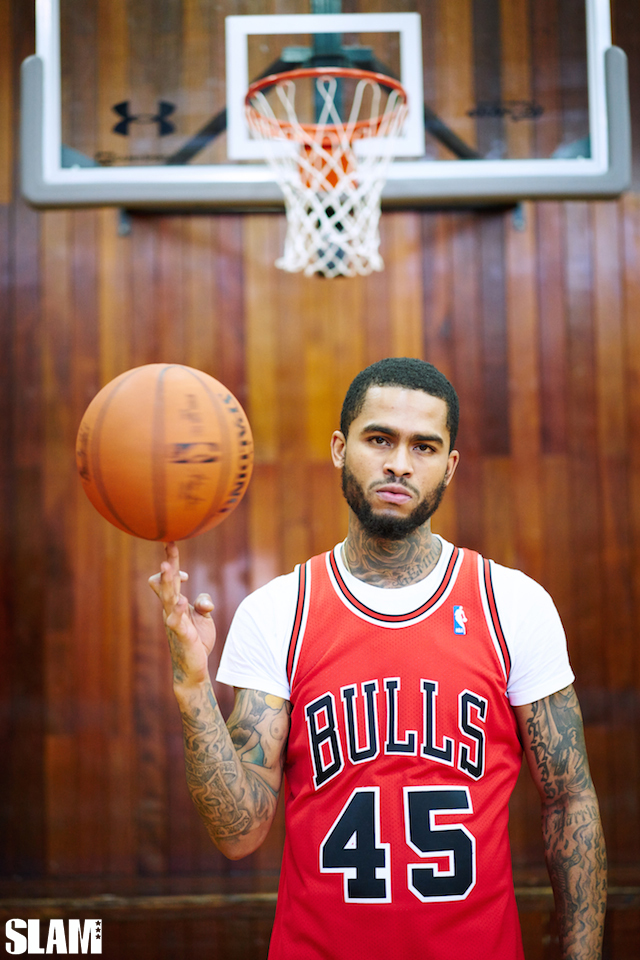 "We had tons of talent on that team, and Dave was a great teammate," says Smith, who played with East on a loaded DC Assault squad, and went on to star at Duke and play for the Portland Trail Blazers before returning to the Blue Devils as an assistant this season. "He fit right in with us. He went hard, he competed, did everything to fit our squad."
Eddie Lee Jackson, who coached East with NOVA United, recalled a similar ease of fit, even in a different situation: The squad had talent, but not a roster of future NBAers.
"The first tournament he played with us, we had a team that was together for like three years, and this was their last summer together, and it's hard when you bring new guys in," Jackson says. "He was the kid that we brought in. We didn't start him the first game, because we didn't know how he was gonna mesh or play. And he came in and he was balling, he meshed great and the guys loved him. He was unselfish; obviously he was good. Then we started him the second half, and the rest of the way."
"Excuse my French, but the motherfucker could score," says Beasley, who also played with East on DC Assault. "Off the court, he'd talk. On the court, he's one of them guys that's gonna give you the same facial expression whether we up 20 or we down 20; whether he got 40 or he just missed 20 shots. You don't know what's going on in his face. He's one of them silent killers."
After a senior season in which he led Springbrook to an 18-6 record with averages of 19.5 points and 6 rebounds per game, East enrolled at the Atlantic 10's University of Richmond in Virginia. But the situation quickly soured.
"It was constant clashing the whole season [with the coaching staff]," he remembers. "That was taking me off of focusing on my own game, which then led to me not wanting to go to class, which then led to me being ineligible."
He was kicked out and headed back to New York, where he took classes online and played in leagues from Hunter College to Dyckman, intent on getting his grades and game up to speed. And though he didn't realize it at the time, there was a silver lining to an otherwise forgettable experience at Richmond.
"Once I got to Richmond, I'd be in the locker room rapping, I'd be on the bus [rapping]," he says, emphasizing that he was strictly "playing around" and saw himself as a ballplayer first—and only. But the responses he got from teammates helped plant a seed that would later sprout.
Still, after a year back home, his dream—"I was like, I gotta get back into another school. I still wanna go to the NBA"—was the same. And, even if the League was just a dream, a pro future was well within reach.
"He very easily could have played overseas," says Jackson, now an assistant at American University. "He was 6-5 and could shoot and could handle the ball. Those guys aren't everywhere."
Dave wound up at Towson University in Baltimore, where he was a contributor and spot starter as a sophomore and junior, putting up multiple games of 20+ points. But the off-court issues persisted.
"The focus of that team wasn't there," he says. "We was losing. So it kinda gave me a bad taste for it, to the point where I was like, Man, this might not work out. I had put so much into that. Every day. To have a coach tell me, 'We don't need you. I can go find somebody your height, [who can] shoot just as good as you, run just as fast as you,' that I had to understand it's a business—it kind of dampened the love I had for basketball."
After his final stint with the team in '09-10, he reached a low point.
"[For] three years I didn't touch a ball," he says. "I got into making money, some illegal activity. I didn't care about ball no more. I was like, Aight, lemme get to this money."
Not long after, he got a wakeup call as jolting as possible: East was arrested, locked up and confined to a cell, while many of his high school teammates and opponents—guys like KD, Lawson, Beasley, Smith and Green—were either making waves at the nation's top programs or already in the League.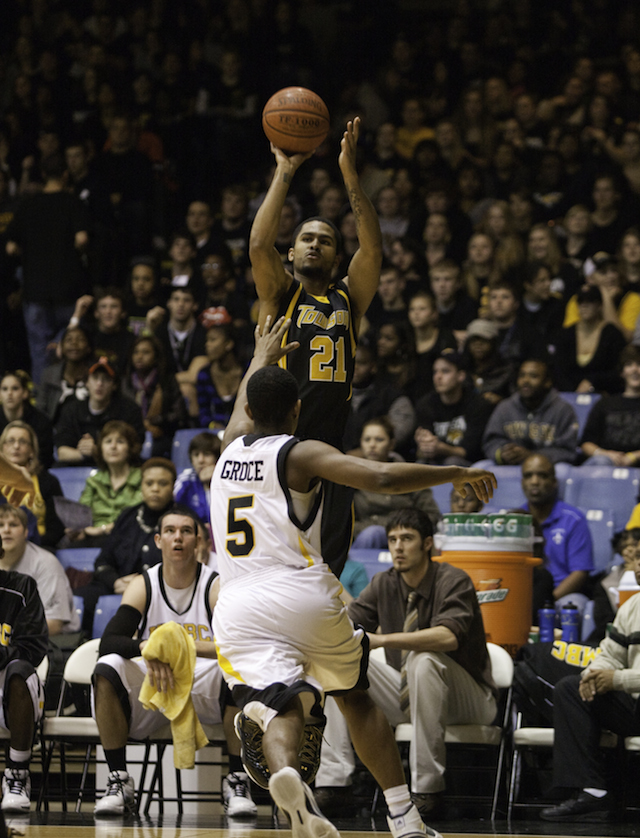 After serving six months, he got out and decided to pivot his focus to music. He delivered his first mixtape, the aptly titled Change of Plans, in 2010.
Though the tape went mostly under the radar, there was one old friend who was impressed: KD.
"He was like, 'Yo, that's you rapping? That's crazy,'" Dave recalls. "He was like, 'I got a studio in the crib. Whenever you free and you wanna come out here, I'll make sure you get out here.' I was like, I'm free right now."
And like that, East was on a plane to OKC, where he stayed with Durant for a week and a half to record his 2011 mixtape American Greed. The experience had a profound impact on his outlook.
"It was pure motivation. Kevin don't smoke. I was smoking. So I was like, Yo, bro, I need to go get some roll-ups at the 7-Eleven. He'd throw me the keys to the Maybach like, 'Go ahead.' I'm scared to drive it—I don't wanna crash. I'm in a Maybach, but this is my friend that's my same age that I started basketball with. So it was just amazing to me that, damn, his mother's not working no more. My mother's calling me—she driving a school bus.
"So that's when I really locked in and was like, I'm gonna do it with the music. I know ball is over. Lemme be the best artist I can be. I put my head down, went hard. Next thing I knew, Nas was calling me."
There were a few years and mixtapes in between recording with KD and linking with Nas, but by 2014, East had indeed signed to the rap legend's Mass Appeal Records. With a new set of eyes and ears on his career, he released a string of well-received mixtapes—Black Rose and Straight Outta Harlem in 2014, Hate Me Now in 2015—and worked with Nas, Jadakiss, Styles P, Pusha T, Fabolous and more.
He further cemented himself throughout 2016 with a spot on the XXL Freshman Class cover, a scene-stealing verse during a BET Hip Hop Awards cypher, a standout appearance next to Nas and Lin-Manuel Miranda on The Hamilton Mixtape's "Wrote My Way Out," the release of his best project to date, Kairi Chanel, featuring 2 Chainz, Game and Cam'ron, and by signing with Def Jam.
It's a reinvention that's caught the eyes and ears of plenty, including old friends, like Beasley, who said he's had East's most recent release on repeat for months, but didn't fully believe the connection until he was interviewed for this story.
"Every time I see him [in videos], I'm like, 'Dave East, that motherfucker look just like DB,'" Beas says with a laugh, recalling his nickname for his old teammate. "My teammates think that I think that I know everybody—I meet a lot of people, I can't help it—and I didn't want to be one of them situations where it's like, 'Eh, Beas, shut up, you think you know everybody.' And sure enough, we got the call [about this story], and everything just clicked. I was like, I knew I wasn't crazy.
"He's giving it to you how you want it, how you need it, the right sound, the right beats, he's talking that shit. I must say, he's real hip-hop. I'm glad to say that I know him."
The revelation brought a similar light to Jackson.
"I smiled, I chuckled, but I was happy," the coach says of when he first heard that his former player was establishing himself in the music industry. "I went and downloaded some music to see what he was talking about, and I was happy that he was being successful."
Years after his hoop dreams deflated, Dave East is now shining for the whole world to see—just not in the lane he once thought he would. And he's OK with that.
"I used to love for the whole gym to be [watching] and I hit that shot. Now, I love when the show is sold out and as soon as I come out, they go crazy. If you ask any NBA player, they wanna be rappers. If you ask rappers, they wanna ball. For me to have both, and to be able to almost get to one, but then get to the other one? I don't got no complaints."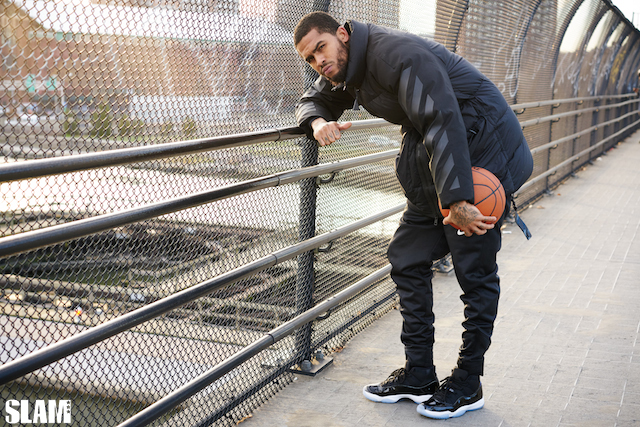 Adam Fleischer is a writer living in New York. Follow him on Twitter @adamfleischer.
Portraits by Matthew Salacuse; Action photo courtesy of Towson University Athletic Media Relations