The Holiday Invitational has long been a staple of Broughton High School. Going 45 years strong, the event has had the likes of Jamal Murray, Karl Anthony-Towns, Tyreke Evans, and Devin Booker put on a show over the years. However, the event has taken on a bit of a rebranding due to sponsorship from its must notable alum: John Wall.
Now the John Wall Holiday Invitational, the event brought the bulk of the Research Triangle's finest programs together with a number of national powerhouses that have sure fire NBA talent. A large portion of the proceeds benefit the John Wall Family Foundation, who strive to improve the quality of life of disadvantaged families through mentorship, basketball, and physical activity. Many of the aforementioned were able to see some of the nation's top ballers throughout the four-day event.
"I just think that it's a great tournament. I played in it in the last year and there are a lot of McDonald's All-Americans, NBA players that came through there," Wall said of becoming the title sponsor. "For it to be in my hometown, it was great to put my name on it. I tried to get some big name guys to come back and play in it in the past to get it back to where it used to be when it was packed out every night."
Many don't realize how ironic it is for Wall to put his name on a tourney at Broughton. After playing his first two years at Garner, he transferred to Broughton and was cut during his junior year. He then moved on to Word of God and the rest is history.
"Every time that I go back in that gym, it's surreal. I got cut, went to another school, and came back to win a championship every time I played here. I didn't come in second place one time [after getting cut]. To have my name on it shows all of the hard work and dedication that I went through," the Wizards lead guard said of this serendipitous occurrence. "I never gave up on anything. Everyone is still wondering why I got cut and I'm still wondering why I got cut, but that's something I put past me."
Competition was fire throughout the weekend. The David West bracket had a ton of heated local rivalries, while the T.J. Warren bracket donned the bulk of the national power. Ultimately, it was Heritage who took West's title and Hillcrest Prep who won the T.J. Warren crown. Games were lost, scholarships were earned, and exposure was gained in North Carolina's premier high school event.
Here are a few of the top underclassmen from the 2016 John Wall Holiday Invitational:
Vernon Carey Jr., 6-10, PF, University School (FL), 2019
There wasn't anyone in Raleigh who showed more improvement than Vernon Carey Jr. Having first saw him around 18 months ago as a 6-foot-6 8th grader with plenty of baby fat, he was more reminiscent of his pops (former NFL lineman Vernon Carey) than he was of an elite prospect on the hardwood. Fast forward a year and we're looking at the potential #1 player in the Class of 2019. Blessed with an exceptional frame and long arms, it's hard to believe that Carey is still just 15 years old. He hit three pointers, punished the rim, and even came off of an Iverson cut to hit a pull-up. The combination of inside/out skill that he offers has him right there in the conversation for best in the class.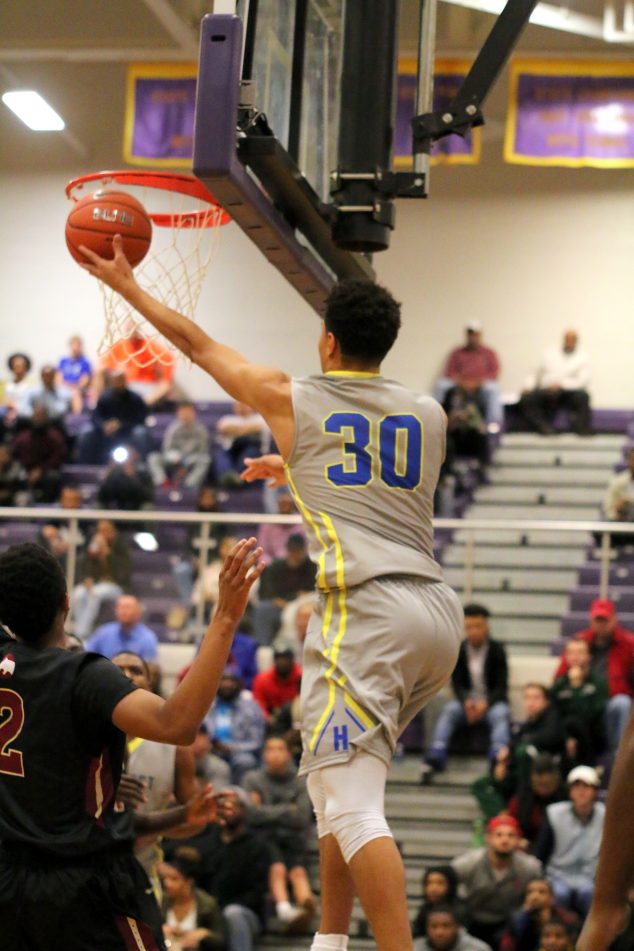 Josh Green (above), 6-6, SG, Hillcrest Prep (AZ), 2019
One of the most intriguing players of the event, Josh Green has been in the States for a year now, but still bringing his Aussie flavor on the hardwood. He captivated the crowd with his gliding one-hand dunks, made some great passes, and showed the ability to hit deep threes. While Green needs to get more consistent, it was easy to see why Sean Miller put a scholarship on the table for him so early in the process.
Jairus Hamilton, 6-8, SF, Cannon School (NC), 2018
There may not be a player who raised his stock more at the Holiday Invitational than Jairus Hamilton. Already known as one of the best players in North Carolina, he showed that he could hang with just about anyone on the national level. Utilizing mismatches at either forward spot, he killed slower forwards from the outside and bullied smaller ones with his strength. He had the dunk of the tournament, bombed deep threes, and hit the game winner in Cannon's first game. Already with offers from UNC and Arizona, it should come as no surprise that Kentucky coach John Calipari was in the building checking him out.
Balsa Koprivica, 7-1, C, University School (FL), 2019
After a relatively slow start initially, Balsa Koprivica showed why he is the top center in the class of 2019. He made crazy passes from the high post, busted out a plethora of posts moves on the block, and showed agility that you don't see out of most 7-foot-1 players of any age. Balsa visited Duke and NC State while he was in town, though Kentucky coach John Calipari made sure he was front and center for the sophomore's final game.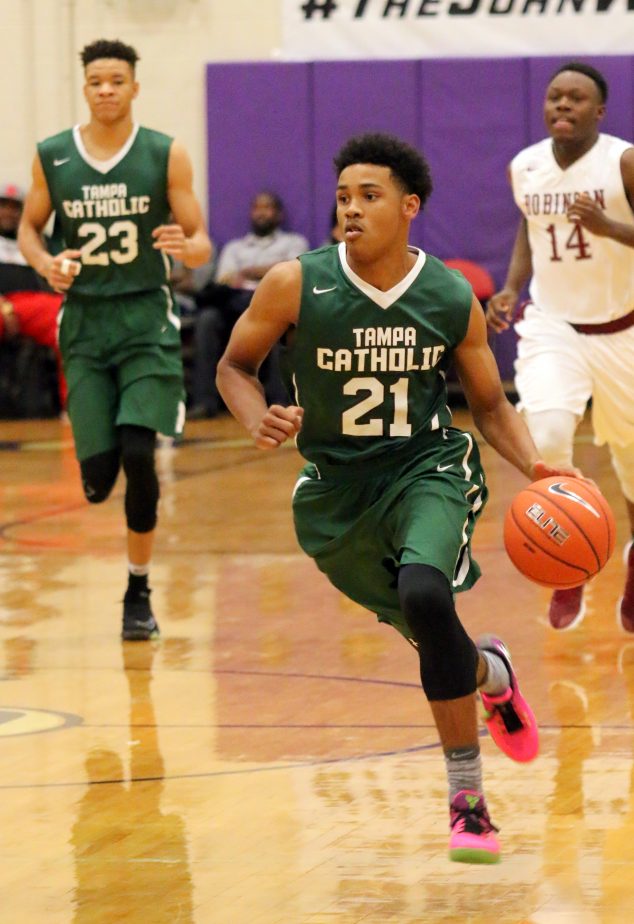 Tai Strickland (above), 5-11, PG, Tampa Catholic (FL), 2018
The son of Bronx legend Rod Strickland showed that he's not just another NBA player's son. He has serious game too. With an old school shiftiness to his style, Tai was able to throw defenders off with his change of speed, yet keep them playing him honest with his ability to hit shots from deep.
Qon Murphy, 6-4, SG, Cannon School (NC), 2018
One of the more highly touted players coming into high school, Qon Murphy hasn't become the phenom that some thought, but has continued to get better throughout his career. He is a dynamic slasher who has a great motor, makes solid decisions in the open court, and has a consistently developing perimeter jumper. Right now, he's getting a lot of love at the mid-major level, but definitely has the tools to land at a high major program.
Jaren McAllister, 6-4, SG/SF, Heritage (NC), 2018
One of the bigger surprises in the underclassmen, Jaren McAllister led Heritage to the David West 'chip and took home MVP honors. The lanky swingman locked down on multiple positions, was unstoppable slashing to the rack, and played with an energy that others could easily feed off. His raw talent showed why Virginia Tech locked him up early and if he improves on his J, could be an absolute steal for the Hokies.
Jayden Gardner, 6-7, PF/C, Heritage (NC), 2018
A physical beast, Gardner straight up controlled the paint through Heritage's title run. He has a great frame, rebounded his area exceptionally well, and straight up crushed the rim a number of times. Though he is still a bit undersized for a big man, Gardner shouldn't fly under the radar much longer.
Photo Credit: David Walker 
154