Thanks to DeMarcus Cousins' surprising long-range prowess, several of John Calipari's former Kentucky Wildcats took down the visiting North Carolina Tar Heels contingent 122-115 Sunday night.
The occasion was the annual Alumni Charity Game, which raised over $1 million thanks to the Calipari Foundation.
$200K went to the Naismith Hall of Fame Legacy Fund in Dean Smith's name, while another $50K was designated to the UNC Children's Hospital.
Below is the official box score: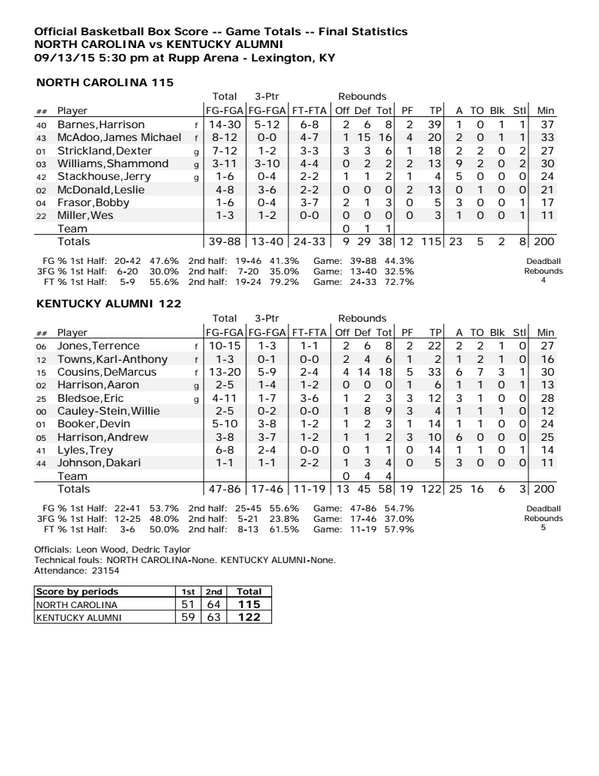 From the press release:
DeMarcus Cousins and Willie Cauley-Stein sharing the frontcourt. Eric Bledsoe throwing alley-oops to Terrence Jones. All against a team wearing Caroline blue. […] "Incredible," Cousins said. "Always fun to play in front of these fans."

A team of 10 former Wildcats now playing in the NBA coached by Anthony Davis defeated a team of former North Carolina Tar Heels in Sunday's annual Alumni Charity Game, 122-115. A crowd of 23,154 filled Rupp Arena for the game, cheering an array of dunks and, more often, 3-pointers. […] "It's always a great feeling being here," Jones said. "It's always going to be the same love and just the same amazing feeling every time I'm coming in here. Just great memories."

Cousins was the star in his return to Rupp. The 2009-10 Cat rained in 3s between occasional forays in the paint, including one of his five treys from the edge of the midcourt UK. […] "I thought I was shooting 2s," Cousins joked.