It's #ChiHoopsWeek on SLAMonline! Check the site all week long for a variety of features about players, leagues and teams from the Windy City.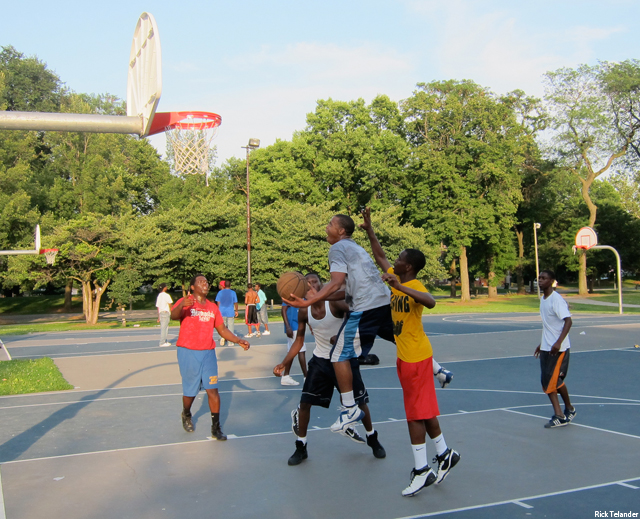 They call the city "Chi-raq" way more than you want to hear. But nicknames don't stick unless at some primitive, even cruel, level they fit. And there's way too much killing in Chicago for anybody not to get the connection between certain impoverished neighborhoods and battlegrounds in distant countries.
Hot weather can have a lot to do with the shootings, most of which are perpetrated by young males, usually with gang connections, usually with the victims being of the same description as the trigger-pullers. The exceptions, of course, are the bystanders and the kids who often are on the sidewalks or in their own homes, sometimes in bed, victims because the shooters spray like garden hoses, have bad aim or don't give a damn.
Last summer 13 people, one of them just 3 years old, were shot on one South Side playground at one time due to misguided "payback." Somehow all of the wounded lived. Of course, it's tragic when anyone gets shot. But when the crime happens where play and joy are supposed to rule, it's a double sin.
I took the above photo of a July pickup game at Sherman Park on 52nd Street a while ago, and the game was a sweet one—clean and tough, with some streetballers, talented high school players and college recruits going at it. It was hot as blazes, but there were no fights, no angry words, nobody "runnin' to the trunk." Summer is here again, folks, and outdoor ball beckons—all the relief, competition, sweat and happiness it can bring. Playgrounds are sacred. They're not battlefields. They're not boxing rings. They're for keeping cool, and loving the great American game of hoops.
Get yours this summer. And make it good.—Rick Telander
Related:
"Second City"? Not when it comes to hoops.
If you can make it on the streets of Chi-Town, you don't need to make it anywhere.

152