Cordell Marius is the newly crowned king of the Entertainers Basketball Classic at Harlem, NY's famed Rucker Park. His reign is undisputed, and his uncle, the late Greg Marius, made sure of this. He'd tapped the younger Marius as next in line some five years ago, when he was first diagnosed with colon cancer. Cordell has been tasked with plotting the sequel to what his uncle did over 30 years ago—revive Rucker Park, all while grieving the elder Marius. The latter has been a massive challenge for the entire community.
Walk through Rucker Park's entrance and it's probable you'll overhear one of the security guards say, "Welcome to Greg Marius's court." Though uttered from a place of respect for the late, great CEO, it indicates that Greg's memory hangs high expectations over his nephew. Despite these expectations, one thing is resoundingly clear: Cordell Marius remains unfazed.
"There's talk," the younger Marius says, referring to a small minority who think he's too young, too inexperienced, too this, not enough that. But there was similar talk back in the 1980s, when the Entertainers Basketball Classic first took Rucker Park by storm.
Long before the park at 155th Street and Frederick Douglass Boulevard was named after Holcombe Rucker, the game of basketball as we now know it was being built at a playground on Seventh Avenue between 128th and 129th Streets. For over 20 years Mr. Rucker was known for his epic tournaments, which featured both the best pro ballers and streetball legends. Harlem developed a flashier, more entertaining brand of basketball that would influence the billion-dollar game we watch on TV today. But more importantly, through his motto, "each one teach one," Mr. Rucker taught a generation of young boys how to become men—and did it strictly for the love of his community. He passed due to complications from cancer at the age of 38, and with him went the players. By 1980, weeds had grown over the park's dream as the NBA began poaching players from the park by paying premium dollar for the talent and style Mr. Rucker and his park had helped create.
Enter Greg Marius, member of the hip-hop crew Disco Four, who one day, while on the radio, challenged a rival crew to a game at the Rucker. Greg built on this idea, and from the energy of these grudge matches spawned a vision of better talent and bigger money. Soon to follow was the Rucker's crown jewel, the Entertainers Basketball Classic. The EBC's brand of streetball and bravado brought sponsorships to the same court where kids had once come to learn the game and life lessons alike.
We live in a different world of basketball now, where everything is scouted, developed and monetized—a world that Mr. Rucker had helped create with his pro tournaments. Had Greg Marius left Rucker alone, it's more than likely that another set of hands would've grabbed up the plot of asphalt and transformed the land into something entirely foreign to its Harlem roots. From this perspective, it seems not only fair, but necessary that Greg Marius used his business acumen to breathe life into a new generation of streetballers at Rucker Park.
One of Cordell Marius's goals for the Rucker can be gleaned from its history of epic pro performances. For those unfamiliar with such lore, just search YouTube for the likes of "KD drops 66", or "Kobe at Rucker." Or how about "Vince Carter vs. Whole Lotta Game." The running thread here? Whether it's KD's billionth 27-footer in a row, or Vince's absolutely ballistic windmill, these first-balloters dazzled Rucker's crowds to such extraordinary effect, it was all but inevitable that fans would clear the stands for upwards of 15-20 minutes, bodies bellowing and bum-rushing the court as though a champion had just been crowned.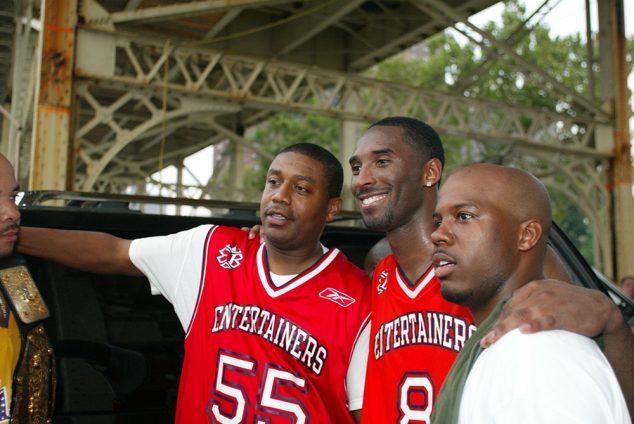 What's often lost within the swirl of sponsorships and showtime is just how the elder Marius attracted NBA talent to Rucker. Cordell says he once asked his uncle how KD's invite went down. All Greg had said was, "He called me."
Prior to this April, Cordell was given little insight into how the park was run. Up until this summer, Cordell's only job at the park had been to clean up under the seats, back when he was 15. Through his college years and mid-20s he focused on his own goals, which culminated when he became an Assistant Dean of Discipline at NYC's Renaissance Charter High School for Innovation. Just as Greg had made his own way, he wanted his nephew to do the same.
"But none of us really believed he wouldn't beat [the cancer]," Cordell says.
Which is why, in lieu of the long-awaited coronation everyone expected for him, he's had to hit the ground running. The hours have been trying—games often run past schedule, until 10 or 11 p.m. "Those are creeping hours," Cordell jokes, tacitly communicating that he has no time for such tomfoolery. While he keeps the faith in his path, he still faces Rucker's bare crosshatched fences, once covered with big-brand sponsorships. Just days after his uncle's death, he had to unwrap the EBC's accounts only to learn that the sponsorship contracts had all run their course. "The timing was tough," he says. Greg passed right at the end of the fiscal year, forcing Cordell to draw up corporate proposals without prior experience or training.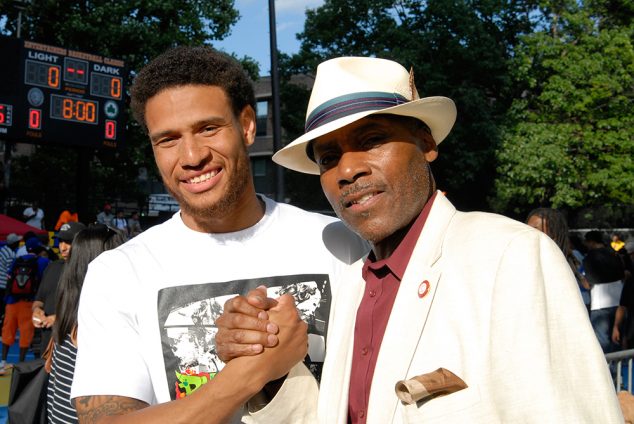 Could Greg have been a bit more forthcoming to his nephew about the method to Rucker's madness? Sure. But Cordell isn't dwelling upon what he can't control. For now, he's keeping specific negotiations under wraps. What is public information, however, is that he has contacts at big sports brands who want to boost Rucker. Cordell also knows he can rely on Greg's old friends. For what, he's not exactly sure yet, but it's the loyalty that matters. As Cordell says, "One hand washes the other." Meaning, whether he's after corporate sponsors, better talent, or Harlem luminaries, it starts with the community's investment—the same people that swarmed KD, Kobe, Vince and so many others. It's the fans of the game who are stepping up to preserve the park in its time of need, offering donations and fundraising to shore up any temporary leaks. With such an immovable base, Cordell is confident that financial interest is inevitable.
And there are benefits inherent to the challenges Cordell faces. His vision for the Rucker includes an overhaul that, in some ways, is made easier for the blank slate left by Greg Marius. Speaking on his uncle's generation, he says, "They ain't real heavy into social media."
Between the thousand tasks he performs per night—answering questions, greeting folks, bringing uniforms to this team and that ref—Cordell is busy boosting their media game and attracting fresher music talent. Earlier this summer, the Rucker featured the likes of DJ XO, Signature and Mr. Commodore, all players on the music and media scene. The analog for his vision is the come-up of Harlem's own A$AP Rocky. Cordell is confident that by bringing in local talent that's poised to blow, he'll bring in a whole new era of Rucker loyalty and branding. In the car he even rattles off bars from tracks that sound as alien to a Dean of Students in 2017 as Rocky's "Purple Swag" did to Cordell's teachers back in 2011. Speaking of the kids at his school, he says, "Now I'm listening."
Not long after Greg's passing, Cordell had a sit-down with Fat Joe. Like Cordell's uncle, the Terror Squad rap magnate has mainly offered advice of the more existential variety. Cordell's encounters with expert businessmen, for the time being, is packed with this type of implicit value, which he hopes will pay off in the future. But it's not the only value he's bringing in right now. One of his teams, the Sean Bell All-Stars, recently won a cool ten grand at the Biv10 Tournament in Boston, put on by Mike Bivins of New Edition and Bell Biv DeVoe fame. Going out to another legendary court named after a legendary figure in the game—it's a big deal, and it's one of many reasons why the people of Harlem continue to give back to Rucker Park to ensure its growth.
"It's not like '95 and '03, when tons of people were in the crowd," Cordell says. But aside from the stripped banners, timeouts at the Rucker haven't changed much. If you just slow-mo the globetrotter going backwards on rollerblades and spinning a ball on an American flagstick, it might look something like an A$AP video—only instead of the enigmatic beat to "Peso," you hear DJ XO cut to Freeway's '03 banger, "Flipside."
Just like Greg used to do, you see Cordell Marius talking to 100 different people, doing 100 different things, all while paying attention to interviewers and performers. But further beneath what you see and hear, below the music and the clothes, down to the bodies in the bleachers, it all starts to feel like a throwback to Holcombe Rucker's days, when everything they had came from within, and everything they had was devoted to keeping the games running.
—
Brian Birnbaum is a freelance writer based in New York City.
Photos via Getty Images and Cordell Marius
730