The Ball Up Million Dollar Summer Challenge Finals are coming soon, and two teams have already punched their tickets to the Playoffs.
Washington, DC
Madness got out of the gates early with a basket from Cliff Dixon and then another from Andrew Washington. Determined not let Madness get too much momentum, Deontay Twyman (27 points) answered with a floater off the glass followed by a drive and score by Tavares Cooper. Madness' bigs were controlling the paint and not allowing second chance shots which helped them jump out to an eight point lead. Lincoln Park looked out of sync for much of the first half as they rushed shots and missed defensive assignments. Madness capitalized off of the mistakes and pushed the lead to 19 going into the half.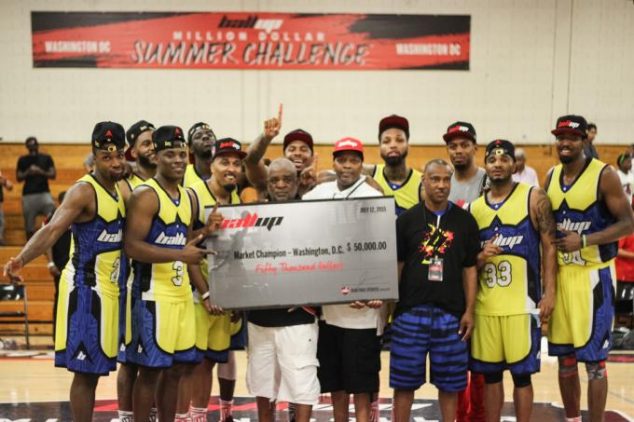 The second half would not resemble the first. Lincoln Park went on a 21-4 run cutting the game to two with less than 13 minutes remaining. All of sudden, Madness became the tentative team; committing unforced turnovers, not being able to score in the half court. Madness and Lincoln Park traded leads for the last six minutes of the game with Twyman, Bruce Massey (15 points), and Cooper providing the scoring punch for Lincoln Park and Campbell and Darryl Monroe (23 points) leading the way for Madness.
With 50 seconds left, Augustus Gilchrist scored a lay up to help Madness pull within two, 69-67. Lincoln Park suffered an empty possession leaving the door open for Madness to tie the game. Campbell scored and sent the game into overtime. In overtime, Lincoln Park went up four points early with Dixon and Monroe answering the call to get Madness back into the game. The final minute of overtime became a free throw shooting contest. Twyman shot a three as time expired hoping to send the game into another overtime. No good. End Result: Madness wins, 83-80 and moves on to the national playoffs.
Los Angeles
https://www.youtube.com/watch?v=m27G9HEqOlU
Future Legends vs. Cheaters With $50,000 on the line, the Cheaters and Future Legends took the court in front of a packed gym. Cheaters boasted an undefeated season up to that point and the league's MVP in Casper Ware Jr. Future Legends, on the other hand, were posed as the sleeper team with talented players on both ends of the court.
As the game got underway, Cheaters maintained the first possession. With the shot clock expiring, Ware Jr. nailed a three-pointer. The Cheaters bench was louder than the entire crowd cheering on their teammates. Ware Jr. came back down the court and hit another three, letting his competition know it was game time. Jerry Dupree of Future Legends dunked on Cheater's Leo Lyons something vicious, as if to say I know what time it is. Lyons gave some payback with a one-handed flush going the other way. Cheaters came out to an 18-9 lead and Future Legends took their first timeout. Lyons had an epic crossover, passed it to teammate Brandon Fields who knocked down the three-pointer. Cheaters were playing with such high energy.
At the half Cheaters were up 54-46 with 14 points for Leo Lyons including four three-pointers. Future Legends' Mike Jones had 13 points at the half. Coming out of halftime, Cheaters put a dagger in the Future Legends early hitting three-pointers from well beyond the arc. The Cheaters went on to win 95-79 with Ware Jr. scoring 29 points, 5 rebounds, 4 assists and 2 steals. Leo Lyons added 22 points, 12 rebounds, 9 assists and 3 blocks. Cheaters completed a fully undefeated season going 8-0.
This weekend (Friday July 17 to Sunday, July 19) market champions will be crowned in Chicago, Indianapolis, New York and Philadelphia.
Chicago – Action starts at 2p

Indianapolis – Action starts at 2p

New York – Action starts at 3:30pm

Philadelphia – Action starts at 12pm
On Sunday, action will include both a 3-point shooting contest and slam dunk contest, with winners taking home a cash prize.
* * *
Each market's championship team nets $50,000 and a spot in the MDSC National Playoffs for $500,000.
The first round begins on July 29, the semifinals are on July 30 and the National Championship will be held in Los Angeles on Saturday, August 1.
For more highlights, photos and info head over to BallUpMDSC.com!
Recap content provided by Ball Up (credit DC: Janee Hayes, LA: Lauren Jones)