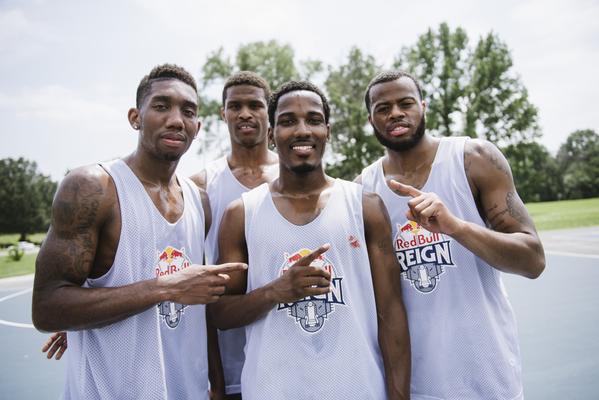 The Red Bull Reign 3×3 Tournament is a battle of endurance and rewards buckets over everything.
Participants competing in seven qualifiers throughout the United States—Houston Oklahoma City, Memphis, Indianapolis, Cleveland, Detroit and Chicago—braved the harsh outdoor elements for the second inaugural year of the tournament, all for a chance to at the finals in Chicago on August 22 to be crowned national champions and being given a spot in the FIBA 3×3 World Tour.
With the field almost finalized, the winning teams boost a collection of local talent, pros and semi-pros, each with their own unique individual story and the collective want to be the last team left standing on August 22 in Chicago's Seward Park.
Today's spotlight is shined on the winners of the Indianapolis qualifier, Team Only 4 Family.
Given their name, it's easy to assume the bond between the teammates, Chris Henderson (ABA, BDL), Greg Foster (D-League), Cory Wickware (BDL) and Kenny Edwards (ABA), is extremely tight. The name is also appropriate, as family is what they ball for.
SLAM caught up with Henderson to discuss his background, his teammates and how he feels they have a slight advantage over their competitors.
SLAM: To start, what's a brief background on yourself?
Chris Henderson: I'm from Indianapolis, IN, and that's pretty much a basketball state. My mom gave me my first basketball when I was 5 and ever since then I just loved playing. I played all four years of varsity in high school, all four years at college and then I played semi-pro basketball in the ABA and the BDL.
SLAM: Just how did you and your teammates for this tournament meet?
CH: We're all from the same area, basically. In high school, we all played against each other. After that, we just became cool. Ever since we came home from school, we just stuck together and the chemistry was great, so we kept playing with each other in every league we could get in, every little tournament we could get in. We just wanted to keep building.
SLAM: How did you all decide on Only 4 Family for your team name?
CH: We chose Only 4 Family because what we're doing and what we're trying to do with basketball is positive and all for our families. If we win some money in whatever tournament we're in, we always know we're going to do what it takes to win and give that bread back to our family to help take care of home. That's the most important thing to know with what we play for.
SLAM: How good it is to be able to use the game you love to help take care of your family?
CH: Everything that basketball has done for me has been a blessing. From just being able to really play, it got me a full scholarship to go to school and earn my degree. After that, just to be able to go to the ABA and the BDL; it means a lot because it's cats everywhere out here chasing a dream and they might not ever get to be able to see it. I can at least be able to say that basketball has been able to open up some doors for me and I got to travel and see a lot of things and places I wouldn't have been able to see without basketball.
SLAM: You really can't grow up anywhere in Indy without picking up a basketball. What was growing up like for you?
CH: Growing up here is hard, depending on which part you're coming from. We all came from the inner city, so we dealt with a lot of gang violence and everything that comes with that. So just staying out the way of that was so critical and basketball was that outlet for us. It kept us all away from the streets and having us in things we weren't supposed to be into.
SLAM: Just how many tournaments have you guys competed in together?
CH: Three tournaments that have been worth some money. We did the Ball Up Tournament, the Red Bull qualifier and the Indy Top Four Tournament. Unfortunately, we came up short in the Ball Up Tournament, but we were blessed with the opportunity to get in the three-on-three qualifier, and we were glad to win that one.
SLAM: How does going through those battles and knowing your teammates games help in tournaments such as this one, where the rules are about putting the most points on the board as you can?
CH: It helps a lot because once we understood the rules and understood how they did the pool play, and that it was about scoring more points, we were able to put in a lineup that was just going to score points. Knowing each other's games helps us out as we look at Greg as our leader. He distributes the ball, gets everyone where they need to be. Me and Corey, we'll run around, be the shooters, do the scoring and knock down shots. Kenny, we know he's going to defend the glass, rebound and get dunks. It's tough to guard because we already know each other's game. Other teams have just been put together, but we already know each other.