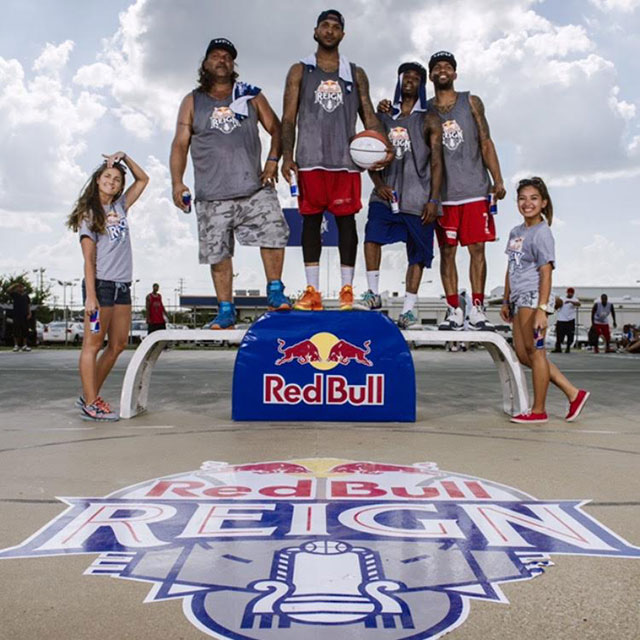 Grit and Grind is more than just a marketing ploy playing on the Memphis Grizzlies' blue collar style. For most of the city's population, it's a way of life.
Sergio Kerusch, who hails from the heart of North Memphis, knows this from experience and happens to be one of the lucky view to find a way out.
When he and his teammates take the court on Chicago's Seward Park on August 22, they'll be playing for more than the right to be crowned national champions. They'll be playing for those back home who work hard so that they're not confined to their surroundings.
SLAM: Tell me a little bit about yourself.
Sergio Kerusch: I grew up in the heart of North Memphis, which is a low-income area; lots of people don't make it out of there. My father kind of forced me to be around the game when I was young. I was the only kid that could play on the adult courts when I was about 15, playing against 25- to 30-year-olds, so my game has a street influence. I just fell in love with it from early on because it was all I knew. It was my way out. I had other friends who were selling drugs and I was dribbling a ball up and down the street.
Even now, I'm blessed to be a pro, going into my sixth year. Growing up, it was hard. It was the typical African American young male story; single mother struggling to pay bills and we had to find a way. Basketball was my outlet. Instead of coming home every day worrying and having to deal with things, I turned to basketball and I focused all of my energy into it. It paid off in the end.
SLAM: Talk about how hard it is to not get caught up in what your friends are doing and believing that the game could offer you something?
SK: I'm going to be honest with you; it's tough, even today and the reason is because every time I come home from overseas, I see the guys that grew up with me and they're like "Sergio, we're proud of you!" It's kind of tough hearing that because that's my friend and I can't hang out with him the same way because of what he's involved in because it's going to endanger me and my career. It's always a struggle because you're always going to love the people who were by your side when you were young and who were your best friends. At the same time, when you go to the next level, you have to make a decision on can they help you on your journey or will they drag you down?
I had so many good high school basketball players in my class and they just went down a different path. That's why I'm so thankful for the Red Bull Tournament because I got a chance to see some of those guys and they got a chance to go back out there and re-live their dream. The tournament wasn't limited to pro players, it was everyone. We had high school players that used to be superstars in that tournament. It's always tough to see someone you used to ride or die with and just looking at the two different paths. That could have easily been me with one wrong decision, or one wrong move.
SLAM: With seeing all those former friends and rivals, did it give you an even greater appreciation on how you've been able to overcome your circumstances and use that outlet?
SK: I couldn't have made it without God. That's the most honest answer. Yeah, you sit back and reflect. You go to your mother and grandmother's house in the old neighborhood and you're like, 'I made it out of this.' You look at your old house and it's boarded up and it's a crack house now. It's like 'I made it from this to where I'm driving this and I'm living this life.' That's why I'm giving back, giving back to charity. Who would have thought the same kid that was outside scraping his knees on the ground, while people sold drugs behind the house, is a kid that's now trying to help people the right way?
It's a humbling experience every time I go to my old hood and I go to the corner street and I see all the same people on the street and they're like "Sergio, we're proud of you." It makes you feel some type of way. It's a humbling feeling and it's refreshing. Like I said, I couldn't have made it out without God. I was blessed. I'm not surprised how far basketball has taken me because I wanted a way out.
I had one of those mothers, and when you're growing up in a single-parent home, you know what I'm talking about, where she would push the hell out of you. She was like 'you're going to do something different. You're not going to fall victim to your surroundings.' She was my driving force. She supported everything I did. Basketball wasn't my only sport because she wanted me to do something different. But when I did get set on basketball, people would always give me the numbers of people who make it to the League, who make it to play pro and the odds. I would always say the same thing: I'm going to be a professional. I wasn't going to take no for an answer.
SLAM: What's the basketball scene like where you're from?
SK: Grind city, man! The streets influence the basketball culture. You gotta grind to get by, you got to hustle to make a living, to make rent. That's the same thing with basketball here. We're very tough-nosed. You look at a guy like Tony Allen from the Grizzlies; we're like that in that we do what it takes to survive. We scrap games out, we dive on concrete for loose balls and that's the culture. We get it done by any means necessary. Make it happen! Grind City! We want to be tougher than you. We're going to fight you for every loose ball. Do you want it as much as we want it because we're going to grind it out?
SLAM: How did you go about picking your teammates?
SK: Maurice was Gatorade Tennessee Player of the Year, went to Georgia Tech, 12 in assists, fifth in steals there. I played pro against him my first year and knew him since high school. We were both candidates for Player of the Year in Memphis. I knew him, but I didn't know him like that. Now, he's trying to give back to the community. He's coaching and now he's my personal trainer.
Eric played for Valpo, won Horizon Sun Player of the Year. He's a Memphis kid too. I know him because he's been my workout buddy for like five years. He's playing in Chile this year.
We might have bonded as well outside of basketball, but because of the bond we share on the court, we know we got each other's back. If you put us three in the same room, we can talk for days, best of friends. But on the court, we're the most competitive against each other. We're not really playing against the other team, we're playing against each other because we know what each other's capable of.
Even when we were playing in the qualifier, it was one game, where I told Eric I was tired and Mo said, 'You better shut the hell up! We about to get that money!' We have that type of commitment to one another and that pushing mentality to be better.
I put two guys around me that complement me well because in a one-on-one, I was always second for both years. So I wanted two guys that could compliment me well, which is two point guards.
I added my father because he grew up in Memphis, played streetball, German and very hard-nosed. He's dove on concrete before, had to go get stitches, and busted his eye open. It was just pickup game, too! I wanted him for his toughness and experience. He's a big body and he's my dad. I wanted him to see what my life has become and how it is.
SLAM: How would you describe your game?
SK: I guess you can go to Google [laughs]. I've been blessed. My first year pro, I was one of the top players in Europe. I'm tough. I'm a 240 pounds, 2-4. I can shoot. If a get a smaller guard on me, I can post him and anything in between, it can go either way. I'm a big-body guard, basically.
SLAM: Where did the name Rocket Power come from?
SK: Anyone who knows me knows that I'm a big 6-5 kid. I love cartoons and when I was little, it was a cartoon called Rocket Power on Nickelodeon. Those kids were extremely gifted at sports. Just having fun with the name and the fact that we were all blessed to be gifted at sports from a young age. At the end of the day.
SLAM: Why will Team Rocket Power be the winner on August 22?
SK: All of these teams are great. I'm going to give you the political answer. I don't think we're the team to beat. I think we're just happy to be in the same category as the other teams that will be playing. As a competitor, we're going to have a chip on our shoulder because I know people will get to talking. It's a lot of talking that goes on in these games. It makes you get real serious, like, Look dog; I do this for a living. Don't come at me like that. [Laughs]
With that being said, we're just going to go out there and have fun. We made our first goal, and now it's about getting out there and representing Memphis' culture, showing how tough we are and that we have some of the best doing this out here. We're representing our city. It's so much evil out here that's going on. People are getting shot and it's a lot of things with crime, poverty in my city. We just want to bring a positive light to our culture and just show the kids and other people that if you push hard, no matter what, you're still going to have a chance to do something great. That's what our team represents.
We're not just doing this for us. We're blessed. We've played pro, we have jobs. We're doing this for the kids that are looking up to us and who want to see something good come out of Memphis. This is the chip on our shoulder. The Memphis community is that chip.