When the Brunsons set foot on the Villanova campus for their official recruiting visit in September of 2014, they did so with a blueprint already in hand. But it wasn't necessarily one that would look to get their All-American son into the NBA as soon as possible. In actuality, the plan wouldn't get Jalen Brunson to the League for a few years.
"He was projected as a one-and-done kid, and I [knew] Jalen wasn't one-and-done," says Rick, his pops. "The type of player he was going to be—he just wasn't ready to be that type of kid. So we got here with a three-year plan. I told Jay Wright, 'I have three years for him to graduate, for him to win his National Championship, and he's going to get out of here.' That was our plan the whole time.
"On our official visit I sat down with Coach Wright and the coach staff and I said, 'This is the layout of how I believe Jalen can be successful and reach his full potential, his personal goals and his personal dream of playing at the highest level.'"
It's a way different approach than what you'd expect from one of the McDonald's All-Americans, whose goals are usually to get into the NBA as soon as possible. Yet for the Brunsons, the plan was to put Jalen in the best situation so that he could remain in the League for as long as possible.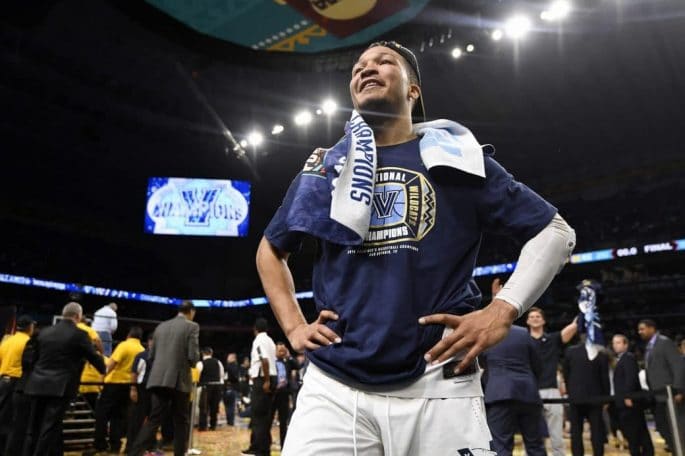 Rick enjoyed a nine-season career in the NBA, where he bounced around as a journeyman playing for eight different teams. The former Temple University standout is now an assistant coach for the Minnesota Timberwolves. His post-playing career has included coaching positions with the Denver Nuggets, Chicago Bulls, Charlotte Bobcats (now the Hornets) and the University of Hartford.
Having a dad with over 15 years of experience in the NBA as a player and coach provided Jalen with a unique perspective. As a youngster, he would find himself hanging in NBA locker rooms and practices, surrounded by some of the game's biggest stars. It created some memorable stories, like the time he got a chance to meet Michael Jordan but refused to let MJ sign his jersey.
"After the game, somehow, I got to go to the Wizards locker room and meet Michael Jordan," recalls Jalen. "I walk in and I had his jersey on. Everywhere I went, I got a jersey from that arena. He walked up to me and said, 'Hey, do you want me to sign your jersey?' And I looked at him with a straight face and was like, 'No, you'll mess it up.' Everyone in the locker room was crying."
Fast-forward to 2018 and Jalen is now getting ready to enter the NBA draft with two National Championships under his belt and National College Player of the Year accolades to his name. The 6-3 guard was a freshman during the 2015-16 season, when Kris Jenkins hit a buzzer-beater at the National Championship game to help take down UNC. Although he was in the starting line-up that first year, older players overshadowed him.
By his sophomore year, Jalen had become a clear-cut leader of the team and was poised to make another deep run in the Tournament. After averaging 18.9 points and 4.6 assists this past season as a junior, he helped lead the Wildcats to their second National Championship in just three years.
Probably even more impressive, despite all his athletic accomplishments and responsibilities, the lefty will also be leaving Villanova with a college degree in just three years—somehow, he loaded up on classes while starring on the hardwood.
Despite his impeccable college resume, mock drafts and "analysts" have Jalen projected as a late first-rounder or even a second round prospect as of early May. His track record, though, paints a different picture.
"He's heard—he's human," Rick says. "He's heard and read about, 'He's not an athlete, he's too small, too slow.' He's heard all of that. But like I keep saying to people, he's one of eight people in the history of Illinois to win over 100 games in high school. He's won over 100 games in college. He won two gold medals. At the end of the day, you keep doubting him—he keeps winning. You keep doubting him—he keeps getting Player of the Year. So, that's the motivation."
—
Franklyn Calle is an Associate Editor at SLAM. Follow him on Twitter @FrankieC7. 
Photos via Getty Images