The Lakers entered the bubble with the No. 1 seed in the West all but locked up. But with several rotation players out of the lineup, the title favorites have struggled to pick up where they left off.
The fact that Alex Caruso will be more heavily relied upon could be a blessing in disguise for L.A. That's because the 26-year-old combo guard simply has a knack for making plays when he's on the court.
On the defensive end, the 6-5 guard puts constant pressure on the ball as he hunts for steals and deflections. Offensively, Caruso can initiate the pick and roll, has a knack for making the right pass and finishes well at the rim.
We caught up with Caruso after the Lakers' 116-108 win over the Jazz last week, and chopped it up about the NBA restart, playing without fans, life in the bubble and his new partnership with smALL-STARS.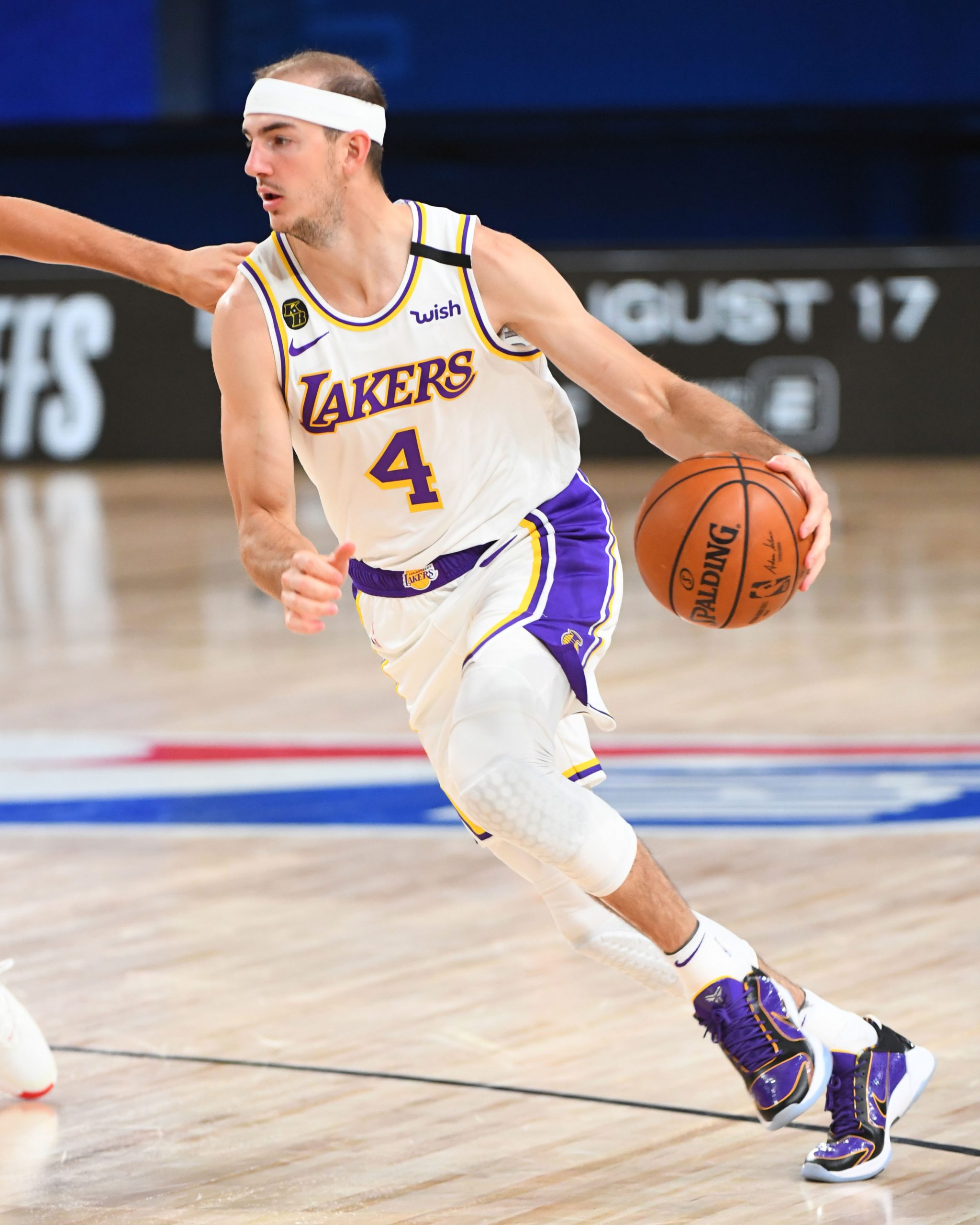 SLAM: The Lakers were just beginning to gear up for the playoffs when things got shut down. How difficult is it to pick up where you left off?
Alex Caruso: The restart's been a lot of things. It's been difficult, obviously, because of the kind of shape and the kind of form that we were in right before the break. We were getting ready to turn a corner, get ready for the playoffs and ramp it up a little bit. And then you completely shut it down, and you got to pick back up three-and-a-half months later.
It's as much of a physical challenge as it is a mental challenge to lock back in and come back from the hiatus and be ready to go. That, for me, has probably been the biggest thing. Without the fans and the atmosphere, it's getting yourself to a point where you're playing how you would in a crucial game where you got some of that adrenaline and focus.
SLAM: What's it like playing games without fans? What's the vibe?
AC: It's interesting, man. I said this after the Clippers game that we won a couple days ago—when the buzzer went off, it was almost a little anticlimactic. You're used to either celebrating against all these away fans that were cheering and yelling the whole game or the jubilation of the roars of the home fans. Not having either one, it was a little weird. We didn't really know what to do. It was one of those Ricky Bobby, put-his-hands-up-in-the-interview kind of moments where we were like, Alright, let's go team! I think not having that atmosphere, it's different.
SLAM: Do the virtual fans make a difference?
AC: I'm not going to lie, I don't notice those very much. I think that's more for the fans and more for the TV look—make it not look quite as empty as two teams and a scorers table. It's a fun thing, but I haven't noticed it when I've been playing.
SLAM: Back to the hiatus, was it difficult to stay focused during that time off?
AC: You know, there was a portion of the time probably about three weeks in—once I realized it was going to be a couple months—that I mentally took a break. Almost treated it like an offseason. And then, about a month, month and a half away from when we needed to be ready, I refocused and locked back in. I think that was easiest for me. I don't know if everybody's done it the same way or thought about doing it like that, but for me, it was good to get away, to reset mentally. And then, once it was time to lock back in, I was ready to go.
SLAM: Did you ever think the season could get cancelled?
AC: After they suspended the season, I didn't put anything out the window. I kept all options on the table, and was thinking that it would be a real shame if we didn't get a chance to finish the season, especially as hard as we worked as a team and how much success we had through the season. We wanted to play it out.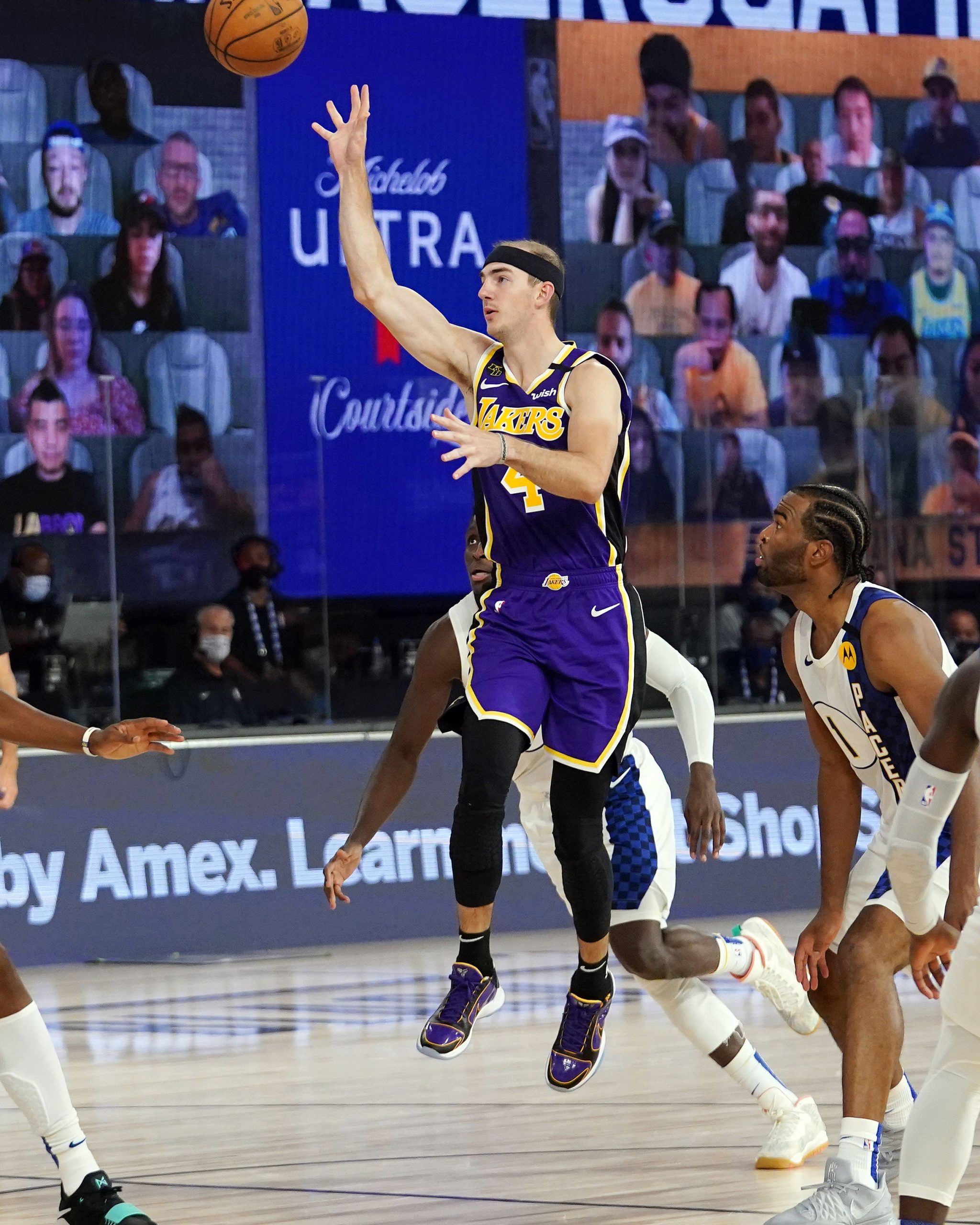 SLAM: Now that you're in the bubble, has it been different than what you expected?
AC: You know, I'm not sure I had too lofty expectations. I came in with a clear mind, thinking I was going to make the best of whatever it was. I think it's been better than what I expected, being able to play some golf, play a little Xbox, and communicate with my friends back home, and then hang out with the team. It's been a little easier—and I say this, obviously, only being a couple weeks in. We'll see how I feel in a month and a half when it's the middle of September. But it hasn't been as bad as I originally thought.
SLAM: So you've been golfing a lot?
AC: Yeah, I have. Once games started, I dialed it back a little to get a little more recovery. But when we had those couple weeks of practices, I was on the golf course a lot.
SLAM: Did you play golf before this, or did you pick it up recently?
AC: I had friends that played in high school. My dad played a little bit when I was younger. I was always out there, either hanging out with [my friends] or trying to play with my pops. But this is the first time that I've been able to consistently play since maybe last summer. It's been fun. I love playing golf. It's a good escape. It's a good way to spend a couple hours of your day instead of maybe staring at your phone.
SLAM: Which one of your teammates plays the most golf?
AC: I've played probably 8-9 rounds of golf since I've been here, and just about all of them have been with JR [Smith]. And he's probably played twice as much as I have. He loves golf. Me and him were talking about it the other day, talking about different guys and swings and how fun the game is. He's a big golf fan.
SLAM: Does it get competitive between you and JR out there?
AC: Nah, we never play against each other. One, because he would beat me. Two, because it's for the fun of the game. It's our escape from the competition of basketball.
SLAM: What have you been playing on Xbox recently?
AC: A lot of Call of Duty recently. Maybe a little Warzone, a little Search and Destroy. Those are usually my two go-tos.
SLAM: Which teammate plays the most Call of Duty?
AC: JaVale [McGee] is probably the biggest Call of Duty fan. He has the room adjacent to mine, and sometimes I can hear him—either he's killing somebody or somebody's killing him because there's some yelling going on [laughs].
SLAM: As a team with title aspirations, how do you stay locked in when so much is going on in the world?
AC: That's part of the bubble restart challenge. It's being mentally focused every time you step out on the court. And like I said earlier, with no fans, it makes it even a little harder to lock in and get to that level you're so used to getting to with the adrenaline and the atmosphere that the fans bring. I think leaning on each other and reminding ourselves of what we started the year off trying to chase and our aspirations. We're right in the [position that] we need to be.
SLAM: Tell me about your Quarantine Taco Tuesday digital short with smALL-STARS.
AC: It's a fun little short video promoting the beginning of the smALL-STARS campaign with AD and Bron by my side. It's launching their collectible items for the smALL-STARS campaign, and it's a fun little humorous video of me and my teammates. I think it's going to be a lot of fun for you to see it.
SLAM: Were you surprised at how realistic the figures were?
AC: Yeah, I was. And also, I was surprised how large they are. They're 12 inches tall. They're the biggest NBA collectibles I've ever seen. I thought, initially, when they told me about these smALL-STARS, that I was going to get one and it would be about the size of a bobblehead or action figure. But it's a small dog collectible [laughs].
SLAM: Do you think there could ever be a smALL-STARS figure of Alex Caruso in the future?
AC: We hope so. I'm crossing my fingers maybe we can get something done. If I do well enough in these videos, maybe my acting will carry me to get in to smALL-STAR.
SLAM: Do you have any acting experience? You were pretty good.
AC: [Laughs] No, man. I try to do my best and give it my all. I think the last acting gig I had, I was in a play in like 8th grade or 7th grade drama.
—
Ryne Nelson is a Senior Editor at SLAM. Follow him on Twitter @slaman10.
Photos via Getty.