Anfernee Simons is thinking about slowing things down. Understand, we don't mean this in some vague, figurative sense, but quite literally: When we catch up with Simons in late April, he's talking about how he's focused on improving his ability to control things on the basketball court—to dictate pace and flow—the better to exploit openings and impose his will.
"Working with my trainer, especially the past couple of weeks, he's been teaching me how to slow the game down, to be more efficient," Simons explains. "I like how guys like CJ McCollum or Donovan Mitchell do that. They know when to slow the game down."
All of which is an entirely logical thing for Simons to be thinking, especially right now. After wrapping up his prep basketball career at IMG Academy this spring, the Orlando native did what any elite prospect would at that time: He focused on getting ready for the next level. But for Simons—unlike the rest of the 2018 class—that didn't necessarily mean big-time college ball. He actually graduated in 2017, then played a post-grad season at IMG, making him eligible to enter the 2018 draft. And in March, he confirmed he would do just that.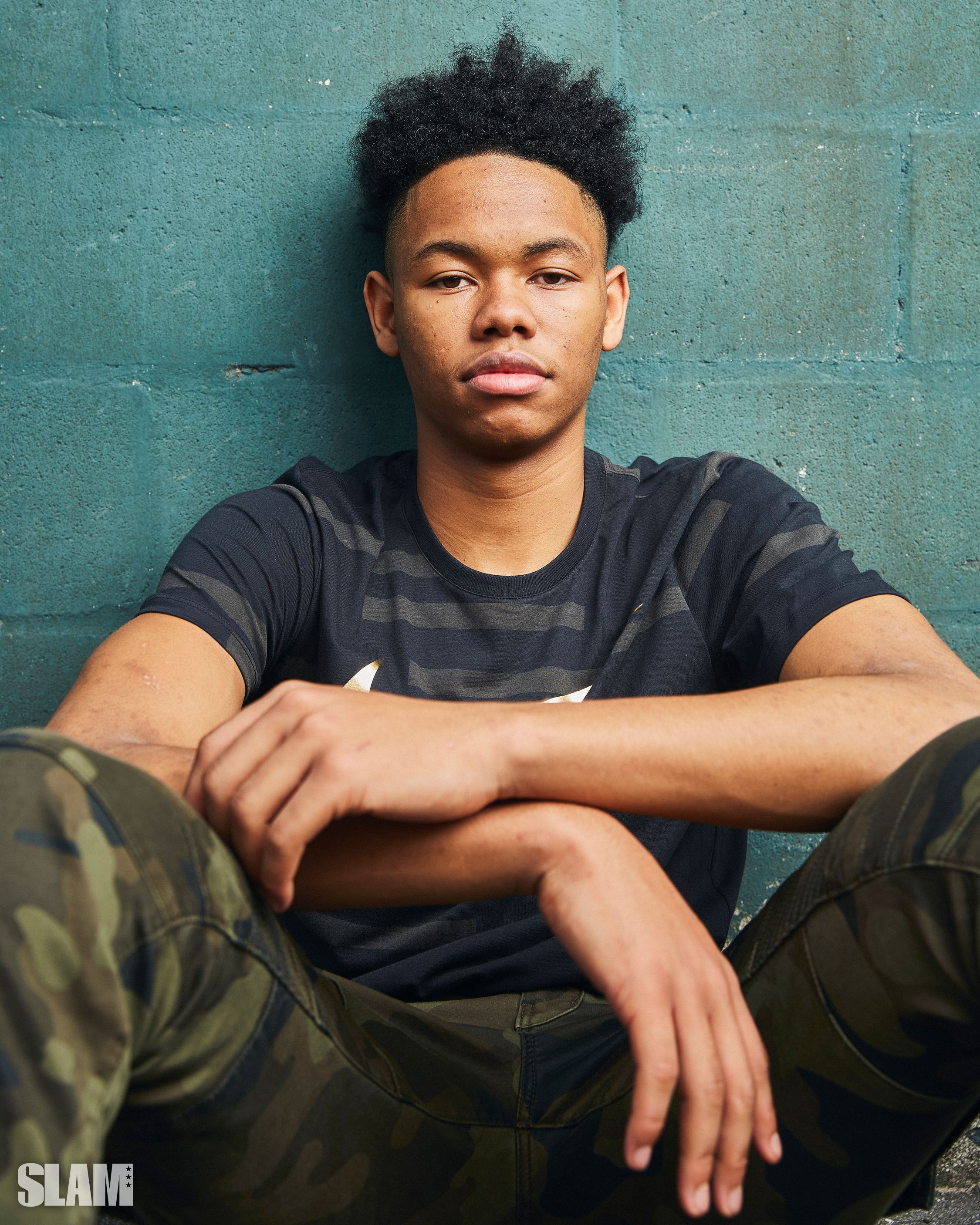 And there, of course, is the irony: A young man focused on slowing things down, even as he accelerates and blows right by one of the "expected" stops on the road to his NBA dream.
"Honestly, I'm just confident in myself," Simons says. "Whatever team chooses me, I'm just going to try to get in there, learn and get better. I'm confident that I'll be able to compete."
He's not the only one. Whatever skepticism might still exist in 2018 among certain so-called draft experts about a player skipping college for the League, most observers agree on Simons' potential—he's a consensus top-20 pick in most of the reputable mock drafts. A 6-3, 185-pound combo guard, he possesses an explosive and versatile offensive game, and he's as comfortable getting to (and above) the rim as he is splashing from deep. He knows his strengths—and he knows who to share the credit with. "I'd say it's my shooting and playmaking ability, and my IQ—that came from my dad," he says. "He made me think about the game a lot more—to be instinctive, but at same time, think about it before it happens."
It's a balance the great ones are able to master, and Simons knows he has a long way to go. Which is only natural: Always young for his grade, he reclassified back a year in high school—a rarity among top players—and began to make up ground on his peers. Just three years ago, he left his original high school, Edgewater HS (FL), for powerhouse Montverde Academy, but struggled to get any run. He went back to Edgewater the following season, then on to IMG for that postgrad year. Both in the prep ranks and the summer circuit, he's since showed that he has more than caught up with his peers.
Now he's focused on that next, huge step. In addition to guys like McCollum and Mitchell—he counts Spida as a mentor and friend—Simons admires guys like Jamal Crawford and Dame Lillard, "guards who are able to score the ball and do other things, too." A seemingly less likely inspiration is the guy who inspired his name: Simons' parents were big Penny Hardaway fans, and Simons eventually become a close friend and teammate of Hardaway's son, Jayden.
And if Simons can't match the original Penny's rare combo of size and skill, he's confident in what he has—and what he can build from it. "I feel like I'm pretty decent at everything, but I know I've got to get better at everything, too—every day, inch by inch," he says. "I try not to get too far ahead of myself, but I'm really focused."
—
Ryan Jones is a Contributing Editor at SLAM. Follow him on Twitter at @thefarmerjones.