Arike Ogunbowale doesn't just want next. She wants now.
"It's dope. It's amazing in a league where there are so many great players—like, players you've seen growing up and watching while in college—to be considered one of the top players for the future, that's important," says the 24-year-old Dallas Wings guard.
"I can be the future [of the League] but I am also taking advantage of my time right now and not wasting any time," she continues. "I want to be one of the top players now and in the future."
And she's willing to do whatever it takes to be the best—on and off the basketball court—in everything she does.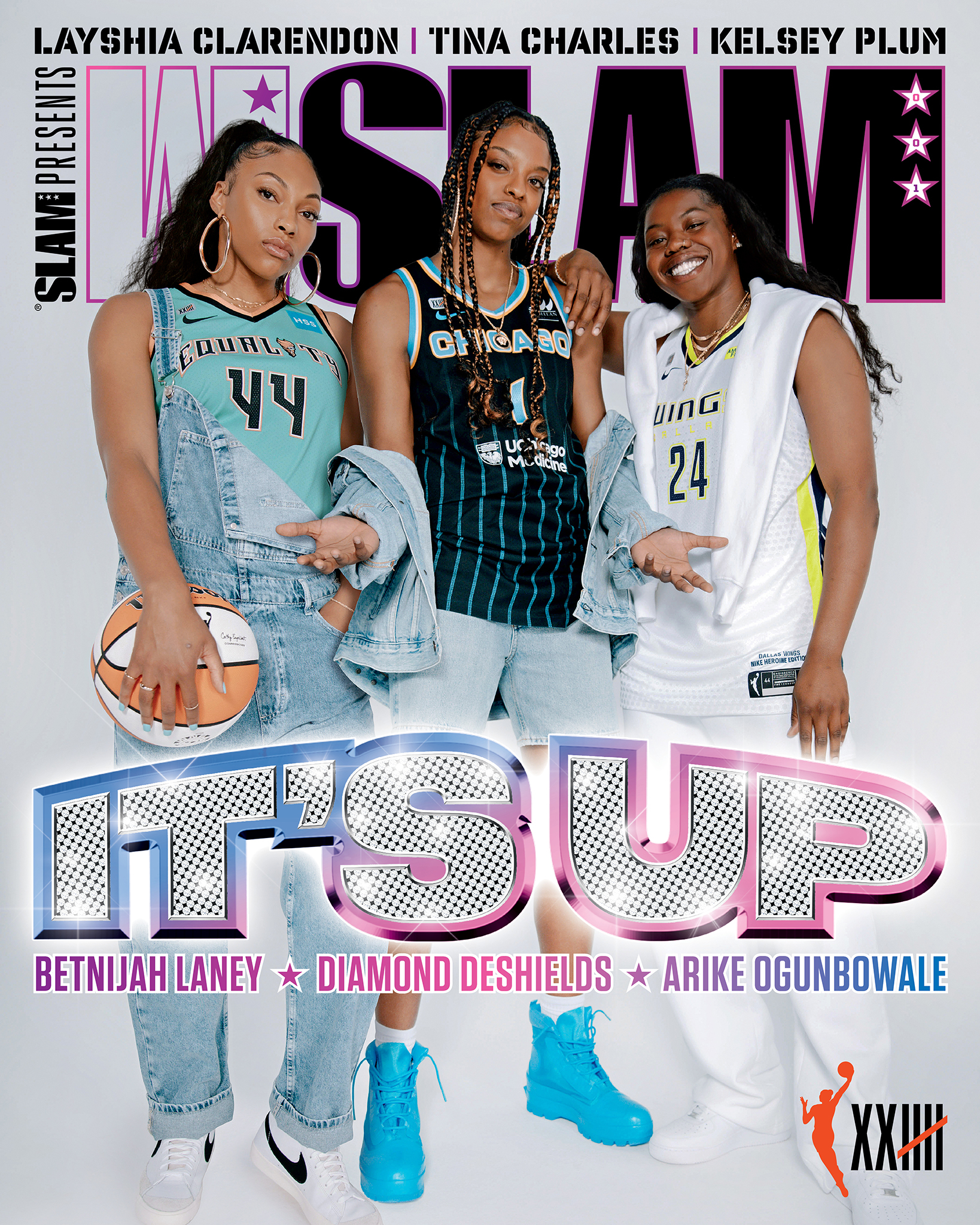 Take, for example, a recent toasty 95 degree Sunday afternoon in Dallas. Inside the Singing Hills Recreation Center is Ogunbowale, a mere two weeks after winning WNBA All-Star MVP honors and returning from vacation.
Hair pulled back in a long ponytail and wearing a white Nike headband, she stands with a basketball in the corner of the large, empty gym. She's there on her off day for a photo shoot for Red Bull.
There's Arike dribbling the ball with both hands. There's Arike twirling the ball, first on one hand, then on one finger. There's Arike shooting the ball and showing off her handles. There's Arike posing. She's laughing. She's smiling, that wide, toothy grin we've all grown accustomed to, and chatting with the camera crew.
Dressed in a white T-shirt, blue shorts, black tights, white Nike socks and orange, black and white Nikes, she walks confidently down the gym floor near a basketball hoop. She chats with her trainer, Melvin Sanders of SandersFit Performance Center in downtown Dallas, before he begins passing her the ball. She effortlessly puts up a bucket. Then another. And another. She hits 10 straight before she misses.
There's no one there but me, a handful of Red Bull staff, Arike and her trainer. But she's as focused as if she were in College Park Center where the Wings play their home games. She's tending to business, but watching her up close and on the court alone, you can see how at one she is with the ball, how shooting baskets is second nature. She's always working on her craft, always trying to get better, always trying to improve, even taking a photo shoot with seriousness. And it's this work ethic, grit and determination that has propelled her in just three short years to become one of the unquestioned faces of the WNBA.
You just knew she would be.
You knew it when she led her Notre Dame team to the 2018 National Championship on a last second shot.
You knew it when she passed fellow Irish alum Skylar Diggins-Smith to become the Notre Dame's all-time leading scorer.
You knew it when her name was called at No. 5 overall in the 2019 WNBA draft.
You just knew the 5-8 walking bucket was going to take the League by storm. And in a way, so did she.
"I have a lot of confidence in myself. So I knew whatever I brought to Dallas, I would help the team for sure. No matter what it was, off the court, on the court," she shares with WSLAM. "I knew I would help the team however I could and make a name for myself in Dallas."
And throughout the League.
And what a name.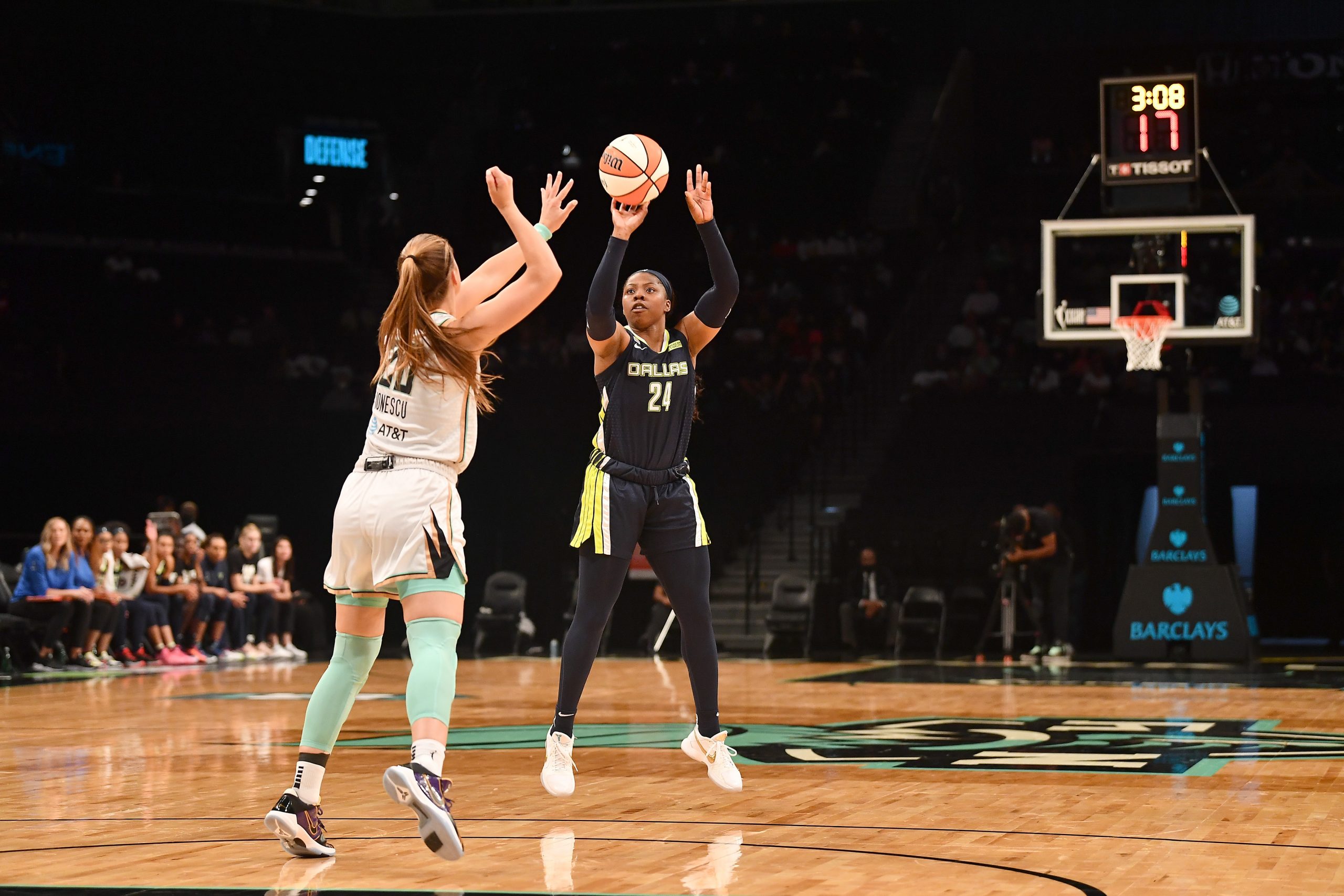 She was a unanimous All-Rookie selection and WNBA Rookie of the Year runner-up after finishing third in the League in scoring (19.1 ppg) and leading her team in scoring. With a total of 630 points (third in League history in rookie points), she tied Maya Moore's record of 30 or more points in four straight games.
For her sophomore year, Ogunbowale—who admires the game of legends Seimone Augustus, Lisa Leslie, Maya Moore and Diana Taurasi—won the WNBA scoring title (22.8 ppg), recording four 30 point games in back-to-back years.
This year, a few games left in the regular season, she is averaging 18.8 ppg and is on pace to reach career bests in three-point and free-throw shooting. She was also named the All-Star MVP in her first All-Star Gajme after dropping 26 points.
"I want to be one of the top players now and in the future."

– Arike Ogunbowale
But it's not just on the court where Arike is making her name known. Recently, she joined some big names, including Kevin Durant, Elena Delle Donne and Kelley O'Hara, as investors in Just Women's Sports, a growing media platform.
"As you get more into the League, you want longevity and want to start investing in things," she says. "What better way to start investing than in women's sports? I'm involved in women's sports. It's what I do. If I have daughters, this is what I want them to do, and I just want to inspire young kids."
"This is really putting my money where my mouth is, elevating women and all that they do, so why not invest in it and have a part in helping it grow? That was really important to me."
Ogunbowale, who's signed with Nike and most recently partnered with Red Bull, also has her hand in uplifting young people. She recently worked with the Dick's Sporting Goods Foundation to give away clothing and other gear to young girls.
"I have a lot of things in store. Whatever I am doing, I am definitely trying to make young girls and our community the focal point. That's what I'm big on."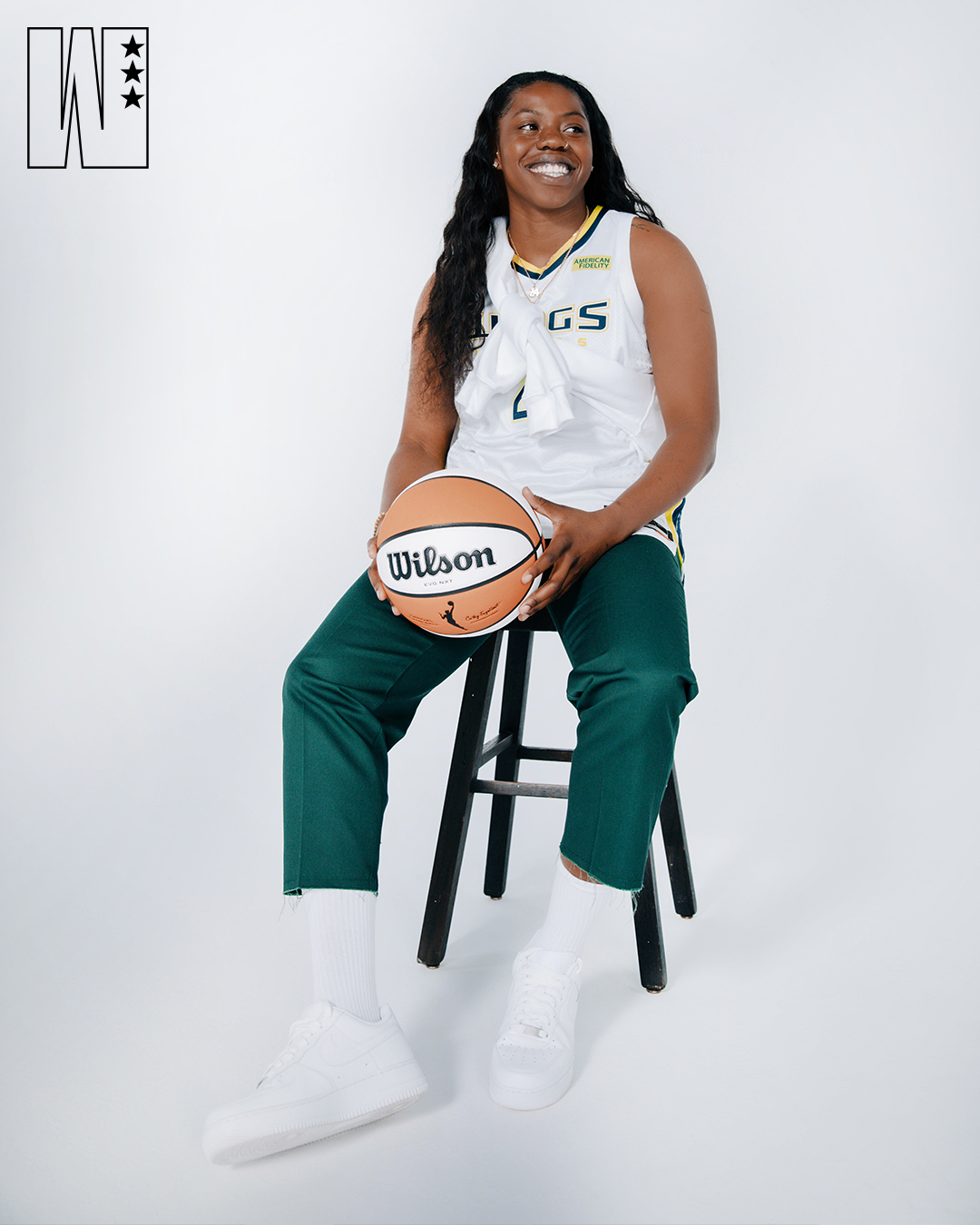 She's also big on basketball, and getting into the playoffs remains her top priority; something she's yet to experience after a 10-24 finish her rookie year; 8-14 in the shortened 2020 wubble season, and currently 10-13 this season, one game out of the playoffs.
"I'm good. I'm locked in and getting ready for the second part of the season," she answers with trademark confidence when asked about her current state of mind.
And she has to be.
Although there are other talented veterans on the Wings, including Olympic Gold medalist Allisha Gray, defensive stalwart Kayla Thornton and Isabelle Harrison, it's Ogunbowale who's the face of the franchise and the leader of the team. She has been since she was drafted and named starting point guard in the absence of Diggins-Smith. How challenging has it been for her to step into the role of leader and help put the Wings in the best possible position to succeed?
"I wouldn't say challenging, it's just a process, especially with me being young myself," she explains. "I already had to be more of a leader even in year one when I was starting point guard. I'm not even done with year three and I'm already considered a leader, and that's just who I am and what I add to this team.
"In order to be a top player, you have to lead as well, so I think I'm growing in that and learning and that's still a process, too. I'm not the best leader yet," she admits. "But I'm definitely working at it. And it helps to have teammates and coaches who trust you, trust what you say; believe in you as a leader. That definitely elevates my confidence as well."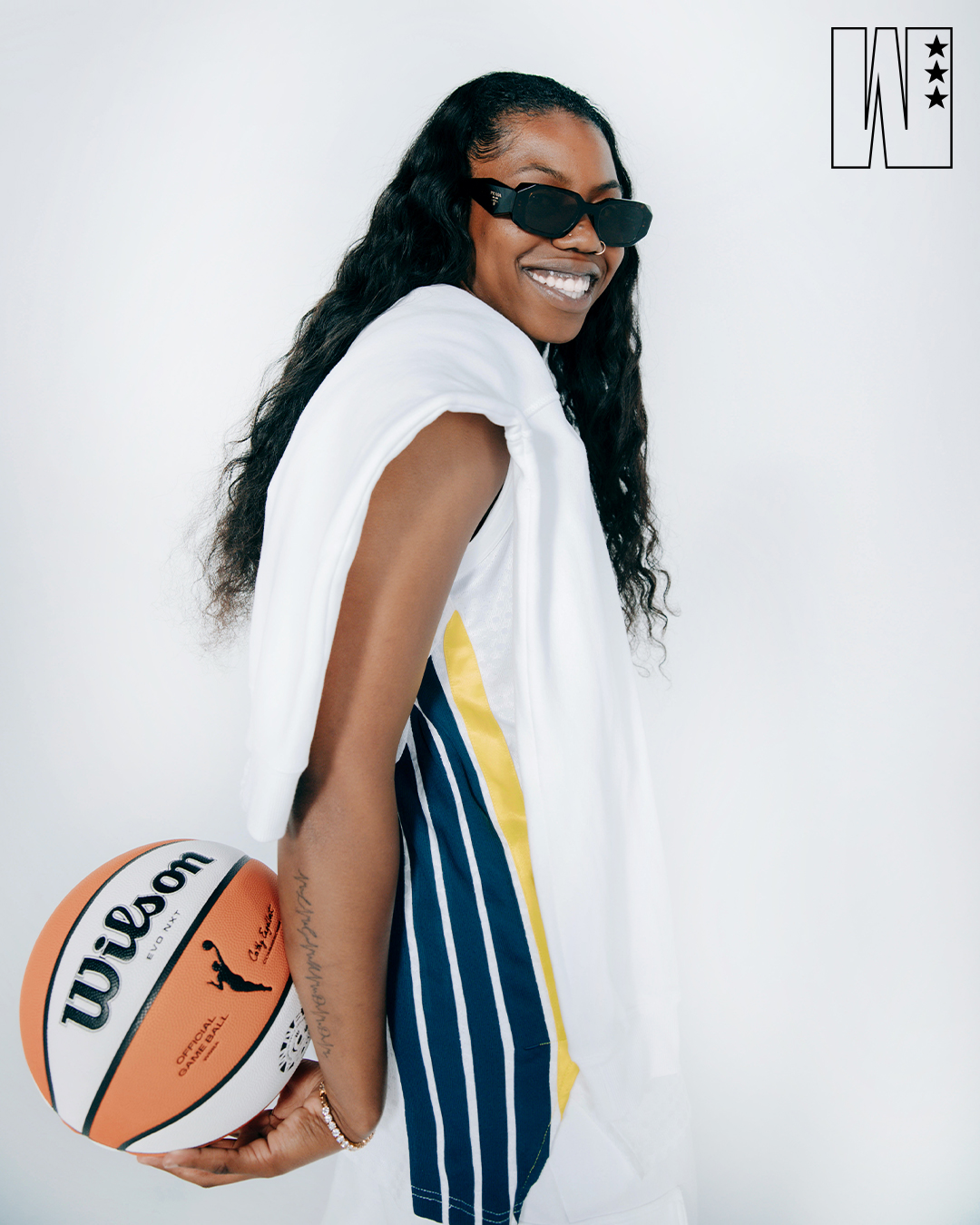 Wings teammates Harrsion and Bella Alarie, who have played alongside Ogunbowale for three and two years respectively, have seen the growth and evolution of their teammate and see no limits on her ascension to the top of the League.
"My favorite thing about Arike is how talented she is, but still has a listening ear," says Harrison. "Even when she got here her first year, she was our leader. Arike was the person we were going to give the ball to at the end of the game so she stepped up a lot. This is her third year now, I think she is just getting more comfortable in her role as far as being vocal, leading off the court, encouraging people and holding herself to a standard defensively. She wants to grow. I don't know if people see that about Arike. She wants to grow and she wants to be better.
"So any Arike slander, I don't listen to it. I don't care who it comes from," Harrison says laughing, but also very seriously. "That girl wants to be better. And I love that about her. She is just so humble. She is just putting herself on the next level. She can only go up. She is pushing herself to be good."
Alarie calls Ogunbowale, "a fantastic player, playmaker and extremely confident. And that's something I look up to her for. She's not afraid to take those last second shots that make or break the game. I really admire that."
"The way she's grown into herself, she's done a great job of carrying us along with her," she continues. "I really love playing with her. She brings a great attitude to the court. She plays hard and she is only going to get better."
One area Ogunbowale is striving to improve upon is reading defensive schemes other teams are throwing at her as they try to make it more difficult for the bucket-getter to score.
"Everyone knows I can score, but every night it's a different defense. The hardest thing is being able to adjust every game to different defenses because teams throw different things at me," she says. "Being able to adjust and read the right plays—you know, if I'm getting trapped, I gotta swing it quick—just being able to get up on those things faster." There's no doubt she'll improve defensively and in any other way she desires. Ogunbowale has that kind of will, dedication and focus—much of which comes from her family, whom she calls the source of her inspiration and motivation and with whom she connects with every day. "My support system is really big and definitely keeps me going."
What also keeps her going is her competitive nature and her desire to take her team further than they've ever gone.
"I'm locked in. We've got some important games. We've gotta get these wins in order to make this playoff push. I'm really locked in right now."
---
Go behind the scenes with Diamond, Betnijah and Arike for their WSLAM 1 cover shoot!
Portraits by Raven B. Varona. Follow Ravie B. on Instagram, @ravieb.
Action photos via Getty Images.