Dallas legend Barbara Brown-McCoy, a Former Player for USA Basketball, is on a Mission to Inspire Young Mothers
This story appears in SLAM 241. Shop now.
Better late than never, a hero of the historic Oak Cliff neighborhood in Dallas is getting some love. Former star player, coach and athletic director Barbara Brown-McCoy was good enough to make a US Olympic team but played her best basketball in the late-'70s, when proper opportunities for female hoopers were almost non-existent.
A true bridge of eras in the sport, Brown-McCoy got pregnant while she was a student at South Oak Cliff High School. Dallas Independent School District rules at the time dictated she could not be a high school athlete as a teen mom, but SOC head coach Gary Blair, who would go on to a storied 42-year career as a college coach (primarily at Texas A&M), fought for Brown-McCoy's right to play.
"Gary was trying to help me and my mother so that I had an outlet after high school," says Brown-McCoy, beaming about the recently completed Barbara Brown-McCoy Showcase, a 14-team invitational held at SOC HS that kicked off the girls' high school season in Texas in early November. "That made me work harder because he gave me a second chance. Hard work has always been a part of me." Brown-McCoy's high school career came at the end of the "six-man" basketball era. If you're not familiar, it was a rule in some states (Iowa, most famously, but also Texas until it was abolished after Brown-McCoy's senior year in 1977) under which each team played three girls on offense and three girls on defense and none of them could cross halfcourt. Brown-McCoy was, to say the least, a dominant defender.
"I knew how to shoot because in middle school I played 5-man, but in 10th, 11th and 12th grade, I played nothing but defense," recalls Brown-McCoy. "When I played for SOC, we were loaded with talent and I was OK with being a defensive player. I was an all-stater and defensive Player of the Year three years in a row, so there were honors just like if you were a leading scorer."
Asked what her secret was on the defensive end, Brown-McCoy says, "My ability to block shots. I could jump. By 10th grade, I was touching the rim. That's how we intimidated the other teams. The short ones would touch the net. The next group would touch the backboard, and then I would touch the rim. I was the first girl's player in Texas to be called for goaltending."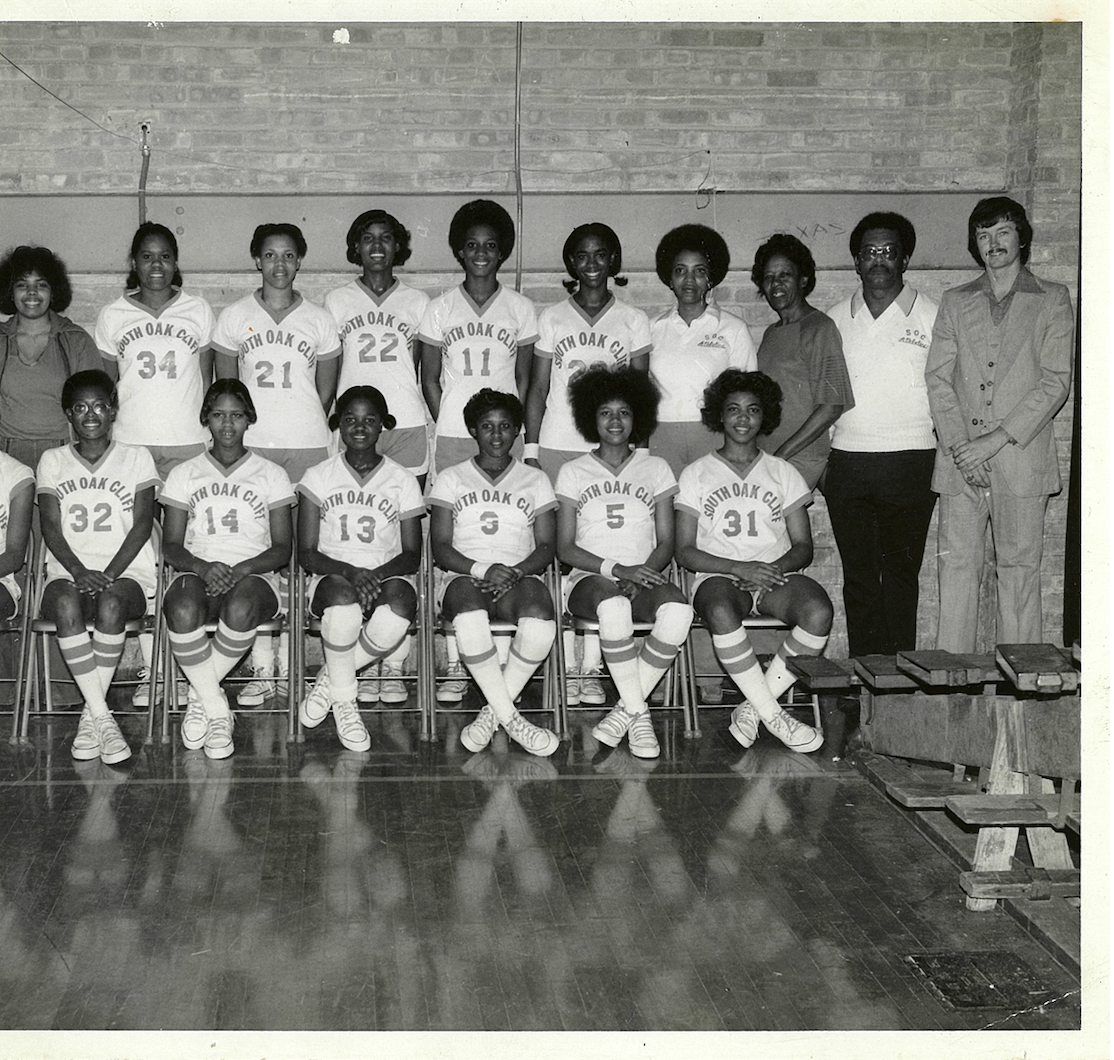 Having kicked off a dynasty for Blair at SOC with a 102-9 record in three years on varsity that was capped off by a state title in '77, Brown-McCoy sifted through tons of college offers before settling on in-state Stephen F. Austin University, wanting to mix good hoops with a chance to stay close to home.
Brown-McCoy had a spectacular college career under another legendary coach, Sue Gunter, and was chosen for the 1980 US Olympic team. Alas, that team did not get to play in the Olympics due to the US boycott of the '80 games in Moscow. Brown-McCoy flirted with joining the short-lived Dallas Diamonds pro team but instead fulfilled a promise to her mother and graduated from SFA. She then stayed in the USA Basketball orbit through the '84 Olympics along with many other players from the '80 roster who had not turned pro, scrimmaging and touring with the '84 team. Professionally, however, Brown-McCoy left playing behind and transitioned into coaching.
She had a short stint at Bryan Adams HS in Dallas before returning to SOC as head girls' basketball coach, reaching the state title game. In 2001, Brown-McCoy made history yet again when she was named the first-ever female athletic director in the history of the Dallas Independent School District.
Now a 64-year-old mother of three, Brown-McCoy has been retired from formal work since 2011 but is still very much a presence in the Oak Cliff community. And, thanks to the work of photographer and documentarian Don Tortellini (peep his beautiful profile of "Ms. Barbara" on @villageoakcliff IG) and other things like the freshly started high school showcase event, she is rightfully getting her flowers.
"I've always been behind the scenes. I played basketball because I had a God-given ability to play it and I enjoyed it, not for any accolades," Brown-McCoy says. "Now I have to say 'thank you, Don.' I've been in Dallas all these years and no one has gone to the lengths Don has to tell my story. I'm so thankful for him. My prayer is that, eventually, the platform will come where I can talk to young mothers who think their lives might be ending because they had a child. But if you're willing to put in the work…it's actually just beginning."
---
Portrait by Don Tortellini. Follow them on @villageoakcliff @shyaboutmyart.