"It wasn't like I was sitting at a table or anything," Darius Bazley says. He's talking to SLAM on a Friday afternoon at the end of his senior year of high school, looking back on the moment that he knew he wanted to buck tradition and find a unique route to the NBA.
"I don't really remember the exact date," he continues. "It was a big decision, but it wasn't a big announcement, you know what I mean? Nothing crazy. The idea was already in my head."
A few weeks before our conversation, Bazley sent shockwaves through the basketball world by switching things up. He announced his intention to decommit from Syracuse to travel down a road no one else ever had. He wants to become the first player to ever jump straight to the G League from high school.
The path from Princeton High School (OH) to the League seemed to already be perfectly plotted out for Bazley. The 6-9 forward is a five-star recruit who had caught the eye of Cuse's legendary Jim Boeheim. On the strength of 15 points, 10 rebounds and 2 blocks per game as a senior, he secured invitations to the McDonald's All-American Game, the Jordan Brand Classic and the Nike Hoop Summit, games reserved for only the nation's top talent.

He earned his spot in those showcases by displaying a versatile array of finesse and power. Sometimes he's flying down the lane on the fast break, other times he's playmaking from below the foul line. He can rise up from the weak side to swat shots and he's got touch from the middle. His finishing around the rim stands out. He can throw down with either hand or put the backspin off the glass with his lays.
"A lot of people at his size now in the game of basketball can't do what he can do," Steve Wright, his high school and AAU coach, tells us. "His skill set, being able to come off ball-screens, I know a lot of people didn't see that during the McDonald's and Jordan Brand game and Hoops Summit, but he has the ability to do that, and I think he will be able to showcase that once he gets to his next destination."
His next destination is the G League, a league full of professional players with years of college, overseas and NBA experience. And the hunger to earn a paycheck.
Both Bazley and Wright fully acknowledge that this uncharted journey to the Association is going to be difficult. Wright says they've looked at how Terrance Ferguson and Brandon Jennings went overseas before hitting the NBA and adapted to those situations. And Bazley doesn't have any illusions. He says he doesn't expect to immediately get his in the G League.
"I mean, if we're being honest, no one is just going to go in there and dominate," he says. "My goal is to get better. I think dominating the G League is pointless. I'm not saying I'm not going in there with the right mind-set, but I'm just saying, going in there with the mind-set of I need to average 30 and have a triple-double every night is pointless because I'm not looking to be a G League hero or a G League legend. My goal is to get to the NBA, so I'm using this as a development for me. This is just me getting better, getting ready for the NBA."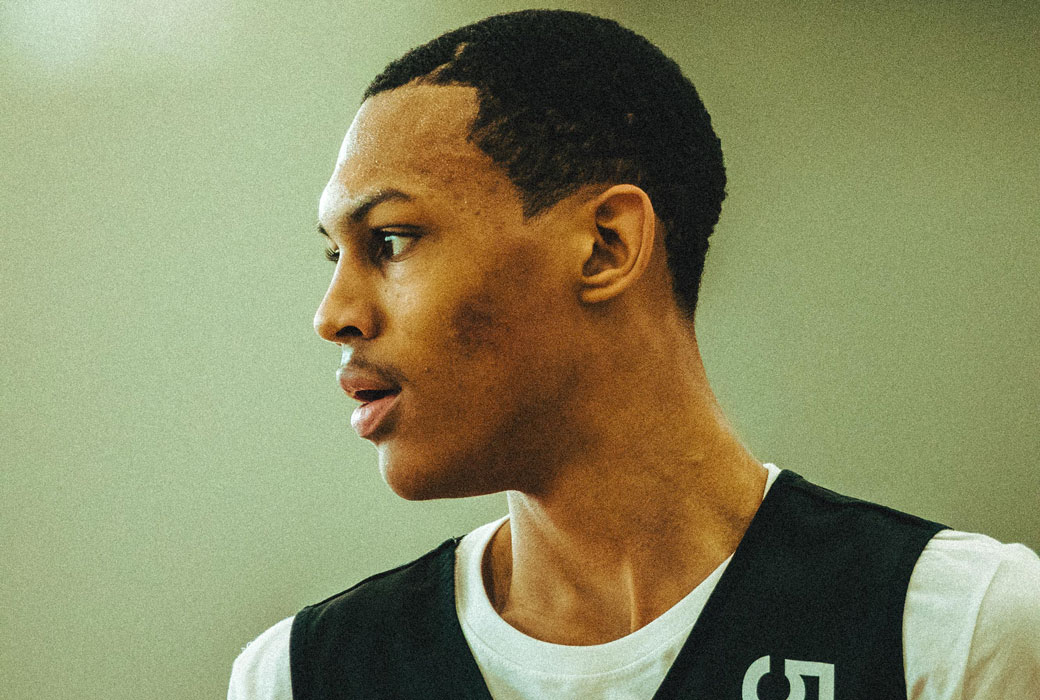 Now that he's 18, Bazley can officially enter his name in the G League draft, which takes place in October. Though Coach Wright says Bazley's decision was initially "shocking," he has confidence that he'll find his way.
"Darius is his own person," Wright says. "He has his own different thoughts and he has people around him, especially myself, his mom, other coaches. We support our kids and the decisions that they make. It was something that he thought about and he came to me about it, came to his mom about it and, of course, we showed our support."
"My end goal is to get into the NBA," Bazley says, "and I felt this is my best bet at getting there."
—
Max Resetar is an Associate Editor at SLAM. Follow him on Twitter and Instagram. 
Photos via Getty. 
6,259