Former No.2 Pick Darko Milicic's NBA Career Didn't Turn Out as Predicted. Is That His Fault or Ours?
This story appears in an entire magazine dedicated to one of the most impactful draft classes ever. Get your copy here.
By the end of his second year as a benchwarmer, Darko Milicic was as unsure about Darko Milicic as the rest of us. "I can't say how good I am or how bad I am because I haven't played to show myself or anybody," he told reporters. Darko had been picked No. 2 in a draft so good you're reading a magazine about it 18 years later. But he played in just a few dozen games as a rookie and again as a sophomore, and only when games were well in hand. His stats were more like nonexistent than bad, and as his fellow draftmates thrived, Milicic was quickly deemed an all-time bust. In the end, it's hard to argue the label. But did it arrive too soon?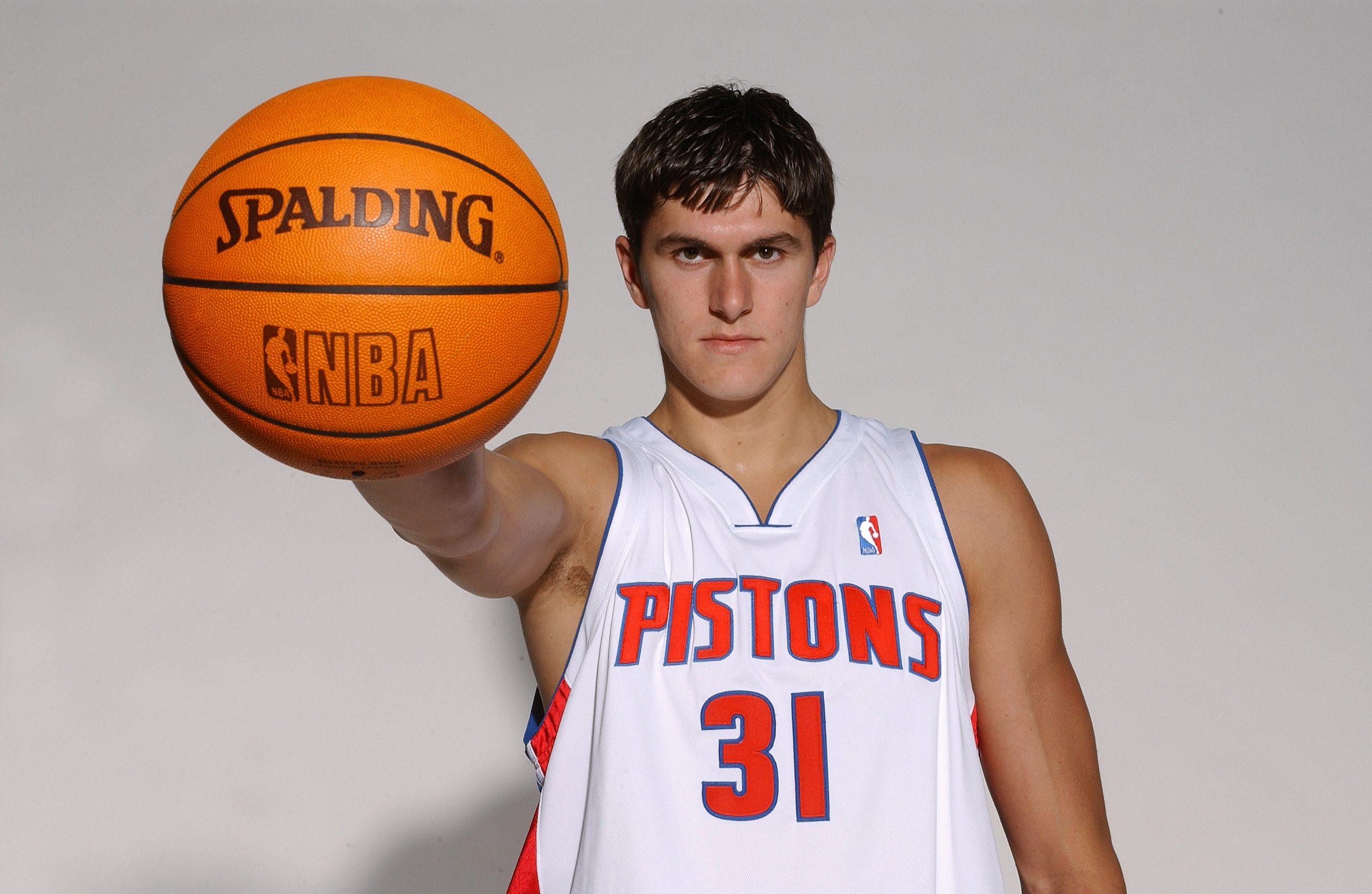 Recently, as I thought about Darko's somber time in the League, I realized that my memories of him had more to do with cheap jokes and my own expectations than with his basketball talents. I remember the scowls he drew from Larry Brown in Detroit, his bloated contract in Minnesota and his doomed tenure in New York. And then there is the great question of whether the Pistons would have still won the '04 title had they drafted Melo or DWade instead (Ben Wallace says no; Melo says they woulda won two or three).
But I could hardly remember Darko, the young player. I wondered when exactly the public turned on him and why we did it. Is it possible he was better than we gave him credit for? In hopes of validating the big man, who turns 36 this summer and seems happily retired on his farm in Serbia, I went to the tape.
His first-ever NBA touch is thrilling to watch. It's a preseason game, but still. A "league executive" had previously been quoted by ESPN as saying that Darko "already has moves that remind me of Olajuwon in the post," and…I mean…Darko receives the ball on the right block and without wasted motion pounds two hard dribbles, bumping his defender under the cup, twirls toward the baseline, transitions the ball into his left (dominant) hand, and finishes softly. "That was an eye-opener, folks," the local broadcaster says. In retrospect, this moment seems to mark the peak of Darko's career.
As the '03-04 regular season begins, he's buried on the bench behind Ben Wallace, Rasheed Wallace, Mehmet Okur and others. Milicic doesn't score a single NBA point until December. He plays 25 minutes in all of February—a month in which Anthony, the No. 3 pick, averages 27 points.
In March, as the Pistons travel to Phoenix, Darko's disappointing legacy precedes him. The TNT broadcast airs a cruel graphic about the 1984 Draft, when Olajuwon, Sam Bowie and Michael Jordan went 1-2-3. "You've got kinda the same feel for this draft, with James, Milicic and Anthony," the broadcaster says. Darko is still only 18. He plays under four minutes and has 2 field-goal attempts.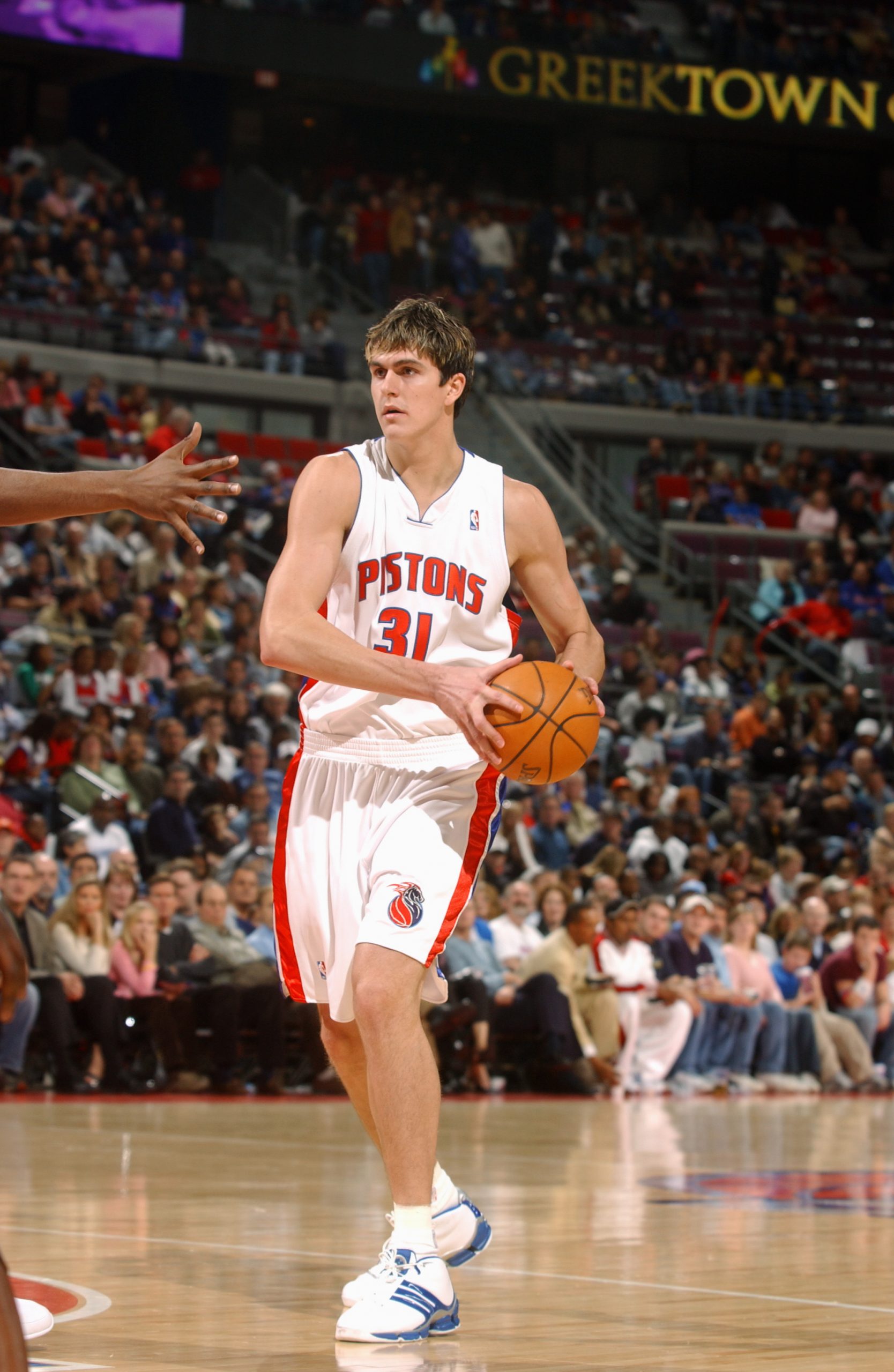 Soon, the team is in Denver, against Anthony. The Pistons lead by 20 in the fourth quarter, so Darko gets to play. His teammates make an effort to feed him, only each possession seems worse than the next: a missed hook shot, an intercepted entry pass, a three-in-the-key call against the rookie, a heinous lefty runner that clanks off the backboard and then the rim.
His downward spiral is officially in progress (though I'll reiterate that he's still only 18). Within six months of Darko's dazzling preseason debut, he's a downtrodden garbage time specialist who can't stop flailing and getting blocked. By the end of his rookie season—to say nothing of the years that would follow—there seems to be no joy left in Darko's game. There's no hop in his step, no sense of a fantasy fulfilled. He seems to want out. And he won't find peace on the bench, either: seated on the pine, Darko draws ironic cheers everywhere he goes. As Detroit's leads balloon, crowds start to buzz, hoping to catch a glimpse of the teenager making the wrong kind of history.
"It's nice that people like me, but if they have to cheer for me to come into the game, that's not good," he said late in his sophomore season, a few days shy of his 20th birthday. "It doesn't make me feel good at all."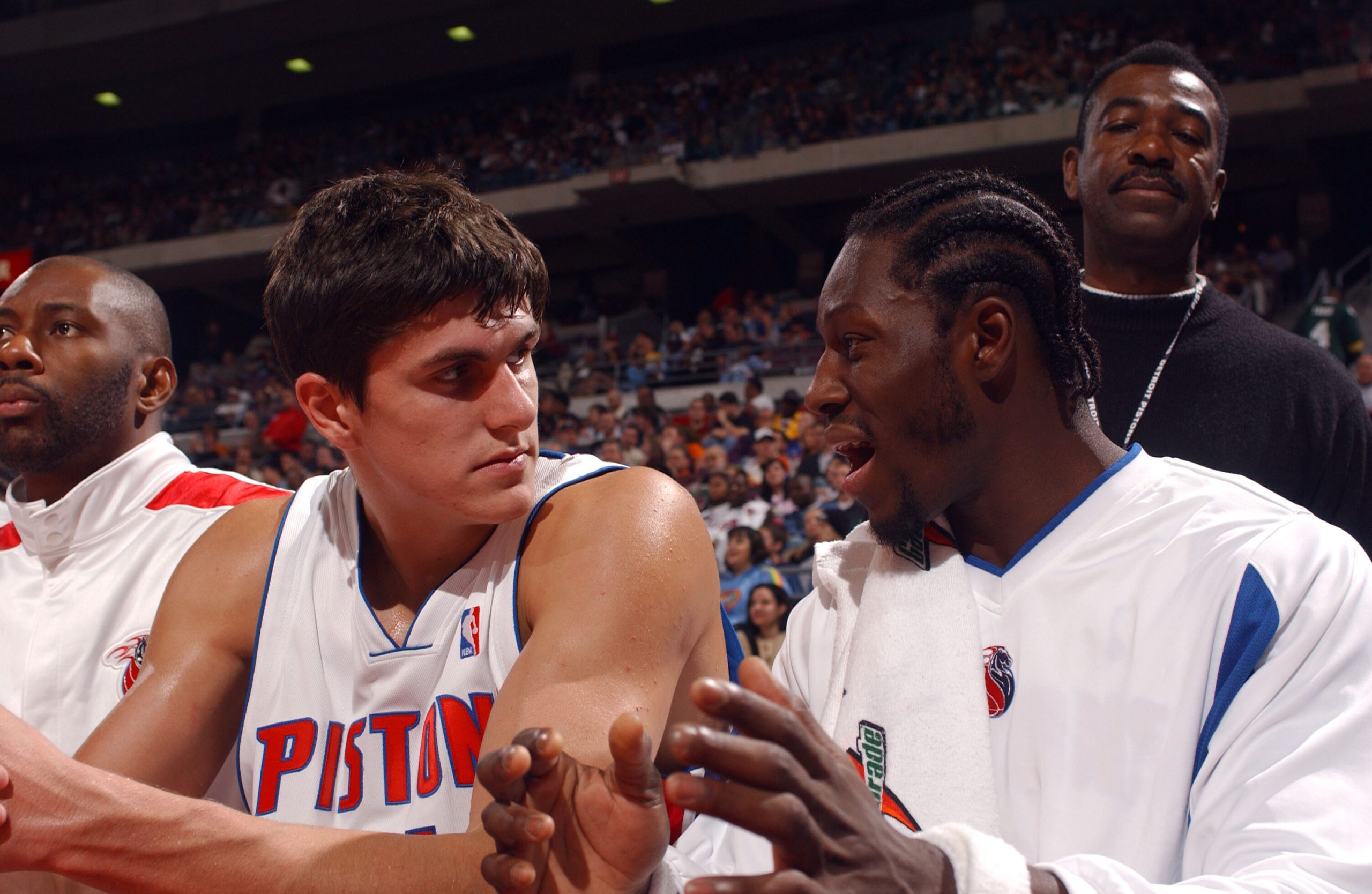 His melancholy is what stands out on the game tape now, years later, far more than athletic limitations or a crooked jumper. Later we'd learn that Milicic drank heavily and slept little in those early years. But even without that insight, it's easy to see a burdened player on the floor. Maybe Darko's demeanor jumps out because Anthony, by comparison, exuded such enthusiasm and confidence. Maybe it's because I feel partly responsible. Did our (my) quick judgment induce Darko's cringe-worthy, glum style of play? Would he have had a chance without us? His career was spent in a miserable feedback loop—public criticism being validated by on-court gaffes that drew public criticism and so on. Could he have broken free with more minutes and a few big games? As I work through his archives, I pretend not to know the answer to that question. I continue on, searching for a redemptive clip, hoping the next one will rewrite history.
---
SLAM PRESENTS THE '03 DRAFT AVAILABLE NOW.

Photos via Getty Images.