With less than five weeks to go before the NBA Draft in New York City, De'Aaron Fox finds himself preparing for the big night about 2,400 miles away on the opposite coast. He's fully aware of the stakes at hand as he goes through his pre-draft training regimen in Thousand Oaks, CA. In about a month he'll become part of the 0.03 percent of ballers who beat the odds. That much he already knows. But on this day, where exactly he'll live it out is anyone's guess.
"If you're doing your pre-draft workouts right, you should be able to go and impress teams," he says after a workout while his agent begins coordinating exact dates for those individual team auditions in the weeks ahead.
As small as they were, the odds have seemed to be on his side since forever. Well, since middle school, to be more exact. It was in junior high when the now 6-3 point guard first started getting college recruiting phone calls and even picked up a high-major DI scholarship offer before he ever set foot in a high school classroom.
"I remember it vividly. Some friends of mine were having a garage sale. It was a Saturday morning and I went to help out," recalls De'Aaron's mother, Lorraine, about the first time a college coach reached out looking to recruit her son. "My phone rings and it was [assistant] Coach [Jerome] Tang from Baylor. [De'Aaron] was in seventh [grade]. And I'm like, Where did you get my number from? That's what I'm thinking. I was listening to Coach Tang and he was like, 'I came to watch De'Aaron in PE.' And I'm like, OK, alright. And so when I got off the phone with him and I'm talking with my friends, I'm like, That was a coach from Baylor calling about De'Aaron! I was shocked." (Lorraine has some hoops pedigree herself—she played basketball from 1986-88 at the University of Arkansas-Little Rock, where she holds the single season school record for her 92.8 free-throw shooting percentage.)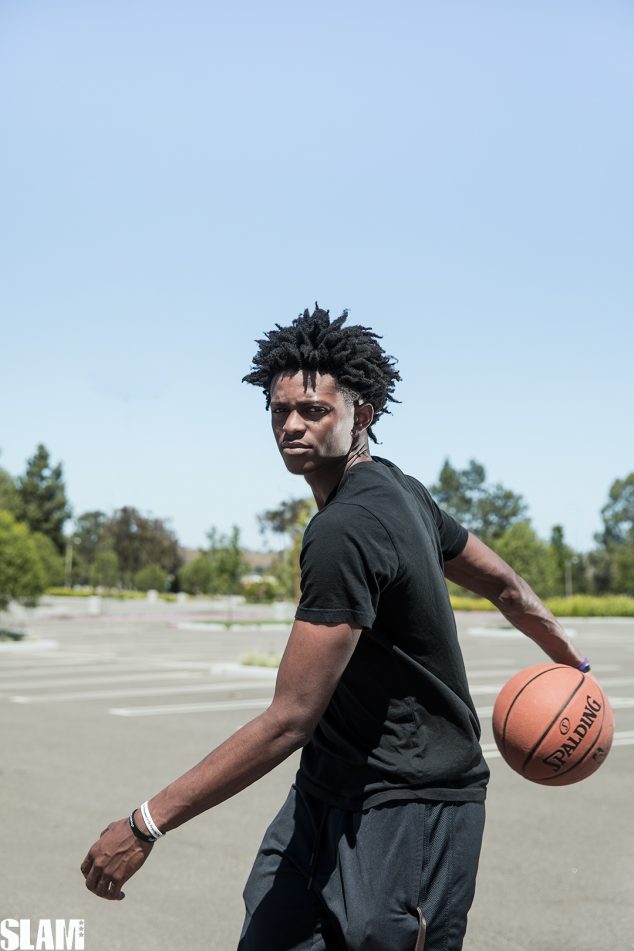 By eighth grade, Baylor had already offered the young teen a scholarship. Word quickly started circulating that there was a kid out of suburban Houston who could really hoop. And so when it was time for high school, making him the starting point guard on the varsity squad from day one was a no-brainer.
"He already had an offer coming in and he could play at that level," recalls Cypress Lakes HS (TX) head coach Emmanuel Olatunbosun. "He didn't look like it physically but at the same time I don't think people thought, physically, he could play at Kentucky his freshman year. He was skinny, but he was strong. His skill set was so defined at such a young age that he could play because he could score the basketball. His freshman year, he led us in scoring—he averaged 23 a night as a freshman. So we didn't even fool around with it when he came in as a freshman. He was our starting point guard—there was never a debate."
Choosing to attend the neighborhood's local public school, which was just five minutes from his house, instead of going with the plethora of schools in the region that were known for athletic dominance was all part of the plan. Cypress Lakes was a relatively new school when De'Aaron came in as a freshman. It had only been in existence for four years. The school had no notable alumni and not much of a history on the athletic side, either.
As with any new program, the expectation was that it would take a while before the sports department would get rolling. And so when Fox arrived in the fall of 2012 as a highly touted local prospect, the star in the making had a fairly good idea of what he was up against.
"I told him, bless your own path," remembers De'Aaron's dad, Aaron, who played football at Fort Hayes State University in Kansas. "You don't have to follow nobody else. He bought in to it. It was more of a thing of, Why leave the neighborhood when everybody can watch you play here? He learned to bless his own path."
Adds De'Aaron, "It was difficult but I felt it was nothing I really couldn't handle, so that's why I didn't go the prep school way. I was fine going to a school in my backyard."
De'Aaron took the program to new levels, pretty much carrying the team on his back for much of the four years. But it was the summer before his senior year when De'Aaron realized that he actually had a shot to play for college basketball's cream of the crop.
While playing for Houston Hoops in the 2015 Nike youth travel circuit—better known as the EYBL—which is annually regarded as the most star-studded grassroots circuit, he led the league in both assists and steals. At the annual Peach Jam, the EYBL's season-ending session in North Augusta, SC, Fox picked up interest from Kentucky head coach John Calipari. A couple of weeks later at another tournament in Las Vegas in late July, the Hall of Fame coach would formally offer the Katy, TX, native a scholarship. But it wasn't until a couple of months after that when Calipari made a recruiting visit to De'Aaron's school and home that the coach realized the then-17-year-old's unselfishness went beyond the court.
"I go to his school and he kind of parades me around," Cal says. "He wanted everyone to be involved. He wanted everyone to enjoy this moment. He didn't make it just about him."
De'Aaron specifically wanted a classmate of his, Seth Barnett, to meet Coach Cal. Seth, who was born in Eastern Kentucky, went to Cypress Lakes but suffered from cerebral palsy. He was in a wheelchair, and the biggest Kentucky fan De'Aaron knew, always rocking Big Blue Nation gear.
"When I went to the home, the mom brought the child there and we got to interact," says Calipari. "And that's when I said, This is about more than just himself. He's a gatherer. He wants to use his position to help others. Bang! I was locked in. I knew this is the kind of guy you want running your team."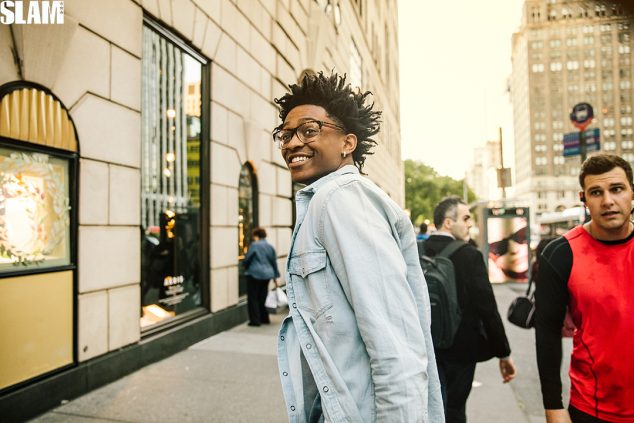 To be the starting point guard at any high-major DI program is a tough task. But to be a freshman and the starting point guard for the Kentucky Wildcats, where kids play under such a large microscope and scrutiny every single night, is not for the faint of heart. And to add to the expectations, Fox was being compared to Washington Wizards All-Star John Wall, a former Wildcat himself, before he even set foot on campus.
Speaking of expectations… Kentucky came in this past season with the No. 1 ranked recruiting class in all of college basketball. Lexington has actually been home to either the nation's No. 1 or No. 2 recruiting class every year since Calipari took over in 2009. (And, yes, they have the No. 1 ranked recruiting class again this upcoming fall.)
With five top-30 recruits entering the program last fall, expectations were sky high. And not just within the media and the BBN fan base, but also inside the locker room. That explains the raw emotional reaction that went viral after the Wildcats were eliminated by the eventual champs, the UNC Tar Heels, in the NCAA Tournament's Elite Eight. Fox wound up crying uncontrollably in the arms of fellow freshman star Edrice "Bam" Adebayo while reporters stood by attempting to ask questions. It was only the second time his mom had ever seen him cry after a loss.
"Just knowing that was my only opportunity to win a National Championship—competitiveness spilled over," says Fox about how hard he took the loss. "Just knowing that we were up 5 with like two to three minutes left, knowing that we could have won that game is what really [hurt]. Just losing that game the way we did. It was tough losing like that. It's not the same when you have another chance to win it. That was the part that hurt the most."
While he didn't reach the ultimate goal, De'Aaron did manage to make a few statements. He lived up to the billing in every facet. Actually, surpassed it. Whether or not he's the second coming of John Wall, the Lone Star guard showed why there's even the thought of his potential reaching that level. He famously exploded for 39 points on the national stage to help his team eliminate UCLA in the Sweet 16. Along with the team victory, Fox also won the highly anticipated individual match-up against fellow potential top pick Lonzo Ball. He also became only the second player in program history to ever post a triple-double by finishing with 14 points, 11 rebounds and 10 assists against Arizona State in the first month of the season. And he eventually forced his way into the top-three overall draft pick conversation after finishing out his college career with such force.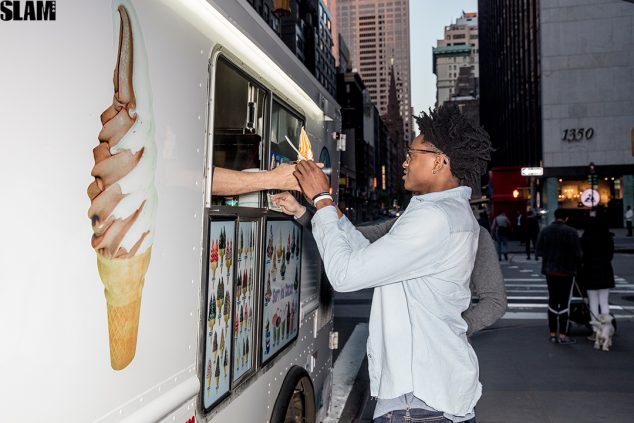 An explosive guard with lightning speed and feisty defense—where he is constantly swiping the ball from opponents with ease, hence his "swipathefox" Instagram and Twitter handles—Fox's potential is as promising as it gets. But it's his off-the-court personality that really separates him from the pack. He's a "personable nerd," according to his HS coach. While known to the hoops world for his high motor and intensity on the hardwood, De'Aaron has mastered the art of balancing life on the court with knowing when to turn the switch off away from it.
Known as a hardcore video gamer and avid anime enthusiast, Fox spent many nights of his childhood on a couch upstairs, where he turned the space adjacent to his bedroom into a multi-screen game room. He now credits that setup for helping him develop a specific set of skills that he utilizes on the court.
"At my house it was set up where I had a TV on the floor and then a TV above it," Fox says. "I'd sit on the couch and have a laptop and iPad. The TV, honestly, you probably couldn't hear the volume all the time, because if there's a game on, I don't need to hear it. I could just watch it. I could have that on and be playing a video game [on the screen below it], and then [on the laptop and iPad] watching the show that I want or be on YouTube. I don't know how I do it but I can literally process all of it. I've gotten so used to it that it's normal now. I do feel like multitasking off the court does translate to doing things on the court. As a point guard, you basically have to remember five positions. You gotta see everything. If you're a point guard and can't process stuff quickly, it's going to be tough for you. I do feel that helped me to be able to process more than one thing at a time."
It's all led him to a unique mental state, one he hopes gives him an edge at the next level, where simply being good isn't good enough.
"Great players just have a different kind of mentality," he says. "Being great is difficult. It's not all that hard being good—there are a lot of good players out there. Some people are good and don't even try. But being great is different."
—
Franklyn Calle is an Associate Editor at SLAM. Follow him on Twitter @FrankieC7.
Portraits by Ricky Rhodes and Chris McPherson.
Video by Shoot To Kill NYC
671