Consider the task.
Dejounte Murray is 21-years-old and has been summoned to replace a future Hall of Famer in Tony Parker as the starting point guard for the San Antonio Spurs.
Parker held the job when healthy from November 6, 2001 until January 21, 2018.
But that merely scratches the surface.
A dynasty that has spanned two decades, hung five banners in the rafters, and resulted in nineteen 50-or-more win seasons, is currently at a crossroads. Tim Duncan is gone. Parker and Manu Ginobili will soon follow. For the first time in awhile, the Spurs are fighting for their playoff lives in the final weeks of the regular season.
The burden now falls on players like Murray to ensure the torch remains lit as it is passed – To prolong the success of one of the most dominant empires in not just basketball, but all of sports history.

Yes, the task is daunting, especially for someone who graduated high school only a few years ago. But Murray isn't afraid of it.
And Spurs fans worried about the future can find comfort in this: Dejounte Murray is all in.
—
It's a Tuesday night at Capital One Arena in Washington D.C. The Spurs are in town to play the Wizards, and though it is late March, Gregg Popovich's team is still in danger of missing the postseason.
The 6-5 Dejounte Murray sits at his locker, headphones on, staring blankly ahead. His serious-minded expression is unwavering. A reporter approaches him, but Murray politely declines an interview. He's getting ready. He's locked in.
Murray's intense focus and commitment to the game is something his teammates have observed.
"He's always super locked in, always in the gym, doing what he has to do," forward Kyle Anderson says. "He's so levelheaded, you don't see that often."
"He's doing everything he can to achieve the highest level possible for him," sharpshooter Davis Bertans adds.
Coming from the perilous south side of Seattle, Washington, Murray is extra wary not to let anything stand in the way of his ambitions.
That means no distractions. No showing up late. No partying.
And if you're as obsessive as Murray, few other hobbies.
"I really just watch basketball, sleep basketball, wake up and go do basketball," he tells SLAM.
His house is conveniently located only 10 minutes from the Spurs facility.
"Where I come from, I just feel like you get one chance at it," he says. "Me being a young African American. One mess up can cause everything to go downhill. I feel like in the NBA, you got to be all in. You can't be 50 percent in and 50 percent out."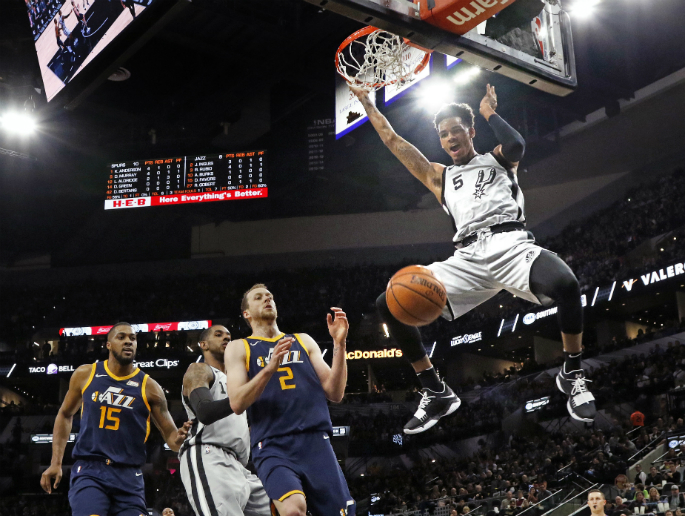 Murray first picked up a basketball at the age of four and immediately fell in love. Growing up, he would beg his uncles to let him play with them – a plea they resisted until they couldn't. Their nephew was simply too good, even for a little kid.
Following in the footsteps of NBAers like Jamal Crawford, Doug Christie, and Nate Robinson, Murray went on to attend Rainier Beach High School, situated in an area permeated by violence and negative influences. Basketball was a refuge. The impressive guard won three state championships before earning a scholarship to the University of Washington – an accomplishment that, given his surroundings, Murray refers to as "making it out."
Everything since then – a successful freshman year of college and now a serious role on the Spurs – has been a bonus.
"My story is different from everybody," he says. "I wasn't raised with a silver spoon in my mouth my whole life."
That's part of the reason it didn't bother Murray when he dropped in the 2016 NBA draft.
Projected as a lottery pick in several mocks, he fell to the Spurs at No. 29, much to the joy of general manager R.C. Buford and the rest of the San Antonio front office.
Landing with a successful, well-regarded organization renowned for its winning culture and player development was also an advantage.
"I talked to coach [Popovich] that day and the biggest thing he told me was, You didn't fall in this draft, somebody fell in love with you, and you fell in love with us," Murray recalls.
Yet the real reason Dejounte didn't dwell on draft night is because it wasn't worth the energy. It would have served as a distraction on the path towards a greater goal – one relayed to him by none other than LeBron James as Murray made the transition to the NBA.
"Don't settle for anything but greatness," James told him.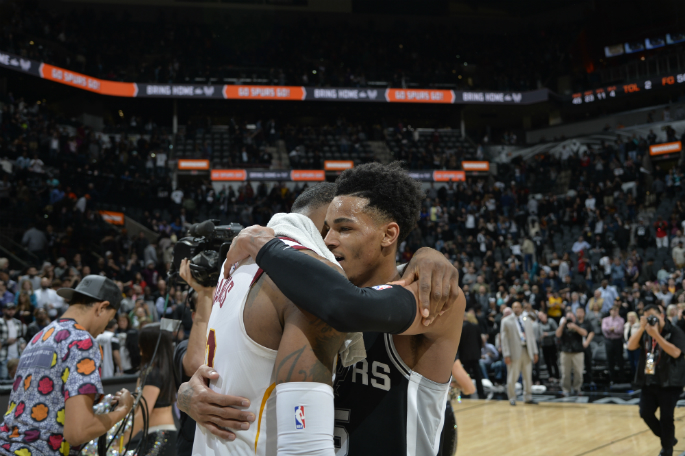 LeBron has always been Murray's favorite player; but once merely an avid fan, he now refers to The King as his "big bro." The two are both signed to Klutch Sports Group and have built a strong bond. They text regularly. Murray hits up James whenever he has a question, about basketball or life in general. James hits up Murray whenever he observes something about the youngster's game, good or bad, that he thinks is worth addressing.
"He's always a voice," Murray says. "He's a great big bro to me. Whenever I need him, he's always there for me."
On that quest for greatness, James serves as a natural role model.
"To reach greatness you got to be all in. You got to really love the game. There's no days off," Murray describes. "Whether it's in the weight room, or whether it's putting up a bunch of shots, or studying film. That's probably the main thing that I took from LeBron."
After spending a large chunk of his first season in the G League, Murray was thrust into action during the 2017 Western Conference Semifinals when Parker suffered a ruptured quadriceps tendon against the Rockets. While he struggled at times, the rook showed promising flashes, then headed into last summer determined to improve in all facets.
Now as the permanent starter in his second go-round, Murray has posted 7.7 points, 5.6 rebounds, 2.9 assists, and 1.1 steals in 21 minutes per contest. He prides himself on being a versatile, two-way contributor who never takes a possession off.
With Murray's unique athleticism and size, teammates struggle to come up with a suitable comparison. He orchestrates the offense and handles the rock, but also attacks the glass like a big man.
In just 113 total outings, Murray has already recorded the most career double-digit rebound performances by a Spurs point guard with 11. As of this writing, he is sixth among guards in boards per game, but he is the only player in the top-15 who logs less than 30 minutes a night. Murray averages the same amount of rebounds per-36 as reigning MVP Russell Westbrook.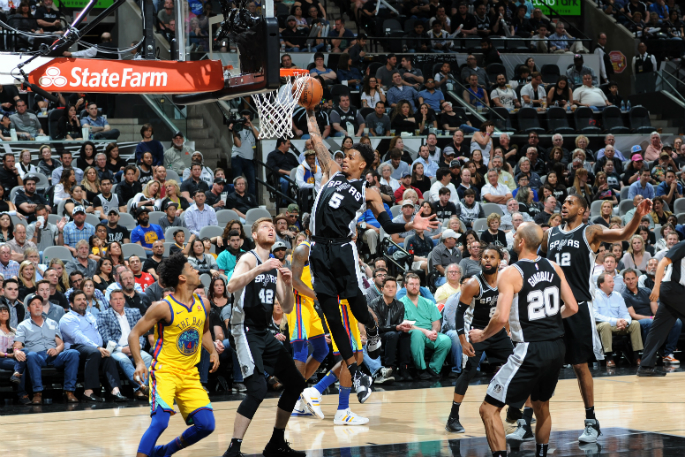 On the defensive end, his length allows him to easily contest shots and disrupt passing lanes. He owns a defensive rating (100.7) that ranks fourth in the League and first among guards. In a crucial 103-99 win over the Thunder this past Thursday, Murray made things very tough on Westbrook, notching five big steals and helping to hold the explosive superstar to just 19 points on 7-of-19 from the field. Overall, the Spurs surrender 108.2 points per 100 possessions when Murray is on the bench. That number drops to 100.5 with him out there.
Though the assist marks are low, Murray is embracing the leadership aspect that naturally goes with being the starting point guard.
"Even though he's one of the youngest guys on the team, he brings that feeling for everybody else that he knows what he's doing," Bertans says. "He's going to bring the guys on the court together and talk about whatever he needs to talk about at that moment. He's trying to be a leader. That's what a point guard has to be like."
But reaching greatness for Murray is about more than that. It's about more than just having a solid work ethic and picking the brains of legends like Parker, Ginobili, and James. It also means playing with no fear and feeling no pressure, even if the position he finds himself in more than warrants those responses.
"I don't fear nobody. We all men. We all bleed the same way. We all got to tie our shoes and go out and play the same game," he states. "That's just been my mentality. Just don't fear nobody and be yourself. If you love the game, and put in all the hard work, it's going to show. And fear should never be something that gets in the way."
It's a mindset that has impressed even coach Pop, who's been around long enough to know when guys are playing scared.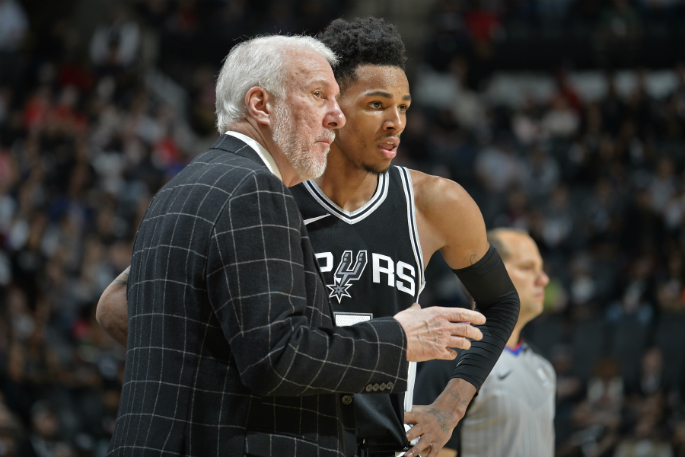 "He's fearless," Pop told reporters after Murray put up 19 points, 10 rebounds, and 7 steals in a win over LeBron's Cavaliers back in January. "He's not impressed. He's learning how to play the game and doing a fine job."
When you combine all of those factors, you're left struggling to pinpoint just how high the ceiling is for Parker's successor.
"I think he's an NBA All-Star down the line," Anderson says of Murray. "But he can definitely go beyond [those] measures for sure."
—
On this particular Tuesday night in D.C., the Spurs just don't have it. Washington cruises to a double-digit victory, and Murray does not leave the imprint that he surely expects of himself.
There is still work to be done – Murray will be the first to acknowledge that. He wants to become a superior point guard by better controlling the tempo and grasping "the little things." He wants to develop his outside shot, which has been inconsistent to this point.
"I haven't done anything," he assures SLAM. "I got a long way to go to where I want to be when it's all said and done."
With that established, you know where to find Murray.
"Honestly man, it's just basketball. That's all I do. I feel like I can do all the other stuff when I'm retired and I'm done. It's cool to have other things to do when you're off the court, but I'm just somebody who's really all in. I'm 100 percent in. I don't want to do anything else right now."
—
Alex Squadron is an Associate News Editor at SLAM. Follow him on Twitter @asquad510.
Photos via Getty Images.