"One could argue that Kenny defined the game of basketball by creating the primary offensive weapon for the game today," says Jacob Hamilton, director of the upcoming film Jump Shot. "But the game never defined who he was."
From executive producer Stephen Curry, Jump Shot tells the incredible life story of two-time All-American Kenny Sailors.
Growing up in the small city of Laramie, Wyoming, Sailors developed the move that has since become the staple of the sport we watch now: the jump shot. But as Hamilton discovered through the process of making this documentary, Sailors was so much more than just a pioneering athlete. He was a US Marine, a groundbreaking women's basketball coach and an inspiration to all who knew him.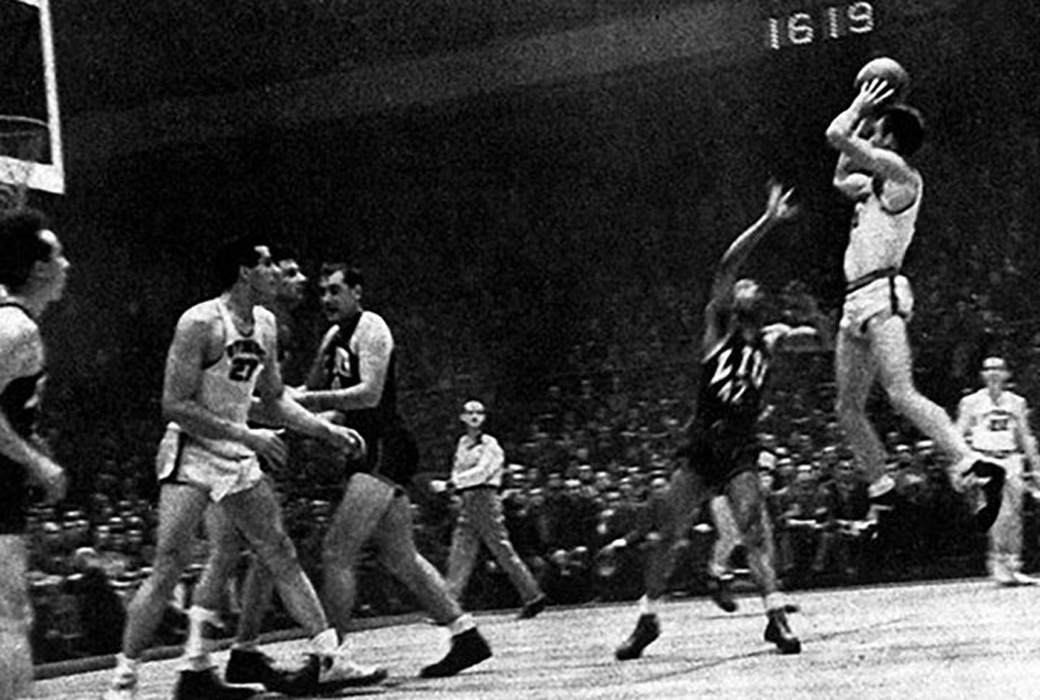 Sailors' journey, on and off the court, has largely faded from the history books. Most fans don't know the true origin of the jump shot or anything about the extraordinary man who invented it. That served as motivation for Hamilton and his team during the 7-8 year production of this project.
We caught up with Hamilton to learn more about Sailors, the movie and working with modern NBA stars like Curry, Kevin Durant and Dirk Nowitzki:
—
SLAM: How were you introduced to this project?
Jacob Hamilton: Earlier on in my career, 2011, I just got the itch to direct something myself. I was like, I feel like I could probably pull off something small, a short documentary would be a great launchpad to see if I like this directing thing. So I started searching for stories. I came across a two-minute audio interview that was titled, "The Man Who Created The Jump Shot." I was kind of taken aback by it because I love sports and who doesn't love to hear about the history of the game or the origin of something as prolific as the jump shot? So I gave it a listen and it was Kenny Sailors talking about the first time he shot a jump shot over his brother and I was just blown away by this story. I had never heard of this. I didn't know if many people had. So there's that aspect of it, but beyond that, I began to do a little bit more research on who Kenny Sailors is and I just fell in love with this guy and what he represents, his character, his humility. At first, I was like, I think I'm going to do a short film. But quickly realized after I did a little bit more digging, this guy has lived an extraordinary life and I think there might be something more than just a short film [here]."
SLAM: The idea that history had lost Kenny's story—how much did that inspire your work on this film?
JH: To be able to reveal something new about a sport that is as loved globally as basketball was a real treat for us. Not only sharing it with just basketball fans, we're sharing it with guys that make their living playing this game and shooting that jump shot, which is crazy to think about. We got to go over to Kevin Durant's home in Oakland at the time and share an early version of the film with him, which was a mind-blowing experience. And getting to share the film with Stephen Curry and him coming on as an Executive Producer was just insane. We shot for the stars and were like, Let's try to find some of the greatest shooters of all time. Some guys that are currently playing the game. Let's just see if they'd be interested in doing an interview. To have Steph say—Yeah, I'll do an interview, but how else can I be involved? Is there something more?—was something we weren't planning on happening.
SLAM: The film also addresses how Kenny has not been inducted into the Hall of Fame. How much was that a driving force behind production? Did you guys have an internal goal/plan of spreading the story to help strengthen his Hall of Fame chances?
JH: That's a great question. I would say that early on in the process, I think I cared more about that aspect, just as a human being. Maybe as a filmmaker [too], I don't know. But as Kenny's story continued to develop for us in the edit and while we were in production, I feel like I kind of took on more of the same mentality that Kenny did, which was: It'd be great, but I don't think it makes him any more extraordinary if that were to happen. My perspective of it changed. I think the Hall of Fame is incomplete and won't be complete until Kenny Sailors is in there. I think for Kenny's friends and his family, that would be a great day for the team of Kenny Sailors supporters whenever that day comes because it'll be joyous to get to celebrate him in that way.
This film is something that hasn't existed yet. We've seen photographs. There's been very sparse video that we've been able to use as evidence for what Kenny's influence and impact was. We actually discovered some new stuff that hasn't been out there before that people haven't seen, like from the University of Wyoming or from his family. We hired an archival producer. She found some footage that just floored us that we didn't know existed, and really helped us paint a picture of what Kenny was doing at his time. To get to see some of these current guys marvel, like a Steph or a Dirk or a KD, at what Kenny was doing 60-70 years ago, it really helps that resonate with audiences that might not be that impressed with black and white footage from the 1940s. But to see these guys be like, Oh my gosh, this is crazy! When we shared it with KD, in the middle of it, he was just like, Can we pause this? I'm going to rewind this. I'm actually working on this today. What Kenny was doing [in the video].
SLAM: Can you walk through the process/timeline of creating the film? 
JH: This film premiered at SXSW this past year. It was basically the seven-year mark for production, just over that probably. I'm 35. I started this when I was 26. That window is like a fifth of my life which is crazy to think about how much time [I spent] on this project. We wouldn't have gotten all the content that we did if we didn't take that long, so I'm thankful for the way it worked out, just never would've intended it to be that way. In 2011, I found Kenny's story, went up there and ate breakfast with him and talked about the possibility of doing this documentary. Most documentaries, you start with your subject. We sat down with Kenny, did our interviews and then started branching out to the people that he knows best, that know his story, know him personally, maybe played with him, played against him, some folks from the University of Wyoming.
From there, we began to expand our world to like, OK, who are some voices in the basketball world? We sat down with a majority of the folks that wrote stories about Kenny Sailors over the most recent years. That's when we started shooting for the stars and aiming big to try to get some of these current players. I would say we had a pending, tentative picture lock film that was missing a younger voice in it. We knew that. So that's the version of the film we were sharing with Steph, KD, Dirk, Nancy Lieberman and Clark Kellogg. We basically had a completed piece but were missing some elements that really elevated it to what it is today. We sat down with a majority of those folks. It was the tail end, late 2016-early 2017, just after Kenny had passed away-—which is a bummer because I know that some of these people would have made the effort to go see him and visit him which would have been a really cool moment in the film to get to see those guys interact with him.
SLAM: What was Kenny's reaction to your interest in making the film? 
JH: That first day when I flew up to Laramie, Wyoming, and we grabbed breakfast together, he was talking with me about—Really the only thing people ever want to talk to me about is sports and basketball, the jump shot. I feel like there are so many more things that I'm more proud of that I love to talk about. Right then and there, I was like, Kenny, that's the film I want to make. Obviously, basketball is going to be a huge part of your story that's going to take us on this journey, but I really want to tell your life story throughout this whole process. He just went, Alright, well, I don't know why you'd want to do that. I haven't done anything that interesting. You're like, OK, come on, man. What you see is what you get, too. Who he is in the film. We had an opportunity to screen an early version of the film with some of his closest friends, part of his community in Laramie, after he had passed away. One of his roommates actually came up [to me] in tears, and obviously I'm in tears just seeing him come up to me this way, and was like, 'Thank you for giving me another hour and a half with my friend.' That's when we knew that there was no doubt that this film stayed true to Kenny's character and who he was as an individual. We're proud that this film gets to carry on the legacy of who he is and what he believes in.
SLAM: What do you hope is the overall takeaway from the film? 
JH: One of the things that I discovered very early on doing my research—and honestly it's the moment where I was like, There's something bigger here than just basketball. I came across an article and it was a story about Kenny watching the NCAA tournament with one of his friends. And his friend asked him, 'Hey Kenny, who's in your Final Four?' Expecting Kenny to say Gonzaga, Kentucky, Duke, whomever. And Kenny thought about this question and responded, 'God, husband, father, US Marine. That's my Final Four.' When I read that, I was blown away by the perspective that Kenny had. I think it's something that we as citizens today, everybody, can be reminded of. One could argue that Kenny defined the game of basketball by creating the primary offensive weapon for the game today. But the game never defined who he was. I hope people see that and are inspired by it. Most of us try to do one thing right in our life. Do one thing really well, like a career path or what not. I feel like Kenny lived like three or four different lives and was successful at all of them. I think there are a lot of things that audiences can take away, but Kenny ultimately lived for something bigger than himself. That's what I'm inspired by and maybe audiences will see the same thing. 
—
For more information on Jump Shot, click here.
Alex Squadron is an Associate Editor at SLAM. Follow him on Twitter @asquad510.
Photos via Jump Shot.