The Air Jordan I, and its storied endorsee, have been a part of some iconic NBA moments. These are the best of the best.
63 Points in Boston
April 20, 1986
Larry Bird is one of the best players ever. There were very few things he couldn't do on the court. His words, especially in 1986 when he led the Celtics to the 'chip, carried weight. And on the night that Michael Jordan tore down the Boston Garden for 63 points, Bird summed things up perfectly.
"I think he's God disguised as Michael Jordan," Bird told reporters after the game. "He is the most awesome player in the NBA. Today in Boston Garden, on national TV, in the playoffs, he put on one of the greatest shows of all time."
It was an awe-inspiring showing of basketball. It was a crack in the status quo for on-court uniforms. MJ showed up with his usual gear—white sweatband on his left forearm, black knee pad on his left knee and chunky white socks. Instead of playing in the Air Jordan II, though, he wore the "Chicago" I.
Bird, Danny Ainge and Dennis Johnson had no shot at slowing him down. He relentlessly attacked the rim. He was faster and stronger and more ruthless than the Cs. And yeah, the Bulls lost in overtime, but Michael had made a statement. He was ready for the spotlight.
https://www.youtube.com/watch?v=uEaMH-cVDf8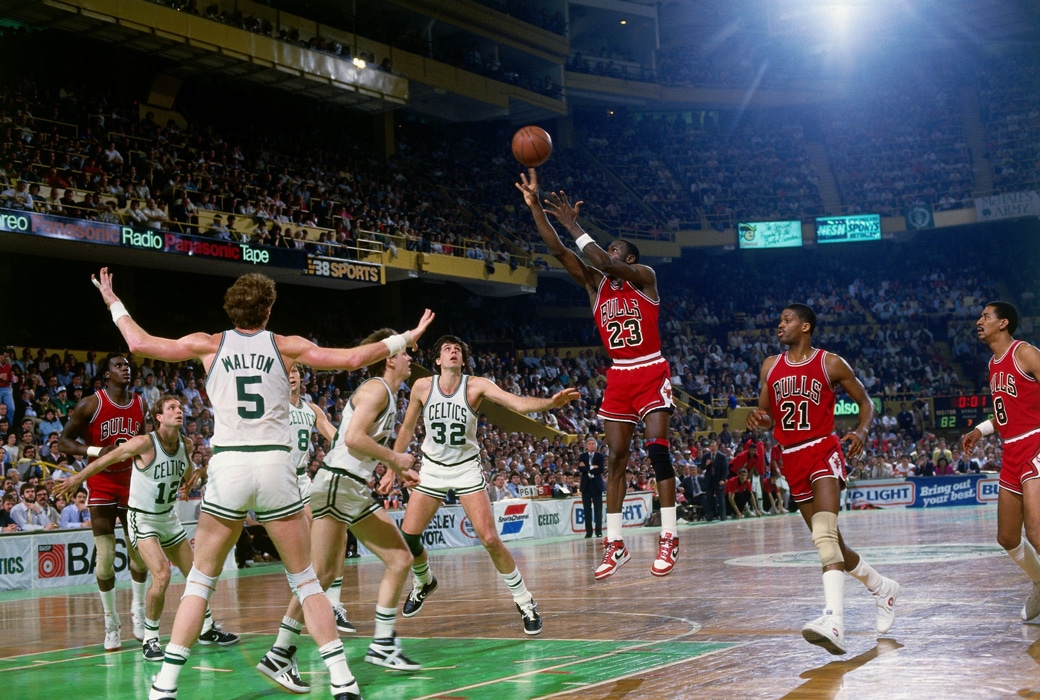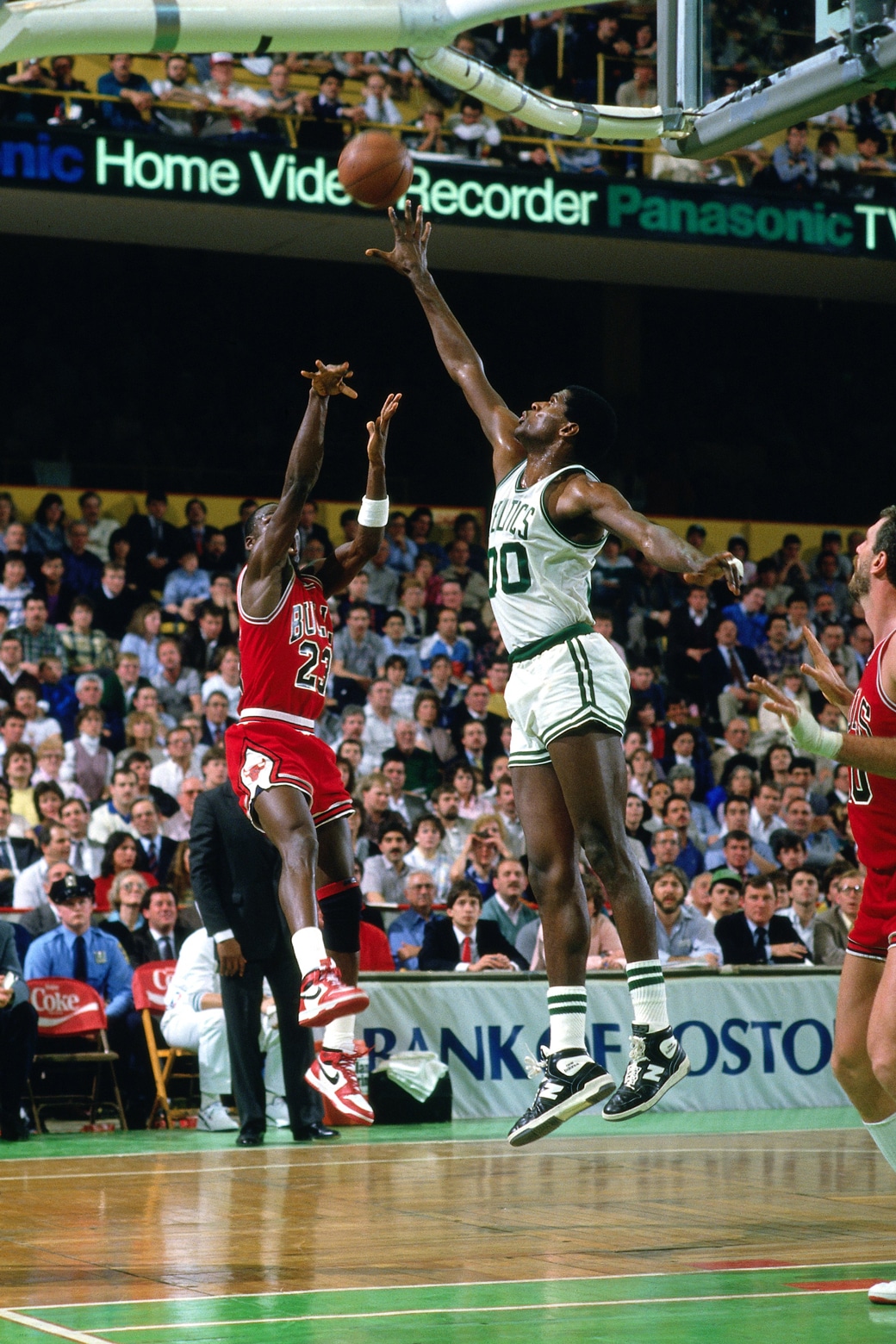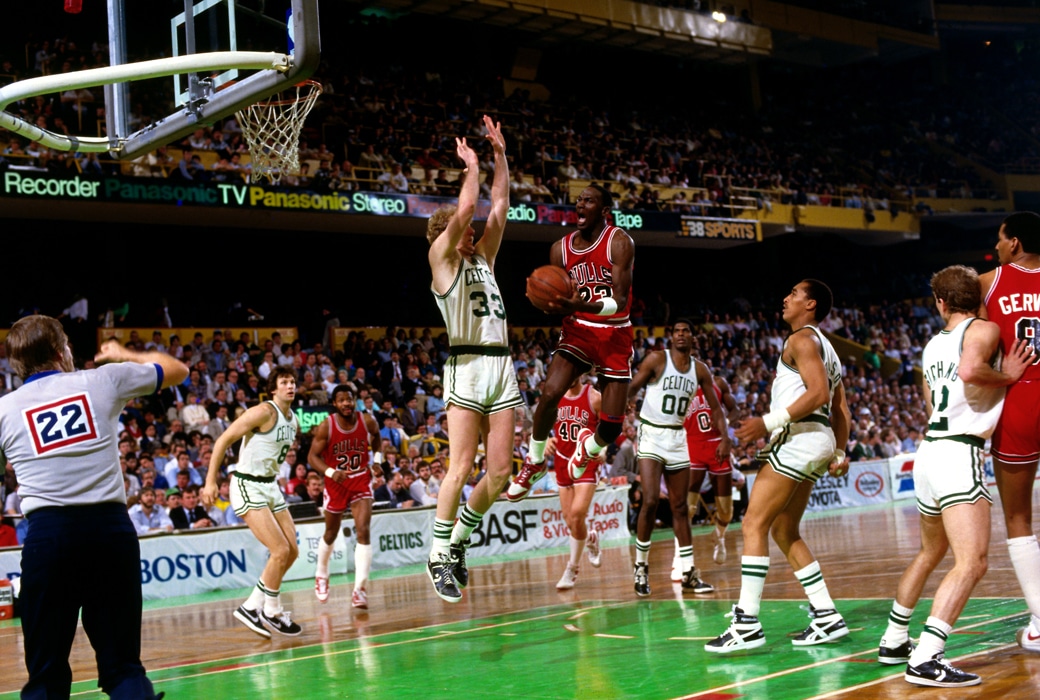 Last Game with the Bulls at MSG
March 8, 1998 
Michael knew it was primetime. Like a great performer, he was ready to put on a show for his last game at the Garden. "It's like stepping on a stage," Jordan told NBC Sports about playing at MSG.
He brought an OG pair of "Chicago" Air Jordan Is from 1985 with him for his final act.
"It's been a long time since I wore them," he said after the game. "It's kind of fun to come back here and play and remember some of the old days, some of the games that I've had here. The shoes are a part of that. My feet are killing me, but it was fun," he laughed.
His Airness came into the League wearing a 12.5 sneaker but he changed into a 13.5 as the years went on. Even wearing the smaller size, MJ went to work. He hit two amazing layups and nailed classic fadeaways en route to a 42-point performance, rounded out by 8 rebounds and 6 assists.
The Garden gave him a roaring ovation when he checked out of the game, with a Bulls win locked up. He sat on the bench afterward, for a few moments, with the laces of his first signature sneaker undone.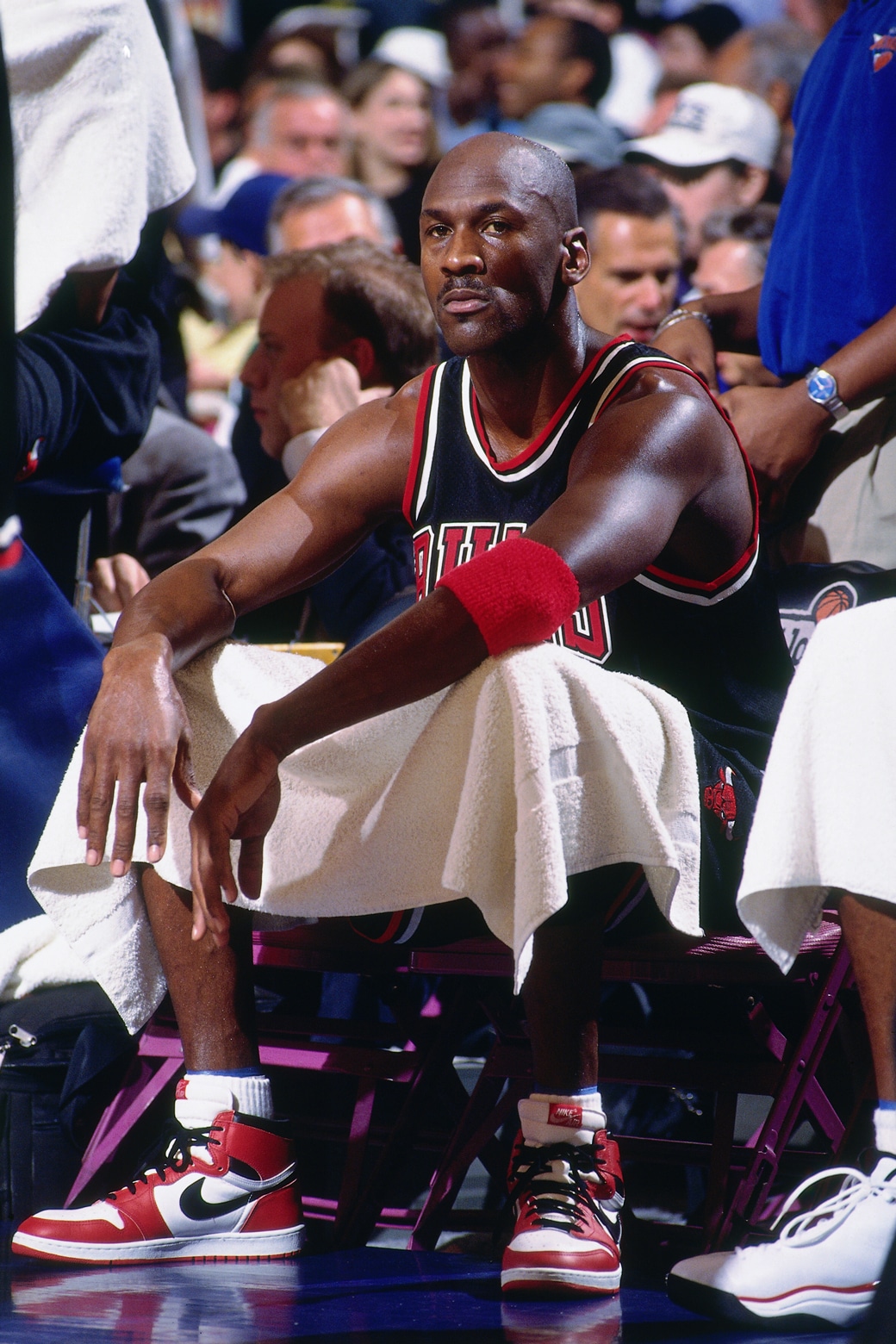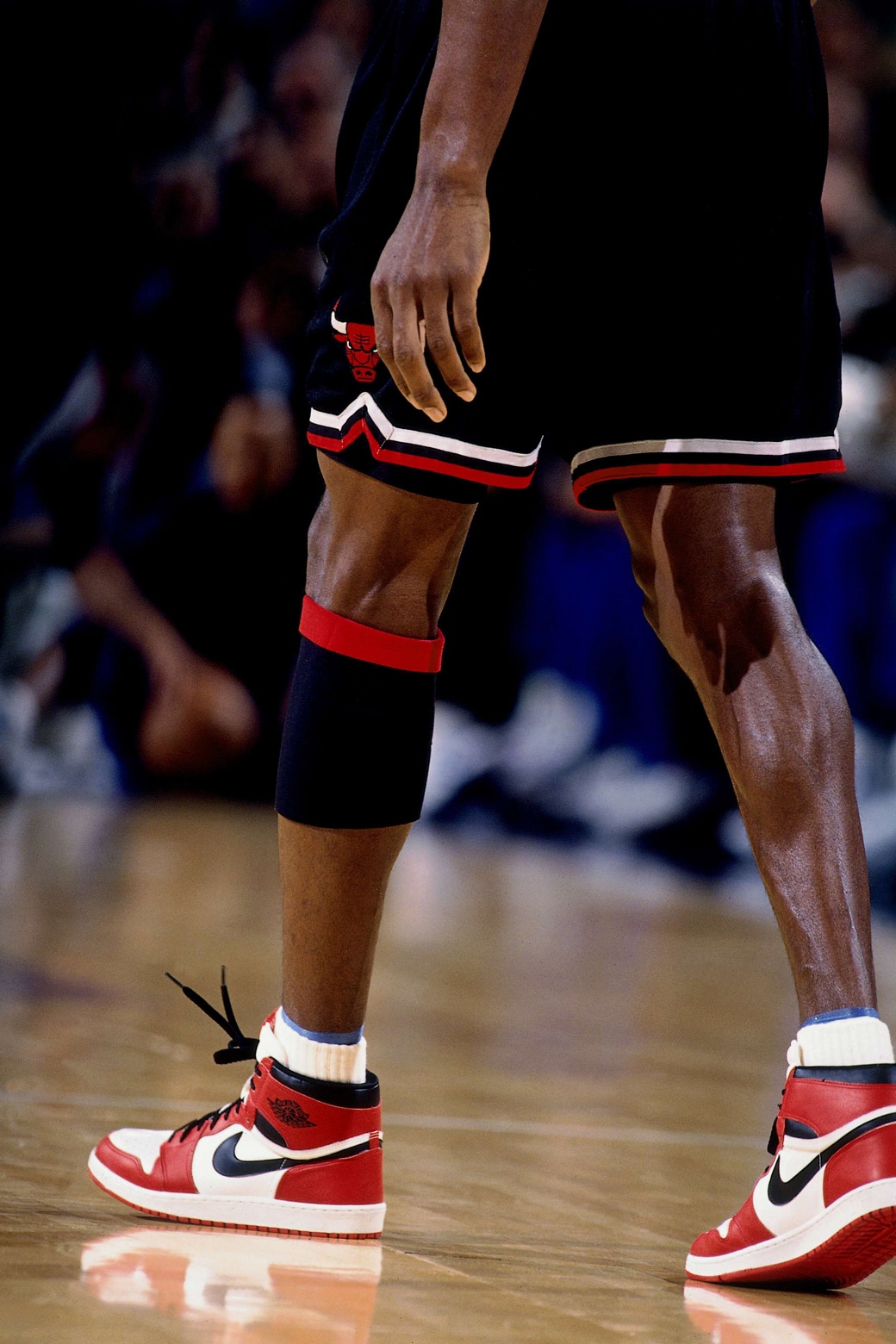 '85 Dunk Contest
February 9, 1985
He wasn't even wearing his uniform at first. Mike had drip long before drip was a thing. The "Bred" Is, white socks and black and red sweats started the fit. A black shirt with the sleeves cut off, a red pinny on top of that and gold chains finished it off.
There was the jumping ability. The skill level, the ease, the style. The rookie was different.
Though he narrowly lost the contest to Dominique Wilkins, MJ took to the skies for dunks that saw him swinging in mid-air, helping young fans dream about flight. His legs were flailing out in different directions, his chains were shining against the lights in the Hoosier Dome in Indianapolis. He was making 360-degree slams look effortless.
He finally wore his Bulls threads to put down his illustrious "Rock the Baby" dunk, followed by an up-and-under one-hander. Then he soared from just inside the free-throw line and punctured the rim. It looked like the "Breds" were floating. Air Jordan for real.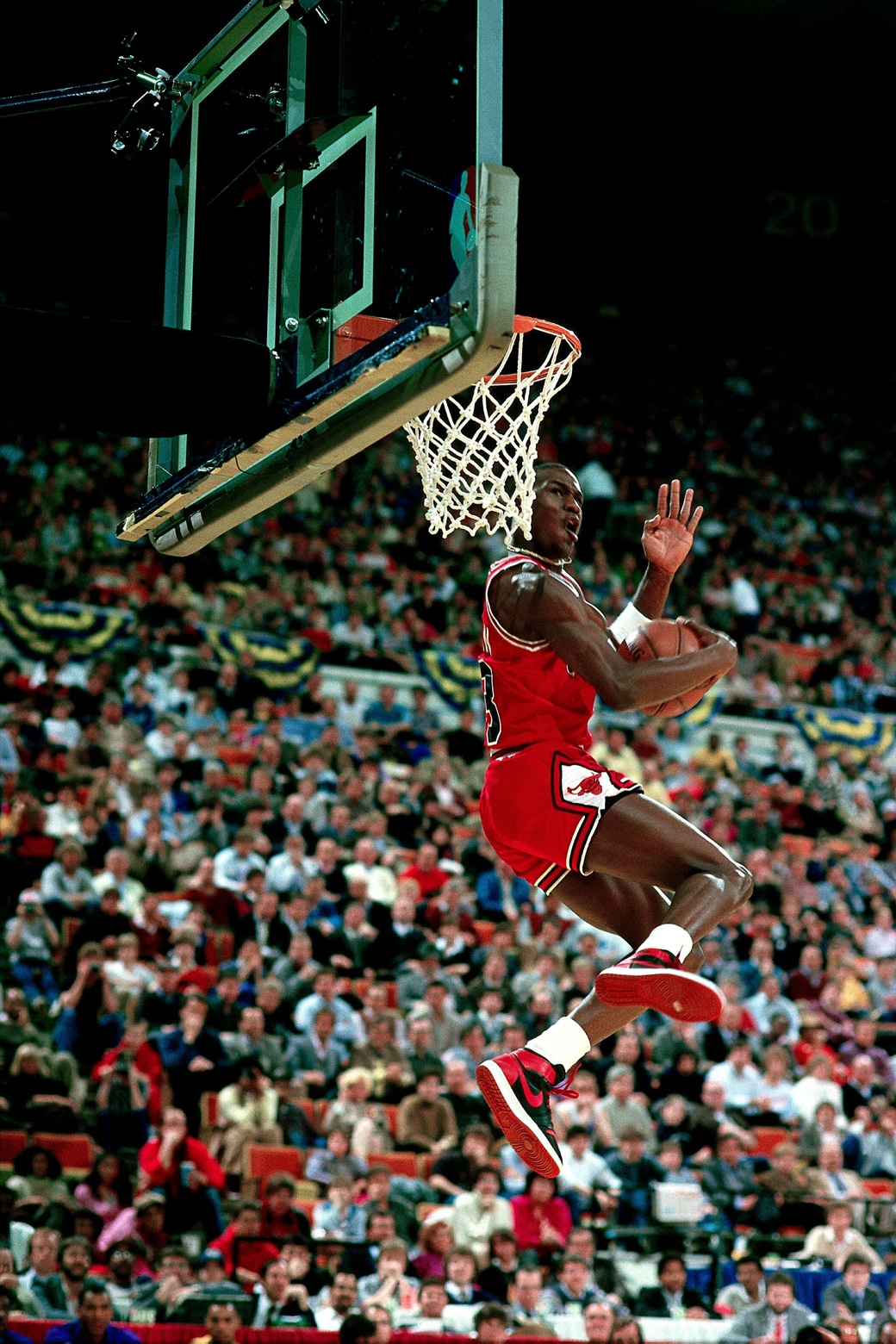 49 Points Against the Pistons
February 12, 1985
1985 All-Star Weekend. Isiah Thomas allegedly organized a freeze-out against Michael Jordan, telling fellow All-Stars like George Gervin not to pass the ball to him and making sure Magic Johnson constantly attacked him, forcing him to play defense. Mike was fuming. He ended up with just 7 points in his ASG debut, shooting 2-9 from the floor.
Fallout from the freeze-out followed the rookie around immediately. Both he and Thomas denied anything happened, with MJ telling the Chicago Tribune he wasn't aggressive enough and Thomas talking about how much respect he already had for No. 23.
As luck would have it, the first game after the All-Star break featured the Bulls and Pistons squaring off in Chicago. Michael, in a pair of "Chicago" Is, entered the zone. He hit the Bad Boys for 49 points, endlessly bullying his way to the rim.
It was a moment of truth for Jordan, one of the first times he showed the League that his will was monumentally stronger than anyone had realized. There he was, in his signature sneakers, flying up to the rim, throwing down two poster dunks and leading his squad to an overtime win. Cold as ice. Just about freezing.
—
GRAB YOUR COPY OF SLAM PRESENTS JORDANS VOL. 4!
Photos via Getty.