This story appears in a magazine dedicated to the most iconic draft class ever. Get your copy.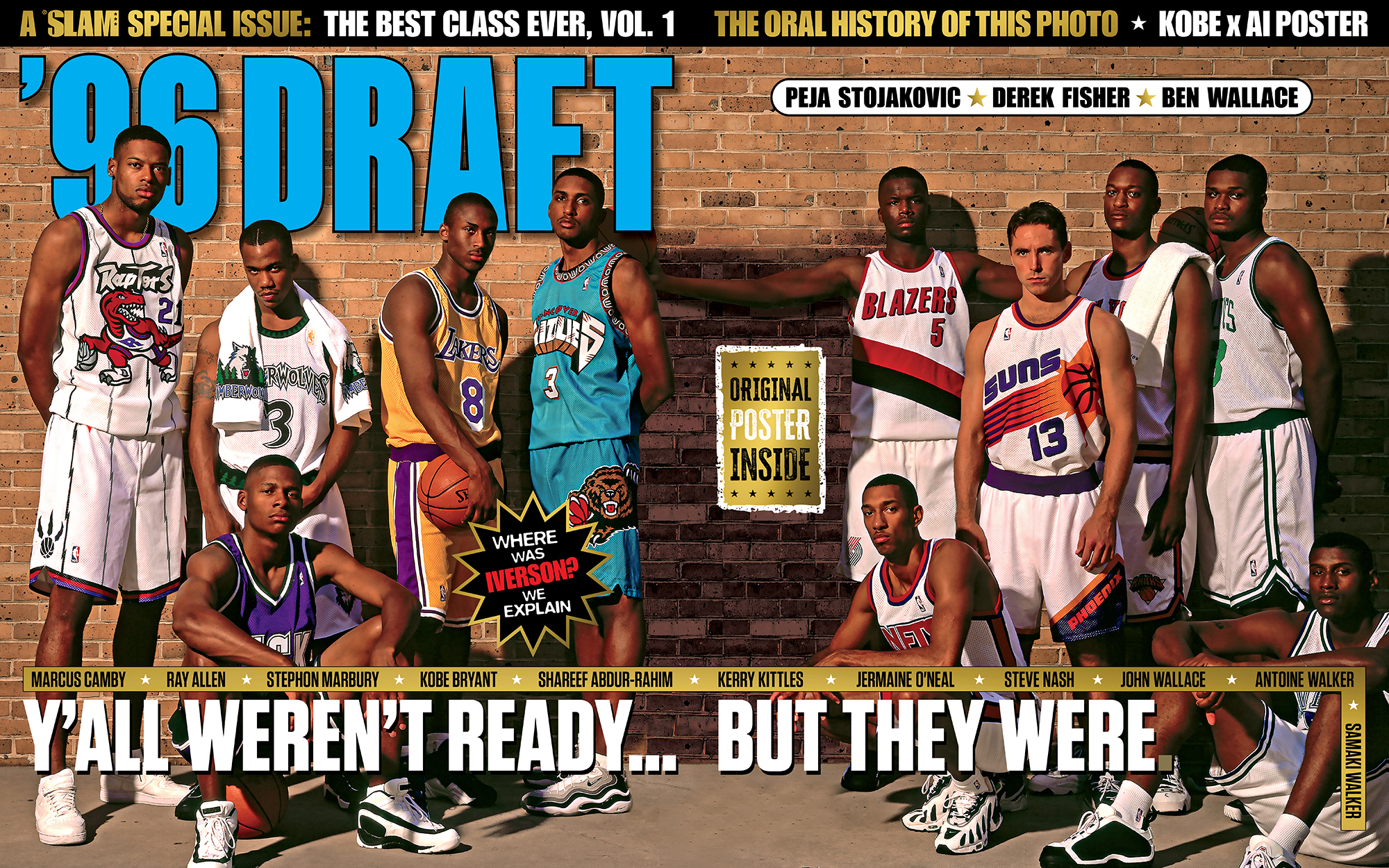 Kobe Bryant's career was nearing its end when he stretched out on a trainer's table in the Lakers' locker room for some restorative work on a body that had given two decades to the NBA. As he received treatment, Bryant entertained a visitor, Kentucky's John Calipari, who in 1996 had been hired as head coach by the then-New Jersey Nets—the same year Bryant had bypassed college and headed directly into the NBA Draft.
Jersey had the eighth pick in that draft, and there was speculation the Nets would make Bryant just the second prep player chosen since 1975. But the franchise selected Kerry Kittles instead, thanks to a Nets ownership group unwilling to take a chance on a 17-year-old prospect. Meanwhile, Lakers GM Jerry West was engaging in some back-channel dealing that eventually brought Bryant to L.A.
"I saw Kobe in the locker room, and he said, 'Cal, you should have taken me. You would still be in the League,'" Calipari says.
Calipari wanted to take Bryant. After working him out three times before the Draft, the coach knew the guard would be a star. But it isn't always as simple as writing a player's name on a card and handing it to the commissioner to be announced. And everything that happened in '96 proved that. So, the Nets passed on Bryant and chose Kittles instead. Eleven other teams refused to take Bryant, too. Meanwhile, West convinced Charlotte to trade Bryant—whom they had taken with the 13th selection—to the Lakers for center Vlade Divac. And Bryant became one of the League's all-time greats.
"I thought for sure someone would take him before 13," West says. "When he was there, it was a celebration."
The former Lower Merion HS star went from top target of the Nets to a draft choice of Charlotte to Los Angeles, where he would team with Shaquille O'Neal—a Lakers free agent acquisition later that summer—to win three titles. It was a perfect example of West's shrewd eye for talent and his salesmanship skills, combined with the lack of certainty around the League that players, particularly wings, could make the jump from high school to the NBA. Throw in a lack of cohesiveness from a New Jersey franchise that featured a new brain trust in Calipari and GM John Nash operating under an ownership structure trying fruitlessly to step away from a lack of success, and you have a series of events and machinations that impacted NBA history for 20 years.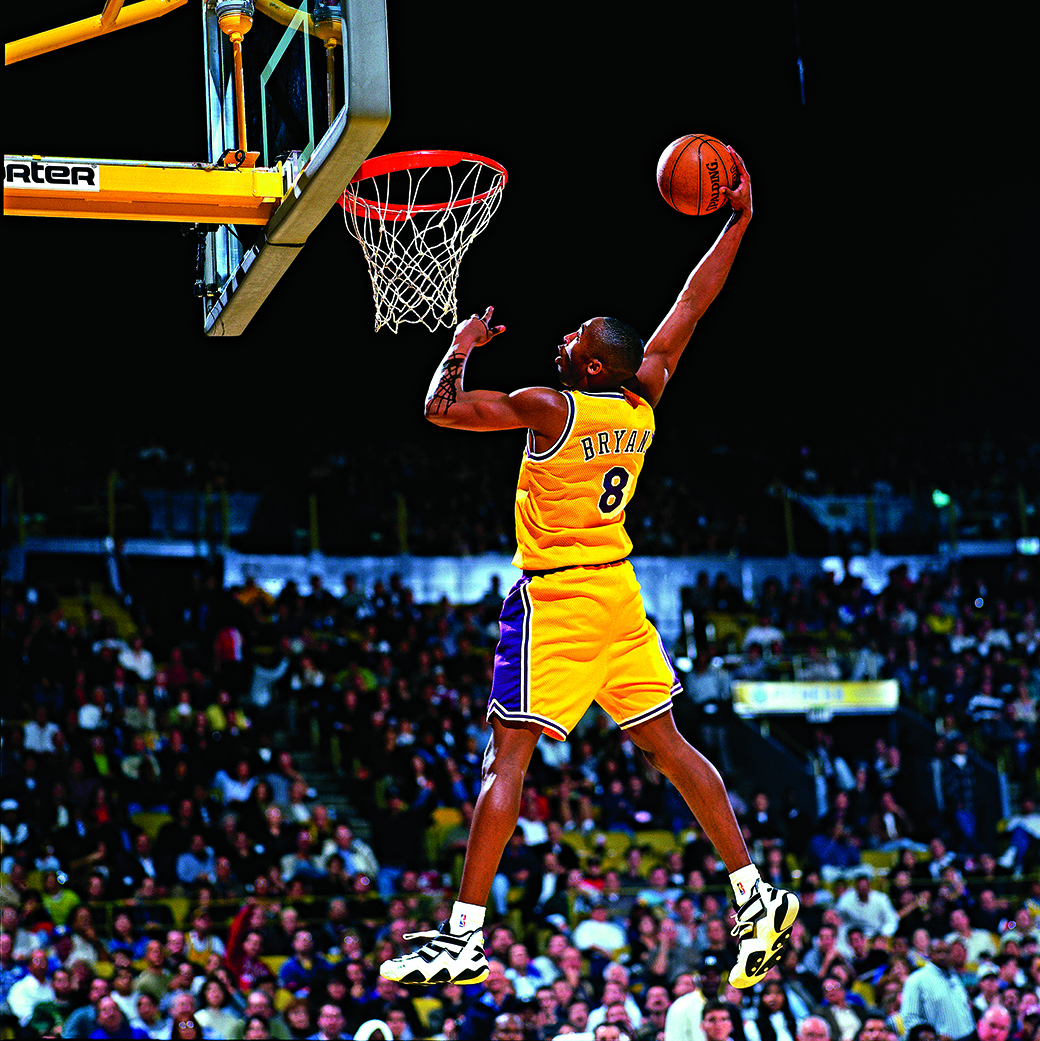 Bryant's announcement that he would be heading straight from high school to the NBA surprised even his coach, Gregg Downer, who admits he didn't know his star player's plans until Bryant informed a jam-packed press conference that he had "decided to skip college and take [his] talents to the NBA." By doing that, Bryant joined a talented crop of '96 Draft hopefuls that included Allen Iverson, Stephon Marbury, Ray Allen, Steve Nash and Peja Stojakovic and spawned a League-wide debate over whether he was ready to play at the highest level. Several teams thought he wasn't. West believed he was.
Bryant had two workouts for the franchise, the second against star Lakers defender Michael Cooper. After 10 minutes of that exhibition, West was convinced the organization had to do whatever it could to get Bryant.
"Not only was he physically equipped, more importantly, he was skilled, and you could see his love of the game," West says.
But it wouldn't be easy. The Lakers had the 24th pick in the draft, and there was no way Bryant would fall that far. "I told [Bryant's agent Arn Tellem], 'This guy is going in the top three,'" West says.
If that was the case, West had some work to do to land Bryant.
GRAB YOUR COPY OF SLAM PRESENTS '96 DRAFT FOR EVEN MORE GOODIES FROM THE ISSUE.
It was a catered dinner in a hotel near the Nets' arena, where the '96 Draft would be held. Nash and Calipari hosted Joe and Pam Bryant, Kobe's parents, and told them Jersey would be choosing their son with the eighth overall pick.
"We were discussing what their expectations were," Nash says. "Joe thought Kobe would start as a rookie and be All-Star-caliber his second year."
Nash and Calipari believed Joe Bryant's hopes for his son were a little high but they were still committed to selecting him, and they believed the Bryants were satisfied with the situation. As it turns out, that wasn't true. According to West, Tellem told him the Bryants were afraid there would be too many distractions for their son on the East coast and that it would be a good idea for him to get away from home.
As Draft Day dawned, the Nets were still planning to select Bryant. But that all changed over the course of several hours, beginning with a lunch date. At the time, the Nets were owned by a group of seven men, including Joe Taub, who was charged with overseeing the basketball operations. He was not too enthusiastic about Bryant joining the team.
"Joe's fear was that we would invest time in this young player, bring him along, and when the time came, he would leave in free agency," Nash says. "That's what had happened in New Jersey. People didn't see it as a destination."
Taub had a point. The Nets chose Kenny Anderson with the second pick of the '91 Draft and had to trade him to Charlotte during the '95-96 season because Anderson had announced his intentions to become a free agent the following summer. Derrick Coleman, whom New Jersey took No. 1 overall in 1990, signed a five-year deal with the team before the '94-95 campaign but demanded a trade the following fall because he wanted to play for a contender. Taub wanted the Nets to select Syracuse forward John Wallace, whom Calipari and Nash did not think would be an NBA star.
"The owners told me, 'Cal, why take a high school kid with the first pick?'" Calipari says. "They were adamant that I didn't do it."
Taub had just hired Calipari, who felt making a move his new boss didn't like wasn't the best thing to do so early in a business relationship. Calipari and Nash's second choice was Kittles, a consensus All-American at Villanova who became a strong scorer for the Nets before hurting his knee.
"I thought that in five years, Kobe would be the guy," Calipari says. "For three years, Kerry Kittles would be better."
When the phone rang at 2:30 p.m. on Draft Day, Calipari and Nash began to see that something was going on. Tellem informed the Nets that the Bryant family was no longer interested in Kobe going to Jersey. "I stated our position as forcefully as I could and in a professional manner," says Tellem, now the Pistons' vice chairman. It was a surprising turn. Nash made some calls to find out what was going on. Calipari asked David Pendergraft, Jersey's Director of Player Personnel, what he thought. "He said, 'Somebody has a deal,'" Calipari says.
He was right. Tellem and West were good friends, and after working out Bryant, West told Tellem the high schooler had "a chance to be an all-time great." West and Tellem spoke regularly as West tried to find a trade partner that would allow him to grab Bryant. He found one in Charlotte. "Once Jerry and [Charlotte GM] Bob Bass gave me their word the trade was real, I contacted New Jersey," says Tellem.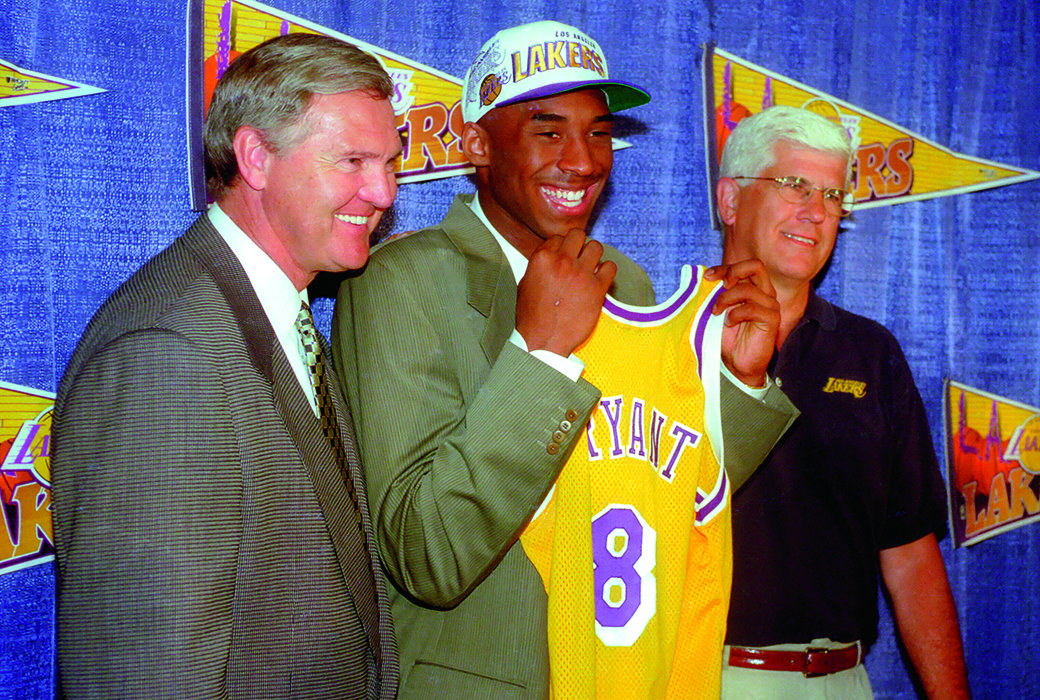 The idea that Bryant would fall to the 13th spot was quite surprising to West, who believed the guard was a top-three talent and had started there in the draft hierarchy with his attempts to deal Divac. But Tellem wasn't surprised. "[Teams between New Jersey and Charlotte] wouldn't have had the guts to take him," says Tellem, who limited Bryant's exposure to several NBA clubs. One person who agreed with West was Tony DiLeo, who at the time was in the Sixers personnel department and is now director of college personnel with the Wizards. DiLeo had seen Bryant play pickup games against Sixers players the previous September and had been impressed by the prep senior's "supreme confidence." DiLeo also says Bryant would play one-on-one with Jerry Stackhouse, the team's first pick in 1995 (third overall), and the games "were very competitive." At one point, Sixers coach John Lucas had to stop the competition because it had become too intense.
DiLeo had seen Bryant play several times at Lower Merion and had helped prepare him for his pre-draft workouts. He was so convinced Bryant would be a star that he pitched two ideas to new Sixers GM Brad Greenberg. The first was to choose Bryant first overall. Greenberg considered that too great a risk. Remember that when Minnesota drafted Garnett fifth overall the previous year, he was the first player to go straight from high school to the NBA in 20 years. Plus, Garnett was a big man, and thus more coveted in the mid-'90s NBA.
"People always wanted big guys," West says. "They thought they could dominate the game. No one knew what the rule changes would do."
DiLeo says he also suggested trading Stackhouse for a lottery pick and choosing Bryant. It may not have worked out, but a pairing of Bryant and Allen Iverson, whom the Sixers chose first overall, would have been fascinating to watch. "We discussed it," DiLeo says. "I don't think Brad was comfortable with it. He was a first-time GM. I understand."
At dinner in the Nets locker room before the draft, Calipari announced to the owners and others that the team would be choosing Kittles, but that if he was not there, the Nets would take Bryant "no matter what." When the Clippers selected Lorenzen Wright seventh overall, Calipari heard an outburst of cheers from the other side of the wall in the Nets' war room. The owners were happy. Kittles would be a Net.
"[The Nets] were going to take [Bryant], and John Nash didn't want to give in just because the owners were a little nervous," Tellem says. "But Calipari was a new coach, and based on my conversation with them, obviously they decided it wasn't worth the risk."
So, would Bryant have gone to Jersey if the Nets had chosen him?
"That will remain a great mystery," Tellem says. "I will take that to the grave."
West and the Hornets sweated through the next four picks—all big men—and then Charlotte chose Bryant. But the deal between the two teams wasn't finalized until 13 days after the draft, because Divac initially balked at being traded and threatened to retire if the deal was made. (Shortly thereafter, he changed his mind and agreed to play for the Hornets.) Less than a week later, O'Neal signed with the Lakers, and L.A. went from what West considered "good" to a three-time champion.
"It was like Christmas for the Lakers," West says. "We got Kobe Bryant and Shaquille O'Neal in the same summer.
"Kobe didn't just want to be a player. He wanted to be a major performer. He wanted to blow people away."
And that he did.
—
SLAM PRESENTS '96 DRAFT IS AVAILABLE NOW.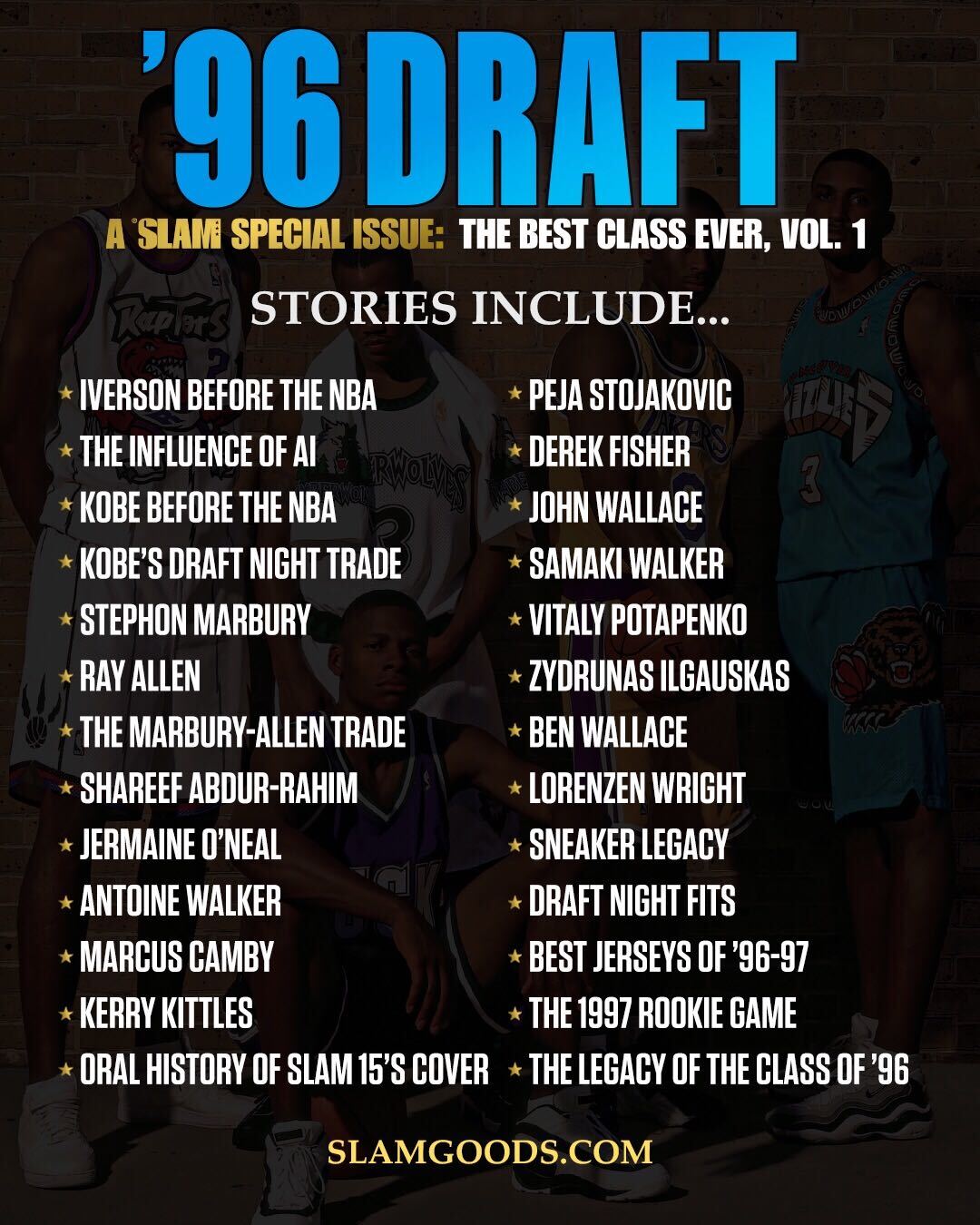 1,347