The Summer That Wasn't: How Basketball Leagues like Dyckman and Goodman Persevered Through the Pandemic
Ken Stevens remembers the moment it became official like it was yesterday. He was at home watching the local news in May 2020. Like the rest of the world, he was looking for any sense of hope or even just some clarity as a global pandemic raged on after bringing life in America (and the world at large) to a halt just two months earlier. But there was no looming light at the end of the tunnel on any news broadcasts those days. Just cold doses of reality, one after another, day after day. And for Stevens, what had already seemed like inevitable bad news for weeks was about to become reality.
"I was at home, and I think I saw it go under the ticker on one of the news broadcasts: All park permits are canceled for the summer of 2020. I was like, Wait a minute, let me go check my email! And there it was in black and white. The Parks Department sent the email out," recalls Stevens, founder and commissioner of the prestigious Dyckman Basketball summer leagues in New York City. "There was no point of fighting it. There was no one to email back, like, Nah, you can't do that!"
It was a reality that every other summer league commissioner would also have to come to grips with. Beyond league directors, players (from pro-am to school level), entire communities of fans and everyone in between also felt the effects of it. Park fences were locked with chains. Rims were taken down. Images that will go down in history. The unthinkable happened: summer basketball was stopped.
Miles Rawls returned to his Barry Farms neighborhood in Washington DC in 1995 after 15 years in the military. He was looking forward to hooping in the Barry Farms Community Summer Basketball League that year. Only problem was that the league, after running annually since 1977—when Rawls himself played in it—had stopped functioning that very same summer since no one was available to lead its operations. Alarmed by the sight of the league no longer being a fixture in the community, he decided to take over the helm and bring it back in 1996. It was eventually rebranded as the Goodman League.
The league went on to not miss a single year ever since. Nothing could stop it. That is, until COVID-19 happened. For the first time since Rawls took over, there were no basketballs bouncing inside the gates at Barry Farms during the summer of 2020. And with it, life for so many changed.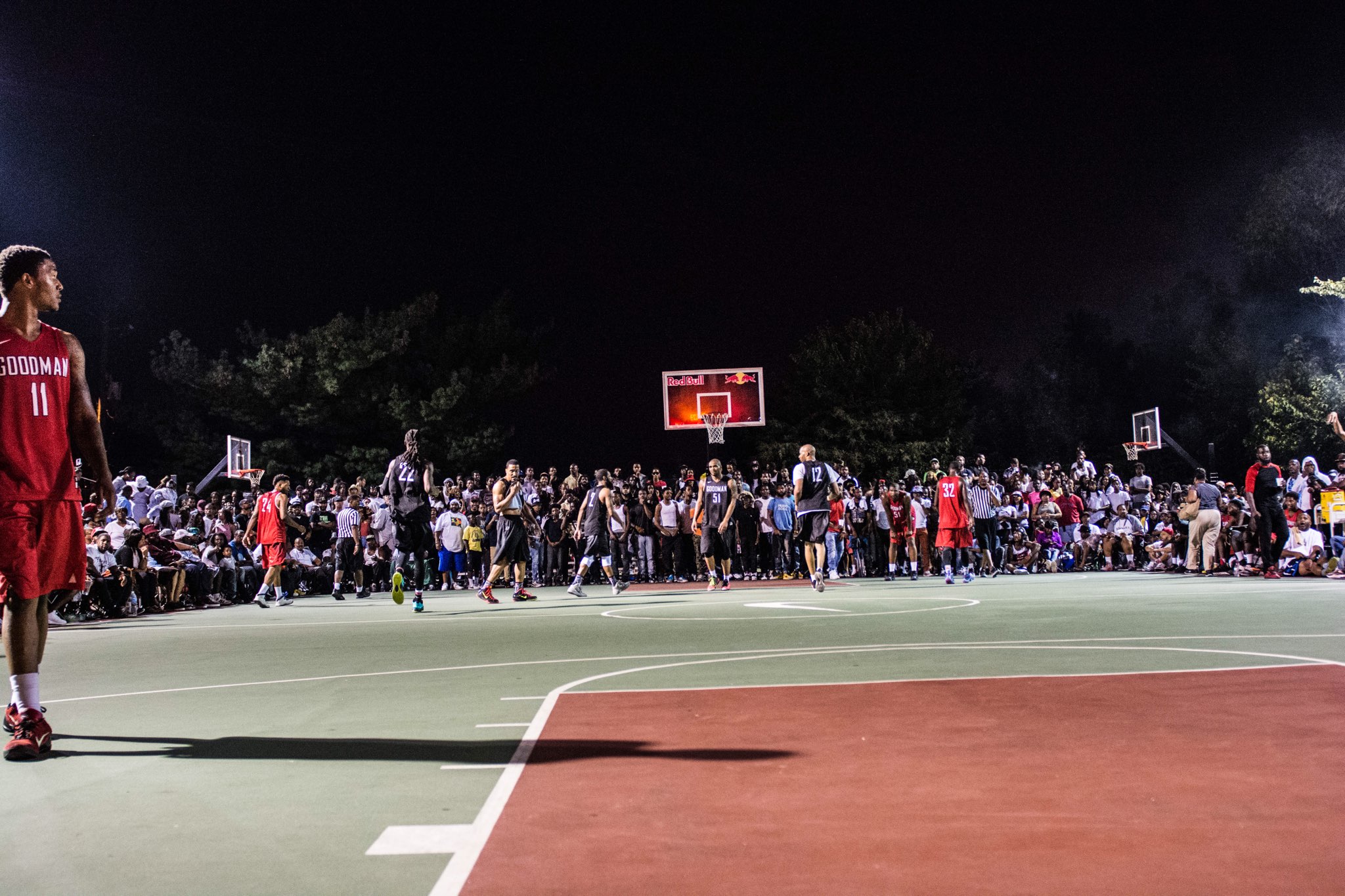 On the surface, there's the obvious. Hoopers of all ages not having the chance to compete for an entire summer, nationwide. Yeah, sounds terrible, of course. Even more so psychologically for all who have found a sanctuary in the sport. But we all know that the game of basketball reaches far beyond those on the floor. Its impact transcends the 94×50. Leagues like Dyckman and Goodman reach the local communities they serve in ways that most could never realize.
Some of the effects are more visible than others. Jobs. Seasonal. Part-time. Yet life-altering for many in the DC community.
 "The league provides jobs. It's not much but it's something—better than nothing. I've employed the kids to clean up after the game. The kids these days don't want to do nothing, so I have adults, homeless guys, that's from the neighborhood. Put them on staff," says Rawls. "I have a six-to-eight man clean-up crew that sets up [and] cleans when everything is over. I also have my facilities guys—I have about a 15-20 person staff, solid—that's down to work between the clock, bookkeepers, clean-up crew and parking crew. I got about a 20-member staff down there that gets paid, cash and go. The majority of them are homeless. I've had that same crew for the last 10 years."
 In New York, Dyckman has become the entry point into the workforce for so many teenagers across the five boroughs. Stevens says that Dyckman partners with Children's Arts and Science Workshop, an NYC summer youth program, to hire between 80-110 kids to assist with its many divisions annually. This group is separate from Dyckman's internal staff. There are three different shifts, with kids rotating between table staff, signage, clean-up and stats, among other duties. While Dyckman has become known as a popular destination for NBA players looking to get a run in on any given weekday night while in the city during the summer, it's also where kids in the community get the unique opportunity to learn some of the ins and outs of sectors like event management, facility operations and sports marketing.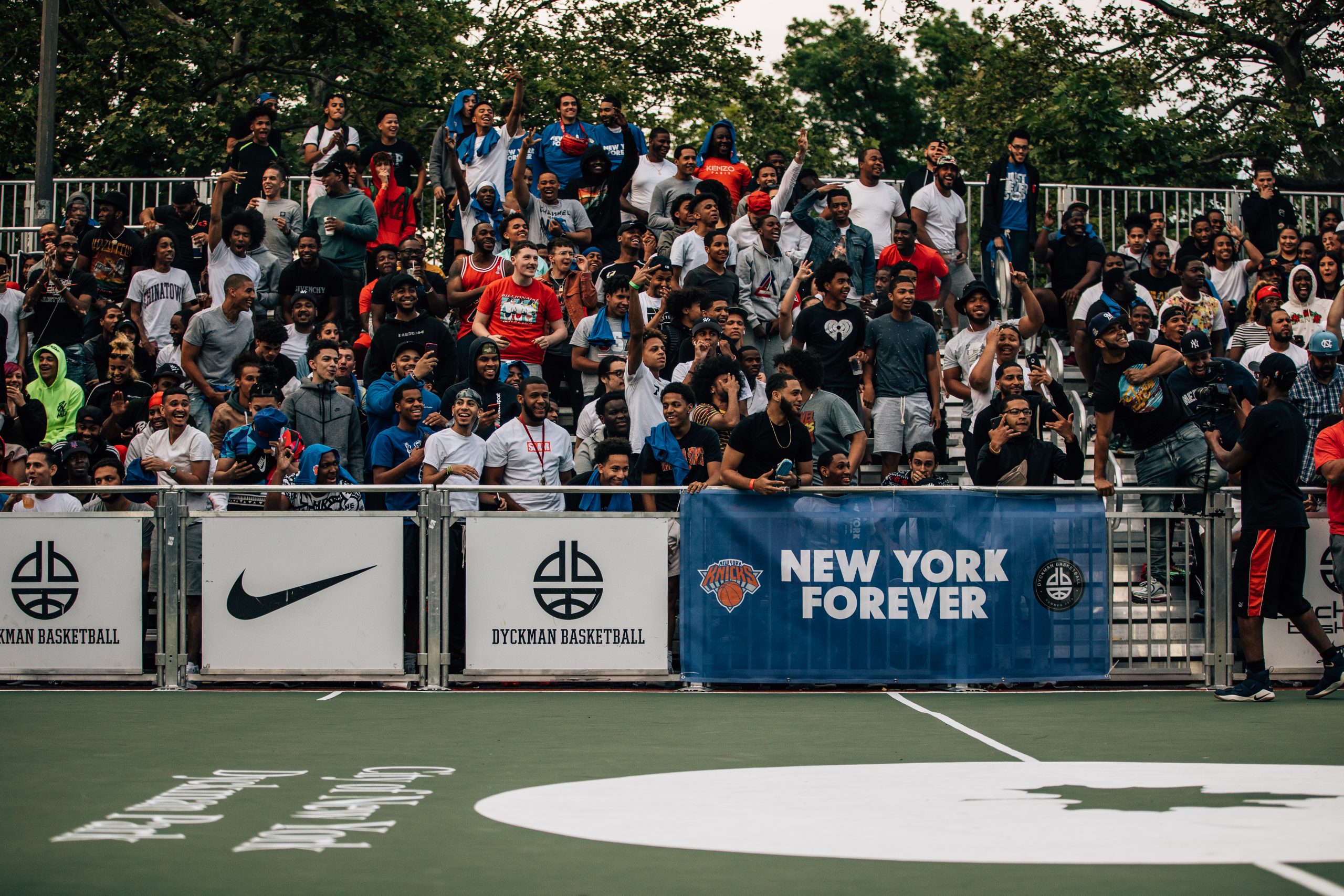 "Myself, I'm a product of the summer youth program," says Stevens. "My first job at 14 years old, when I got my working papers was [through] the summer youth [program]. And now all these kids that didn't get an opportunity to work the summer—sometimes the kids are doing it to help feed their families, other kids are doing it to help pay for stuff for going back to school, or some kids are just saving. The kids were actually hitting me, like, Hey, is there anything we can do so that we can get on your books? But the city was just shut down."
While most roles within summer hoops usually serve as secondary jobs for supplementary income—from the referees down to security staff—for many of the food vendors at Dyckman, it is their actual livelihood. Part of the experience of being at Dyckman is that you can take in the one-of-a-kind atmosphere while enjoying a versatile list of food options from local vendors. From pastelillos/empanadas to shish kabob and hot dogs, Stevens says there are usually about six-to-eight vendors at the park every day. Each vendor, usually consisting of a group of three or four people, has a station from where they deploy workers into the stands with food.
"I think those are people that are vital and a major part of [the] Dyckman [experience]. They took a hit bad because some of the people that work there are definitely using their money to feed their families, whether it is here in the States or back home in the Dominican Republic," says Stevens. "That loss was definitely a big hit after having many years of being a big part of the summer basketball tournaments."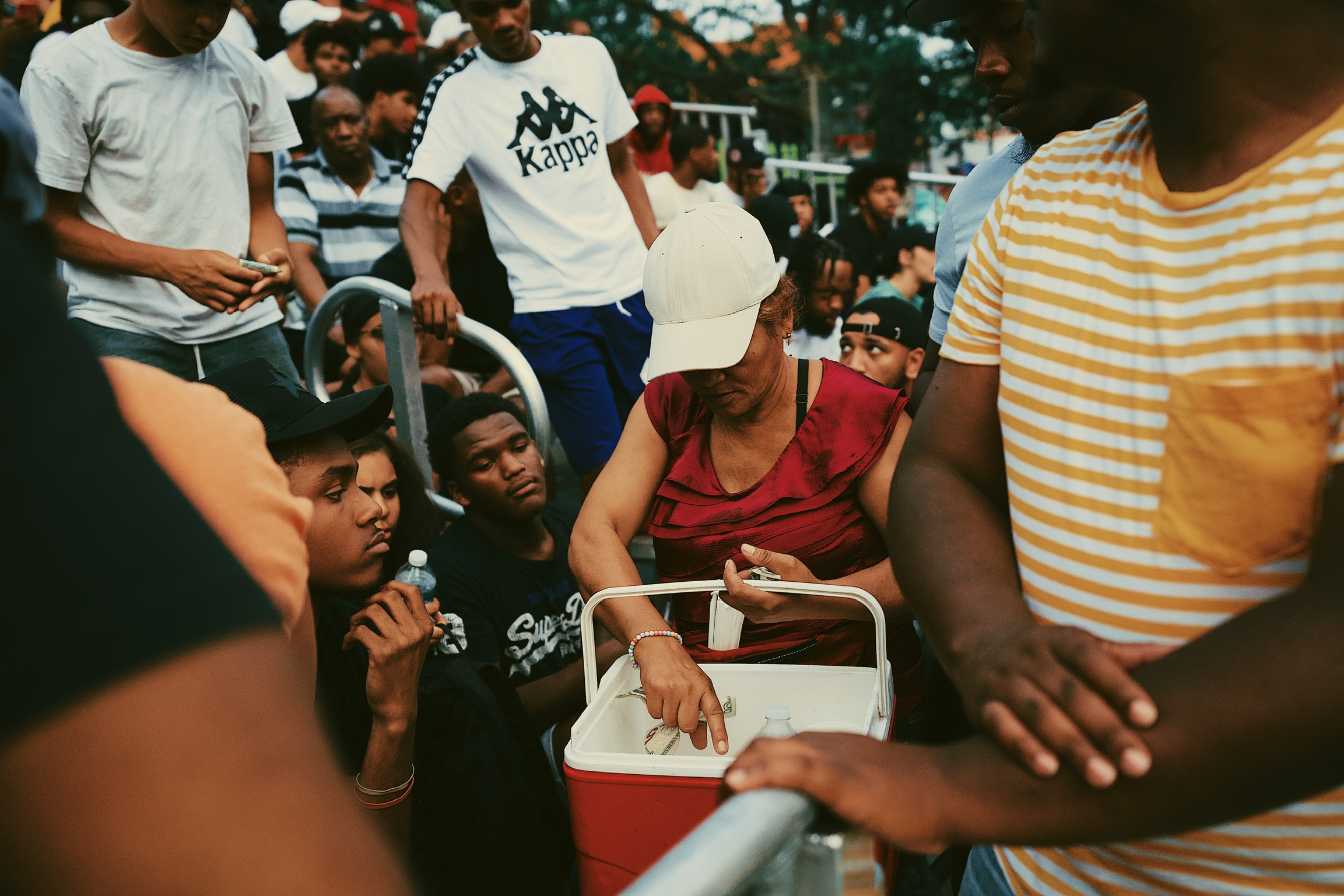 Then there's the social effect. Rawls noticed how crime went up significantly last summer in the local areas that the Goodman League serves. In 2020, Washington DC reached its highest murder rate in 15 years. He knew right away that there was a connection between the spike and the lack of hoops, a correlation he's noticed for quite some time.
"Back in my day, there wasn't a lot of crime because we looked out for each other," says Rawls. "When kids get idle with nothing to do—the league has been a crime deterrence for the past 24 years—that crime rate goes up. It goes through the roof. We definitely missed it from that aspect.
"I'm in talks with the city. We're trying to get this 25th year [going] because the city definitely needs it—we're in an uproar as far as crime in the city. It's a lot of the young kids that are committing a lot of these crimes. The Goodman League has been a safe haven and a place for them to come for four hours. That's why we run the leagues six days a week—it's not because I have to, I do it to keep the kids off the streets and try to keep the crime down in my city. That's basically why I go six days a week."
Images of chained up playgrounds and backboards with missing hoops made the rounds on social media during the summer of 2020. Barry Farms was among them. Rawls remembers taking the call that gave him a heads up that his park was next.
"I got a call the night before when a large crowd was out there. They chained the courts first. They chained the fence up. But that wasn't going to work—they pop locks in the hood. So they knew the next best thing was to take the rims down altogether and that's what they did," he says. "I got a call from the city, one of the guys that's in charge of one of the organizations. They were like, We gotta take the rims down. I was like, Hey, do what you gotta do! But riding around the city and not seeing any rims up on the outside courts was crazy."
There will be a summer 2021 season at Dyckman and Goodman. That much everyone knows. But what exactly it will look like is anyone's guess. As of late April, both Stevens and Rawls have been in constant communication with their respective city agencies about the expected restrictions and health protocols. Discussions around a potential condensed schedule are ongoing and therefore the thought of participating teams being reduced is also a consideration. Many tough decisions are ahead. Both cities have informed the commissioners to plan for reduced capacity at the parks—at least to start the season. There are items that have never been a part of the operating budgets in past years that now need to be accounted for. From masks to hand sanitizers and even potentially a different-looking insurance policy, whatever it takes to bring summer basketball back.
 There is a silver lining in all of this. The extra downtime allowed for more conversation. Real dialogue among rival leagues. Talks about how to elevate even further, how to impact even more. Summer basketball being taken away for a year showed how its importance is truly immeasurable. And maybe it'll be the source of an even more impactful era of summer ball moving forward. 
"Once we saw that [confirmation] email, all the summer directors got on Zoom and we were talking about it," Stevens recalls. "We all were like, We need to try to find something to do to come together and start working more hand in hand with each other. That's kind of where we've been. Everybody is talking with each other, trying to figure out how we can continue to service the kids and take care of the community. It gave me an opportunity to sit down and reevaluate how we've been doing things for years. Before, it was just regular business every year. One of the greatest things that it did was it gave me time to reach out to many of my different buddies in different positions and have conversations about how we could work together, because usually at a certain point, you don't get a chance to talk to nobody once you get locked in that mold of summer ball—teams, schedules, location, uniforms. The pandemic gave us a chance to sit down and talk."
---
Photos via Erick W. Rasco/Sports Illustrated via Getty Images, Dyckman Basketball, and Goodman commissioner Miles Rawls.