Jadakiss, Set Free Richardson, Don C, Danielle Alvari and Jamie "DirK" Ruiz are Celebrating Basketball Culture with DraftKings' "The Starting Five" Series
There's a moment during each DraftKings' Starting Five episode when legendary hip-hop rapper Jadakiss turns to the featured guest and asks, When was a moment when you bet on yourself?  The question is a simple one—and even a play on words with the DraftKings' betting platform—but it's also just as profound and deeply personal. For anyone, whether you're a  musician, an artist, athlete, NBA 2K gamer or a gambling expert, getting to that next level in one's career is all about doing just that: betting on yourself. 
When we sat down with Jadakiss and Set Free Richarson on set at The Compound, we knew we had to ask the two icons about their own journey. It's one that's always been interconnected—the two met way back in the late '90s when 'Kiss was signed to Ruff Ryders, and Set Free even reached out about performing at halftime of the AND1 Mixtape Tour games. They've remained close friends ever since. Set Free has watched the Yonkers native make waves in the music industry as a member of the iconic rap trio, The Lox, and as a solo artist; while Jadakiss has witnessed first-hand how Set Free has emerged into a connoisseur of the culture, from founding the AND1 mixtapes to his DJing and artistic endeavors. "Besides any money or business, we're like real family, like brothers," says Jadakiss. 
But back to the original question: even throughout all of their individual success, when was that moment when they really bet on themselves?
"I think for me, the first time was [when] I was DJing," begins Set Free. "I was signed to Tommy Boy Records in 1997. Prince Paul was one of my mentors, and there was a DJ battle that he couldn't make in Zurich, Switzerland. I was young—."
"Ambitious," chimes in Jadakiss, who is sitting right beside him. 
"This was before the record deal," Richardson continues. "Prince Paul said, 'Yo, do you want to go to Switzerland and do this battle?' I was like, Yeah, I'll do it. But he was like, 'You gotta go by yourself.' And I'll never forget, you know, God bless my mom and pop, they didn't want me to go. We lived in Philadelphia and they drove me. My mom cried the whole time to the airport, back and forth crying because I literally went to Zurich by myself with a bookbag of records and my little suitcase…But I knew that that moment in my life, to be able to DJ in another country, I was like, if music could take me this far around the world, it's gonna take me to levels in places that I could never even imagine. That was a defining moment in my career, to be able to go to Zurich by myself."
As for Jadakiss' defining moment: "I bet on myself when I could have gotten signed at like 16 or 17 with Ruff Ryders [but] my mom and pop was like, 'Hell no, you going to college. I don't know what y'all talking about. This is noise.' And then at 18 I was able to sign on my own and tell them, I ain't going to college. I ain't working at that job doing this. I'm betting on myself. Just give me a year or two and I'll come back with a house with a bow on it."
"And the rest is history," adds Set Free.  
For both Set Free and Jadakiss, their impact on not only music, but on the game, has been monumental. Set Free has done everything from founding the AND1 mixtapes to designing the social justice hoodies worn in the NBA bubble in 2020, meanwhile Jadakiss' music has continued to be the soundtrack to basketball culture for decades—during filming of The Starting Five, his iconic Reebok Answer V commercial with Allen Iverson even gets brought up. As the two reveal to us, another pinnacle realization for them both was accepting that their hoop dreams weren't going to happen.
"Don C said it earlier, 'Once I got asthma, the ball dream was over,'" recalls Set Free. "And I was like, you know, I still want to be in the NBA. I still want to be on the court. To be able to take pictures on the Knicks [court] now, not as a player, these are dreams [coming] true. So once the dream was over that I wasn't making the League, I had to figure out a way to still connect to the League [and] be a part of the players, the teams, the fans, the fashion, the music. Still, to this day, I'm still a fan of the game. I'm still a kid. It never gets old. I want to be a part of the game in any way I can since I'm not a player."
"I played in high school, [but] once I knew that I wasn't going DI, you got to figure it out," says Kiss. "At that age in life, you running wild. You don't know what you want to do. I did know that I've always enjoyed the game. I always enjoy watching and I always enjoy kicking it with the players. Then to see a lot of them, their interest in music, how they use music to work out [and during shootarounds…So, just to see that they need that music as much as we love watching the sport itself, it showed that I would always have that connection. And I [have] the games on in the studio, without the sound. I'm listening to the beat or the track or whatever I have to do in the stu, but the game gotta be on."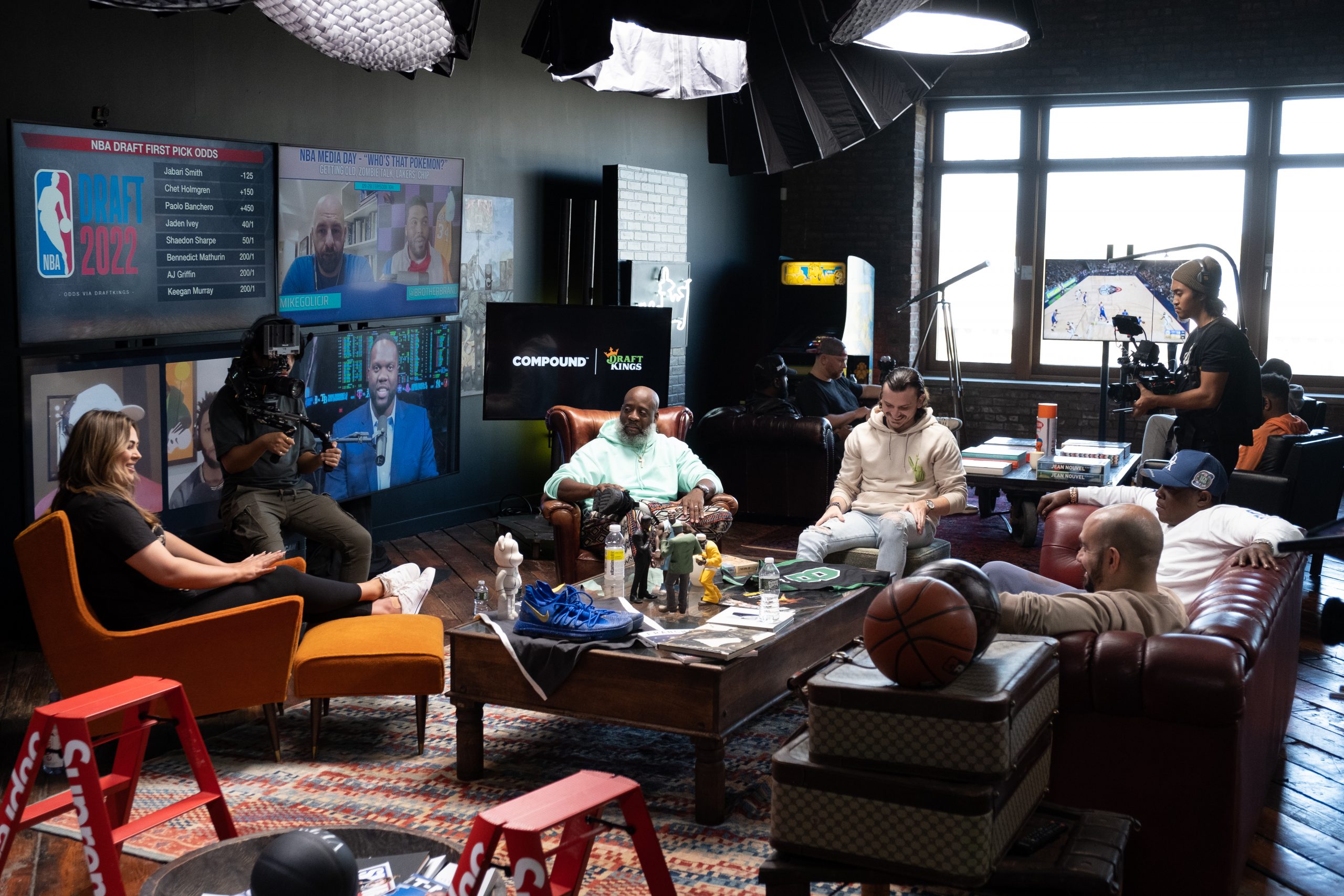 That deeply personal connection to the game shines through in every conversation Jadakiss, Set Free and the entire Starting Five, which includes streetwear designer Don C, gambling expert Danielle Alvari and NBA 2K insider Jamie "Dirk" Ruiz, have in the series. Whether they're chopping it up with former NBA All-Star Baron Davis, going back and forth with JJ Redick about the NBA 2K gaming world in comparison to the real-life experience as a player, or getting insight from Ty Young on WNBA fashion (respect to Ty for mentioning LeagueFits on the episode), the Starting Five's passion for the game is deeply ingrained in who each of them are today.
There's Don C, who has been influential in not just the music industry, but in streetwear with his brand, Just Don. The Chicago-native and lifelong Bulls fan has also collaborated with brands like Nike to design his own Air Force 1 colorway, and just last February, he was named the Bulls' Creative Strategy and Design Advisor. 
"The Bulls, honestly, to me, are the biggest brand in basketball, and the biggest brand of Chicago. So, it's kind of like the brand I use as a vessel to represent where I'm from—where people can relate to it, everywhere…I'm trying to represent, in an authentic manner, certain trends we had locally [in Chicago]. I like to try to amplify it or put people on them. That's why I started my brand [Just Don] with the buck fifty cap. [Just Don] was started off with snakeskin visors on the hats, and that was the trend of drug dealers and hustlers from Chicago. When I traveled the globe, I never saw it anywhere else. I was like, 'Man, I think this is something I think people would appreciate, the storytelling. So, I'm always trying to bring things to the forefront that I think makes Chicago special, and relatable to other people." 
Then there's Alvari, who comes from a basketball family—her dad was a grad assistant coach at Gonzaga in the '80s while John Stockton was on the team. The Bay Area native grew up obsessed with box scores, and now emerged into an Emmy-nominated sports reporter and sports betting expert who can recall over/unders and team stats so effortlessly and accurately that she'd make any Basketball Reference nerd question how much they really know about the game.
"My favorite thing about sports is how they bring people together," Alvari tells us. "It does feel like a lot of areas [in] sports are, like, gatekept, or only certain people can work in this space and talk about this sport, and that's changing a little bit everyday. So, what I love about what we're doing with The Starting Five is that we're taking all these different avenues to get to sports culture, and talking about all of them, and that's what's ultimately gonna include more people… I think I'm really excited about how it's going to bring even more people to the game."
As for Ruiz, whose nickname and gaming tag is inspired by his adoration of Dirk Nowitzki, he started playing NBA 2K10 and NBA Live when he was just 12 years old, and ended up going professional only a few years later in high school. After starting his own Youtube channel right after he graduated, and ultimately deciding not to go to college to invest more in his craft, his dedication and passion has certainly paid off. Now, Ruiz is the lead analyst and commentator for the NBA 2K League. 
"I wanted to do something different. There had never been a commentator turned professional player ever. It's usually always professional, [then] they go down to a commentary role," he says. "Even now, esports is becoming more regulated [and there's] people [that are like,] 'Oh, yeah, my kid plays this. He wants to be a professional. My kid wants to be a streamer.' I think it's being—I don't want to say like a pioneer. I mean, ten years is a lot of time [and] esports has been around for even longer, but just to stick out and have a unique career that I can sit there and tell people about it and [they're like], 'Wow, you get paid to actually do this.' That's something that's always motivated me."
As they all continue to make waves within their respective fields, it's evident that what fuels each member of the Starting Five is not only their love for the game, but their unwavering passion for every aspect of basketball culture. How would a Yonkers native become a hip-hop icon, a DJ become a visionary and Cannes Lion winner, a former UCLA cheerleader become a renowned reporter, a designer become a streetwear mogul and a gamer become a professional analyst who is transcending esports? The answer is simple: by betting on themselves.