In honor of this weekend's NBA All-Star festivities, this story appears in SLAM Presents All-Star Vol 2: The Land. Shop now.
We've got a myth to get out of the way: NBA defense wasn't better in the '80s and '90s. 
Those dudes, for the most part, just hit people. They called that defense.
There are exceptions, of course. Scottie Pippen, Joe Dumars, Dennis Rodman, Michael Jordan,
David Robinson, Hakeem Olajuwon, Patrick Ewing, Gary Payton, John Stockton, Dikembe Mutombo and Alonzo Mourning were all defenders ahead of their time—mentally, physically, technically and strategically.
But defense in this era is a different game. This isn't just about the new glossary of fancy terms that get yelled out on courts today. This is about a total redefinition of defensive responsibilities, an intellectual overhaul that has swept across the League.
The new standards for guarding have touched down in Cleveland, where Jarrett Allen is an all-encompassing fortress. He doesn't just lock down the interior. What started as something of a joke has become something closer to a revelation; the 6-10 Allen has been entrusted to switch pick-and-rolls on the perimeter.
"I don't really know how it happened, to be honest," Allen tells us about the decision that he'd be guarding in space this season. "But I know last year, we were joking around, saying, you know, Let's just switch 1 through 5. Partly just joking. And then this year we ended up adding Evan [Mobley] and Lauri [Markkanen] and Isaac [Okoro], great defenders. And then DG, he's alright," he says with a pause to allow his point guard, Darius Garland, the proper time to react to the playful slight on the group Zoom call.
"And then we decided, Hey, you know, we've got all these bigs, why not just switch 3 through 5? Nobody's gonna be able to really score against us in the paint. You blow by Evan, then you have to go up against me and Lauri. So we decided, Hey, this just might work. We tried it, what, in like the fifth game? And it worked. So don't change what's working."
"Working" is a humble way for the 23-year-old to talk about his breakout season.
Allen's numbers are career-best across the board. The 2017 draftee has never averaged more points, rebounds or assists, played as many minutes per game or had a better shooting percentage.
If the season ended today (as of early January), Allen would finish with the seventh best single season field goal percentage in the history of the League. That's seventh ever, throughout 75 years.
It's been dunks, lays, jump hooks and extensions out to the middle. And, as confirmed by the history-maker himself, a three-ball is in the works.
"It's just a testament to the team and how we're playing together," the Texas alum says. "As corny as it sounds, it's a team game. Everybody sharing the ball, especially my point guard DG getting me open, throwing me lobs. That's one of the main reasons that I'm doing what I'm doing. And partly to the work I put in this summer. I made a big emphasis to improve my offensive game, whether it's passing, scoring in the post, just all of it."
That connection with Garland has proven devastating for opponents, something the old NBA defenses would've needed Hakeem or one of the Georgetown boys to contain.
"DG, he just said he's shooting seven threes a game and he's shooting them super efficiently," Allen continues. "So it's really one of those pick-your-poison things. Do you want DG to get hot on the pick-and-roll? Shoot this floater? Or do you want to get dunked on by him throwing the lob to me? It's one of those things. It's tough to guard because each option usually leads to a bucket."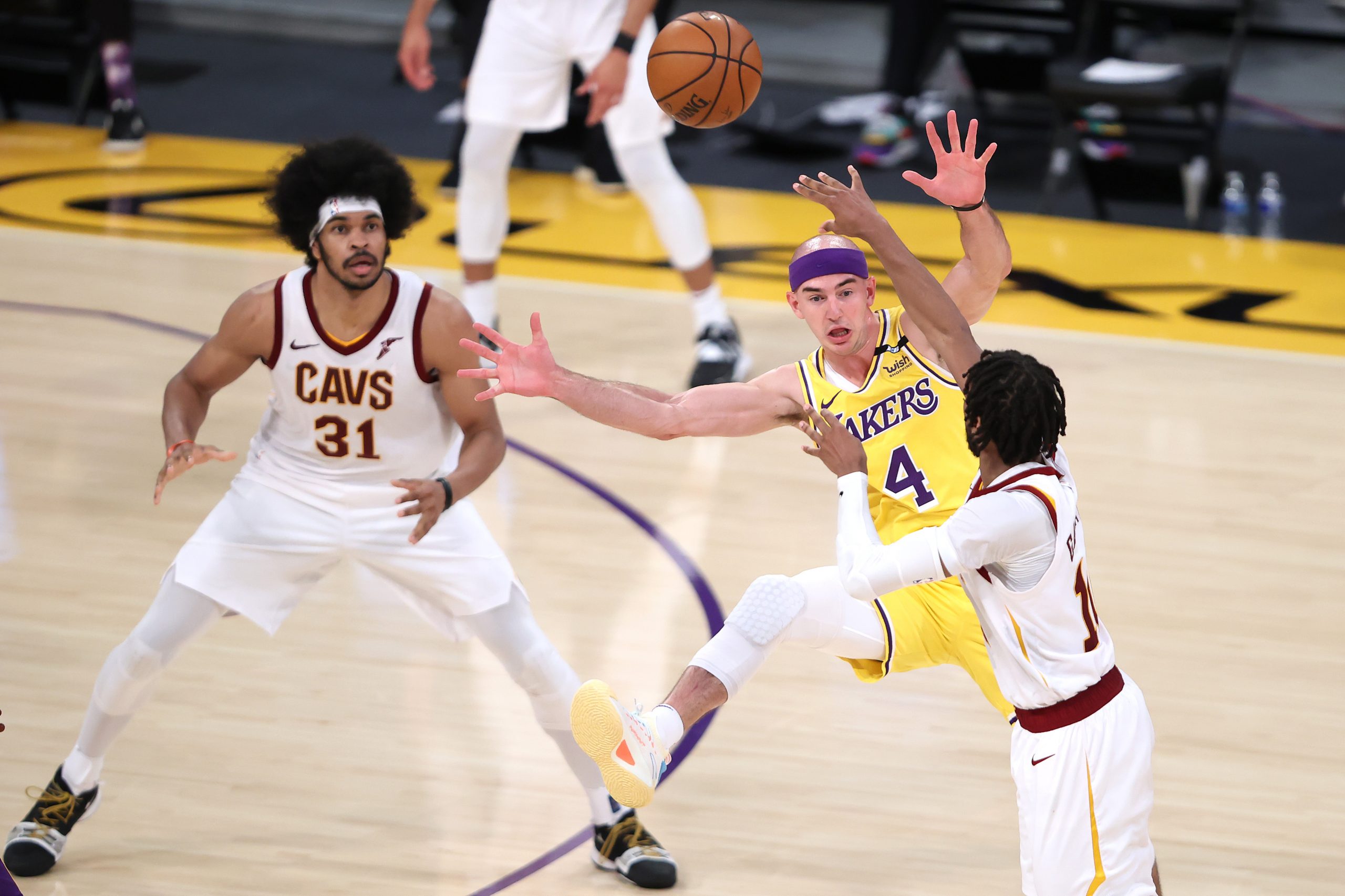 Allen, DG and Mobley make up the Cavs' young core. Hitters like Markkanen, Okoro and Cedi Osman have filled in the gaps. There's even more talent—losing Collin Sexton and Ricky Rubio to unfortunate injuries until the 2022-23 campaign stings, but the rest of the active players, including NBA champion and five-time All-Star Kevin Love, have the Cavs in the hunt for home court advantage in the 2022 playoffs.
"Kevin's a kid at heart, to be honest," Allen says. "He kinda fits into our group, our young guys."
It's a group that has started barking together. Yeah, barking. Like dogs. Literally.
"I didn't start it," Allen says. "Lamar [Stevens] started it, but I kinda adopted it. I think it's perfect for what the team is trying to achieve. And it was fun. People look at us like, Why the hell are they barking? Honestly, I don't know why, but it gets the team going. It's funny. It's one of those scrappy mentalities that I think works well with us. We're a young team, but we have the talent to back up the scrap. I think that's a perfect mentality for this team right now."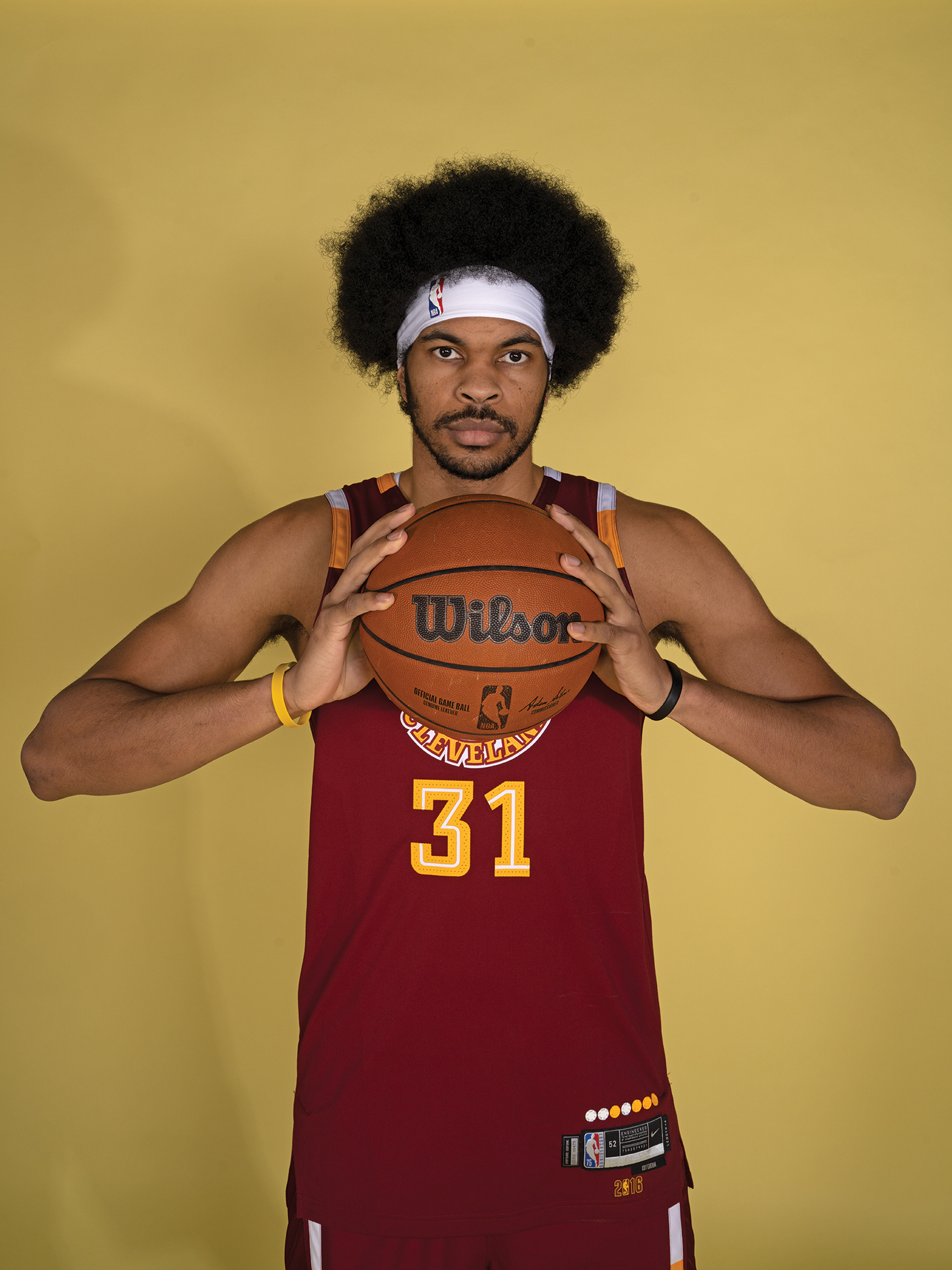 Team, indeed. Excluding Sexton and Rubio, who would be part of this statistical crew, there are six Cavs averaging at least 11 points per game, as we head to press. Allen, Mobley and Love combine to pull down around 26 boards a night. Over 60 percent of their buckets come from assists. And thanks to Allen, the team has the third best defensive rating in the NBA, behind just the Warriors and the Suns.
"It's not a fluke," Allen says. "That's what people need to start realizing. You see people saying, Oh, man, they got the three bigs. Oh, this was just a lucky game for them. Oh, it's not the new Cavs. It's just a lucky game for them.
"But I'm just gonna keep asking: How many lucky games are we gonna have in a row? How many times are we gonna have to show that we're a tough team, [that] you're gonna have to play us hard, before they realize that we're actually one of the top teams now?"
---
Portrait Jimmy Longo/Cleveland Cavaliers and Getty Images.